Keeping up the fight:
Kruse and Fischer extol patience after emotional win
By Peter Vice @ViceytheSS
There consecutive victories. Seven straight games unbeaten. Quite the sensation unfolds in the country's capital, where 1. FC Union Berlin sits fifth-place in the Bundesliga table in just their second year in Germany's top footballing flight. 

Despite the early success, head coach Urs Fischer insists the priority remains avoiding relegation. Star striker Max Kruse made clear his team's win meant more to him than a Bundesliga record that he missed out on.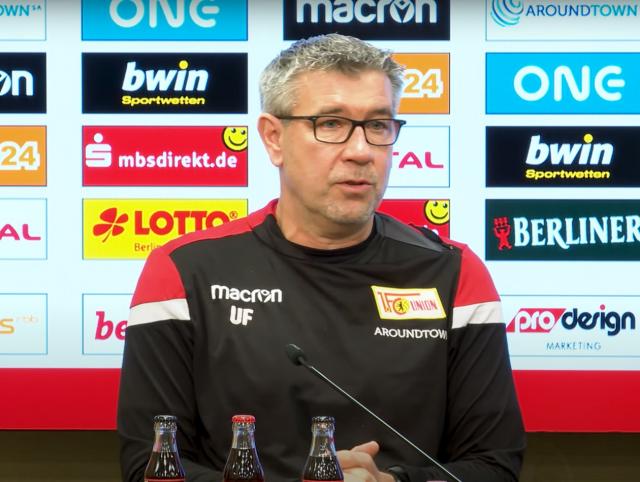 Urs Fischer's Eisernen leave Cologne with a well deserved three points. The team's trainer had high praise for the manner in which his team kept their nerve throughout the match. 




"The team did very well and remained patient," Fischer told the Sky Microphones after the match, "I'm truly overjoyed that we won 2-1."

The contest was quite the hard slog, with both teams fighting for space after the Cathedral City club drew level in the 36th. Union striker Max Kruse served as the very embodiment of grit and determination. After he saw his chances to set a new Bundesliga record evaporate when Köln keeper Timo Horn parried his penalty, the 32-year-old unflinchingly had the wherewithal to slam home the rebound. 

Asking about missing the chance to become the Bundesliga's all-time record holder with seventeen successive converted penalties, Kruse showed almost no signs of bitterness.

"The thing that you should write about is that we won again anyway. That's I why I didn't put it in," Kruse jokingly told a journalist with a wide grin.

Fischer kept the talk focused on avoiding relegation in his post-match remarks. He even declined to say that the winning streak constituted a significant developmental leap for his team. 




"Development is about consistency," he remarked, "I think [a leap forward] is premature. I would classify it as a step that can assist with development."

The 54-year-old Swiss trainer nevertheless praised his team for consistently "fighting for space" and emphasized "we need to keep up this fighting mentality."

"Today it was all about patience," a composed Kruse added.



More about Max Kruse