Fantasy Bundesliga:
Must-haves and differentials for Matchday 13
By Peter Vice @ViceytheSS
Ahead of Matchday 13, we have highlighted a must-have player (M) and a differential pick (D) from each game that you should consider for your Fantasy Bundesliga Team.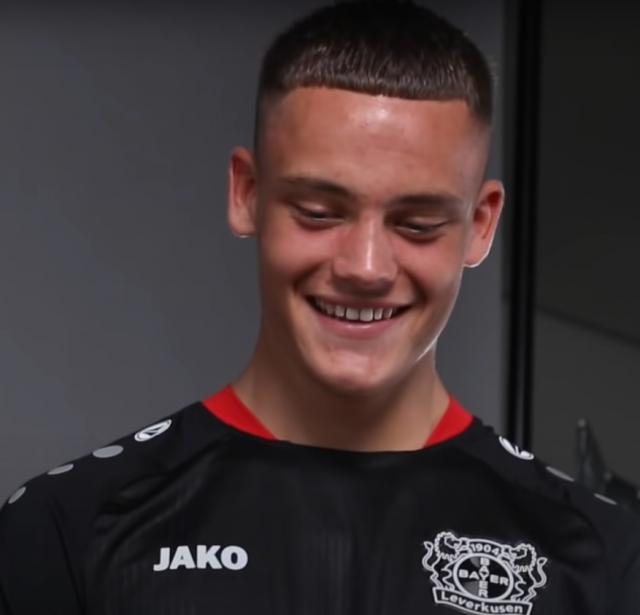 Florian Wirtz has been in great form lately.

FC Union Berlin vs. Borussia Dortmund


M: Christopher Trimmel, Defender (FCU, 10.5M, 4%) - Faced with so many injuries, Urs Fischer's Eisernern find themselves more reliant than ever on their set-piece specialist to get on the board. The 33-year-old service specialist assisted on two Union goals in their last two fixtures. He looks to be the game-changer here, particularly seeing as how Frankfurt have had some trouble competing in the air recently on corners and free-kicks.

D: Marvin Friedrich, Defender (FCU, 7M, 9%) - One of Tuesday's goal-scorers has been putting in some truly marvelous defensive work alongside Robin Knoche in an especially miserly center-back pairing recently. Fischer didn't pair the two together in the last match against Stuttgart, but should definitely rely upon them in a back-four against Frankfurt. The pair played splendidly against Bayern in round 11 and will seek to do the same against a more inchoate attack here.

RB Leipzig vs. FC Köln

M: Tyler Adams, Midfielder (RBL, 6.5M, 4%) - Justin Kluivert's recent injury constitutes quite the horrible shame for both player and football lovers alike. The 21-year-old Dutchman was really hitting his stride in two recent starts and one superb relief appearance as Julian Nagelsmann's primary right-flank attacker. Deprived of his talent, the Leipzig trainer will likely delve deep into his bag of tricks to ensure that the right remains as threatening as possible. The recently underused, and arguably quite underrated, Tyler Adams seems like a good fit as a rightward slanted six or eight behind either Christopher Nkunku or Amadou Haidara.

D: Jonas Hector, Midfielder (KOE, 9.9M, 1%) - With Nagelsmann's rotation scheme notoriously unpredictable, one may wish to consider tapping a relatively safer bet to both start and contribute. Geißböcke captain Jonas Hector took his time coming back from a long-term injury setback, eventually coming on as a 65th minute substitute in the most recent 0-4 defeat to Bayer Leverkusen. Insofar as it was possible for a defender to look good in the lopsided affair, the 30-year-old actually put in some good late marking. Head-coach Markus Gisdol should definitely start him in this fixture and he will be responsible for keeping the back organized. Köln won't dream of crossing the halfway line against RB, so one should expect him to get a lot of work.


Borussia Mönchengladbach vs. TSG Hoffenheim

M: Florian Neuhaus, Midfielder (BMG, 13M, 4%) - The critical midfielder returns after being forced to sit out the midweek fixture against Frankfurt on yellow-card accumulation. Trainer Marco Rose has publicly expressed disappointment with Laszlo Benes, Denis Zakaria, and even Christoph Kramer for their rather uninspired play in Neuhaus' absence. He'll expect big things from his returning linchpin in this fixture. If one takes a look at the 23-year-old's development over the course of the past two campaigns, one can see that he's steadily maturing out of a stay-at-home six0role and more into a courageously inventive eight. It wouldn't come at all to see a refreshed Neuhaus get his third league goal here.

D: Andrej Kramaric, Striker (TSG, 15.4M, 8%) - If one subscribes to the theory of redemptive motivation, the slumping Hoffenheim striker might be a good bet to finally break out of his decline. The Croatian has not scored in the league since he initially returned to the Kraichgauer lineup in round eight. Moreover, the errant back pass in the Leverkusen fixture surely embarrassed him to the point of catalytic rage. Kramaric put together a half-way decent match against Leipzig midweek, working as a flexible nine behind Munus Dabbur. Based on recent squad rotation patterns, Sebastian Hoeneß will likely partner him with  Ishak Belfodil or Ihlas Bebou in a 4-4-2 set-up. He'll find himself open and get plenty of opportunities.

FC Schalke 04 vs. DSC Arminia Bielefeld

M: Benito Raman, Striker (S04, 9.8M, 0%) - It's crunch time for die Königsblauen. Manuel Baum must throw everyone capable of scoring a goal forward early and hope that one of his royal blues can find the back of the net. With Mark Uth still likely sidelined with a concussion and Nassim Boujellab's centralized deployment not really working out midweek, it doesn't appear as if the Schalke trainer has any option but to give the 26-year-old Belgian international a go as a true center-forward. Nothing else has worked. Raman's two recent goals have actually been of rather high quality.

D: Stefan Ortega, Goalkeeper (DSC, 5.2M, 7%) - Bielefeld can't seem to find any offensive consistency, with every power surge quickly fading like a desert mirage. At the back, their keeper has quietly kept them in some games they appeared to have no chance of remaining competitive in. Their homegrown back-stop made some excellent saves against Freiburg and Mainz. After dipping somewhat in the midweek fixture, he should be poised to return to form here. In light of the fact that poor teams like Schalke often try their luck with poor percentage distance efforts, he might get a lot of easy lobs.

SV Werder Bremen vs. FSV Mainz 05

M: Christian Groß, Defender (SVW, 2.2M, 1%) - Mainz actually beat Bremen convincingly twice in the 2019/20 campaign; two humiliating losses that will surely stick with trainer Florian Kohfeldt even amid his general nightmare of a season. It's safe to assume that the Hanseaten head-coach will have invested a great deal of time preparing for this particular opponent. One expects some serious tactical tinkering. Thus far this year, Kohfeldt has often moved his anchoring defensive midfielder further afield when he wishes to add that extra bit of drive to his attack. Even if he doesn't undertake such a gambit, Christian Groß should serve a pivotal role in the middle of the park.

D: Jean-Philippe Mateta, Striker (M05, 11.7M, 1%) - Jan Moritz-Lichte gave his star striker a much-deserved rest midweek against Hertha. The break was very much needed after the 23-year-old Frenchmen missed two huge chances against rival Carnival Club 1. FC Köln. The lead attacker has actually been experiencing something of a general slump since his hat trick in round eight. At present, Lichte and sporting director Rouven Schröder have raised the issue of dropping him from the starting XI altogether. Knowing Schröder's tendency to try to fake-out opponents, one should consider this mere jawboning. Mateta should start and he will find himself on the receiving end of many Robin Quaison services in this crucial fixture.

Eintracht Frankfurt vs. FC Augsburg

M: André Silva, Striker (SGE, 16.4M, 4%) - The Portuguese striker must be immensely pleased with himself after the midweek outing in which he scored two goals and also garnered an assist. If one's budget permits it, Silva remains an absolute must for this fixture. He appears the only player truly thriving under head  coach Adi Hütter's new 3-4-2-1. Note that a recent injury that kept him out of the round 11 encounter needs to be closely monitored. If his play on Tuesday was any indication, however, nothing appears to be overtly hindering him.

D: Daniel Calgiuri, Midfielder (FCA, 10.8M, 7%) - While it begins to feel unoriginal recommending Caligiuri every week, this particular match presents the 32-year-old winger with a fantastic opportunity. Frankfurt head-coach Adi Hütter must build a defensive chain absent suspended captain David Abraham. This will likely force him to shift the left-footed Martin Hinteregger over to the right, leaving the very in-form Augsburg veteran with quite the mismatch to exploit. Those who can't resist playing the percentages might want to see if this match-up works out in their favor.

FC Bayern München vs. Bayer 04 Leverkusen

M: Florian Wirtz, Midfielder (B04, 8.1M, 19%) - Oddly enough, it's the Werkself who find themselves brimming with on-fire selection candidates heading into the weekend's marquee matchup against the German giants. The problem with forecasting where the primary source of Peter Bosz's offensive impetus may come from is that it may literally come from anywhere. Will it be Leon Bailey on the right or Moussa Diaby on the right who supplies the fireworks this work? Perhaps Schick will serve as the focal point. One thing that seems fairly certain concerns the recent form of Leverkusen's young phenom. He should factor in no matter what. Two goals that featured absurdly slick tricks characterized came in his last two fixtures. Here we have a player most assuredly full of confidence and definitely in the mood to make some things happen.

D: Leroy Sané, Midfielder (FCB, 17.2M, 21%) - So many indicators from his most recent match render Sané a candidate for a big breakthrough; if not in this match, then very soon indeed. The 24-year-old finally began to exhibit signs of his trademark flair in the Wednesday encounter against Wolfsburg. Sané's early-season struggles with form will have meant that many have pre-maturely jettisoned him or left him forgotten on the shelf. Given that it's been so long since he's lit up the highlight reel, there may even be those who think that he'll never be the same after last year's injury. Hansi Flick's system has asked a lot of him defensively, but it appears as if he's taken the opportunity to improve that part of his game as well. One might behold an even more well-rounded superstar once Sané ultimately emerges from his rough patch.

SC Freiburg vs. Hertha BSC

M: Keven Schlotterbeck, Defender (SCF, 4.5M, 0%) - The centerpiece of trainer Christian Streich's new 3-4-3 has gotten progressively stronger over the course of the last three fixtures. When the Breisgauer head-coach first unveiled the arrangement, it almost looked desperate. It's worked surprisingly well. After doing excellent work in keeping the multi-pronged Gladbach attack at bay in the 10th round, the 23-year-old was instrumental in helping the Schwarzwaldverein keep two consecutive clean sheets. The older of the Schlotterbeck brothers has matured into quite the gutsy and courageous center-back, never fearful of taking on a challenge.

D: Dodi Lukebakio, Striker (BSC, 12.1M, 1%) - One truly fumbles for answers following Hertha's highly disappointing 0-0 draw against Mainz midweek. Matheus Cunha remains Bruno Labbadia's most vital cog in terms of getting his team moving, but the Brazilian cannot do it all by himself. It's very much unclear as to whether the much lauded veteran trainer can come up with answers to interject some life into his relentlessly flailing team. One matter that does appear settled concerns the fact that the use Javairo Dilrosun up front in the starting XI has run its course. Lukebakio should return to the lineup and will likely factor heavily into the match plan.

VfB Stuttgart vs. VfL Wolfsburg

M: Daniel Didavi, Midfielder (VFB, 7.2M, 5%) - The Swabians have so many attacking weapons that it can prove next to impossible to predict who their lead striker will be on a week-to-week basis. Nicolas Gonzalez, Tanguy Coulibaly, Sasa Kalajdzic, and even Silas Wamangituka are all candidates in this final fixture before the abridged winter break. The amazing arsenal procured by Pellegrino Matarazzo and Sven Mislintat genuinely makes this a fun team to watch. In terms of a certain pick for the starting XI, it seems safe to assume that Matarazzo will position a now healthy Didavi left center behind his center forward. The 30-year-old put together an excellent comeback match against Union midweek, picking up a great assist.

D: Bartosz Bialek, Striker (WOB, 4.3M, 0%) - Bit of a long-shot pick here, but if one takes a closer look at Oliver Glasner's late-game adjustments over the past few matches, it's apparent that he's slowly introducing one of his most promising prospects into the team via late substitutions. Bialek even appears to have climbed atop Daniel Ginczek on the depth chart. It might be the case that Glasner plans to use a 4-4-2 more often or even groom a replacement for Wout Weghorst. In any event, the 19-year-old Pollack got two excellent efforts on target against Bayern on Wednesday. Were it not for a couple of amazing saves from Manuel Neuer, the youngster might be commemorating a brace. Bialek's increasing appearances constitute an interesting development to keep an eye on.


Looking for other Fantasy Bundesliga articles ahead of Matchday 13? Check out our predicted line-ups here and our ten players to consider here.



Related stories