Bundesliga Tactics Talk: Round 14
By Peter Weis @PeterVicey
After the shortest winter break ever, the ball once again rolls in the Bundesrepublik. Crunch time arrives as German football catches up to reach the true mid-way point of the season.

Overall, it looks to be jam-packed month of compelling viewing. There are plenty of fixtures to be played and transfers to be made.

Here to get 2021 started off right, it's our weekly in-depth look at all the relevant action in the Bundesliga.
| | |
| --- | --- |
| Vladimir Darida. | Photo: Steindy, Wikimedia Commons, CC BY-SA 4.0 |
League-Wide Talking Points: Round 14
How to beat Bayern

Why not begin with a spot of pejorative fun? The latest comeback victory from the German giants delivers a proof-positive blueprint for defeating the seemingly invincible. Hiking tourists know better than to poke a hibernating bear. That's the key. How does one knock off Hansi Flick's quintuple-trophy-winning squad? Simply let them score first.


Indeed. For those keeping track, FC Bayern fell behind for the eighth consecutive league-fixture. As everyone knows, they've lost none of these games. Going ahead of the Bavarians 1-0 constitutes a sure formula for a loss or draw. Should one be foolish enough to open up a two-goal-lead, as Mainz did this weekend, you've really pissed them off and earned a shellacking.

At this point, one genuinely wonders how the record champions will respond to an early lead. Flick's men may not know what do if they aren't properly challenged. Allow them to fall into somnolence and see what develops. It's worth a shot. Marco Rose may wish to consider testing this theory out next week.

Snake-bit Kraichgauer

In marginally less facetious news, SC Freiburg four-game league winning streak again cannot be discussed in glowing terms. Just as was the case in the victory over Hertha in the previous round, the specter of luck prevents one from stating that the Schwarzwald club totally deserved a lopsided 3-1 victory. The scoreline routinely lies in football. Regrettably, this translates to another instance in which congratulations for Christian Streich's men must be deferred.

Hoffenheim trainer Sebastian Hoeneß, again hampered by the injury bug, had to build a matchday squad without Florian Grillitsch and Denis Geiger. Then, after kickoff, things frankly got ridiculous. Sebastian Rudy sustained an early knock not long after an unlucky deflection off of him led to Baptiste Santamaria's opening goal in the 7th. Less than five minutes later, right-back Kevin Akpoguma injured himself and had to be subbed off. Hoeneß lost half of his right side before a quarter of an hour had passed.

Unable to get into any rhythm, the Sinsheimers then fell behind 0-2 before the half was out after an incorrectly awarded handball penalty in the 34th. Three minutes before the break, Kasim Adams turned the ball into his own net. Hoffenheim recovered to pull a goal back in the second half, but a three-goal deficit remained far too steep to overcome.

Perhaps we'll get a chance to properly accord Freiburg some credit next time. Any sympathy for the Kraichgauer should be short lived. It would take some sort of divine miracle for them to lose to Schalke next week. Surely, they won't encounter still more rotten luck there.

Marius Wolf gets it spot-on

Kölner winger/fullback Marius Wolf summed it up perfectly after his side's 0-1 defeat to Augsburg. One would be hard pressed to describe the loss as anything beyond "stupid". There was nothing nefarious in the 25-year-old Dortmund loanee's post-match comments. In point of fact, he was mostly referring to himself. Wolf blew a chance twelve meters in front of a wide-open net in the 69th. He also lost sight of Iago in the run up to the decisive goal in the 77th.


The loss is a fairly bad one for die Geißböcke as they hover one measly point above the relegation playoff spot. It remains refreshing to see at least one player on a bad team own up to it. The interview echoed that of Mark Uth's after a Schalke loss some weeks back. Wolf's words carried a bit more optimism. He even praised his teammates for playing well.

The Cathedral City club prepare for a slate of five winnable fixtures before the end of the month. A little self-effacing optimism won't hurt. Naturally, an actual striker would be more helpful. Markus Gisdol again used Ondrej Duda as his center-forward. Jan Thielmann stood in support this time. Not a viable long-term solution.

The worst offensive in the league

How does one determine the Bundesliga's weakest attack? Six rounds ago, we examined the case of the "two four goal" clubs Schalke and Bielefeld. Revisiting the matter now, it gives a writer no great pleasure to report that Schalke have scored an additional four goals over the intervening rounds whilst Arminia have added a paltry five. This is beyond pathetic.

It gets even worse when one examines the various xG metrics. This incredibly salient statistic, which virtually all football fans love to discuss, is still within the purview of various subjective assessments compiled by note-takers and data firms. Nothing wrong with that. What happens to be unforgivable is the fact that virtually no one has these teams above 0.8 per match. Insufferably putrid.

The two teams met last round in a match so atrocious that it's hurtful to even broach it's existence. Bielefeld won that encounter, but, based on their performance this weekend against Gladbach, definitely take the dubious honor of being the most anemic top flight attack seen in the Bundesliga in years. Sergio Cordova got off one long effort at 45+1. Apart from that, there were no chances. An xG of 0.0. Again. Ugh.

The Burning Questions: Round 14
How did Eintracht pull off the upset?

No straightforward answer to this fair question. Frankfurt-Leverkusen proved a highly intriguing matchup on so many levels. In the end, it was a close call as to whether this fixture or Hertha-Schalke should serve as the tactical focus. Werkself trainer Peter Bosz entered the encounter missing his two first choice left-backs. This played something of a role as Mitchell Weiser, moved over to the left, summarily failed in consistently marking Eintracht's Erik Durm. The 28-year-old converted right-wing-back routinely had way too much space to operate in all afternoon. While this wasn't the most decisive factor of the match, it allowed the slower, more plodding team to control the tempo for long stretches.

To this, we add Adi Hütter's duel challenge of working with only one natural striker in attack coupled with the need to begin formulating a plan for David Abraham's impending departure in defense. Bundesliga watchers knew they would have the privilege of observing something novel from Hütter in this one. We were not disappointed. A very interesting variation of the coach's 3-5-2 saw Makoto Hasebe work as a clearly staggered holding midfielder. The arrangement pitted the 37-year-old veteran directly against 17-year-old phenom Florian Wirtz. One could go on all night about what an amazing battle it was. Hasebe lost one major battle, but still won the war.

Another compelling development concerned the strict horizontal pairing of Daichi Kamada with Amin Younes. The two players shared the distributive duties associated with the ten-spot. More significantly, the pair forced Bayer defensive midfielder Julian Baumgartlinger into a lot of chasing. The 33-year-old Austrian had trouble gauging which one of them was about to break. As a result, he found himself perpetually playing catch up. Djibril Sow moved in from central midfield sometimes to render Baumgartlinger's task even more difficult. Sow's unlocking of Younes for the equalizer showed precisely how they could make the under-pressure B04 player buckle.

Lady luck sprinkled in her favor as well. There remains no such thing as a football match that can be explained solely by tactics and metrics. That notwithstanding, the result that allowed Leipzig to overtake the Werkself for second place is definitely worth a midweek look for those seeking trend-lines ahead of this very busy month. Signs appear that Bosz's 4-1-4-1 is beginning to fray. Rudi Völler needs to freshen up via the transfer market and needs to do so with a keen eye on specific positions. Obviously, the same applies to Frankfurt. Even though Hütter pulled off a nice tactical coup-de-grace this week, one doubts he has the tools to do it again.

Are Leipzig fit for a title-run?

The new state of the table produces this question. The 1-0 win over Stuttgart on Saturday night hardly proved convincing. Nevertheless, it wasn't undeserved. Julian Nagelsmann once again deployed Emil Forsberg as the lone striker up front while Angelino remained in his new role as an attacking winger. This supplied plenty of fireworks, not to mention a narrowly missed penalty, during the first half. In addition to his miss from the spot, Forsberg spurned a couple of gilt-edged chances. In both instances, he put in some great work on the turn. The Swedish international has the tools to play the position if necessary. On a different day he might have finished.

Amadou Haidara also missed a few excellent opportunities that, upon closer inspections, related mostly to a slight touch of rust. The 22-year-old Malian's form burst encounters a few minor hiccups. A brief dip doesn't appear indicative of anything serious. He's still on a great run. Angelino maintains his monster form and the intuitive communicative relationship with fellow Spaniard Dani Olmo continues two flourish. The pair combined beautifully on the game-winning goal. Next week, Dominik Szoboszlai enters the fray against Dortmund. Wolfsburg, Union, Mainz, and Leverkusen follow to close out the month. We'll have our answer soon enough. For now, it appears there are enough peaking players to put together a crucial winning streak.

Anything to report on the Edin Terzic front?

Not really. The rookie trainer behaves exactly as an assenting caretaker coach should. A man specifically selected to serve as a non-boat-rocking placeholder rolled out a simple 4-2-3-1 with no discernible tactical impulse. One could tell that Terzic sought to change nothing as Dortmund's level-of-play remained exactly where it has been for several weeks. High possession, zero idea football characterized the barely watchable first half. As if rough, stoppage-laden play wasn't bad enough, there were also three non-debatable handball debates in the opening 45 of the Wolfsburg fixture.

Matters didn't improve much after the break, though one should credit Dortmund for scoring off a corner one round removed from their set-piece defending meltdown. Terzic addressed the problem on the training pitch. Naturally, that's not especially interesting as it does happen to be the most basic competency of his job. The young BVB trainer also declined to make his first substitution until the 81st. He truly is about as passive as they come. Marco Reus had a difficult game, but the custodian didn't dare sub him off. That would have been too risky. Terzic's most notable contribution before the club finds a more high-profile replacement may be Steffen Tigges. Sadly, that's not very interesting either.

Weekly Tactical Focus: Beneath Square One

The Tasmania Berlin record might as well be treated as a forgone conclusion at this point. Though it certainly isn't the most original quip, the Bundesliga's "implosion club" brought the "Year of S04 trainers" pun upon themselves. No one in German footballing circles can resist it. Four head-coaches. One unrelentingly bad team. The carnage continues. It's irrelevant who prowls the sidelines. Order cannot be fashioned out of this chaos.

Saturday's result pretty much epitomized poor beleaguered Schalke's season. An attempt to construct a bare-bones plan generates a very finite amount of hope for a very limited amount of time. Tactics and strategy then melt away once the soft stomach of the squad takes a few swift punches to the gut. The instinctual habit of losing takes over and the team just quits.

Another Schalke hard push of the self-destruct-button reminds one that the current mental state of the players would make for an interesting psychological study. What must be going on in the heads of those who have gone 30 league games without a win? Losing becomes a full-fledged disease at this point. Any sense of success long forgotten, a powerful mind psychosomatically blocks the flow of energy to the legs.

In this space, we obviously try to keep the focus solely on tactics. Having given previous coach Manuel Baum's stab at contemporary strategies a closer look in earlier columns, we've now got a decidedly more "old school" gaffer to assess. Sixty-six-year old Christian Groß, one of numerous classicists exiled to semi-retirement on the Arabian Peninsula during the latter stages of his career, came out of his official retirement to try and rescue this team.

He plainly tried to bring die Königsblauen back to basics. Here's how it failed to work:

Lineup—Schalke 04—Match 14 (4-4-2)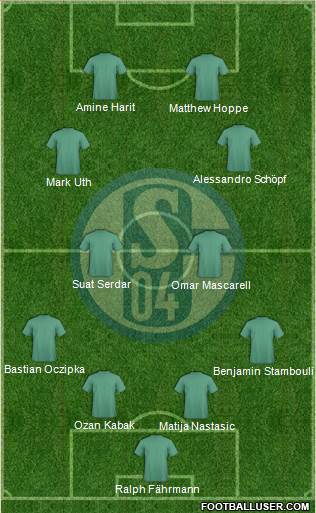 The initial team-sheet suggested a 4-2-3-1. At times, this shape did indeed resemble on. Mark Uth slid back into a ten position whilst Amine Harit and Alessandro Schöpf sought to creep into the box via the corners. On terms of general tactical shorthand, however, one has little choice but to label this one a compact 4-4-2.

Ceding the flanks

Groß didn't really build a competitive effort to contest the wings into his match-plan. That aspect of his method remained relatively easy to read. Lacking the actors to work out wide, the (aspirational) plan relied upon slow dribbling builds up the middle. While it's never ideal to construct an approach that immediately surrenders such a large swath of territory, it's not always necessarily fatal. "Total Football" needn't be employed in every match.

Something like this could have conceivably worked. A slower transition still allows for some mid-percentage long-range efforts to develop. Set-piece opportunities could also emerge. Hertha being one of the worst teams in the Bundesliga in terms of defending free-kicks and corners, a little early luck would have given the team a lead to defend. They could then guard their opponents with simple man-marking without having to switch formations.

Attackers of modest stature

Of course, we run into immediate problems when considering the two players charged with leading the attack. Schalke don't have a true center-forward in the first place. Benito Raman, ordinarily a third-axis-winger, is about the closest they've been able to come to someone capable of serving up front in recent weeks. A late injury deprived Groß of even this option.

Hence, American teenager Matthew Hoppe re-enters the starting XI. The 19-year-old California native, whom this writer has already argued received a call-up to the senior side far too soon, possesses some skills. Physicality isn't one of them. Likewise, Harit isn't corporeally built to be a target forward. Misplacements on the top axes can easily cause problems to filter down.

Deep buried sixes

The sight of Harit and Hoppe working ahead of a semi-winger (Schöpf) paired with an anchoring midfielder (Uth) raised alarm bells very early. Schalke's quartet ahead of the half-way line, in possession, were called upon to dance a tenuous dance unlikely to produce much. Moreover, the constellation appeared to push Omar Mascarell and Suat Serdar too far back to make a meaningful impact in the midfield battle.

Hertha: A Classicist surprises

Bruno Labbadia maintains a reputation as something of an "old school" trainer himself. The veteran coach frequently trusts his players to sort matters out in a self-propelled 4-2-3-1; not unlike Hansi Flick at Bayern. In this fixture, the 54-year-old did have a rather significant injury to contend with. Dedryck Boyata's absence threatened to throw his listing club even further off course.

Issues in central defense have haunted this team since the beginning of competitive football back in September. Labbadia recently learned the hard way that he couldn't simply plug Omar Alderete in and expect such problems to be solved. One thus anticipated something different here. What one didn't expect was something as innovative as this:

Lineup—Hertha BSC—Match 14 (4-2-3-1)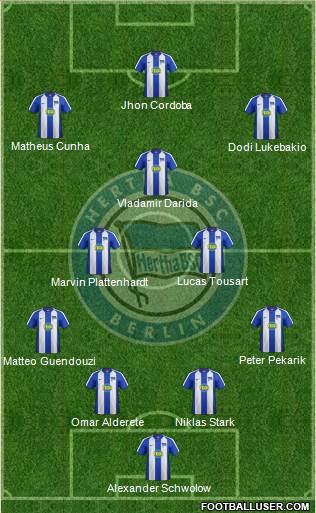 Seeing Marvin Plattenhardt and Peter Pekarik on the team sheet produced a slight wince. It looked as if there would be neither speed up the flanks nor creativity out of the rearward pockets. Close scrutiny of the early action yielded a pleasant surprise.

Matteo Guendouzi at left-back

Not every set of eyes will have seen it so. In truth, it was not plainly clear who served as the left fullback. Guendouzi and Plattenhardt rotated so regularly that it might have been a shared assignment. In any event, this scheme perpetually ensured that an option would exist on the overlap. It's reasonable to assume that Labbadia concocted this design to serve a few specific objectives.

First, he had to get team talisman Matheus Cunha back on track. The Brazilian spark-plug's off-match in the final fixture prior to the break earned him deserved criticism. For his own part, Cunha accepted the poor review and promised to do better. His trainer built a strong cycle directly behind his key player to afford him complete creative freedom in choosing his point-of-attack.

Next, there's the divergent play of the two Frenchmen. Guendouzi's late form surge rendered him the jewel of the latest transfer class whilst Tousart floundered his way to full-blown flop status. Pairing them together can no longer be considered a viable option. Breaking them up in this way had the nifty function of actually giving Tousart two supporting defensive midfield assistants in Pekarik and Plattenhardt. Once the trio got their movements synchronized, the elegance of it all came into focus.

Finally, and hopefully deliberately, Labbadia got rover Vladimir Darida back on his own solo axis. The celebrated Czech international, lauded for the two distance-covered records he set late in the 2019/20 campaign, has actually been tanking fairly hard this season. After collecting a pair of assists in the round one defeat of Bremen, he's looked all out of sorts in several formations that effectively crowd him out of his "Pferdelunge" role.

After ten consecutive rounds of mediocre play, Labbadia even benched Darida against Mainz in the penultimate matchday before the break. This turned out to be a fantastic comeback match for the 30-year-old. He picked up two assists amid a hustle-fueled rack up of easily 12-15 kms.

A string of positive developments, all related to Guendouzi's deployment, emerged after Schalke's initial fight died down.

Match Flow: 1st to 19th minute

The affair didn't exactly get off to the most rollocking of starts. Hertha's early midfield ball-percentage stood at about 35 percent through the opening quarter of an hour. This despite the fact that, as noted above, Serdar and Mascarell worked from a low-block position. Schalke put together their first long possession sequence in the 3rd. Die Knappen held the ball again for a prolonged spell in the 5th.

No real danger resulted from the Westphalian dominion over the current. Attempts to break were extremely weak; downright pathetic at times. Hoppe tried a couple of different runs to receive the ball. The Hertha center-backs pushed him out of the way without much difficulty. Alderete demonstrated how physically mismatched the young American was with a statement-making shoulder check in the 6th.

Hoppe lost another physical battle brutally in the 7th when he found himself on the end of an over-the-top long ball. The play was preceded by some genuinely choppy triangulation on the right. Serdar stepped forward in the 8th, but could only manage a useless strike destined to hit one of the seven defenders in his way. Hoppe eventually got a harmlessly tame effort on target in the 11th.

The pattern repeated itself a few times, with Schalke routinely finding no way through. Around the 17th it became apparent just how deep Guendouzi was playing. Slight trouble in the execution of Labbadia's presumed plan precluded the capital city hosts from generating anything back the other way until a decent Dodi Lukebakio through-ball for Cunha in the 18th.

Match Flow: 19th to 35th minute

As we approached the 20-minute mark, one could fairly say that Schalke barely maintained the advantage in an unattractive clash between two poorly organized sides. The signs emanated from Hertha's back-left nevertheless portended that the Berliners settled into their intended shape. Bastian Oczipka hit-in a quality first-time cross for Hoppe in the 21st. The American actually responded with his own sharp first-time effort on target, though it didn't appear as if he did so intentionally.

The tide turned considerably after that odd play. Cunha set up Lukebakio after tearing up the defensive ranks with some breathtaking movement and a slick deke-trick past Serdar in the 23rd. The spry attacker might have taken a steadying touch rather than going straight for goal, but S04 keeper Ralph Fährmann still deserves credit for preventing the goal with a brave run out. Hertha took complete charge of possession between the 24th and 26th.

Cunha gain got forward in the 27th. Guendouzi and Plattenhardt really got their rotation game going on an assault in the 28th. Darida won a great ball and the play arguably should have resulted in another chance for the hosts. Instead, a quick dispossession allowed Uth to split Alderete and a furiously retreating Guendouzi on the counter. This time keeper Alexander Schwolow bailed his team out with a fingertip save off a vicious effort.

Hertha were back with a 3-on-2 within a minute. Darida again misfired with a poorly selected final pass. It's interesting to note that many of Labbadia's men who would go on to have a great overall game did make several mistakes between the 29th and 34th. Multiple broken plays characterized a sputtering Berliner engine. Darida and Guendouzi couldn't find the right lanes. Cunha went completely missing.

Schöpf hit the side netting in the 35th after Hoppe did extremely well to win an aerial challenge and flick-on. Unfortunately for the Gelsenkircheners, they were about to be punished for their assemblage of not-particularly menacing knocks on the door. Within 60 seconds of the last chance, the rug would be pulled out from underneath them.

Match Flow: 36th minute to half-time

On balance, "die alte Dame" deserved the lead gifted to them in the 36th. A long throw-in pin-balled a bit before finding the tip of Cunha's boot. His effort was blocked, with the rebound landing in the most propitious position Guendouzi could hope for. The on-loan Arsenal man's body was already twisted into the perfect position instant shot. It was nevertheless a wonderfully curled finish from the 21-year-old Frenchman.

Guendouzi supplied the highly technical, banana-curl type of bend that left Fährmann without a chance. The 1-0 lead came on the heels of a 15-minute-spell during which it could be said that the better team wrested control of the match back. One essentially knew that this likely spelled the end for a Schalke side precariously carrying such fragile confidence.

So it goes in football sometimes. Defeating Schalke doesn't take much at this point in time. Breathe heavily on a frail sick man and he shall promptly fall down. The Königsblauen could get nothing going in the final minutes before the break. Labbadia's men passed the ball around freely as their opponents shied away from any and all challenges. Harit engineered the lone remaining forward thrust, only to be easily swarmed. Guendouzi nearly curled another one in one minute from time.

Match Flow: 46th to 52nd minute 

Groß proceeded with neither tactical nor personnel changes. One could hardly fault him in this context as there truly wasn't much he could do. The bench squad provided no options for an offensive-minded switch. A struggling Ahmed Kutucu constituted the only, wholly desperate, attacking upgrade he could try. Given that predecessor Manuel Baum literally attempted this a dozen times to no avail, Groß was wise to stick with his system.

A more confident Cunha took direct aim at the soft Schalke underbelly. He orchestrated a forward sequence in the 47th that ended in a blocked Tousart shot. He would see his own effort blocked on a subsequent sequence in which he completed a give-and-go one minute later. Schalke didn't manage a single touch outside of their own half for six minutes after the restart.

The Berliners did their part to delay the knockout blow with a couple of wayward passes and crosses. There would be no errors on a sparkling procession in the 52nd. Cunha picked Serdar off in midfield and raced nearly the entire length of the field before offloading to Darida on the right. The cutback for returning lead striker Jhon Cordoba was perfect. The finish was clinical. 2-0.

Match Flow: 53rd minute to full-time 

Game, set, and match. No one could have possibly expected the underdogs to comeback after a play that accorded three of Berlin's most crucial actors to gain such confidence. Panic-stricken Schalke could no longer keep any semblance of shape. Hoppe earns some plaudits for a stylish piece of legwork in the 57th. Serdar tired from range after the ensuing layoff, but Schwolow saw it all the way.

We've noted above how Groß truly didn't have anywhere to turn in the event that his team fell behind. An illustration makes clear just how limited the new trainer's options off the bench are. Steven Skrzybski and Timo Becker replaced Harit and captain Mascarell.

Lineup—Schalke 04—59th minute (4-4-2)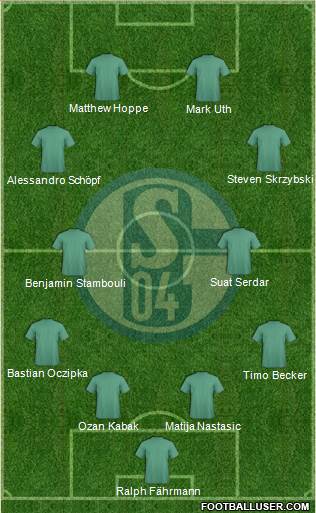 It was definitely worth seeking to do something. Of tantamount importance, this "something" couldn't even be a true formation switch. All Groß could do was widen out his shape a bit. Schöpf switched over to the left and Benjamin Stambouli moved into midfield while Becker took over at right-back. It remained a 4-4-2, albeit one that did aim to establish some presence on the flanks at the expense of a gaping hole on the second midfield axis.

Unsurprisingly, the surging Berliners made mincemeat out of this. The scoring chances came in droves. Darida somehow missed a wide open Cunha in the 63rd for what absolutely should have been the third goal. The Schalke press completely evaporated as Cunha and Darida continued to slice and dice their way through the acres of open space.

The fact that Skrzybski disastrously had to be subbed off injured less than ten minutes after his introduction would have ordinarily served as a time-marker. In this case, it cannot as the game was already lost. Having miffed a couple of golden opportunities to properly put the game to bed, Hertha spurned a few more: Darida in the 69th, Lukebakio in the 70th, Cunha in the 72nd, and Lukebakio again in the 79th.

Berliner substitute striker Krzysztof Piatek finally achieved the 3-0 with an 80th minute tally two minutes after coming on. Furnishing the assist, it was once again Darida, who completely atoned for all of his earlier errors with a very nice chip ball. Cunha was also once again involved in the build up. An extremely tight offside call denied Piatek a second in the 89th.

Whew and wow. Even by their own miserably low standards, Schalke delivered one of their most woefully flaccid halves of football all season. Uth got a frustration effort off late, but otherwise the team could not generate anything close offensively. Under the auspices of their fourth coach of the campaign, the Bundesliga's worst team regressed even further.

There can be no positives to take from a second 45 in which the relegation-threatened club got dominated in every last area. A more in-form team than Hertha would have used clinical scoring to run up the score by as many as four or five more goals. Schalke are right back where they started at the beginning of the season. Had they been playing Bayern, they would have lost 0-8.

Among other things, this week's analysis aimed to point out how badly handcuffed Christian Groß finds himself. The personnel situation remains an unmitigated disaster. It's highly doubtful it can be corrected via the transfer market.

The new trainer's "back-to-basics" plan was most assuredly the correct one. This writer cannot come up with a better alternative. And yet, what happens when the bottom falls out of the base of the building? Is there a level beneath square one?

Concluding Thoughts: The next "crisis club"

A great deal of space in this week's column has been devoted to the many awful clubs in this year's Bundesliga. One can attribute the unusually high number of them to the lack of fans, the decreased capital flows, or any number of other reasons. For whatever confluence of factors, a rather unprecedented sorry state of affairs persists.

Naturally, the silver lining shining through this cloud concerns the fact that the relegation race should at least prove entertaining. Both Schalke and Mainz made coaching changes over the break. Mainz even undertook a full administrative overhaul, ironically bringing back the top executive partly responsible for Schalke's demise.

The plethora of bad teams in this league means that, for both of these clubs, the gambit could possibly pay off. The first month of 2021 shall feature its fair share of engrossing storylines as clubs take their administrative risks in the race from the bottom. As noted in earlier parts of the column, Bielefeld and Köln struggle with rosters devoid of goal-scorers. As difficult as it may be to envision now, either one could leapfrog their way out of the relegation zone.

In addition to Arminia and Köln, there's another club that seems a certain bet to fall apart. Though their coming demise doesn't get as much attention as the others, this writer must emphasize that Werder Bremen appear on the precipice of coming apart at the seams. Events this week suggest that the Hanseaten are also the most likely club to switch coaches soon.

Florian Kohfeldt made headlines this week when he publicly lambasted his team for a lack of effort in training. He found himself in no mood to offer up any encouraging follow-ups in the post-match press conference after the 0-2 loss to FC Union Berlin. A bad rift seems to be developing at precisely the wrong time. This could prove troublesome.

A coach who switches tactics as often as Kohfeldt does treads a dangerous line when he criticizes the performances of his players. Even if there exists plenty of legitimacy to his grievances, the right assemblage of representatives can offer up their own to the board. The young trainers tactical shifts, on display through a comprehensive series of columns by a writer tasked with scouting American Josh Sargent, often lack coherence from one week to the next.

Which team is most likely to sit at the bottom of the table when February rolls around? It could very well be this one. So much hinges on whether Niclas Füllkrug can successfully return from his latest injury layoff and carry this team on his shoulders. If he can't, Kohfeldt may be the sixth coaching casualty of the season.



Related stories