Americans in the Bundesliga:
Hoppe show continues, Sargent exhibits slight uptick
By Peter Weis @PeterVicey
The latest installment of our "Americans" column covers rounds 16 and 17 of the 2020/21 German Bundesliga. Three players join the league's American trainer in receiving graded sections this time.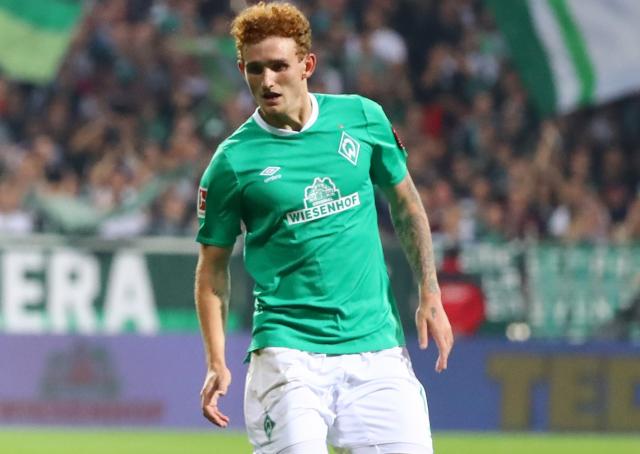 | | |
| --- | --- |
| Josh Sargent. | Photo: GEPA Pictures/Roger Petzsche |
A double matchday column coincidentally features a smaller set of American actors to cover. Giovanni Reyna, struggling with a non-corona related infection, missed out on the Saturday fixture. The 18-year-old played 17 mostly forgettable minutes on Tuesday.


Tyler Adams started neither fixture, making only 13 minutes in relief appearance on Wednesday. Timothy Chandler played ten minutes at tail-end of Wednesday's draw. We still wait for Joe Scally to make first Borussia Mönchengladbach bench squad.

Matthew Hoppe, FC Schalke 04

Matches played = 2/2, Matches started = 2/2

Minutes played = 177/180, Positions played = LS

Cumulative Grade = A

Two more tallies in his two fixtures give the American teenager from Yorba Linda, California a total of five goals in 2021. This actually makes him the Bundesliga's leading scorer of the young calendar year; ahead of even Robert Lewandowski. Perhaps the inconceivability of such an accomplishment simply proves too much for German journalists. The fact that each of his goals came on his lone shot on target in each match also seems suspicious. One must concede that both tallies owed a bit to luck as well.

In any event, all of the major German sporting publications accorded Hoppe rather poor ratings in the Frankfurt and Köln matches. It's understandable. This hot streak will come to an end eventually and no one wishes to overhype a player likely to fall back down to earth in short order. Seasoned football watchers don't know quite what to make of this American. The youngster doesn't even look like a footballer. His stance and stride appear unscuplted, unmolded, and unorthodox.


For the record, this writer most certainly belongs to the camp that considers this amazing run unsustainable. It cannot be the case that we behold some sort of impossible sensation developing before our very eyes. It's nevertheless very petty of the scouting graders to assign him poor marks in the two fixtures just completed. Hoppe put in some very hard work as a patrolling scrapper in both encounters. He kept a tenacious eye on the ball throughout and pounced with impeccably timing to produce goals out of nothing.

In the 29th minute of the Frankfurt fixture, he kept a tight focus on ball drifting backward that neither keeper Kevin Trapp nor defender Martin Hinteregger laid claim to. Hoppe bolted forward and didn't hesitate from thundering home a very technical nutmeg finish first-time with his weaker foot. Fifty-seven minutes into the Köln match, the American again kept his concentration as the Rhinelanders failed to clear three times. When the ball finally squirmed free, he broke at precisely the right time to hit another very nice finish past onrushing Timo Horn.

If one watched all 180 minutes of play (as this writer always does), Hoppe certainly served up his fair share of mediocrity. He showed just how amateurish he could look on aerial duels in the 29th minute of the weekend game. In the 22nd minute of the midweek match, he booted a pretty crum shot that looked more like a cross before getting badly in the air in the 33rd. The main factor contributing to his poor marks in the German media stems from his anonymity over long stretches of play. The American ventured too many deep runs instead of working with his teammates on builds.

Though this may be a cardinal sin in some German footballing circles, one shouldn't forget that much of the blame for this rests with his trainer. Christian Groß has been reverting to a back-three late in matches in an effort to push for the win. As a result, Hoppe has found himself isolated up top. More importantly, the disorganization on the final two axes led to the Königsblauen dropping two fixtures they would have otherwise maintained the chance of drawing.

The late adjustment in the second match looked something like this:

Lineup—Schalke 04—75th minute (3-4-3)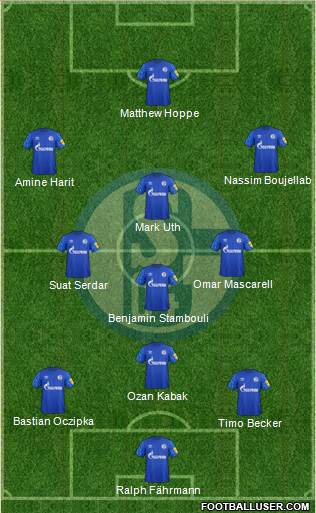 It's not entirely clear what this strategy aims to accomplish, or indeed if this is meant to be the shape at all. One does see the team struggle to keep themselves organized defensively as the midfield diamond gets all too easily pulled out of shape. Hoppe may not be at fault at all for holding off on the defensive press and running far too hot on his upfield runs. Those could ostensibly be his instructions. It's such that he averages fewer than five touches in the final 15 minutes of matches.

The American's scoring steak will surely come to an end this weekend against Bayern. February looks to be an especially cruel month for die Knappen. Leipzig, Union Berlin, Dortmund, and Stuttgart all await on the docket. As brutal as the upcoming fixture list is, it was also a bit callous of the Bundesrepublik's football reporters to call a premature end to Hoppe's party. The effort he put forth in the last two rounds remained meritorious. With it doubtful that he'll top the grade set again in this column, we're pleased to recognize it here.

John Anthony Brooks, VfL Wolfsburg

Matches played = 2/2, Matches started = 2/2

Minutes played = 180/180, Positions played = CB

Cumulative Grade = B+

A very strong set of matches from the Berliner. Of course, most will recall the defensive lapses during last weekend's fixture against Leipzig. Brooks had some predictable difficulty carrying center-half partner Maxence, who has fallen victim to the corona-related carousel afflicting the Wolfsburg defensive ranks. The American couldn't mark Emil Forsberg tightly enough on RB's opening 4th minute goal after Lacroix found himself way out of position. The pair share equal blame for the sordid mess of a miscommunication that led to Leipzig's second fifty minutes later.

There were other errors on display from Brooks in the round 16 encounter. He went totally M.I.A. on a 52nd minute throw-in and got badly beaten by Dani Olmo in the 67th. Other skillful sequences offset the mistakes. The American drove in a gorgeous header off a corner in the 62nd that unfortunately ricocheted of the inside of the post and recovered to beat back Olmo several times. The best example came in the 82nd. His (unofficial) stats on the day were slightly marred by twelve wayward passes. He still complied an 80 percent completion rate and won over three quarters of his battles in this writer's count.

Tuesday's performance against Mainz was even better. Twelve incisive forward passes, the best coming in the 51st, rendered the offensive portion of his game most impressive. It helped considerably that his defensive partner looked back up to full match fitness. Three of the forward initiations came in the opening ten minutes, as did two fantastic tackles in the 6th and 7th. Excellent headers away may be found in the 15th, 31st, 44th and 85th. The American won an aerial duel splendidly in the 76th, unfortunately unable to ultimately direct his header on target. The pass completion neared 90 percent and he only lost one ground challenge.

Pellegrino Matarazzo, VfB Stuttgart

Matches = 2, Match results = D, L

Cumulative Grade = C+

A team of contradictions indeed. Three short days after die Schwaben's American trainer's tactical set-up earned him all the plaudits associated with a tactical focus section in the matchday column, a 0-3 defeat to lowly Arminia drags his grade down to average territory. The fixture at the old Bielefelder All certainly counted as a bizarre one. Few will have known that the DSC loudspeakers blare out the same goal-celebration music (the 19th century French can-can) that Bayern München uses at the Allianz as few would have known that Bielefeld were capable of scoring a goal at home.

Heading into the midweek match, the big question mark for Matarazzo remained how he would replace suspended players Silas Wamangituka and Nicolas Gonzalez in his lineup. The former constituted the real problem area. Stuttgart have plenty of strikers and have done fine without the Argentine intermittently all season. The American trainer certainly made the correct choice in deploying Tanguy Coulibaly on the right-wing. A mixture of crude design and wobbly execution yielded this:

Lineup—VfB Stuttgart—Match 17 (3-4-2-1)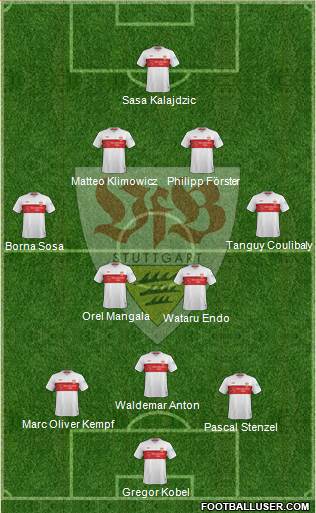 The NRW-hosts took advantage of this concept to get off to an energetic start. A bolt-down kept Wataru Endo and Orel Mangala fully squared with forward midfielders Matteo Klimowicz and Philipp Förster. Ritsu Doan and Rheinhold Yabo easily found their way around this box. This in itself wouldn't have spelled disaster if the VfB wingers hadn't gotten off to such a terrible start.

Coulibaly and Sosa couldn't coordinate their movements at all. The pair routinely missed one another on long lateral switches. Around the 20th minute, Coulibaly began cutting inward with Philipp Förster dropped back into the young Frenchman's position. Whether or not this was an intentional shift or the case of one player going rogue, the breakdowns on the flanks continued.

The Swabians were horrendous in possession on central advances too. Förster couldn't figure out which side of the ball he wanted to be on half the time whilst Klimowicz had no ideas beyond bull-runs and cutbacks into traffic. Coulibaly completed an atrocious opening half hour by getting absolutely toasted by Jacob Barrett Laursen on Fabian Klos's opening goal.

Striker Sasa Kalajdzic got his fair share of decent efforts on target. Perhaps that's why Matarazzo didn't elect to employ any halftime alterations. It nevertheless seems legitimate enough to criticize him for not doing something to shore up the problems on the wing. Coulibaly simply didn't have it on this particular day. The American waited too long to pull the trigger on some changes.

The whole right side was a mess. Pascal Stenzel defended horribly on the sequence that would lead to Marc Oliver Kempf's own-goal in the 47th. After utilizing a pair of double substitutions, Matarazzo finally got his formation turned around into this:

Lineup—VfB Stuttgart—66th minute (5-4-1)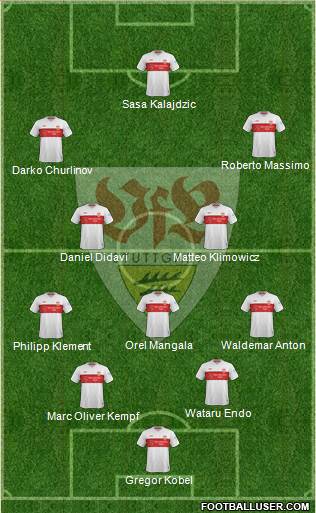 To his credit, he directly attacked the problem with two fresh wingers. It proved too late to make much of a difference, however. Roberto Massimo and Darko Churlinov struggled with their switches just as much as the previous pair. Philipp Klement simply wasn't up to the fullback placement. Wataru Endo got buried ineffectively behind sweeper Orel Mangala.

One definitely expected a great deal more from the players in this match. Matarazzo's managerial miscues, obvious as they may have been, weren't disastrous. A trainer can only control so much outside of the lines. A troubling trend manifesting itself here concerns what surprisingly little depth this team possesses on the flanks. In the face of this, the American should be held responsible for connecting some better alternate strategies.

Josh Sargent, SV Werder Bremen

Matches played = 2/2, Matches started = 2/2

Minutes played = 164/180, Positions played = SS, LS

Cumulative Grade = C-

Phrew. Once again, there exist few positives to report over on the Werder Bremen beat. Head coach Florian Kohfeldt continues to try out every possible tactical permutation in search of something that might catch on. As of yet, nothing has. Two more subpar matches produced little of note. Regarding the young American striker on team, the Missourian put in some promising play in the last two rounds. Though the results haven't appeared on the scoresheet yet, one can divine a light form uptick.

Lineup—Werder Bremen—Match 16 (3-6-1)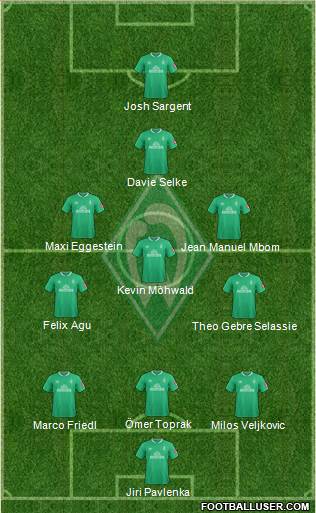 The Missourian ran very hard and did his upmost to get his teammates into the game. This writer recorded 41 touches; a high number for a lead striker. Most of Sargent's touches had ideas behind them. The first, a very deft flicked header-on in the 13th, sought an arrival at the near post. Sadly, no one came.

Shortly before the half-hour mark, he hit a nice ball back to Kevin Möhwald and hustled all the way back up through his attacking lane to place himself in a perfect position to receive a whipped-in cross. His colleagues let him down one more time. Sargent kept breaking forward with gusto despite the last ten minutes of the first-half degenerating into a choppy jumble of fouls.

One minute after the restart, he broke through on the right and rightly called for the ball. Maximilian Eggestein opted for a soft shot instead. The American initiated another nice rearward cycle in the 50th and executed a nifty flick-on for Jean Manuel Mbom two minutes late. During a notably strong stretch between the 53rd and 64th, he choreographed a few good rushes with crisp passing.

Augsburg keeper Rafal Gikiewicz denied him a goal on a hard first time shot in the 65th. The American then faded into a less active support role with substitute Romano Schmid carrying the offense thereafter. Sargent was not involved in either one of the late goals in the 2-0 victory.

Over at Borussia-Park on Tuesday, Kohfeldt tried to build on Schmid's success match by deploying this against the Fohlenelf:

Lineup—Werder Bremen—Match 17 (6-2-2)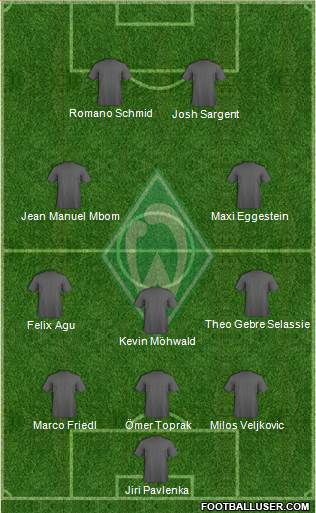 Having already expressed shock that something like this was even tried at this level, one may still credit Kohfeldt for the way in which this constellation absorbed the Gladbach pressure. Moreover, partnering the surging Schmid with a Sargent making some incremental gains in confidence could have produced a serviceable counter-threat.

One discovered how meek this attack would be in the 13th, when Schmid squared a genuinely atrocious ball five meters behind the American. Sargent kept up the inspired play with a cutting run forward and slick dummy inside the box in the 21st. That fine break constituted about the extent of his first half involvement as he found it more difficult to connect with teammates stationed so far back.

The American found himself unfairly booked for a well-timed slide tackle two minutes after the restart. He managed to work a nice cycle on the lefthand side in the 57th, then totally screwed up his first touch in a wide-open shooting position in the 64th. Just like in the Augsburg fixture, Sargent racked up over 40 touches and demonstrated a creative touch in his play. On the whole, he wasn't as sharp in the second match.

With Hertha, Schalke, a Pokal fixture against Greuther Fürth and Bielefeld on the horizon, one can plausibly predict that Sargent will score at least once in the coming weeks. Naturally, so much depends on what Kohfeldt comes up with next. One can expect some grousing about Bremen tactics in any case.



Related stories