Americans in the Bundesliga:
Goalscorers Sargent and Adams face different prospects ahead of week 19
By Peter Weis @PeterVicey
Another intriguing and exciting weekend of Bundesliga football stands before us. For US internationals operating in Germany's top flight, January turned out to be quite the successful month after all. Assuming Giovanni Reyna is once again fit to start, a fourth American still has a chance to start off 2021 with a bang.

Josh Sargent and Tyler Adams joined the surprise Matthew Hoppe on the monthly goal sheet following tallies last weekend. This week's analysis nevertheless calls attention to the fact that they may be headed in opposite directions.

In total, four players and the league's American trainer receive graded sections from the round 18 action.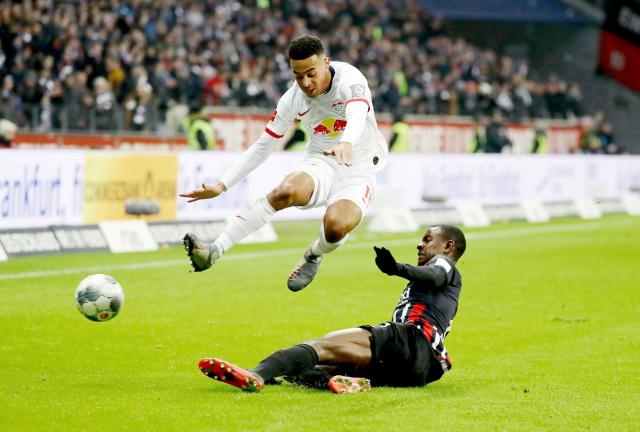 Photo: GEPA Pictures/Roger Petzsche

Two Americans tallied in the 2020/21 German Bundesliga's first matchday of the "Rück-runde". While the wholly remarkable scoring streak of Schalke's Matthew Hoppe finally came to a predictable end, Bremen's Josh Sargent and Leipzig's Tyler Adams both found the back of the net for their respective clubs. The immediate prospects for the two players nevertheless could hardly be more different. Sargent faces Hoppe's Schalke this weekend with some important momentum on his side. Adams may not feature in Julian Nagelsmann's lineup. We'll discuss that in great depth below.


In transfer news, rumors that RB Leipzig might soon sign American Caden Clark from the New York feeder club cropped up early in the week. None of the reports suggested that the 17-year-old would arrive in the Bundesrepublik immediately. All the same, it's worth noting that the Saxons denied pursuing even a longer term arrangement for the prospect they've long been linked to. At present, it appears unlikely that the class of US internationals in Germany will be expanded during this January window.

Those eager to have a look at new Gladbach fullback Joe Scally will be interesting to know that the American participated in all of the team's training sessions this week. An imminent Pokal fixture might see Marco Rose rotate him in for Stefan Lainer against Union Berlin this weekend.

Josh Sargent, SV Werder Bremen

Minutes played 58/90, Positions played = LS, CM

Grade = A+

It proved quite the special weekend for the "Missouri marvel". Dropped from Florian Kohfeldt's starting XI for only the second time this season, the 20-year-old pulled himself off the ropes with a sensational relief appearance that saw him net his second tally of the campaign. His ever-supportive coach has since guaranteed him a starting spot this weekend against Schalke and once again publicly stated that he cannot begin to envision building a lineup without the American.

This column has not always had the kindest words for Sargent. Frustration stems largely from the fact that injuries have gifted the talented youngster a seemingly endless series of chances to cement his role as this team's lead striker. The Missourian continually plays below his level, squandering golden opportunities week-in and week-out for the better part of the last 18 months.


When one saw Sargent's name absent from Kohfeldt's team-sheet this past Saturday evening, one had the impression that the American's most vocal supporter had finally had enough. Davie Selke began in the Missourian's place. Romano Schmid buttressed the German attacker slanted right. When Selke succumbed to injury shortly after the half hour mark, Sargent got his "nth" chance to make his mark.

Lineup—Werder Bremen—35th minute (5-2-3)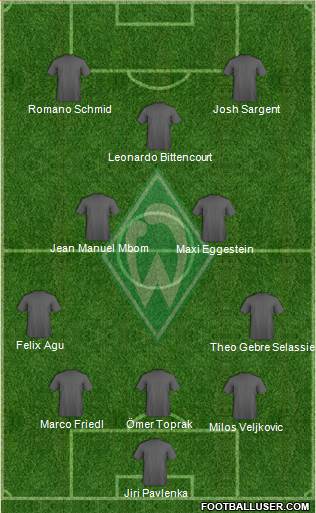 The tactical constellation had much to do with the fact that the Hanseaten were protecting a surprise 2-0 lead. Kohfeldt didn't dare risk this stroke of good fortune by deploying a genuine nine. While the American's role in this set-up remained subdued, the Werder trainer may have inadvertently stumbled upon something workable here. Leonardo Bittencourt played perhaps his best fixture of the season as a false-nine. Maximilian Eggestein seemed to enjoy coordinating with the young Jean Manuel Mbom.

Sargent did not get a meaningful touch in until well into the second-half. After shaking off a bad aerial loss in the 53rd, he executed a beautiful take-down in the 54th. The manner in which the American then proceeded to control the ball and skirt past three markers is definitely worth a look for those with access to the tape. With a bit more confident swagger in his step, he won another aerial duel brilliantly with a chest back in the 56th. This constituted the first match in this writer's recollection that he won the majority of his contests in the air.

One observed a noticeable shift in body language from the American. A go-at-goal appeared inevitable. When it did come, the Missourian scored by far his most impressive tally since the scintillating solo effort in the third round of the 2019/20 campaign. The unassisted 77th minute goal was all of his own making; a powerful thunderbolt of pinpoint accuracy executed off a breathtaking turn some 22 meters out. It takes a very technical striker to produce a finish from such range.

After the goal, the relaxed and loosened Sargent turned nifty slick ball tricks in the 81st and at 90+2. He powered his way to his most conniving aerial win of the season in the 87th. One must emphasize that Werder's 4-1 win over Hertha BSC remained a complete farcical scoreline from the xG perspective. It nevertheless counts as an enormous confidence boost for both player and team. Last week's column presaged that this American, visibly gaining in confidence, would score soon. We'll make the same prediction here. The opportunities should flow against upcoming opponents Schalke.

John Anthony Brooks, VfL Wolfsburg

Minutes played 90/90, Positions played = CB

Grade = A

Much of Brooks' heroics on this particular matchday are already chronicled in the weekend's tactical focus. As is often the case, this space can be utilized to highlight some of his best plays. The Berliner's best clearances came in the 3rd, 23rd, 32nd, 57th, and 86th. Monster tackles can be found  in the 5th, 33rd, 41st, 48th, and 61st. There was also plenty of great forward play in possession. Examples include counters in the 11th and 58th. Center-half partner Maxence Lacroix also tuned in beastly performance; the best he's had deployed alongside this American all year. The partnership is very much worth keeping a close eye on this weekend.

It's no accident that Brooks was selected as the best US Bundesligist of the year. League-watchers should also take note of the VfL's general rising form. Brooks and Lacroix benefit immensely from having a clicking pair of sixes (Maximilian Arnold and Xaver Schlager) stationed ahead of them. Germany's green company team serve as the current campaign's dark horse candidates. Though one can't necessarily draw true parallels between this side and the one that won the 2008/09 league title, an interesting factoid concerns the fact that Wolfsburg were in ninth place at the conclusion of the "Hin-runde" that year.

Matthew Hoppe, FC Schalke 04

Minutes played 73/90, Positions played = LS

Grade = B-

The Californian's improbable scoring streak predictably came to an end against Bayern. As pertains to his overall form, however, Hoppe did not manifest a noticeable dip. With there being little point in attempting to employ tactical nuance against the German giants, S04 trainer stuck with a simple 4-2-3-1. The not basic, if not somewhat impractical hope, revolved around the American being able to poach a goal or two via his steadfast determination fo hunt down rebounds. Such a blueprint stood virtually no chance against the likes of Manuel Neuer. Schalke's teenage sensation nevertheless necessarily play a poor match.

One can witness his confidence on the ball during a well-worked check back in the 10th and a sturdy header forward less than a minute later. On sequences in the 27th and 31st, he ran as hard as ever into the teeth of the robust Bayern defense. Hoppe carved himself a nice lane out in the 53rd and might have had a quality scoring chance were it not for an untimely slip from Mark Uth. At no point in time did it appear as if he switched off or allowed himself to be easily cancelled out. An (unofficial) total of 25 touches remained a bit low for a striker, but one must take his support system into account. With his form and stride still so upright, it's very possible he can find the back of the net against Werder.

Pellegrino Matarazzo, VfB Stuttgart

Matches = 1 Result = L

Grade = C

Heading over to the Schwarzwaldstadion to compete in the Baden-Württemberg derby certainly didn't count as an easy task for the Bundesliga's American trainer. Matarazzo's men barely edged out Christian Streich's Breisgauer in their recent Pokal match exactly one month prior. Since then, the two teams traversed almost diametrically opposite paths insofar as general form is concerned. A rather precipitous drop for die Schwaben necessitated some changes. The Stuttgart trainer lined up his XI thusly:

Lineup—VfB Stuttgart—Match 18 (3-6-1)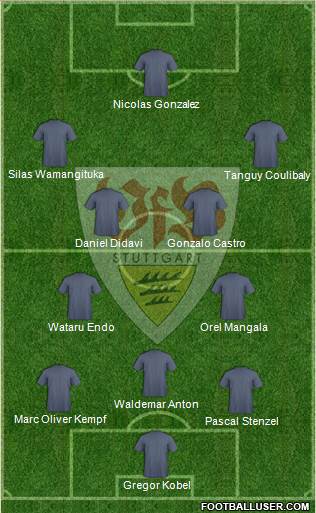 The most obvious ploy involved switching Silas Wamangituka over to the left flank. On the supporting axes, Matarazzo tried to connect Daniel Didavi and Gonzalo Castro on a tight plane and gave Wataru Endo a more stationary assignment alongside Orel Mangala. Wamangituka opened up the scoring in the 6th minute, but the team proved too inconsistent with regard to executing the other moves. Freiburg took advantage of a floundering defensive set up to mostly dominate the match for a very long stretch between the 12th and 28th.

Endo and Mangala switched sides around the 20-minute-mark in order to put a stop to the opposition onslaught. The squad managed to stanch the bleeding a bit. Offensive play nevertheless remained very poor. Castro and Tanguy Coulibaly couldn't get organized. Team passing during the final quarter hour picked up collectively and the Swabians forced SC keeper Florian Müller into three quality saves. Just when it appeared as if the guests might pull ahead, however, Pascal Stenzel got completely murdered by a roving Woo-Yeong Jeong on Freiburg's second goal.

Much can be made of Nicolas Gonzalez's penalty miss shortly before half-time and some additional acrobatics on behalf of keeper Müller. Matarazzo's Stuttgart definitely got their chances while finding themselves on the wrong end of a few breaks. The ease with which Freiburg were able to play through the middle and general defensive disorganization still called for a better half-time adjustment. The American trainer swapped out Stenzel for Konstantinos Mavropanos and maintained his formation. As a result, his team remained cold well into the second-half.

The first genuine offensive chance came in the 55th. Gonzalez added another poor finish to his penalty miss. Coulibaly and Castro racked up more wayward passes. Mangala and Endo, their muscle memory interrupted, made too many hesitations in midfield open play. Switching them back in the 61st ameliorated matters somewhat. Bringing on Mateo Klimowicz for Castro a minute later helped too. Matarazzo can be fairly accused of waiting just a bit too long to introduce Sasa Kalajdzic and reformat to this:

Lineup—VfB Stuttgart—70th minute (4-3-3)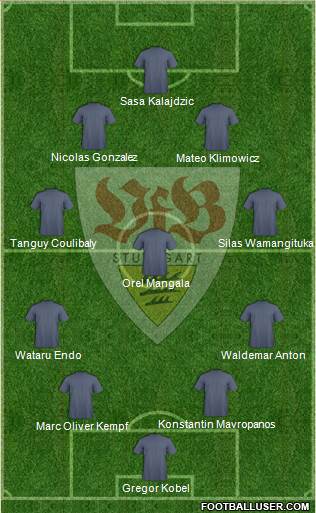 Moving Waldemar Anton out wide, as has been the case before, provided the build-up play with a much-needed creative spark. The move also enabled Matarazzo to install Philipp Klement at right-back later and bring on Erik Thommy to take up Coulibaly's reassigned position on the left flank. The Swabians came close to drawing the match several times. Mavropanos and Thommy were but whiskers away down the stretch. Unlucky as they may have been, one still can't shake the sense that the American coach should have been more aggressive in pulling the trigger on changes here.

Tyler Adams, RasenBallSport Leipzig

Minutes played 77/90, Positions played = RB, RM

Grade = C-

Josh Sargent wasn't the only American to tally in this most recent round. The Bundesliga's New York representative also returned to Julian Nagelsmann's starting XI after sitting out the last two fixtures and notched his first tally of the 2020/21 cycle. That important milestone notwithstanding, Adams finds himself mired in an inconsistent set of tactics that don't accord him a regular defined role. In contrast to his other compatriots on the scoresheet, this American doesn't find himself on a clear path to sustained success.

Lineup—RB Leipzig—Match 18 (5-3-2)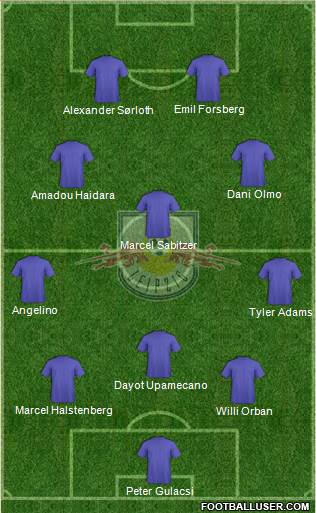 Halfway through the season, Nagelsmann still hasn't figured out a convincing post-Tim-Werner formula. The latest constellation struggled to keep its shape. Adams pulled the right flank away from the forward-minded Angelino on far too many occasions. Inside the first quarter of an hour, the American had already exhausted himself with a plethora of high-press/track back directional shifts that exhibited no clear rhyme or reason. The work looked inessentially hard.

One sequence on which the American didn't have to engage in significantly hard work was the goal itself. His positional lurking may have been commendable enough, but tucking away a Marcel Sabitzer ricochet could have been accomplished by just about anyone. Shortly after the 15th-minute tally, the observer can watch him pulling apart the axial shape of the attack again. Examples in the 17th, 19th, and 20th demonstrate highly eccentric movement.

After some loose marking on Mainz's 24th minute equalizer, the American appeared completely lost on several sequences between the 26th and 29th. Adams continued to lose focus and failed to pick up his marker on Moussa Niakhaté's second goal in the 35th. He was rather harshly adjudged to have committed a foul near the stroke of halftime, yet this didn't excuse the manner in which his rogue ringlets wrenched the team's offensive engine.

RB fell behind in the fixture five minutes into the restart and Nagelsmann began to implement a formational shift via the use of some separated substations. Christopher Nkunku came on for Marcel Halstenberg in the 55th. After allowing Dani Olmo approximately five minutes to adjust to a flank shift, Justin Kluivert and Lazar Samardzic relieved Emil Forsberg and Amadou Haidara.

Lineup—RB Leipzig—63rd minute (4-3-3)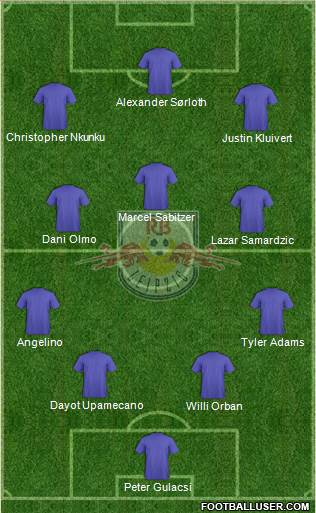 Adams seemed something of a misfit for this arrangement from the start. Seven of his (unofficial) 15 total stray passes came during his final 14 minutes on the pitch. The right-ward cycle degenerated into a sloppy mess. Samaradzic, Kluivert, and Adams all lurched out-wide in lieu of getting their triangles right. Adams got rightly booked for a frustration-foul in the 70th. One can hear him shouting obscenities at the ref via the pitch audio. His nearby trainer looked most unamused by the antics and likely made the decision to take him off in that moment.

Based on the overall level of play, it's not at all clear as to whether Adams will even get a chance to carry his momentum over this weekend against Leverkusen. His coach may prefer to deploy Haidara or Nordi Mukiele alongside Angelino. The return of Lukas Klostermann pushes this American out of a potential right-back role whilst recent solid form from Sabitzer and Kevin Kampl squeezes him out of the midfield. We might see the New Yorker take a seat until Nagelsmann can devise a more productive role for him.



Related stories