Khedira on his contribution:
"I knew where the spaces were."
By Peter Vice @ViceytheSS
Prominent returning actor Sami Khedira was all smiles before the Sky mircophones after helping his new team gain a crucial point. 

After the match, the German World Champion took some time to reflect on what he brought, and may still bring, to the beleaguered capital city club.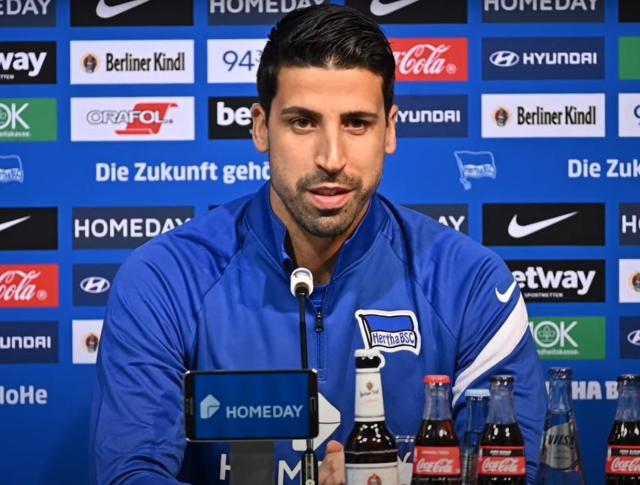 Sami Khedira's first impactful action in his return to the Bundesrepublik happened to be recording an crucial assist against the hometown team that developed him. The 33-year-old, brought back to the Bundesliga by relegation-threatened Hertha BSC, appeared well aware of some of the criticisms his signing raised. 


Many in German footballing circles wondered why "die alte Dame" acquired a central midfielder like Khedira when that remained perhaps the only position where the club had no shortage of players. The 2014 World Champion answered those questions indirectly in his post-match interview.

"Football is a game of distribution and mapping," Khedira told his interviewer, "I knew where the spaces were. Understanding a game, how the opponent is playing. That's one of my strengths." 

The new transfer noted that he had carefully studied the game from the sidelines before being subbed on near the hour mark. Hertha essentially took control of the match after his introduction. One-week removed from America's Super Bowl, the veteran footballer apparently still had American football on the mind.

"In American football, everyone has their route. If someone doesn't run their route, the whole game gets screwed," Khedira mused, "It's a bit like that in [association] football too. If you don't stand where you need to stand, it gets difficult. We held our positions better today."

Khedira, perhaps wary of the fact that Mats Hummels (in better times) had the distinction of being called his team's "quarterback", stayed away from that particular American football analogy. The beaming German national team legend nevertheless resembled more of a distributive general than Hummels had in some time during his half-hour on the pitch.



More about the match
More about the teams
More about Sami Khedira