Americans in the Bundesliga:
Brooks and Reyna in strongest form heading into next round
By Peter Weis @PeterVicey
Our deep-scout column of US internationals playing in Germany's top footballing flight returns with quite a bit to catch up on!

This edition grades five relevant actors on their performances in the final two Pokal rounds and matchday 32 of the 2020/21 German Bundesliga.

As the season draws to a close, we'll note that this shall be the penultimate "Americans in the Bundesliga" column.

Following the action this weekend, we'll take one last look at the work of this year's class heading into the final matchday of the season.

As we prepare to bid farewell to another year of great Bundesliga football, join in for our second-to-last look at how the USA representatives playing in it fared!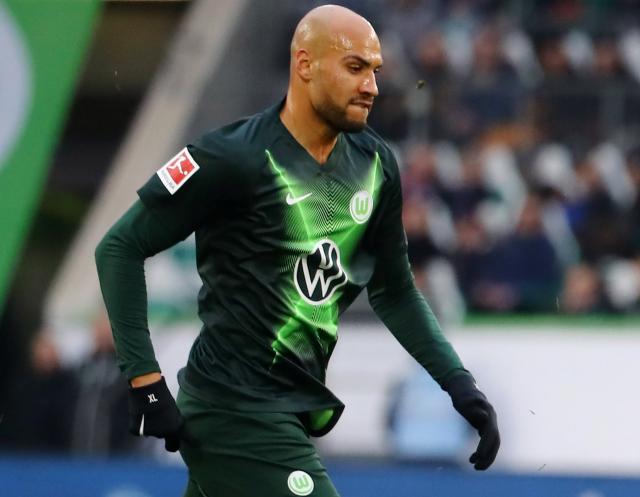 | | |
| --- | --- |
| John Anthony Brooks. | Photo: GEPA Pictures/Sven Sonntag |
A column containing a great deal of catch-up work still only has five graded sections this week. In spite of the fact that we're covering two domestic cup rounds and one league weekend, there are two notable absences. Some may wonder where Tyler Adams and Chris Richards are. Adams has missed three fixtures with chronic back problems. Thigh problems sidelined Richards against Schalke last week and will keep him out of action this weekend against Bielefeld.


There's still plenty of interesting developments to discuss. It should be noted that it was decided not to give Timothy Chandler a graded section even though he did factor in lightly during a 25-minute relief appearance in Frankfurt's 1-1 draw with Mainz. After some consideration, it didn't feel as if Timmy got enough touches in to merit a full passage. Anyone interested can find a more nuanced view of his action in the most recent tactics column.

John Anthony Brooks, VfL Wolfsburg

Matches played = 1/1, Matches started = 1/1

Minutes played = 90/90, Positions played = CB

Grade = A

One of the Bundesliga's most persistently strong USMNT talents leads the pack again this week, as he has so many times this season. Wolfsburg's 3-0 win over Union Berlin last weekend happened to be one of those instances in which Brooks' center pack partner Maxence Lacroix turned in the stronger performance, but the Berliner contributed plenty of his own sturdy play. The writer recorded 98 touches, 81 passes (with only 8 strays) and a 72-percent duel rate. Brooks was also involved in the builds of two of the three VfL goals.

One could immediately see that he was on his game with top-notch stops in the 6th and 9th. He continued to cut out well on tackles in the 16th and 17th. Great sweep-ups/clearances can be found in the 28th, 39th, 57th, 71st, 79th, and any 90+4. His best headers away came in the 50th and 58th. There's another nice one at 45+1. Initial marking of Joel Pohhanpalo at the half-hour mark led to a scoring chance, but Brooks recovered in time to deflect what would have been a match-altering goal off his heels.


The American and his French counterpart ran the back-builds very well all afternoon. One can often see how they fan out wide with little worry about collapsing back in should the opponent engineer a counter. Lacroix and Brooks have clearly put in the time to refine their partnership on the training pitch. It's likely not a stretch to say that Brooks, who was by no means always an actor who played to his full potential, has supplied some seasoned mentorship. One can definitely enjoy watching how well these two work together. Here's hoping against hope that we get to see it next season too.

Giovanni Reyna, Borussia Dortmund

Matches played = 3/3, Matches started = 1/3

Minutes played = 128/270, Positions played = RW, LW

Cumulative Grade = B

In Gio's case, the DFB-Pokal semi-finals, the round 32 encounter against Leipzig, and yesterday's victory in the DFB-Pokal Final have all transpired since our last column. Sadly for Gio fans, the teenage phenom did not factor into the immensely entertaining festivities in Berlin's Olympiastadion. Terzic left him out of the starting lineup. The American barely logged sixty seconds as a meaningless run-out-the-clock substitution at 90+2. Of course, one can argue that the BVB wouldn't have even attained the final had Gio not put Holstein Kiel to bed early in the semis.

Reyna earns "A++" marks for that magnificent performance. Before scoring his brace he played like a man possessed. Gio won all of his direct  challenges (3rd, 4th, 11th, and 15th) prior to finding the back of the net. The finish on the first goal (16th) was immaculate. His focus never wavered for a second as he sought out the top corner. Marco Reus and Raphaël Guerreiro set him up splendidly on the second tally seven minutes later. The young American nevertheless deserves full credit for working the trail run perfectly.

Edin Terzic saw no need to keep him on after Dortmund entered the tunnel with a 5-0 lead. With the outcome of the match no longer in doubt, the youngster received a rest over the second 45. Confidence regrettably didn't carry over to the next league fixture. This may be the reason his trainer opted to leave him off the XI with the cup on the line. Everything looked configured nicely for Reyna to produce another monster match. Oddly enough, he struggled in this constellation:

Lineup—Borussia Dortmund—Match 32 (4-2-4)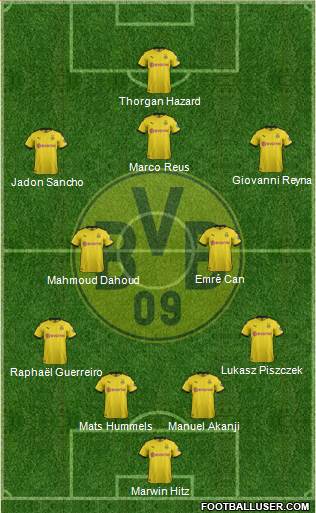 Still missing Erling Haaland at the time, Terzic's plan seemed to be to pack Reus and Thorgan Hazard in a tight vertical pairing. Reyna and Jadon Sancho  operated farther back than one is normally accustomed to seeing them. The centralized pairing worked well, with both Sancho and Reyna having a bit of early difficulty coordinating their switch rotations. The American looked out of sync on cylces in the 3rd, 4th, 10th, 15th, 19th, and 21st.

After a good win on his first direct duel of the day in the 13th, Gio lost several in a row to Leipzig wingback Angelino. He couldn't hold onto a clean Hazard service in the 26th. Dayot Upamecano easily dispossessed him in the 34th. These defeats discernibly effected some of his later first-half moves on the break. One can see some less than stellar body language in the 39th and 45th.

Reyna mostly remained on the right during the second half. It's obviously unclear as to whether this stemmed from a Terzic directive or Gio simply felt less confident in switching with Sancho. In any event, as pertains to the result of the match, this had no adverse consequences for the BVB. Sancho and Guerreiro effectively shredded the Leipzig right en route to the 3-1 victory.

Reyna finished strongly, winning two great battles in the 69th and 71st. On the former, he absolutely owned nemesis Angelino on an aerial duel. As Dortmund's defensive shape began to fray in the final twenty minutes, Gio was regularly back helping mop up. He cleared solidly shortly before being subbed off in the 84th.

On the whole, this American's work in the league fixture did leave a lot to be desired. The sensational Pokal performance combined with the resolute will to play on following a shaky start last Saturday ensure that Reyna's grade isn't docked too deeply. His form over the past four rounds remains strong enough to disregard some predictable dips.

Pellegrino Matarazzo, VfB Stuttgart

Matches = 1, Result = W

Grade = C

With a little bit of luck, the Bundesliga's historic first-ever American gaffer snapped a four-game losing streak last Friday night against the tactical mess that was Augsburg. The New Jersey natives tactics were sensible and the manner in which Matarazzo dealt with a spate of injuries was laudable. His opening hand looked a little like this:

Lineup—VfB Stuttgart—Match 32 (3-4-3)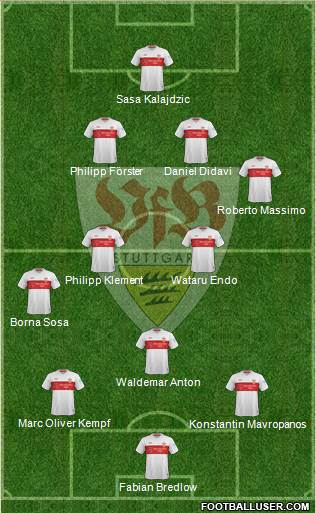 Tactics-heads certainly appreciated seeing Roberto Massimo and Borna Sosa work the split-stagger, but certainly felt let down seeing Wataru Endo stuck in a rigid midfield square lined up with the second axis. The primary reason the Swabians operated so successfully against the Fuggerstädter concerned the fact that new FCA head-coach's Marcus Weinzierl's debut 4-1-4-1 constituted something of a joke:

Lineup—FC Augsburg—Match 32 (3-4-3)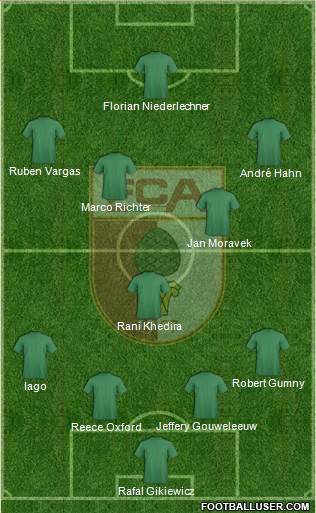 Assuming that the writer's reading of this set of tactics is correct, Jan Moravek and Marco Richter were supposed to operate as advanced sixes on a stagger. Rani Khedira's role seemed a burdensome sweeper hybrid. He got caught out quite often. Again, it should be stressed that this is nothing more than subjective analysis of a constellation that may have had other intentions. All that's truly clear is that it was a mess.

The FCA made it far too easy to prey upon the huge gaps between the axes. The VfB ran on cruise control after Philipp Förster's 11th minute goal. A mispositioned Endo barely felt the need to involve himself in proceedings as Massimo, and later Tanguy Coulibaly, painted their way around the edges with ease. Somehow one had the sense that Stuttgart should have done even better against this disorganization.

The general form of Matarazzo's team didn't truly look convincing in its own right. A naive sense of confidence saw them get caught easily on the counter many times during the second half. The Sawbians allowed their opponents back into a match they had no business equalizing. Back-up keeper Fabian Bredlow bailed the porous VfB rearward ranks out on a few occasions.

Stuttgart won the match despite losing the xG battle. One can come up with any number of excuses for this squad's persistent underperformance during the "Rück-Runde". Injuries haven't helped. A young squad often runs out of steam in their first top-flight year. This column maintains that the head-coach plays a role as well. It must. A team lacking the killer instinct needed to run up the score in an encounter such as this one needs more from its gaffer.

Matthew Hoppe, FC Schalke 04

Matches played = 2/2, Matches started = 1/2

Minutes played = 95/180, Positions played = LS

Cumulative Grade = C

It has, in fact, not been that long since this column featured a graded section for the California native. Hoppe last started in round 26's 0-3 loss to Borussia Mönchengladbach. The American, not necessarily helped by the fact that Klaas Jan Huntelaar neared full-match fitness at the time, lost his starting role with a mistake-laden performance on that day. Since then he's only seen action as a time-killing late sub. This was the manner he logged five late minutes against Hoffenheim over the weekend.

Thanks in no small part that a seven-player-quarantine forced trainer Dimmitrios Grammozis' hand, Hoppe made the starting XI in the midweek make-up fixture against Hertha. Huntelaar served as his attacking partner in what looked like a 3-4-1-2 anchored by Amine Harit. Hoppe only garnered 26 touches by the writer's count, but certainly had his running shoes on over the course of the full 90. The American covered quite a bit of ground and exhibited fine determination on defensive markings in the 8th, 16th, 34th, 79th, and 82nd.

The duel-rate stood at 55 percent. The best win came in the 88th, the worst loss in the 35th. Hertha's Lucas Tousart really owned him all afternoon, muscling him off chances in the 17th, 45+1, and 73rd. One had to applaud his effort during the final ten minutes; a stretch during which he even got a shot off himself. A few nice offensive moves in the 40th and 64th are worth a look. Hoppe's best play of the day came in 36th. Keenly aware that he had Huntelaar free to his immediate right, the American executed sharp one-touch over to his colleague.

Some of the examples provided notwithstanding, the 20-year-old's day still must be labeled average. Harit actually did a very good job drawing coverage on most of the charges, yet found himself short of forward options from either striker. Both Hoppe and Huntelaar ball watched a bit too much instead of maneuvering themselves into better positions. There were several instances of carries by the two young midfielders--Blendi Idrizi and Florian Flick--saw the strikers flatfootedly freeze instead break forward themselves. Strikers are occasionally more complicit in a team's loss for their behavior off the ball.

Josh Sargent, SV Werder Bremen

Matches played = 2/2, Matches started = 2/2

Minutes played = 204/210, Positions played = AM, SS

Cumulative Grade = C-

The Missouri marvel remains a difficult one to grade this time as he played remarkably well in his side's extra-time semi-finals loss to Leipzig. Florian Kohfeldt kept him on the pitch for the full 120 minutes. The tactical set-up selected by Kohfeldt surprisingly kept Sargent at his new anchoring position. A few subtle shifts nevertheless appeared wisely geared toward fine-tuning some of the previous failures.

Lineup—SV Werder Bremen—DFB Pokal (5-2-3)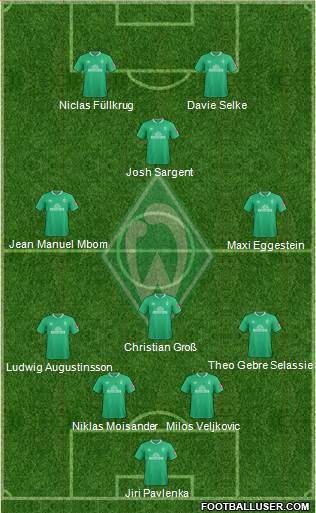 If one takes the 3-5-2 used by Kohfeldt in the round 31 into account, one divines several intelligent changes to the structure. Nixing the back-three, utilizing Christian Groß in a better-suited sweeper role, and ditching the ruinous concept of wingbacks all enabled Sargent to move up and work more effectively in the ten-spot. Within the first 20 minutes of the encounter, the American had fed his forwards with six successful passes.

A semi-regular rotation with Jean Manuel Mbom led to successful squares for the latter in the 23rd and 27th. Sargent also won two duels on the left before the half-hour mark. The American found himself unfortunate to hit the post on his own effort in the 36th. Keeper Peter Gulacsi had to be on his toes to save another Sargent shot at 45+4.

Bremen and their American attacker were much more quiet in the second half of the fixture as Leipzig shut down the lanes and really began bossing the match. Sargent managed just twelve touches, all of which two were rearward, during an almost uninterrupted Leipzig onslaught. Uncharacteristically for Kohfeldt, the first personnel change didn't come until the 66th.

Yuya Osako and Leonardo Bittencourt replaced Mbom and Niclas Füllkrug on like-for-likes in the 66th and 73rd, respectively. Neither swap produced a match-altering effect. The Hanseaten were extremely lucky to escape normal time level with their opponents. Only after Hee-Chan Hwang scored at the beginning of the first added period did the Bremen trainer try something different.

Lineup—SV Werder Bremen—97th minute (5-2-3)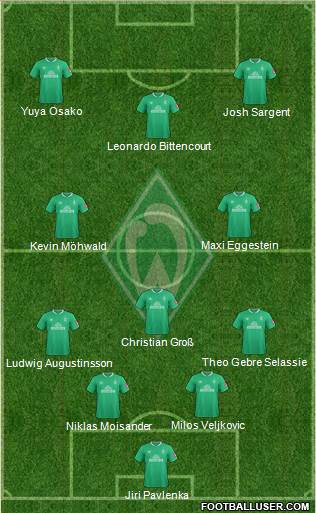 Davie Selke's pull moved Sargent forward as part of a wider double-striker set. The American still didn't see anywhere near as much action as he did in the first half, but did pick up 15 more touches in the final twenty-three minutes. With Groß able to hit Bittencourt with straight verticals, the entire offensive apparatus looked to be the recipient of a nice jump-start.

A sharp cross for Osako enabled Sargent to record an assisted shot shortly before Emil Forsberg's goal at 120+1. The American not only stood tall at the end of a grueling 120 minutes, he also thrived. Overall, Josh Sargent fans may wish to give the semi-final Pokal match a look. It constituted one of his better fixtures all season. Despite some less than crisp passes, 15 wayward ones to be precise, he worked hard throughout.

Moving on to the 0-0 draw with Leverkusen in last week's 32nd round, Kohfeldt tried to apply the same basic tactical blueprint. A 5-2-3 with Sargent threading the apex needle behind Selke and Füllkrug. Unfortunately for the American, his day got off to the worst possible start. In the 3rd minute he was rightfully booked for a horribly clumsy challenge on B04's Leon Bailey. This early play had huge ramifications for the match.

Bailey hobbled about on what we would later learn was a broken toe. Sargent appears justifiably rattled as the Leverkusen players selected him as a target for payback. Edmond Tapsoba hit him in the 12th whilst Daley Sinkgraven took him out in the 28th. The American got his own good tackles in (13th, 18th, 30th), but couldn't seem to focus on the forward running obligations necessitated by his position.

Examples can be found in the 15th, 27th, and 29th. As we've remarked numerous times throughout this year, Sargent appears in store for a subpar day when he has trouble catching up with the attack. Kohfeldt might have done better to move him up to a forward position, just as he did in the Pokal. Instead, Osako and Milot Rashica refreshed the top axis in the 58th. Selke stayed on and the American dropped back farther.

Lineup—SV Werder Bremen—58th minute (5-2-3)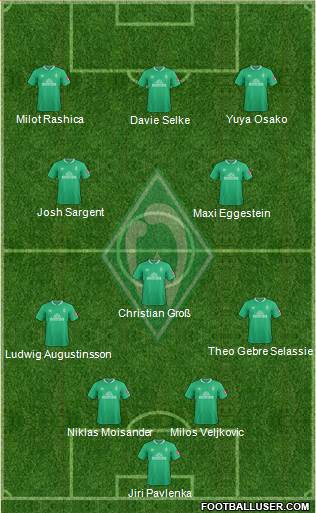 It proved most disconcerting to see that Sargent played no role in Kohfeldt's late attempts to go for broke with a trident. A few good runs forward on both sides of the break simply weren't enough to convince his coach that he had the rigor on this particular day. A even poorer second half saw Sargent commit another egregious foul in the 66th and totally whiff on his one involvement in an attacking sequence in the 83rd.

Passing and duel rates weren't horrible. The Missourian nevertheless didn't pick out an relevant connect until a cutback for Groß in the 80th. Kohfedlt yanked him three short minutes after what was one of his few clever plays of the day. A strong finish to the campaign, as was the case last year, can't be ruled out for Sargent. One still must note that his last match counts as a rather precipitous dip.

Thanks to all those who have read some part of this column this season! You can now catch Peter at his new home on twitter. DMs open. @ViceytheSS

With the Euros just weeks away, there's also plenty of irreverent satirical fun in store this summer on the blog for those who care to join in! One can access it through Peter's website.



Related stories