Internal Kovac criticism increases: 'We're not in Frankfurt!'
After three games without a win, the atmosphere is said to be tense at the Säbener Strasse.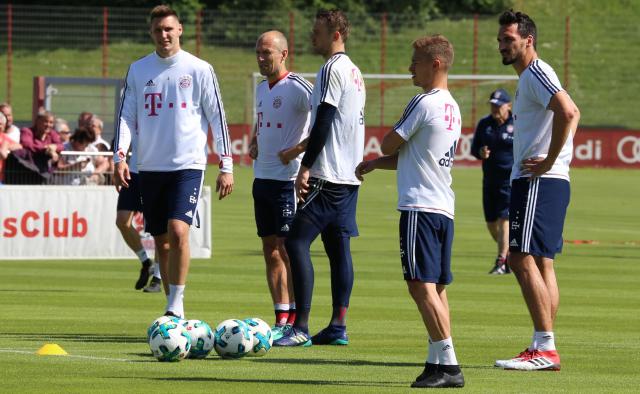 | | |
| --- | --- |
| Internal doubts about Niko Kovac are said to be growing. | Photo: Rufus46/CC-by-SA 3.0 |
The Bayern München players are growing increasingly dissatisfied with coach Niko Kovac, Bild reports.

Following a handful of winless matches, the internal doubts about Kovac, who joined from Eintracht Frankfurt this summer, is said to be growing.

Apparently, James Rodriguez, who believes he has spent too much time on the bench this season, raged in the dressing room last week while Kovac wasn't present.

"We are not in Frankfurt," the Real Madrid loanee reportedly said before adding that he is prepared to leave and wants to inform the coach of his decision.

Generally, the Bayern players are said to be unhappy about Kovac's way of rotating the squad. Some of them feel it's unfair that even if you deliver a great performance, it's not unlikely that you will drop to the bench for the sake of rotation, just like it happened for James Rodriguez after the game against Schalke or for Niklas Süle after the game against Bayer Leverkusen.

Recently, Bayern München president Uli Hoeness suggested that Kovac's way of rotating has had a negative impact on the team's form.

"In the end, he's putting his neck on the line for it," Hoeness told tz and added:

"The rhythm was lost a bit at the Augsburg game. There was a big rotation, and that messed up things a little. But I don't think that's dramatic."

Another alleged issue is that Niko Kovac often speaks Croatian with his brother and assistant coach Robert, goalkeeping coach Toni Tapalovic and the Bosnian sporting director Hasan Salihamidzic - even if others, who can't speak Croatian, are nearby. Many see that as disrespectful, and co-coach Peter Herrmann is among those who are unhappy about it.

Kovac and Bayern will hope to get back to winning ways when Borussia Mönchengladbach visit the Allianz Arena on Saturday.