Glasner on visit to FCB:
"We're not going to Munich for late summer coffee and cake."
By Peter Vice @ViceytheSS
Fresh off his first win at the helm of the SGE, Eintracht Frankfurt head-coach Oliver Glasner sought to ramp up the rhetoric ahead of the team's visit to the Allianz.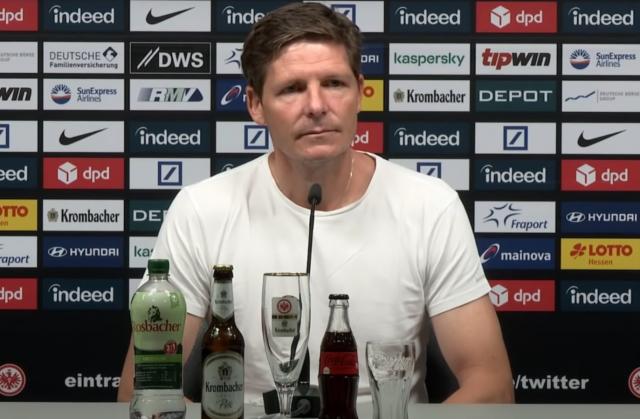 Oliver Glasner finally earned his first win in nine competitive fixtures in charge of the Eagles of Germany's commercial capital two days ago. Hopes of carrying momentum from the narrow victory nevertheless remain slim. Up next for Eintracht, it's the mighty Bayern München at the Allianz.


"We won't be taking a Sunday trip for leisurely late summer coffee and cake," Glasner emphasized, "We will give Bayern a real fight. I want to see in the players eyes that we have the confidence to go to Munich and win."

Frankfurt have not won away at Bayern for some twenty years. The FCB's home winning streak stands longer against the SGE than any other club. Eintracht last left Munich with three points during the 2000/01 campaign.

Given the level of play on display during Thursday's victory, it might appear that a disaster is looming. Glasner remained unfazed by the history. While acknowledging his squad's problems, the former Wolfsburg trainer remained adamant that he felt they could deliver "an absolute top performance."

"We're not going to Munich to force a close game, but to win," Glasner insisted, "I say that with utmost conviction. That's how it was for me at Wolfsburg as well. We can't, and don't want to, simply defend. We want to use our ball wins to press courageously forward."

Glasner's tactical situation remains far from stable. The new gaffer has literally rolled out a different system in all but two of his matches. He reverted to a back-three again during the squad's UEL visit to Belgium.


Since Eintracht beat Bayern 5-1 in the 2019/20 "Hin-runde", forcing out former head-coach Niko Kovac and ushering in Bayern's Hansi Flick Era, Bayern have beaten up on Eintracht in their two league visits to the Allianz. Flick's Bayern beat Adi Hütter's Frankfurt twice by a combined 10-2 scoreline.

Frankfurt have beaten Bayern again since at Deutsche Bank park and did give the German giants a fight during the 2019/20 Pokal semi-finals.



More about the match
More about the teams