Nmecha brothers discuss life in Wolfsburg and national team plans
By Peter Vice @ViceytheSS
Nmecha brothers Felix and Lukas are once again reunited playing for Germany's green company team in the "Autostadt" of Wolfsburg.

The two Hamburg natives sat down with Thomas Hiete of German footballing magazine Kicker for an interview appearing in the Monday print edition. 

In addition to discussing which brother was the better goal-scorer and the better cook, the dual pair also talked about their future plans in terms of which country they would represent.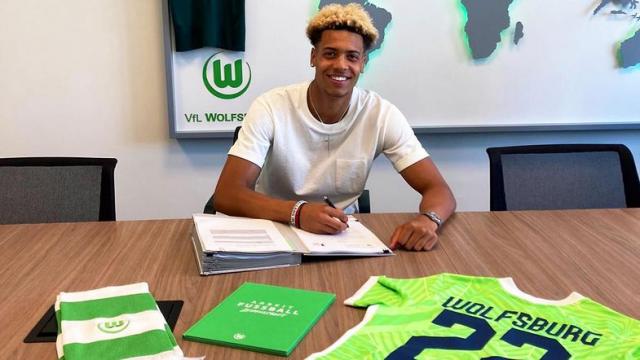 | | |
| --- | --- |
| Felix Nmecha. | Photo: VfL Wolfsburg |
Lukas and Felix Nmecha were both born in Hamburg with 18 months of one another. After living seven years in the Hanseatic city with their German mother and Nigerian father, the brothers moved to Manchester and eventually began playing football at the Man City academy.


"We had a really nice childhood," Lukas told Thomas Hiete of German footballing magazine Kicker, "Football really helped us. You find friends rapidly over there if you can kick."

"Our father has problems finding a job in Germany," the elder brother also revealed, "He moved to England one year ahead of us. We were separated as a family. After he got established, we all moved over there to join him and were reunited."

Both brothers caught on fairly quickly at the Man City academy and represented England at youth level. For Lukas, who is slightly older, memories of Germany were among the factors to switch over to the German U21s in 2019.

"For me, the German side prevailed," the 2021 UEFA U21 European Champion revealed, "Stefan Kuntz also played a big role. He convinced me."

The elder Nmecha brother has actually tallied 12 times for Germany's highest youth level. New Bundestrainer Hans Dieter Flick has confirmed that the 22-year-old's time for the senior side shouldn't be far off in recent statements. It would appear that his time to solidify a starting spot in the Wolfsburg XI has already come.


VfL trainer Mark van Bommel selected Lukas above Wout Weghorst in as the lead striker in this weekend's matchup. With the Dutch striker out with COVID, Lukas will almost certainly get another turn up top in Wednesday's crucial Champions' League showdown against RB Salzburg.

"I hope to become a senior international here," Lukas noted, "preferably before the 2022 World Cup in Qatar. [regarding the nationality], I'm convinced that I made the right decision for me."

Twenty-one-year-old Felix has thus far only represented England at youth level. At the club, the younger midfielder remains somewhat behind his brother in terms of a role in the team. That isn't to suggest that Felix isn't ahead of schedule.

Initially signed merely to the camp roster, Felix made the permanent team, featured in three of van Bommel's bench squads (rounds 5,6, and 7), and even made his Bundesliga debut this past weekend as a late sub against Union Berlin.

"I had a couple of options before joining Wolfsburg this summer," Felix said, "I chose this one and am focused on the VfL."

As for whether Felix would ultimately choose to represent Germany at youth level too, the younger brother let slip that he had concrete plans. Pressed by interview Hiete for specifics, however, the 21-year-old would reveal no more.

"I already have something in my head," he noted, "But it has to wait. It's not time to talk about it yet. There has been contact with the DFB, but right now I'm focused on the VfL."

Expressing joy at being together, the brothers also took care to set the record straight when it came to their duel transfers this summer. It is often the case in football that, when it comes to siblings, one brother makes it a stipulation that the other one comes with him to a new club. Such was the case with, among other instances, Christian and Jonathan Benteke at Crystal Palace.

Lukas explicitly refuted this.

"The moves had nothing to do with one another," the elder brother insisted, "I believe the VfL had even been in contact with Felix before negotiations with me started. It was definitely not a condition of mine that Felix come along."

The two brothers declared themselves quite content together in Germany's Lower Saxon "Autostadt".

"We live in apartments opposite one another and spend a lot of time together going out to eat, playing Playstation, and watching movies/TV series," Lukas said.

In a semi-comical observation sure to give German football enthusiasts a chuckle, Lukas divulged that he had spoken to former Man City teammate Kevin de Bruyne about what it was like to play in Wolfsburg.

"He said you can play top football and live quietly," the elder brother said, "That's true. It would be nice if there were more going on sometimes, but the peace and quiet of Wolfsburg works for us."

Editor's note: Another article recently appearing on Bulinews also covers young duel-heritage players currently opting to represent Germany. You can find some quotes from Freiburg's Kevin Schade, Bremen's Jean-Manuel Mbom, and Bayern's Malik Tillman here. 



Related stories