Americans in the Bundesliga:
Perfect marks for USMNT captain in week 11
By Peter Weis @PeterVicey
The final international break sees three US internationals leave their Bundesliga clubs and head across the pond for USMNT duty.

Our weekly scouting column could not contain better news for the Gregg Berhalter's newly anointed captain. A re-watch of Dortmund-Leipzig absolutely confirmed, in the columnist's opinion at least, that Tyler Adams deserved perfect marks in this most recent round.

We'll also check in with John Anthony Brooks, Julian Green, Timothy Tillman, the league's two American trainers, and the new USMNT call-up who has been taking the Bundesrepublik by storm, Joe Scally.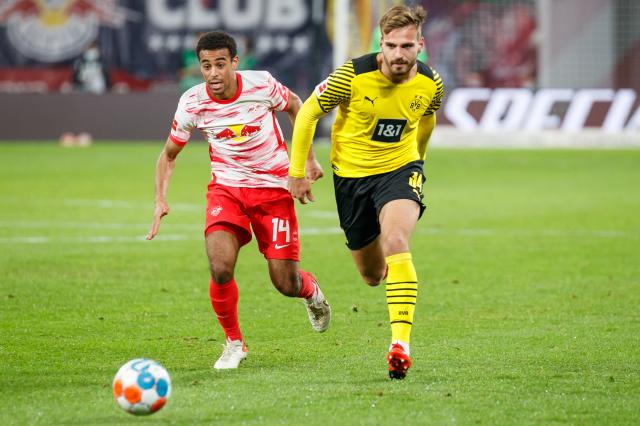 | | |
| --- | --- |
| Tyler Adams and Marin Pongracic. | Photo: Steffen Prößdorf, CC BY-SA 4.0 |
Seven sections for our readers this week in what is a comparatively large column. This being the final international break for some four months, we definitely wanted to give the closest look at all the American actors actors in Germany's top footballing flight. An absolute virtuoso performance from Tyler Adams deserved a second look. In a fictional life blessed with infinite time, Adams' work would even deserve a third, fourth, or fifth look.


Adams earns perfect marks this week. All the way down at the bottom of the column, we've got a failing section for VfB Stuttgart trainer. Some extra space needed to be devoted to explaining this in "autopsy form". In-between the perfect and failing, Timothy Tillman, Joe Scally, John Anthony Brooks, and Julian Green also receive sections.

For those wondering, Chris Richards did not start for TSG 1899 Hoffenheim this week. This was purely a tactical decision from head-coach Sebastian Hoeneß. The Alabama native remains fully fit en-route to Gregg Berhalter's USMNT camp. The omission of Richards' fellow center halve Brooks is a precautionary measure after the Berliner had to withdraw with injury last time.

Tyler Adams, RasenBallSport Leipzig

Minutes played = 90/90, Positions played = CM

Grade = A+

It's perfect marks for the USMNT's new captain, who has really come on as both a player and a leader in recent weeks. Those who haven't had a chance to see him play in the league recently should definitely tune in. This writer, and some members of the German press, called him him out for what seemed like (to us anyway) some grating jawboning with the refs near the end of last season and the beginning of this one. That seems like eons ago.

To observe Adams on the pitch recently has just been fantastic. The RB New Yorker now appears completely oblivious to the refs and totally focused on directing his teammates. Do check it out. A 22-year-old American is running the possession cycles on a €500 million European Super Club. It's actually not all that surprising when one considers that Adams' greatest asset (probably mentioned a thousand times in this column) remains his field vision.


When on, he's a killer at sensing how a play can develop. Marsch even gave him what looked (to this writer's eyes) a slightly suppressed stagger in order to seeing a bit better upfield. Adams even appeared to start on the left-hand-side of midfield, though the amount of ground he covered almost renders placement irrelevant.

Lineup—RB Leipzig—Match 11 (3-4-3)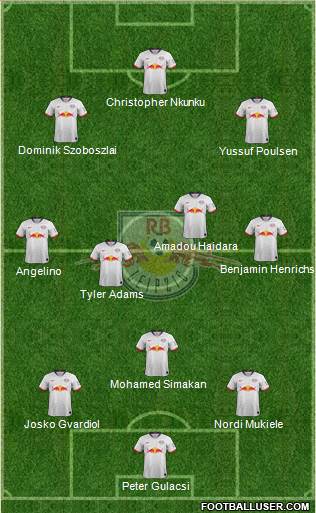 We've highlights galore before one even gets out of the opening minutes. He won his first challenge emphatically seconds in. After a nice layoff in the 3rd, on can watch him take too good touches to round Axel Witsel and Jude Bellingham in the 4th. There's then another nice dribble in the 5th.

He and his RB teammates ran into a bit of difficulty with their triangles out of the back in the 7th. It's nice to watch how Adams remained calm and an exchanged a word or two with his mates about it. He then proceeded to lead by example with a great rush for a loose ball in the 8th.

By the 9th, he was clearly directing his teammates with feet, hands, and words once again. You could see him cooly him communicating a little less pep on the build. Mohamed Simakan, Angelino, Amadou Haidara and Josko Gvardiol seemed to be listening. A beautiful win, run, and forward to Nkunku set up the first chance in the 13th.

In the three minutes after that, our American subject here opted to take Donyell Malen (twice) and win. Dortmund were getting pummeled by the 17th. The tone of this match was set thanks to Adams. He even got a little to unselfish, holding back on a pair of attacks he might have joined in the 18th and 20th. There were a couple of more tentative passes in the next five minutes, but he and Haidara were still effectively bossing the game.

The beauty of how Adams initiated the play on Christopher Nkunku's opening goal in the 29th can be best appreciated via the overhead tactical cam. Gvardiol gets credit for the assist, but it was the American who located the lane with amazing field vision of his. Once the lead was secured, Adams dropped deeper still to work as his team's watchdog.

There's more great stuff on display in the 34th and 36th. Adams showed remarkable maturity getting straight back up when Axel Witsel shoved him down with a cheap shot in the 38th. He demonstrated even more class by complaining little when match official Felix Zwayer hit him with a nonsense booking two minutes later.

Adams finished the first half a perfect ten from ten on duels. He quickly found himself target fouled by Julian Brandt four minutes after the restart. Hardly a mark of flattery, but one could at least see that the Dortmund players knew precisely what their problems were. The RB New Yorker was back hitting his teammates with crisp passes within a minute.

One of the most splendid features of this player concerns the fact that he sometimes inexplicably gets better as a match progresses. Fatigue doesn't seem to be in his repertoire. There's a great out swinger for Angelino in the 58th, a decisive header forward in the 61st. One fully expected that he would proceed to do that superhuman thing of his where he starts ensuring that he's covered every blade of grass before the full-time whistle.

Alas, he did prove himself mortal after all with a pair of gassed runs in the 64th and 67th. A tactical reorganization from trainer Marsch (covered below) saw him fold back a bit, though he was still rearing to go forward for several minutes thereafter. There he did run into some trouble handling Bellingham (76th, 78th), but it was by no means a limp to the finish.

There would be some more sublime touch and control sequences (80th and 83rd), followed by a stunning aerial win (84th), an excellent bypass on the right (85th). The hard-working USMNT captain was still chasing down opposing players deep into injury time. There's a great hassle on Thorgan Hazard at 90+1.

This column never hesitates to accord perfect marks even when there (naturally) is no such thing as a perfect game. A lot of German press sources have him ranked a tad lower for a few minor passing errors not deemed worthy of a mention here. There could have also been some misconstruing of that weak spell between the 60th and 70th.

At first glance, it might have looked as if Adams ran quite as hard as he could of. This analysis maintains that he really never stopped running all night.

Timothy Tillman, SpVgg Greuther Fürth

Minutes played = 17/90, Positions played = LM, RM

Grade = A

The elder Tillman brother did not start. We've a much longer graded section on the Fürth teammate who did (Julian Green) below. As noted in a previous column, the writer very rarely considers it good practice to grade a substitute who didn't log a significant amount of minutes. Some explanation is in order here as we'll be grading Tillmann inspire of the fact that Hoffenheim's Chris Richards actually played five more minutes as a sub.

Tillman came on and made an immediate impact in the late push against Eintracht Frankfurt. Seconds after entering the fixture, he won a great 75th minute midfield duel and nearly set-up Cedric Itten for what would have been the opening goal. SGE sub Sebastian Rode ended up giving Frankfurt the lead moments later. It then took SpVgg head-coach Stefan Leitl a few minutes to get two more players on and his formation turned around.

Lineup—Greuther Fürth—84th minute (3-6-1)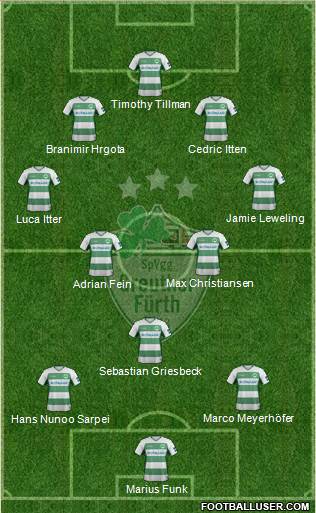 Tillman as the lead striker. It's about time as the eager youngster has proven something of an assist-factory and can probably finish better than the rest of this lot. His scant few minutes on the pitch were wonderful. After two great aerial wins in the 84th and 86th, he unleashed a great effort in the 87th that any keeper other than Kevin Trapp might not have saved.

He also skipped past Rafael Santos Borré beautifully at 90+1 and executed another great hit (blocked by fellow half-American Timmy Chandler two minutes after his own introduction) at 90+3. The second shot came at the end of a really nice move initiating and then circling back on a give-and-go. This American won all of his duels, took two shots, and assisted on another in his brief time involved.

We'll re-emphasize the point again in Julian Green's section below, but it's worth noting here that Tillman has probably taken Green's spot again after this performance. Leitl likes to swap these two out as if he's playing hot-hand. It remains the columnist's wish to see both of the German-Americans play together some time. Chances of this are regrettably probably slim.

Jesse Marsch, RasenBallSport Leipzig (Trainer)

Matches = 1 Result = W

Grade = B+

Coach Marsch wasn't quite on the level of his player, though one could see some beneficial fingerprints on the Saxon game from the Wisconsin native. Set-piece designs in the weekend victory weren't nearly as good as they were last week. Perhaps they didn't need to be with so many other ideas on a packed agenda.

The writer isn't entirely sure if the later-match tactical adjustments played much of a role in the victory. It's questionable whether or not this even constituted the best idea. Ostensibly so, since it got the job done. The Wisconsin native still doesn't have to work terribly hard with the amount of talent he has available off the bench.

Lineup—RB  Leipzig—60th minute (3-6-1)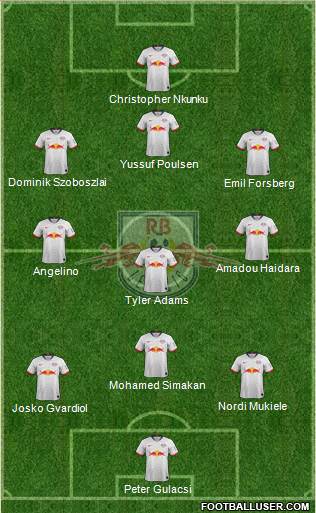 It's hexagonal laden with talent. One could label it something that probably stood a 60-40 chance of success. Christopher Nkunku and Yussuf Poulsen were absolutely sensational even though keeping them on the same vertical axis posed risks. Emil Forsberg also performed at peak. Everything clicked. Everything worked. There's truly not much else one can say about a match in which the head-coach didn't play the greatest role.

Could have done without seeing him knocking the ball out of a Dortmund players hand in the 34th, but maybe he just wanted to convey something of an attack-dog mentality to the crew. This writer still prefers the "nice guy" Marsch. There's nothing inherently wrong with being a nice guy. Poor Jesse must be getting tired of the Ted Lasso comparisons.

Joe Scally, Borussia Mönchengladbach

Minutes played = 90/90, Positions played = RWB, LWB, LB

Grade = C+

Er. How nice of BMG trainer Adi Hütter to point out that "no one had heard of Joe Scally a year ago". Max Eberl might wish to have a word with his haughty head-coach on that matter. Scally was actually expertly procured by Borussia Mönchengladbach in November of 2019, when the Bundesliga's star was just 16-years-of-age. Some of us have been following the CFG New Yorker for a long time indeed, even going so far as to make promises of how awesome he would be.

In any event, there are always non-Bundesliga followers who haven't seen the new USMNT call-up play a full 90 minutes yet. Allow the author to make more grand promises. You're definitely in for a treat. The most impressive thing about Scally this season remains the huge tactical burden Hütter has put on his young shoulders. Scally switches sides and basic assignments almost every match in Hütter's preferred late-match tactical shift.

We got to see that again this past weekend. It's cool to reflect upon that, even if the youngster didn't have his greatest match against Mainz last Friday night. Those looking for more glowing Scally reviews will have no trouble finding them in the archive section that provides recent editions of this column. He was on "A-Level" for five straight weeks!

Lineup—Mönchengladbach—Match 11 (3-4-3)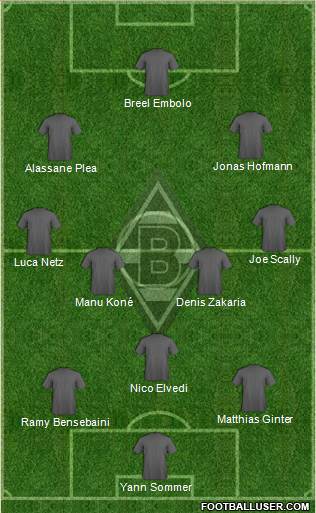 We're back in the 3-4-3 after Scally played as a more traditional fullback last time. One can surmise that this was absolutely by design. Hütter wanted his prodigy deployed further afield and more involved in the give-and-gos. Most of the rhombus-like passing that took place between Scally, Jonas Hofmann, Denis Zakaria and Manu Kouadio Koné proved pretty hectic. The design for the players was intelligent. Execution nevertheless turned out a bit sloppy.

In terms of organized passing, this American did really well in the 8th, 9th, 19th, 44th, 58th, and 60th. As expected, it was a very busy day down Scally's right-side. That's by far the stronger flank on this team. Sometimes as many as three-quarters of the attacks pipe thorough the right. Regrettably, there were more broken give-and-gos (3rd, 4th, 12th, 33rd, 42nd, 57th, 64th, 74th, 76th) involving this American on this day.

Some defensive positional errors occurred in the 15th, 17th, 43rd, 50th, 62nd and 90+2. One doesn't really wish to dock the CFG New Yorker too much there as his daily assignment didn't focus primarily on defense. Denis Zakaria sliding into the back-three after Elvedi's injury also threw him off a bit. Much more concerning were a few cases (2nd, 35th, 36th 45+4, and 49th) when he either didn't catch up with the attack or call for the ball.

The writer recorded a total of 16 stray passes. Despite the fact that there were plenty of clever ones (5th, 9th, 53rd, 63rd). That's a bit high. Our subject here had no problems heading away uncontested, but didn't win a clear aerial duel. Two bad losses came back-to-back in the 71st. Those interested in some sparkling highlights can check out his solo sprints in the 7th, 69th, and 86th.

Not many positives after Hütter completed his re-alignment.

Lineup—Mönchengladbach—80th minute (3-4-3)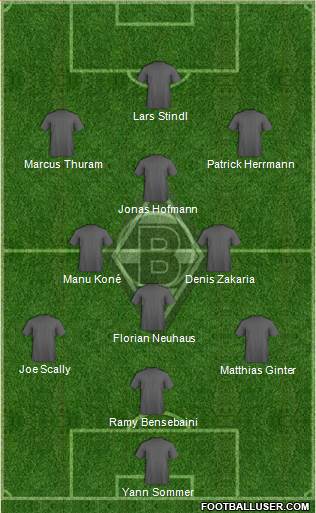 The team as a whole failed to deliver very effective work on either side of the ball in this. Mainz pressed for the winner whilst Gladbach struggled to get a foothold. Even though Scally had been dropped back further, the players on the pitch kept looking for him to bring some order to the situation. To his credit, the American tried to do his helpful part by drawing coverage.

It was nevertheless too easy to bump him off the ball (82nd, 87th, 90+1) and one could see fatigue playing a role in some of his touches (83rd, 90th). He was lucky not too get booked for a clumsy challenge on Anton Stach in the 84th. A few wince-inducing moments down the stretch weren't necessarily his fault. Hence, the grade remains slightly above average.

John Anthony Brooks, VfL Wolfsburg

Minutes played = 90/90, Positions played = CB

Grade = C-

An odd day for the Berliner, who appears to play a somewhat different role in new VfL head-coach Florian Kohfeldt's tactical system. For those interested in how things are shaping up in Koheldt's short tenure, we have a draw-up in the tactics bulletin. Before getting into the opinionated portion of the trainer's method of football, we should probably also mention that some time was invested in writing a more positive piece about Kohfeldt for the Bulinews straight news section.

Alles klar. With that being said, Wolfsburg played horribly boring football in the slender 1-0 victory over Augsburg. It proved every bit as grisly and unsightly as the we "Kohfeldt Phobes" had feared. Ugh. Endless backwards passing. Brooks earned 97 touches on the day, oh so many of which were utterly meaningless. This American's trainer didn't even bother to set up a man-mark for him. As a result, one of the team's best aerial threats didn't even contest a aerial duel all day. That's frankly ludicrous for a player like this.

It took over a half hour for Brooks to get a touch worth mentioning in. It was a very good one. He pulled off a very slick trick to burst into the penalty area and then supplied Sebastiaan Bornuaw with a great service that his Belgian teammate should have finished. The sequence came after Brooks lined up as a feign free-kick taker, which was in itself rather neat. Prior to that set of events, our subject here actually got off to a bad start. His only forward-thinking passes (3rd, 7th, and 12th) were uncharacteristically poor.

Following the little bit of razzle-dazzle after the set piece, Brooks entered another long stretch of dubious involvement. Kohfeldt really had him working wide out left in that constellation. He then popped up again near the end of the half, with notably good clearances in the 42nd and at 45+2. The American was again at least present in the opening minutes after the restart, chasing down an important ball in the 47th and heading away strongly in the 51st. There were then some coverage errors in the 52nd, 55th, and 65th.

It looked for a while as if he was about to tank. He had some trouble on clearances in the 66th and a bad blown marking on Sergio Cordova nearly resulted in the equalizer being pinned on him. The offside flag ultimately spared his blushes. Thankfully, he picked back up and finished well with good defensive work in the 83rd, 85th, and at 90+2. On balance, a below average day. Certainly not an awful one.

Julian Green, SpVgg Greuther Fürth

Minutes played = 73/90, Positions played = LM, RM

Grade = D+

Another rough day for the now historically bad Greuther Fürth obviously translated to an another rough day for 2014's history making American. Jurgen Klinsmann's one-time star Bavarian recruit, like the rest if the shellshocked Shamrocks, can be relied upon to make multiple errors on any given day. That's just the way it is when one finds oneself on such a losing streak. Everyone's confidence is shot to bits here.

It's a familiar pattern by now. Some faint rays of hope at the beginning, followed by a pile up of knock-on-effect mistakes. This writer genuinely can't wait for the chance to report something wholly positive about the Franconians. Looks like, yet again, this simply isn't the week.

Lineup—Greuther Fürth—Match 11 (5-4-1)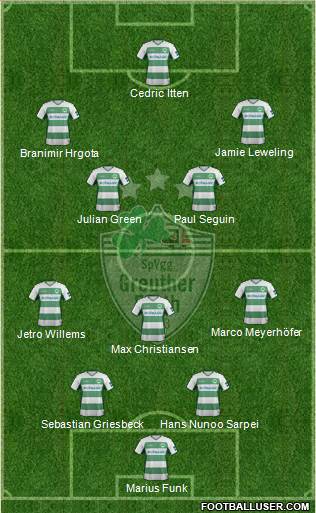 The hosting Kleeblätter didn't get off to a terrible start at all. Neither did Green. One can watch him win his first ground duel in the 2nd and there's some good touch-work on display in the 2nd 8th, 9th, 13th, and 15th. He also furnished a decent corner service after that last play. By the 17th, however, we're already witnessing a brave challenge, followed up by poor techniqu. It happens again two minutes later.

On the topic of poor technique, there's two woefully atrocious finishes in the 29th and 57th, as well as badly picked out passes in the 20th, 27th, 32nd and 36th. One felt a bit for him as some teammates were out of position during corner deliveries in the 24th and 27th. He nevertheless appeared to have problems either listening or shouting for his teammates on broken plays in the 6th and 40th.

Poor crosses came in the 51st and 60th. He committed a rather cheap foul in the 28th and got way too easily dispossessed in the 52nd. A few more scattered bright spots can be found defensively (34th), offensively (50th), and in a direct duel (71st). While by no means a failing performance, it's likely the case that this American lost his starting spot again.

Pellegrino Matarazzo, VfB Stuttgart (Trainer)

Matches = 1 Result = L

Grade = F

Failing marks. The can simply be no other choice, even if some of the things the American tried were novel and interesting. As stated in the tactics bulletin, one must think of the fans. Over 33,000 turned up at the Mercedes Benz Arena on Saturday. The ultra groups never relented in their chanting and cheering. These loyal supporters deserved better, regardless of how many injuries their club is dealing with.

In his presser last week, trainer Matarazzo remarked that the goal for this past weekend was for the team to "survive" the match. One doesn't wish to get too hypercritical when it comes to semantics, but this American (who happens to speak excellent German) got the choice of words all wrong in this case. The paying public didn't shell out hard-earned money to watch their team "survive."

Before getting to the tactics board, there's one more of this writer's bete noires to get to. Sigh. Once again, the pitch condition was deplorable. Yes, we've specifically harped on the club for this before. The point to be made concerns the fact that things are not getting done. Previous issues remain unfixed.

That can serve as a segue into this.

Lineup—VfB Stuttgart—Match 11 (5-3-2)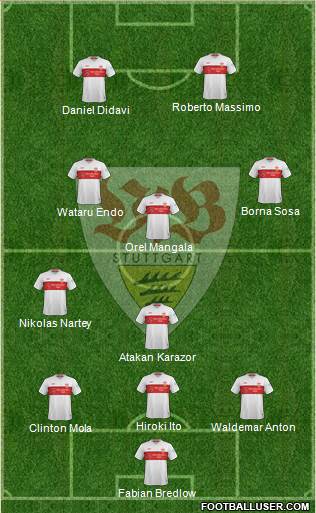 Matarazzo's above-mentioned innovative move was to put Borna Sosa on the right. Knowing that the Croatian fullback/winger didn't really need an axial partner, captain Wataru Endo kept a loose line with him. In this system, Danish youngster Nikolas Nartey isn't intended to be a fullback/winger of any sort. He's assigned to slip into that bolt-lock semi-sweeper back-four in the event Atakan Karazor, Hiroki Ito, Waldemar Anton, or Clinton Mola catch a forward lane.

The first 15 minutes did produce some solid footballing results. Sosa got forward in the 6th and 8th, managing to work a good ball into the box on the latter attempt. The team's best player also showed some spirit on a range-effort in the 13th and an absolutely spellbinding solo run up in the 14th. That particular play, in which Sosa rode through four Bielefeld defenders, is worth a look for anyone with access to the tape. As the team's designated set-piece taker, Sosa got another good effort off in the 16th.

Of course, the problem with a matchplan solely reliant on a field switch for one's most talented player was bound to fall apart eventually. Bear in mind that Orel Mangala remains far from full fitness after his recent return from injury. That showed throughout. Furthermore, neither Daniel Didavi nor Roberto Massimo are natural strikers. To through the two of them together up top and hope for the best, though one of the few options that Matarazzo had, counted as desperate at best and lazy at worst.

Masaya Okugawa's goal for Bielefeld came in the 19th. For the observer keeping an eye on the team's shape, it proved inherently frustrating to see that Matarazzo also asked his back-line of unfamiliar to play a variant of an offside-trap. One can see from the haphazard positioning of the team during Okugawa's goal and other instances that this was tantamount to asking the impossible. Honestly, despite the fact that the back-three was clearly intended to be flat, how were all of these moving component parts meant to play such a trap?

After falling behind, the Swabian hosts really couldn't put together any forward play for the duration of the first-half. Nartey got forward one, but he and Massimo obviously hadn't had enough practice time to coordinate effectively. Sosa racked up too much distance too early and Okugawa really began to get the better of him. The DSC combo play quickly adjusted to all the space you see in the above graphic. A team with more quality could have ended this match quickly.

Matarazzo made no adjustments to the shape until shortly after the hour mark. By this time it had at least been clear for quite some time that Stuttgart could only short-pass their way out of their own end. The finishing of both Didavi and Massimo continued to cost the team any chance back into the match. The American trainer's re-format itself deserves an "F".

ineup—VfB Stuttgart—62nd minute (5-2-3)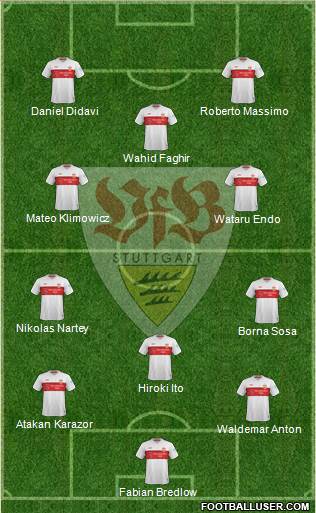 Turgid. Asolutely turgid. The writer doesn't understand why a team clearly reliant on short-passes for their link up play was suddenly ordered into this type of formation. It's an attempt at stabilization, albeit one nearly perfectly guaranteed to make lowly Arminia Bielefeld look like world-beaters. Non-stop turnovers in the midfield spawned chance after chance for the visiting East Westphalians. This one could have ended 3-0 or 4-0.

We will see better from Stuttgart after some injuries clear over the international break. The club has already announced that they expect to have "Silas" back in time for round 12. That will make a huge difference. Don't expect a quick upswing, however, as one of this column's favorite subjects has undeniably gone off the deep.

The Colombia University man knows better than this. One doesn't build a squad to "survive" against a weak team with three easy points on the line. No more "survival tactics", Rhino.

Thanks so much for reading! You can occasionally catch Peter goofing off while watching the lower German football divisions on twitter, @ViceytheSS.

Twitter DMs are open for football conversations, corrections, and (if you truly insist) general abuse. 

All columns debut on Bulinews before appearing on Peter's website later in the week.



Related stories