Bundesliga Fan Scene:
Four of nine fixtures sell out in week 15
By Peter Vice @ViceytheSS
The next installment in our series of columns on the state of the German footballing fan scene regrettably must report on the fact that four fixtures were played behind closed doors this weekend.

Four of the five fixtures that did allow live fans in did sell out their maximum ticket allotment. That's only the beginning of the good news.

Our look at the nine hosting locales of top flight German football, as always, contains the latest local public health data. These metrics are improving everywhere at a surprisingly rapid clip.

Most experts agree that the overall situation in the country is stabilizing.

Most are surely tired of promises that the end of the tunnel is in sight.

A look at the data may combat that fatigue. Data makes no promises. It simply exists.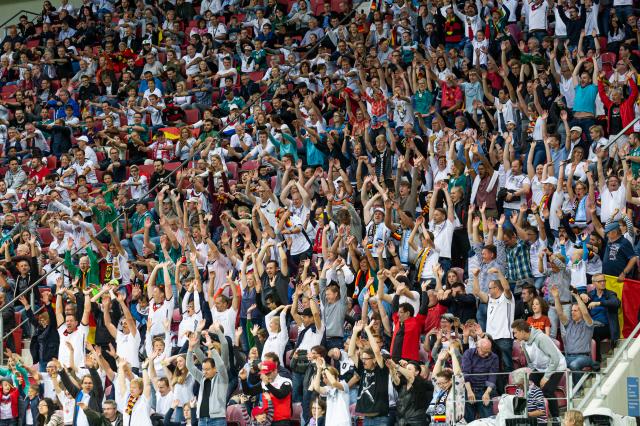 Photo: Steffen Prößdorf, CC BY-SA 4.0

As the Bundesliga prepares for the quick turnaround of midweek fixtures, we're pleased to release our weekend attendance column early this week. The state of the Bundesliga fan scene still isn't anywhere near where everyone wishes it would be, but there are many positive signs emerging from the nationwide data this weekend. Incident rates are falling practically everywhere.




While overall vaccine rates continue to climb up only very slowly, the rates of those receiving booster shots climbs rapidly. Almost overnight, 23.8 percent of the country's population has gotten the additional booster. This extra layer of protection makes an enormous difference for the citizenry as a whole. All across the country, hospitals are clearing.

New German health minister Karl Lauterbach (SPD) struck a cautiously optimistic tone when addressing the numbers with public statements today. While it's true that some German health offices may be underreporting cases, it's also true that the same district-level reporting may drastically underestimate current vaccination rates. As always, the intensive care occupancy rates convey the most important data related to this public health challenge. That too looks positive.


Die Lage stabilisiert sich langsam, und der Rückgang der Fallzahlen ist echt. Dieser Trend darf durch Weihnachten nicht gefährdet werden. Da die Fallzahlen weiterhin viel zu hoch sind muss die Boosterkampagne verstärkt werden. https://t.co/Peb4xmgAeC

— Prof. Karl Lauterbach (@Karl_Lauterbach) December 13, 2021


Dr. Lauterbach calls the case declines "real" in a tweet this morning and notes that the situation is stabilizing. In non-social-media related news, the new health minister has also proposed doing away with the so-called "2G+" regulation entirely. This would allow those citizens fully vaccinated to no longer have to obtain a negative PCR test in order to attend public events. Though Lauterbach's coalition partners don't necessarily agree and it will likely be left up to the states in general, the eventual removal of such a demanding restriction constitutes good news for everyone in the Bundesrepublik.


Die Entscheidung für die Impfung von Joshua Kimmich verdient Respekt. Er war nie ein Querdenker und hat nur zu lange gezögert. So geht es leider vielen, auf den Intensivstationen bereuen viele ihr Zögern. Die Zögernden müssen wir gezielter ansprechen. https://t.co/czFdfeBLLk

— Prof. Karl Lauterbach (@Karl_Lauterbach) December 12, 2021





Dr. Lauterbach also addressed the case of Bayern and German national team midfielder Joshua Kimmich. Addressing all those who delayed the decision to get vaccinated, Lauterbach called upon more respect for those who have pushed their decision and advocated targeted outreach efforts to the unvaccinated. The state official also noted that "Many in intensive care units also deeply regret their decision to delay."


---


FC Augsburg (at) 1. FC Köln

Planned capacity = 15,000 (30%)

Attendance = 15,000 (sold out)

Concept = 2G

The Domstädter--reliably one might add--sold their full allotment of tickets. Some 15,000 Geißböcke enthusiasts may not have gotten the result that they had hoped for, but surely enjoyed the privilege of cheering their team on in person. Atmospherics from the bleachers proved a genuine treat for all of us watching from afar. The leadership role this club has taken in combating the multi-year public health challenge that is the global pandemic always makes neutrals feel good about rooting for them.

As one can see from the local metrics below, Köln's numbers continue to trend in the right direction. COVID hospitalizations remain up slightly, yet the proportion of beds being taken up by such patients don't constitute a significant threat to the system. The falling incident rate shows just how well measures are working. With fingers firmly crossed, we're all hoping for another packed house at the RheinEnergieStadion soon.

Local RKI Incidence Rate = 338.1 per 100,000 (-54.2)

Intensive Care Occupancy @ 93.3% (-1.8%)

60 COVID Hospitalizations (17.1%) (+1.1%)

NRW Vaccination Rate = 76.5% (+0.3%) (from four days ago)


---


FSV Mainz 05 (at) FC Bayern München

Planned capacity =  Geisterspiel

Attendance =  Geisterspiel

Concept = N/A

There remains little in the life of a football diehard more depressing than a Geisterspiel at the Allianz. Even if the match proves entertaining, there's only so much of Thomas Müller's "pitch patter" that one can stand. The numbers deliver plenty of good news insofar as Munich is concerned. The incidence rate has seen dramatic decreases in the state's capital and all the outlying regions. Even Markus Söder will have to declare himself impressed and ease restrictions soon.

Local RKI Incidence Rate = 276.2 per 100,000 (-78.1)

Intensive Care Occupancy @ 93.1% (-1.5%)

137 COVID Hospitalizations (26.7%) (-0.9%)

Bavaria Vaccination Rate = 70.2%  (+0.3%) (from four days ago)


---


Borussia Mönchengladbach (at) RB Leipzig

Planned capacity =  Geisterspiel

Attendance =  Geisterspiel

Concept = N/A

Not unlike Munich, the most populous city in the state of Saxon Proper sees a great deal of progress in terms of sinking "danger metrics". There's still a long way to go for this former East German state. The incidence rates remain far above the level one sees in other parts of the Bundesrepublik. Additionally, Saxony still hosts more bonafide "hot spots" (with incidence rates above 1,000 per 100,000) than any other state. The Saxon capital of Dresden only just got below 1,000 this weekend.

Local RKI Incidence Rate = 568 per 100,000 (-50.9)

Intensive Care Occupancy @ 85% (-3.8%)

65 COVID Hospitalizations (22.0%) (1.7%)

Saxon Proper Vaccination Rate = 61.8% (+0.4%) (from four days ago)


---


TSG 1899 Hoffenheim (at) SC Freiburg

Planned capacity =  Geisterspiel

Attendance =  Geisterspiel

Concept = N/A

Downward trends in Breisgau also leave one feeling hopeful that we can soon welcome back some of the Bundesliga's liveliest supporters. Matters remain a bit complicated, however, in the very large (and not very logically cobbled together) German state of Baden-Württemberg. As even non-Germans can easily infer from the hyphenated name, it's an arbitrarily drawn state. The biggest hotbed of vaccine resistance (outside of the former East Germany) also resides in this state. It may be some time before enough jabs find arms in "Querdenke Territory".

Local RKI Incidence Rate = 386.2 per 100,000 (-18.0)

Intensive Care Occupancy @ 88.6% (-3.0%)

40 COVID Hospitalizations (22.3%) (-1.2%)

BaWü Vaccination Rate = 70.0% (+0.3%) (from four days ago)


---


Arminia Bielefeld (at) Hertha BSC

Planned capacity =  5,000 (6.7%)

Attendance =  5,000 (sold out)

Concept = 2G

Hertha had no problems finding 5,000 takers for the maximum amount of spectators the Berliner Senate allows under current restrictions. Needless to say, the atmospherics were pretty lame in the 74,000-seat-capacity Olympiastadion. Those who did attend could only produce echoes in a mostly empty cavern. At least a few boosters got the chance to see the team win.

One advantage held by a densely populated city such as the capital concerns the fact that more citizens can be corralled into vaccination drive sites. As one can see from the rate increase below, the inoculation quota went up by nearly an entire percentage point over the weekend. Most German papers of record carried pictures of such events in their Monday editions; a nice mood lifter with that initial workweek cup of coffee.

Local RKI Incidence Rate = 309.7 per 100,000 (-43.1)

Intensive Care Occupancy @ 89.7% (-2.4%)

256 COVID Hospitalizations (24.7%) (+1.0%)

Berlin City Vaccination Rate = 73.8% (+0.8%) (from four days ago)


---


Borussia Dortmund (at) VfL Bochum

Planned capacity =  13,800 (50%)

Attendance =  13,800 (sold out)

Concept = 2G

German fans were naturally delighted to see the fixture they had most been looking forward to this weekend sell out. The 1848 ultras did a marvelous job in their first top flight meeting with Dortmund in nearly 11 years. The supporters gave us all that we hoped for. Nary a German footballing anthem went unsung! Bravo, Kumpels!

Some data revisions over the weekend updated the actual number of intensive care beds in the city. Hence, the big upward trend in capacity levels. It still doesn't look as if the municipality finds itself in any danger. Moreover, there's no chance that the increases have anything to do with the football match. Only a data-lag of at least five days can assess such an indicator.

Local RKI Incidence Rate = 224.2 per 100,000 (+19.8)

Intensive Care Occupancy @ 91.5% (+5.3%)

14 COVID Hospitalizations (7.4%) (+0.8%)

NRW Vaccination Rate = 76.5% (+0.3%) (from four days ago)


---


VfB Stuttgart (at) VfL Wolfsburg

Planned capacity =  5,000 (16.67%)

Attendance =  5,000 (sell-out)

Concept = 2G+

The German state of Lower Saxony imposed new restrictions on outdoor events early last week. While Wolfsburg were permitted to put 13,000 tickets on sale for last week's Champions' League fixture, they ultimately had to comply with the new measures this weekend. For a time, it wasn't clear if the VfL would be granted a dispensation. After all, there's very little danger in the company town that rarely welcomes outside visitors.

The statewide restrictions come down particularly hard on a club that presently finds itself in total disarray. Sporting director Marcel Schäfer was made to look a supreme idiot this week, calling on fans to attend home fixtures apparently oblivious to the fact that the club would have to turn some patrons away. Sporting CEO Jörg Schmadtke looks like an even bigger idiot for installing Florian Kohfeldt as this team's trainer.

One must take care not to conflate this club's chaotic COVID policy with its chaotic footballing policy. The two are obviously unrelated. It still makes for a coincidentally grim dovetailed narrative. Yikes. The prediction that--just like in 2016/17 and 2017/18--this club could end up in the relegation playoff place might look as less farfetched as soon as the winter break. Losses to Köln and Bayern could conclude the Hin-runde. Not farfetched at all.

Local RKI Incidence Rate = 178.5 per 100,000 (-67.7)

Intensive Care Occupancy @ 48.4% (-3.2%)

5 COVID Hospitalizations (16.1%) (+3.2%)

Lower Saxony Vaccination Rate = 74.6%  (+0.3%) (from four days ago)


---


FC Union Berlin (at) SpVgg Greuther Fürth

Planned capacity =  Geisterspiel

Attendance =  Geisterspiel

Concept = 2G

Such a tragedy. Greuther Fürth's first home win ever in the top flight. And no supporters were allowed in to watch it live. The urge to get metaphysical creeps up. If Greuther Fürth wins at home in the Bundesliga and none of the locals are in the stadium to witness it, did it really happen? Okay. Maybe not deep enough for this day and age.

Now that we're all familiar with the sound of one hand clapping, it's time to pack away the pan-flute and forget about enlightened meditation. This poor forlorn footballing club desperately needs its fans. That applies to those of us stuck watching them as well. A world of hurt. The Bavarian metrics can't change soon enough.

Local RKI Incidence Rate = 336.5 per 100,000 (-72.9)

Intensive Care Occupancy @ 83.0% (stable)

12 COVID Hospitalizations (30.8%) (+3.0%)

Bavaria Vaccination Rate = 70.2%  (+0.3%) (from four days ago)


---


Bayer 04 Leverkusen (at) Eintracht Frankfurt

Planned capacity =  12,875 (25%)

Attendance = 12,000 (93.2%)

Concept = 2G

Those who opted to forgo a Sunday night fixture at Deutsche Bank Park ended up missing out on a great evening for the home team. Attendance was nevertheless very strong, as was the atmosphere. With local metrics appearing in good shape, it shouldn't be too long before we get treated to the full SGE experience. Of course, we'll be missing most of the club's ultra groups until COVID's endemic phase returns things back to something normal and acceptable too them.

Local RKI Incidence Rate = 285.0 per 100,000 (-39.8)

Intensive Care Occupancy @ 90.3% (-2.2%)

53 COVID Hospitalizations (20.2%) (+1.7%)

Hessen Vaccination Rate = 72.5% (+0.4%) (from four days ago)


---
Thanks so much for reading!
You can occasionally catch Peter on twitter, @ViceytheSS.
Twitter DMs are open for football conversations, corrections, and (if you truly insist) general abuse. 
All columns debut on Bulinews before appearing on Peter's website later in the week.
More about Joshua Kimmich