Fantasy Bundesliga:
Must-haves and differentials for Matchday 18
By Christian Andrick
Ahead of Matchday 18, we have highlighted a must-have player (M) and a differential pick (D) from each game that you should consider for your Fantasy Bundesliga team.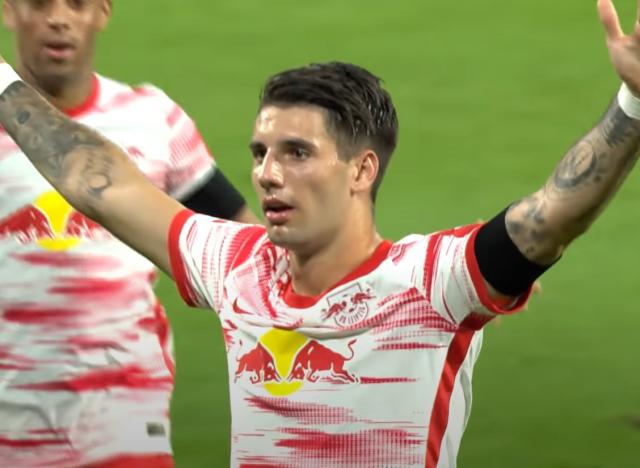 FC Bayern München v. Borussia Mönchengladbach:


M: Jamal Musiala, Midfielder (FCB, 13.1M, 12%) - Musiala has started the last three matches for Bayern and looks to continue his spectacular play. Even without the injuries, Musiala has proven that he deserves to be in the starting lineup week in and week out. He has recorded a goal and an assist in those three games.

D: Malik Tillman, Forward (FCB, 1M, 0%) - A one off start due to all the missing regulars for Bayern, Tillman will have everyone's attention on Friday night. He could easily get on the end of an attack and with it being a stand alone fixture on Friday, it won't ruin your weekend either.

RB Leipzig v. 1. FSV Mainz 05:

M: Dominik Szoboszlai, Midfielder (RBL, 12.1M, 14%) - Although Szoboszlai did not have the greatest ending to the Hinrunde, a strong start in the Rückrunde is in the cards for him and Leipzig. Getting Silva back will be a huge boost and figures to be someone that can finish the endless amount of crosses Szoboszlai sends in.

D: Karim Onisiwo, Forward (M05, 8.6M, 0%) - Leipzig have only kept two league clean sheets since November, leaving the door open for someone from Mainz to at least grab one. Leipzig defenders will understandably be all over Burkhardt, leaving that chance for Onisiwo if he can find his finishing touch.


Bayer 04 Leverkusen v. 1. FC Union Berlin:

M: Patrik Schick, Forward (B04, 15.6M, 12%) - Eight goals in the month of December puts him just three behind Lewandowski on the season with no signs of slowing down either. As long as he can stay healthy, the race for the golden boot will be an exciting three-man race this year.

D: Kevin Behrens, Forward (FCU, 3.5M, 0%) - With Awoniyi out for most of the month at the AFCON, Behrens should figure into the starting lineup a lot in the meantime. Leverkusen's defense has been suspect for most of the season with the chance of a clean sheet highly unlikely.

Sport-Club Freiburg v. DSC Arminia Bielefeld:

M: Vincenzo Grifo, Midfielder (SCF, 14.8M, 7%) - Grifo has double digit Fantasy points in two of his last four games. That includes three assists and a goal. It should have been more as he also missed a penalty as well, knocking three points of his Fantasy score.

D: Lucas Höler, Forward (SCF, 8.7M, 1%) - Höler will lead up top again and has had plenty of chances with the plethora of weapons he has around him. If he can start connecting on a few more chances, Freiburg will be even more dangerous and continue that run in the top three.

SpVgg Greuther Fürth v. VfB Stuttgart:

M: Konstantinos Mavropanos, Defender (VFB, 6.9M, 4%) - Fürth is still going to have major issues scoring and grabbing points for the rest of the season. Stuttgart has a great opportunity to come out of the restart with a solid win to turn around their season. Mavropanos will have to play a major part in making that happen.

D: Saša Kalajdžić, Forward (VFB, 10.4M, 1%) - Kalajdžić could make his long awaited return after an extended time off with shoulder surgery. All Bundesliga fans will rejoice when the Austrian giant returns to his scoring ways.

TSG Hoffenheim v. FC Augsburg:

M: Christoph Baumgartner, Midfielder (TSG, 11.6M, 2%) - After missing some time towards the end of 2021 due to some injury problems, Baumgartner should be healthy and figuring into the starting lineup. A completely different player when getting a full game compared to coming off the bench, Hoffenheim will need him to start producing some more if they want to stay in the European positions.

D: Andre Hahn, Forward (FCA, 8.7M, 1%) - Hahn and any other Augsburg forward will need to step up their game as they now have young Ricardo Pepi nipping at their heels. Hahn has the skills to have a better second half of the season and it can start against a leaky Hoffenheim defense.

Eintracht Frankfurt v. Borussia Dortmund:

M: Julian Brandt, Midfielder (BVB, 11.8M, 8%) - Brandt finished the first half of the season on a high note, scoring twice and grabbing two assists in the last three games. There is no reason to doubt this form going forward.

D: Goncalo Paciencia, Forward (SGE, 4M, 0%) - A rare start is probable for Paciencia and he has a fair shot of putting one in the back of the net. The Dortmund defense has been anything but solid lately.

Hertha BSC v. 1. FC Köln:

M: Anthony Modeste, Forward (KOE, 9.3M, 9%) - Another player that had a fantastic end to 2021 was Modeste. Scoring three times in his last two games, Modeste has been a revelation this season and shows no signs of stopping.

D: Marco Richter, Midfielder (BSC, 7.9M, 1%) - Two goals in the last game of the year shows just the kind of breakout performance Richter can have. Already having his best scoring output in years, there is only more great things to come.

VfL Bochum 1848 v. VfL Wolfsburg:

M: Wout Weghorst, Forward (WOB, 15.8M, 5%) - With Nmecha scheduled to miss some time, Weghorst will be trusted with leading the line alone. Something that is not new to him as he was a top scorer last year in the same position. He has six goals on the year and has hit double digit goals each of the last three seasons.

D: Gerrit Holtmann, Midfielder (BOC, 5.1M, 1%) - Bochum have a strong chance of avoiding the drop and a lot of it will come down to the play of their midfield maestro. They need to come out of the gate strong though after dropping points in their last three to end 2021.

Looking for other Fantasy Bundesliga articles ahead of Matchday 18? Check out all of our Fantasy Bundesliga tips and information here.




Related stories