Bobic continues pragmatic approach to transfer market with crucial stretch approaching
By Scott Reynolds
Long-term projects with low price tags and addition by subtraction key as reconstruction of Berliner roster ploughs ahead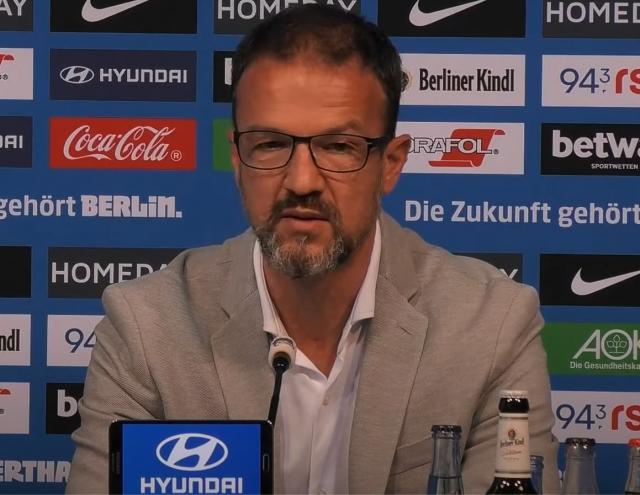 Upon his arrival in Berlin, managing director of sport Fredi Bobic was quick to emphasize his Swabian credentials. The Germans hailing from the country's southwest region are celebrated for precious few things-many native speakers even have trouble slogging through their thick dialect, for one-but they are known, and have been for centuries, for their unwillingness to part ways with even the smallest amount of money.


Ironically, Jürgen Klinsmann was born and raised in the same region, but a glance at the marketplace transactions of either man during their respective times with Hertha BSC shows that only one remembered the lessons of his upbringing when it came time to lure new players to the club.

A brief précis for the uninitiated: Klinsmann took the reins as manager (with a strongly suspected abnormally large level of boardroom clout) of the floundering club in November 2019, at the behest of Lars Windhorst, the wealthy investor who had recently committed several hundred million Euros to improving the team, and personally recruited Klinsmann to his advisory board. Klinsmann proceeds to spend approximately 75 million in the January 2020 transfer window. Klinsmann quits via Facebook (!) shortly after, claiming he wasn't afforded as much control over transfers as he would like (!!). Team goes through four managers over the next two years, constantly fighting relegation, while Klinsmann's expensive acquisitions fail to impress (and then some).

Klinsmann's tenure and approach-big spending, blindly ambitious, heavier on bluster than substance-made Hertha a punchline in the Bundesliga, and gave them a stench they're still trying to shake off (unsuccessfully, so far) two years later.

Bobic represents the polar opposite in terms of team-building philosophy, and was a very good get for Hertha, when one considers his track record of success at former employer Eintracht Frankfurt. While Klinsmann looked to bring in players in or near their prime from big-name clubs who frequently feature in European competitions (such as big-money flops Krzysztof Piatek from AC Milan and Lucas Tousart from Olympique Lyon) in search of immediate success, the majority of Bobic's signings since joining Hertha last summer are players who are 22 or younger and come from outside the big 5 European leagues. Three of his four signings this January came from teams in South Korea, Norway, and the French second-tier Ligue 2. None of the three set the club back more than 2 million Euros, either.

The hope, of course, with these and similar signings, is that they grow into stars-or at least useful footballers-while AT Hertha, not before they arrive, and can hence be sold for significantly more than what was given out to secure their services in the first place, while helping the team succeed on the pitch along the way.


A quick look at Bobic's work at Frankfurt shows that his ability to pull off these kinds of moves has often been nothing short of wizardry. Sébastien Haller arrived from FC Utrecht for 12.5 million, and was sold to West Ham for 50. Luka Jovic came from Benfica for 23 million and was sold to Real Madrid for 63. Andre Silva generated a net gain of 20 million relative to his cost when sold to RB Leipzig. Filip Kostic came for 6 million and has been valued as high as 40. And, crucially, each of these players was able to be sold for such large sums because of the top-class football that the Eintracht faithful were enjoying from them during their stays.

Also notable are the loan departures of players (Piatek, Deyovasio Zeefuik) whose lack of success and involvement in the team could not have been healthy or helpful for either themselves or the general feeling in the dressing room. Even though Zeefuik leaves Hertha dangerously thin at right-back, and Piatek has been useful coming off the bench to score important goals (if far too few) in the past, Bobic chose to let them go regardless, not unlike the earlier loans of talented but frustrating wingers Dodi Lukébakio and Javairo Dilrosun. (Saving money on their salaries helps as well.)

Of the January additions to Hertha, central defender Marc-Oliver Kempf is the exception to the rule, aged 26 and already a Bundesliga veteran, and considered trustworthy enough that manager Tayfun Korkut has already announced that he will take a place in the starting XI for his very first match post-arrival against Vfl Bochum. If he can shore up the defence that has allowed more goals this season than any team not named Greuther Fürth, he will be a most welcome addition.

With two winnable fixtures approaching against Bochum and Fürth, Hertha desperately need to bank some points to avoid falling deeper towards the relegation zone with more challenging opponents lurking just beyond the horizon.





More about Hertha BSC