Americans in the Bundesliga:
Brooks with perfect marks, Gladbach tactics undercut Scally's return
By Peter Weis @PeterVicey
Matchday 25 of the 2021/22 German Bundesliga brought with it some interesting developments for the American actors of the country's top footballing tier.

Joe Scally returned to the Gladbach starting XI for the first time in the new calendar year/second half of the season. Facing off against American trainer Pellegrino Matarazzo's Stuttgart, however, the CFG New Yorker's first start in eight rounds did not go so well.

We'll discuss Scally, Stuttgart, as well the latest form of John Anthony Brooks and Timothy Tillman in the latest edition of our deep-scout column.

As always, those American footballers inactive in the round just completed are given brief treatment in the introductory paragraphs.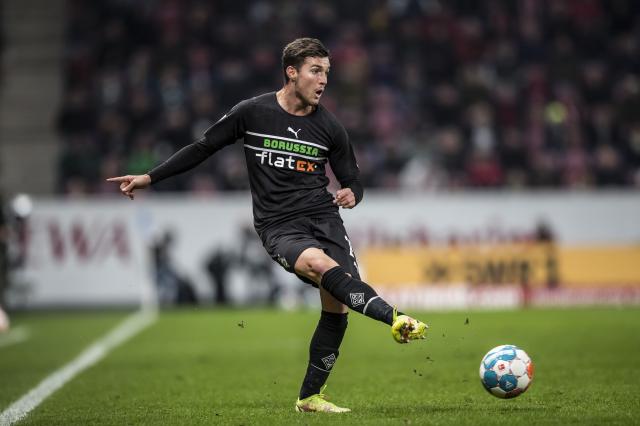 | | |
| --- | --- |
| Joe Scally. | Photo: Borussia Mönchengladbach |
The latest installment of our "Americans" deep-scout column here on Bulinews contains four graded sections for the three players and one trainer active in round 25 of the 2021/22 German Bundesliga. Grades disseminated this time range from perfect marks for VfL Wolfsburg's John Anthony Brooks to just a shade above failing for returning Gladbach fullback Joe Scally.


Two of the players we covered last week returned to their respective benches. Ricardo Pepi went un-utilized for FC Augsburg in their 1-0 victory over DSC Arminia Bielefeld last Friday night. Tyler Adams also didn't even log any substitute minutes in RB Leipzig's 1-1 draw with Freiburg. We still await Chris Richards' return from injury for TSG Hoffenheim, along with Bundesliga debuts for Richards' teammate Justin Che and Wolfsburg's Kevin Paredes.

Players seeing insignificant action off the bench this week include Timothy Chandler (seven late minutes for Frankfurt), Julian Green (eight late minutes for SpVgg Greuther Fürth), and George Bello (14 late minutes for Bielefeld). Easily the most extensive field of Americans in Germany's top footballing flight still hasn't produced a column befitting it's breadth. Such a day will come eventually.

John Anthony Brooks, VfL Wolfsburg

Minutes played = 90/90, Positions played = CB

Grade = A+

We lauded Wolfsburg-Union as a surprisingly fun match in the tactics column. That bears repeating. Many thanks to both sides for furnishing us with a consistently entertaining show. In the case of Germany's green company team, trainer Florian Kohfeldt finally got his act together with a functional set of tactics. A very wide deployment featuring a roving sweeper and non-rotative eights worked especially well.

The Berliner thrived along with the rest of his team in this constellation. The columnist, just like in editions past, has no qualms about awarding Brooks perfect marks once again. It definitely counts as a subjective view, but this scouting column holds that Jay remains one of the best defenders in the Bundesliga. Whosoever ends up snatching him up next year will get one of the most mature and competent center-halves in German football.


Since we didn't do so in the tactics column, we'll supply a draw-up here.

Lineup—VfL Wolfsburg—Match 25 (5-3-2)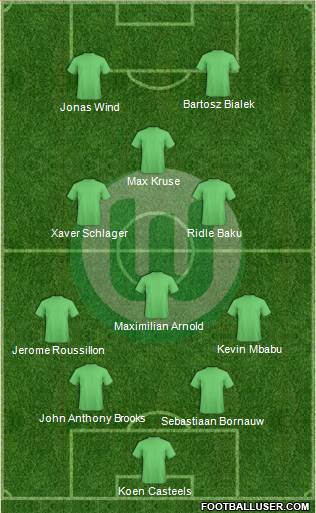 With some of the pressure on him alleviated, Brooks lorded over more time and space to do his own thing. There's some first-rate defensive work from him on display in the 8th, 11th, 12th, 14th, 21st, 28th, 31st, 36th, 37th, 46th, 48th, 61st, 62nd, and 79th. This American was an absolute monster when it came to acrobatic clearances and headers away on this day. The writer didn't see him lose one duel in the air all afternoon.

Regarding passing/attack initiation, one can find the best work in the 6th, 9th, 16th, 29th, 44th, 54th, 65th, and 69th. So long as die Wölfe were able to spread possession around (which they did falter with in the final 20 minutes), Brooks was able to confidently handle calmer bow-arc builds at the back. His best pass came in the 34th; a radiant full-switch for Ridle Baku.

Perfect grades, of course, never translate to a fully perfect match. Mistakes were nevertheless few and far between. Apart from a couple of weak clearances (17th, 73rd), one missed cut-out (19th), and a near deflection into his own net (89th), the USMNT veteran remained pretty much spot on. The writer observed only five stray passes, four of which were merely still decent ideas that merely didn't connect.

On his expiring contract, J.A. should serve as a target on the market. Given his ability to routinely turn in matches like this, plenty of top flight teams will likely aim to solicit his services. It would make the most sense for him to return home to Berlin, if anyone in the Hertha front-office had some sense to them. That's a big assumption. Maybe Union could lure him to the Köpenick quarter.

Pellegrino Matarazzo, VfB Stuttgart (Trainer)

Matches = 1, Result = W

Grade = A

As touched upon in the tactics bulletin, Stuttgart (contrary to the expectations) of many German football watchers) delivered a thoroughly entertaining performance full of courage and determination. The Swabians snapped their nine-game-winless run in style. Shaking off bad luck, potentially disheartening missed chances, and even an early 0-2 deficit, Matarazzo's men persevered with consistent fortitude to claim the comeback win.

Most of the credit for this naturally belongs with the players themselves. Squad captain Wataru Endo in particular stepped up to lead his team in a manner not seen for several weeks. Thanks in large part to steady attack waves that the Japanese skipper kept initiating, the VfB were able to rack up nearly three times the xG generated by opponents Gladbach.

We'll accord the American trainer some credit as well. Examination of the New Jersey native's basic tactical set-up reveals how Matarazzo played an excellent hand against BMG trainer Adi Hütter. With more of his actors once again fit, our subject here can begin to get his team back to the more effective avant garde football he's known for. 

Lineup—VfB Stuttgart—Match 25 (4-1-4-1)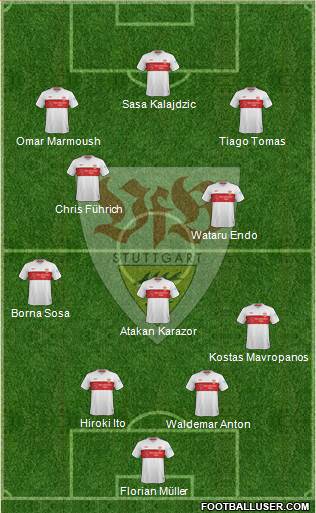 Unlike the more static constellations we've seen from Matarazzo lately, we're working several sophisticated "split staggers" here. Chris Führich's development as a right-slanted buttressing attacker gave the American trainer the confidence to once again move Borna Sosa up to an advanced position. Moreover, Endo drops back to a pocketed role that enables him to influence builds.

There was a lot to like from the Swabians on Saturday night. Omar Marmoush and Tiago Tomas really looked excellent throughout. As the match unfolded, one could observe the two wingers growing both more confident and increasingly creative. Sasa Kalajdzic scored one and received a deserved assist credit on another. While there were lucky deflections involved in all the tallies, the squad on the whole took the requisite risks to make things happen.

With Union Berlin, Augsburg, and Bielefeld on the docket in the coming weeks, Bundesliga watchers have some highly intriguing fixtures involving this team to look forward to. The momentum obtained here renders the coming matches against relegation rivals "can't miss" commodities. The way in which Matarazzo has them constructed here gives the Swabians a fighting chance in the "six pointers" to come. This columnist personally can't wait to jettison some of his recent cynicism and start writing more salutary reviews about this coaching regime again.

Timothy Tillman, SpVgg Greuther Fürth

Minutes played = 82/90, Positions played = LM, RM

Grade = B+

Certainly a very active day for our German-American subject. By the writer's count, the elder Tillman brother amassed 71 touches against Bochum on Saturday afternoon. Timothy remained right in the thick of the action for the bulk of his shift. Fürth trainer Stefan Leitl bunched up his attackers in a rather odd arrangement when squaring off against the league's other promoted team last weekend.

Lineup—Greuther Fürth—Match 25 (4-1-5)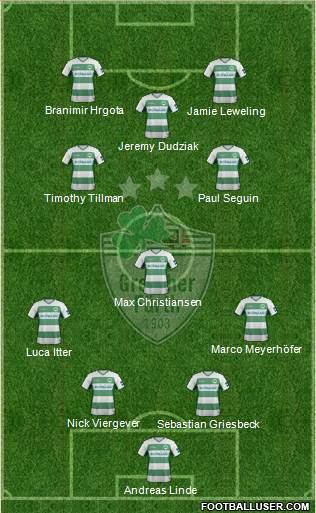 One doesn't slap a 4-1-5 label on a shape easily. Those of us who report on such things prefer to use more conventionally understood cleave-ups. Every so often, however, something like this crops up. Leitl clearly wanted to throw the kitchen sink against a beatable opponent. Accordingly, one must remain true to the shape's intention.

Tillman turned in a very strong first-half offensively. Deft touches in the 6th, 9th, 19th, 23rd, 25th, 29th, 31st, 32nd, and 34th helped his team look sharp on the charge. The German-American also pulled off some very impressive precision passes. A through-ball for Jeremy Dudziak in the 5th was probably the best, though quick start shuffles in the 43rd and 44th weren't far behind.

Tracking back for defensive duties naturally proved difficult from his advanced position. There were some defensive lapses in the 11th, 12th, 27th, 28th, 39th, and 40th. Errors typically followed one another as he scrambled to retreat. Corners and free-kicks were mixed, with decent services coming in the 31st and at 45+2 while weaker hits marked his 24th and 45th minute efforts.

Tillman took a ball down brilliantly and unleashed a powerful shot in the 14th. The try was unfortunately blocked. Leitl brought on Jetro Willems and Havard Nielsen for Dudziak and Luca Itter at the break. The shape in the second 45 spread out into something more familiar.

Lineup—Greuther Fürth—46th minute (5-2-3)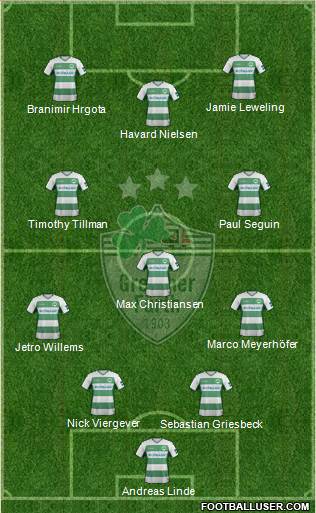 Overall, Tillman operated in a more comfortable/stable fashion once the basic positions fanned out. On the rush, he completed more incisive passes in the 51st, 52nd, 66th, and 72nd. After a subpar corner in the 64th, he whipped in a positively gorgeous ball for Branimir Hrgota on the play that ultimately led to Armel Bella-Kotchap's own-goal. Our subject here undoubtably deserved an assist credit on the tally.

Some very nice dribbling/moves past his markers came in the 55th, 58th, 62nd, 63rd, 73rd, 79th, and 80th. Although there were still some bad losses (49th, 58th), the majority of Tillman's defensive work (53rd, 54th, 65th) was much improved. Set-piece services (56th, 76th, and 78th) were all above average. The Nürnberg native recorded three assisted shots in the second 45.

All told, this American finishes just below "A-Level". A good bit of his game appeared very strong. A few poor decisions on the ball (10th, 23rd, 26th, 50th, 81st) could have been averted. As impactful as he was in the Bochum fixture, the level of his play came up short in some cases that could have swung the result. There was nevertheless, as usual, a lot to admire whilst watching Tillman in action.

Joe Scally, Borussia Mönchengladbach

Minutes played = 90/90, Positions played = RB

Grade = D-

When the Stuttgart-Gladbach team-sheets were released this past Saturday evening, it initially proved quite the thrill to see Joe Scally back in the starting XI for the first time in this new calendar year. The Long Island native made Adi Hütter's team for the first time since round 17. The writer confesses that he isn't quite sure why the CFG New Yorker fell out of favor with his trainer.

This American went from being a regular fixture in the squad (he started every match of the first half of the season) to riding the bench in all eight rounds of the "Rück-runde". There didn't appear to be any serious dip in form. Scally's absence may have more to do with the fact that the €7.5 million Hütter truly was the absolute wrong gaffer for this club.

That may sound shallow and trite, but there is strong evidence for it in the latest set of tactics.

Lineup—Gladbach—Match 25 (4-1-4-1)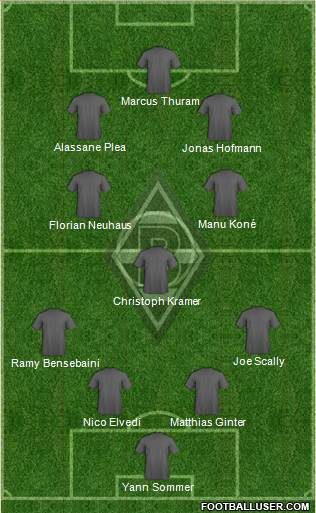 Simply awful. If one cares to juxtapose this arrangement with the Stuttgarter tactics board above, it's genuinely baffling. Lining up against a team with considerable talent on the flanks, Hütter opted to cede the flanks entirely in favor of inwardly-pulled attacking axes. Much of the responsibility for a forward thrust fell on the fullbacks. In Scally's case, this led to disaster.

The American--in addition to the assignment of marking Führich, Marmoush, and Sosa--was expected to furnish more of a creative impulse than he could possibly hope to summon in a cold start. We have a very poor performance to discuss, but do note that Scally finds himself just a shade above failing largely because he was left hung out to dry.

The CFG New Yorker got completely toasted by his opponents in the 10th, 12th, 18th, 40th, 48th, 57th, 60th, 67th, 68th, 73rd, and 87th. He got beaten very badly in the lead-up to Stuttgart's opening goal in the 38th and was completely lost in no-man's land on the equalizer in the 51st. Wince-inducing ball losses came in the 4th, 6th, 31st, 44th, 77th, 83rd, and 85th. Clearances in the 8th, 16th, and 61st needed to be better.

Slack marking in the 3rd, 5th, 17th, 18th, 48th, 79th, and 90+2 really frustrated. Scally committed three bad fouls (30th, 81st, and 82nd), all of which were worthy of bookings. Christian Dingert only saw fit to caution him for the middle one in that series. It could have been significantly worse for our subject here. Scally seemed aloof and very off on other mistimed challenges in the 47th, 58th, and 84th.

Those looking for bright spots can find more adroit defensive pressing in the 25th, 28th, 44th, 56th, 66th, 89th, and 90th. In spite of the team's deep park, this American managed to make a few aggressive offensive moves in the 9th, 11th, 26th, and 49th. There's a nice aerial win on display in the 23rd. Scally's best work came in the 37th when he played Tomas offside and hustled back to block the Portuguese attacker's shot on an unofficial play.

Not a failing day for one of the league's fine young talents. One should re-emphasize the hopeless tactical situation he was placed in whilst lamenting the long list of mistakes. Players deserve to have a clearer defined role than that ascribed to Scally in this one. Hopefully we'll see him back in one again soon.

Thanks so much for reading!

You can occasionally catch Peter on twitter, @ViceytheSS.

Twitter DMs are open for football conversations, corrections, and (if you truly insist) general abuse. 

All columns debut on Bulinews before appearing on Peter's website later in the week.



Related stories