Americans in the Bundesliga:
Brooks leads pack with perfect marks in week 12
By Peter Weis @PeterVicey
There's much to discuss in our weekly scouting column that checks up on US internationals in Germany's top footballing flight.

Just like last time, we've a top-notch performance from a USMNT regular to lead things off. Joe Scally, Tyler Adams, Julian Green, Timothy Tillman, and Timothy Chandler also saw significant action this weekend.

Round 12 wasn't the kindest to every American earning a living in the Bundesliga, least not to the two trainers Pellegrino Matarazzo and Jesse Marsch.

There's plenty of critiques to be had this time as well.

As always, we'll take a close look at everyone's work in our "Americans in the Bundesliga" feature.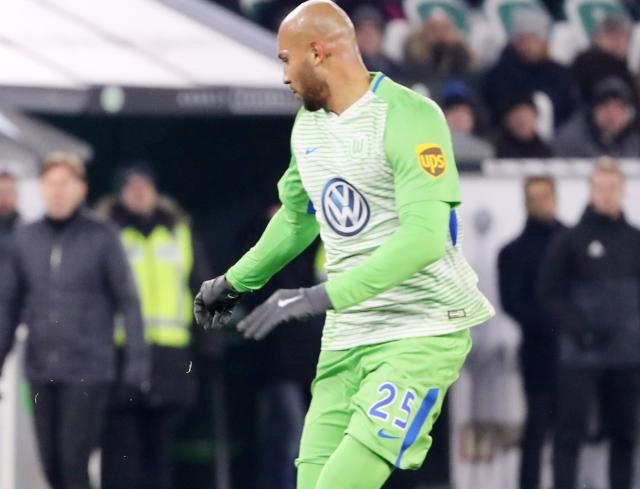 | | |
| --- | --- |
| John Anthony Brooks. | Photo: GEPA Pictures/Sven Sonntag |
We've a most interesting field to appraise in this week's Americans in the Bundesliga Column. Six players and the league's two American trainers give us eight graded sections across four of the five graded levels. Two defenders make "A-Level" this week whilst two footballers and the two trainers come in at "D-Level". No one gets failing marks this week, not even the American (Tyler Adams) whom was given them by many German press sources.


Those curious as to the absence of TSG 1899 Hoffenheim defender Chris Richards should know that he did not start for the second consecutive week. Fitness or form issues do not appear to be at play. Kraichgauer trainer Sebastian Hoeneß simply favors a back-four now in which Stefan Posch and Kevin Vogt evidently complement peak performers David Raum and Kevin Akpoguma better.

Richards did make a 17-minute-relief appearance for the second successive round, but involvement was deemed too minimum for a graded section. Anyone interested simply in watching him work on a Bundesliga pitch can see him beat USMNT teammate and friend Tyler Adams at 90+2 of the Hoffenheim-Leipzig fixture.

John Anthony Brooks, VfL Wolfsburg

Minutes played = 90/90, Positions played = CB

Grade = A+

Wonderful stuff from the Berliner on Saturday in easily the most entertaining of the 15:30 fixtures. It's been far too long since this column has had the privilege of leading with a paean to all things J.A. Brooks. The German-American is truly a spectacular footballer; an almost pleasure to watch when he's on point. Those with access to the tape should definitely check out this performance as the 28-year-old dazzled throughout here.

Defenders rarely earn a draw-up in this space. We'll have to make an exception here as Brooks' placement--along with Florian Kohfeldt's tactics--are relevant. Missing versatile former captain Joshua Guilavogui to injury, the new WOB trainer altered the shape of his 3-4-3 intelligently from the previous round.


Lineup—VfL Wolfsburg—Match 12 (3-4-3)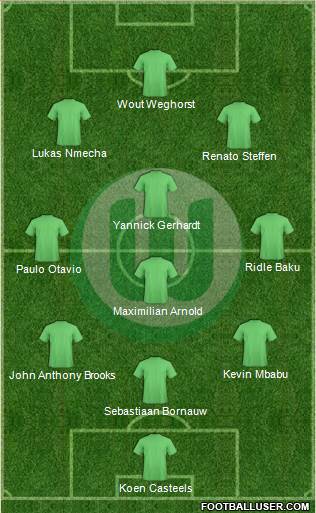 Placing Sebastiaan Bornauw on an inverted pivot allowed Brooks to do part of what he does best: launch gorgeous switches out of the back. There exist numerous examples of the American doing so in this match. The instances in which he placed the ball perfectly on Ridle Baku's foot (7th, 44th, 60th, 82nd) is in itself an impressive list.

The American's passing out of the back definitely served as the strongest part of his game. Brooks spread the ball around exceptionally as well, hitting Lukas Nmecha (5th, 45th, 48th, 81st) and Wout Weghorst (4th, 45+1, 87th). The team had to deal with multiple issues against Bielefeld, including the loss of Jerome Roussillon and falling behind 0-2. This American was always there to kick-start the offense with new ideas.

Defensive work was similarly almost flawless. Fantastic duel wins can be found in the 6th, 7th, 8th, 15th, 21st, 27th, 28th, 30th, 49th, 70th, 77th, 82nd, and 84th. There are great headers on the highlight reel in the 1st, 32nd, and 89th as well as excellent clearances in the 9th, 34th, 51st, and 90+3. By far the best is the double clearance in the 76th.

In the course of racking up a recorded 113 touches, Brooks put in some sharp possessional work on the ball in the 12th, 33rd, 36th, 67th, 69th, 71st, 86th, and at 90+1. Simply stated, it was an absolute monster day for him. Though he did dip and make a few mistakes during what were weak stretches from the team in general (36th-44th and 46th-51st) there really isn't much choice but to accord him perfect marks this time.

As is sometimes the case, Brooks moved up to a striker position for the final ten minutes of the match as Kohfeldt sought a late winner. Maximilian Arnold fell back to take his place so that the American could throw his valuable heading skills into the fray. Some center backs are just built for this. Julian Nagelsmann did it all the time with Dayot Upamecano at Leipzig and now does it with Bayern.

Still full of energy after a very grueling match, Brooks wasn't far off the ball on a couple of verticals and in-swingers headed his way. It's perfectly reasonable to augur that this American should find his way onto the scoresheet soon. That's honestly all that was missing from this gem. A typical J.A. masterpiece.

Joe Scally, Borussia Mönchengladbach

Minutes played = 74/90, Positions played = LWB

Grade = A-

In all honesty, it took a few minutes to spot the CFG New Yorker during the initial watch this week. One knew that injuries to Breel Embolo and Nico Elvedi would force Adi Hütter into a tactical re-think. Noticing that Patrick Herrmann made the starting XI on the team-sheet also primed one for a "scouting mission" when it came to the squad's shape. It new nevertheless served as a surprise to see Scally pop up on the left during in the initial minutes of this weekend's fixture against Fürth.

Lineup—Gladbach—Match 12 (3-5-2)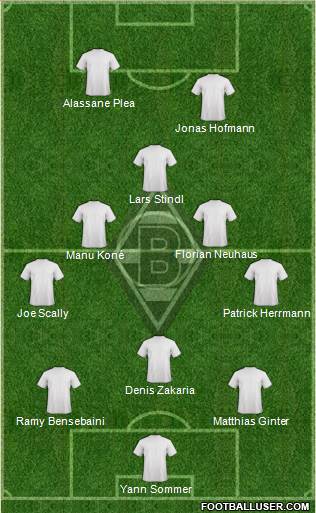 A very different role for the 18-year-old this week, who ordinarily doesn't move over left-sided defensive duties until much later in the match. Eventually one was able to spot the young American prospect, sporting a new haircut and clearly down a few pounds following his USMNT tour-of-duty. The re-watch became immensely important as Gladbach's rush out to an early lead meant that we didn't get a complete 90-minute football match.

The youngster exhibited some adjustment problems during defensive lapses in the 2nd, 3rd, and 6th. By the time Jonas Hofmann scored in the 8th, however, he was already contributing positively to the attack. The problems and pluses on the two respective sides of the ball repeated themselves. There were some awkward touches back in the 10th and 12th. He looked much stronger going forward in the 13th and 14th.

A very nice recovery tackle in the 15th was followed up by an exceptional through ball for Herrmann. The American then completed a nice run forward in the 17th. It regrettably got cut short way a suspect foul call. Scally's next sparkling run forward came in the 22nd. It finished with a quality effort on target. He improved defensively as well with some sharp control touches after a 24th minute header away quickly found its way back to him.

With some impressive creative dribbling, Scally involved himself well in the next two Gladbach charges (26th and 33rd). In-between these two sequences, the game was effectively put to bed by Fürth keeper Marius Funk's goalkeeping error that enabled Florian Neuhaus to score the second goal in the 28th. Both sides engaged in plenty of Saturday-in-the-park strolling once the outcome was basically decided.

One can still see some marvelous skills from the American in the 36th, 37th, 40th, and 42nd. A considerably looser Fohlenelf even opted to play some inventive builds. Hofmann ran over to Scally's side to start the attack, with the US teenager bombing forward on sprints up the left. The winning team took some collective breathers in the second half, but Scally was up impacting play again by the 54th. He did so again in the 59th.

Probably some of the best play from the subject here came in the ten minutes before Hütter subbed him off. He took down a switch perfectly in the 64th, forced Hans Nunoo Sarpei to knock him down after some nice work on the ball in 67th, worked in a very nice diagonal in the 72nd, and capped everything off with a slick dribble in the 73rd.

About the only negative to report insofar as Scally's day is concerned, apart from some of those early adjustment problems, came when fellow American Timothy Tillman beat him in a one-vs-one duel in the 66th. Overall, nothing major to take Scally off "A-level" this week. The new positional assignment did mean that  he earned only 43 touches. Less involvement, but still very strong.

Timothy Tillman, SpVgg Greuther Fürth

Minutes played = 45/90, Positions played = AM

Grade = B+

Tough to score the elder Tillman brother here after he came on for a football match often times played at half-pace. Fürth trainer Stefan Leitl's half-time tactical adjustments weren't going to alter the outcome of this match; not with his Kleeblatt down 0-3 away at Gladbach.

Lineup—Greuther Fürth—46th minute (5-2-3)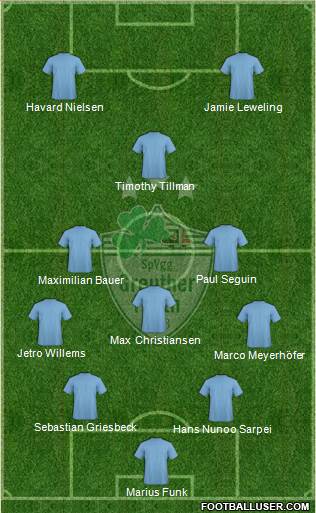 Sigh. This columnist fails to comprehend the non-sensical unwritten rule that Tillman and Julian Green aren't allowed to be on the pitch at the same time. Seriously, what's with this? It's as if Leitl believes that he can't have more than one German-American on the pitch at the same time. Together, Tillman and Green could work behind the strikers. It's not as if the SpVgg trainer has anything to lose at this point.

Oh well. Some interesting actions from the American who should probably have a place in the starting XI by now in the second half. Tillman completed some neat work on give-and-gos with Germany U21 international Jamie Leweling in the 55th, 86th, and 88th. Those two have some chemistry. Leitl might want to ponder that.

Tillmann either took free kicks directly (71st) or served as the feign (56th). He delivered a string of three consecutive corners in the 83rd-85th, all of which were pretty good. One can watch Tillman showcase a bit of dribbling skill in the 57th and 65th. He won some nice challenges in the 66th (against Scally) and 75th. A series of touches to keep the ball off the touchline in the 80th were impressive.

We'll simply have to wait and see if Leitl finally jigsaws him into the starting lineup. It's not clear at all why the gaffer hasn't found a way already. Tillman has consistently looked solid in relief all season. There's enough talent in this squad to steal 3-4 victories this year if Leitl learns to play it better.

Tyler Adams, RasenBallSport Leipzig

Minutes played = 90/90, Positions played = CM, RM, RB

Grade = C-

Some German football magazines have the USMNT captain on straight failing level when scoring the 0-2 loss to Hoffenheim. This column doesn't have it anywhere near that bad, though it wasn't anywhere near a good performance from the 22-year-old. One did indeed fear that it would be difficult for the RB New Yorker to maintain his club form after an exhausting flit across the pond to play 180 minutes for Gregg Berhalter.

One should ask the question of RB's American trainer Jesse Marsch. Was it really appropriate to start Adams three days after he went the full 90 in a CONCACAF qualifier against Jamaica? As we've learned with respect to Marsch's Leipzig this season, either the team possesses enough of a creative reservoir to play in a fluid shape......or the players furnish some flat-crap like this.

The German Red Bulls weren't the totally toothless bunch of paper tigers as they were during the first half of their fixture three rounds back. One could nevertheless clearly see that the axes weren't covering spaces between them in the manner a team with some ideas left in the tank should. In point of fact, thanks to the mute atmosphere in Sinsheim, one could hear Marsch screaming "Everybody, run some routes!" on multiple occasions.

Lineup—RB Leipzig—Match 12 (3-4-3)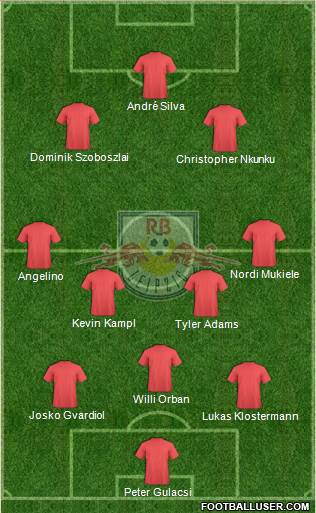 Two losses on both ends of the pitch severely hampered the team's game. André Silva still hasn't worked out how to be a more dynamic part of the top press in the same way that Yussuf Poulsen can. The summer purchase from Frankfurt remains a target forward, not to mention one who scored a lot of goals last season from the spot. In the back-three, Mohamed Simakan is Dayot Upamecano's natural successor. In some ways he's even strong. The team rarely plays well without their French pivot defender.

We'll have a bit more to say about the state of RB in Marsch's section below. Focusing on Tyler Adams here, it's worth first noting why the American earned failing marks in most German footballing publications. Adams was the closest to Diadie Samassekou on Hoffenheim's first goal. It almost appears as if he was responsible for marking the Malian. This actually isn't true. The US lad just happened to be near him when Peter Gulacsi made that fatal error.

Naturally, not even this columnist can defend Adams for that horrible ball loss on the second TSG goal. Munus Dabbur absolutely ate the American's lunch in the 68th. That's the primary reason why a "6,0" stands next to the RB New Yorker's name in the Monday print press. It's a mite harsh considering he did furnish some solid play on the day. Duels and passing decisions can also be labelled questionable. This writer prefers to opt for "jet-lagged."

A couple of ball-tracking errors in the early going (1st, 3rd, and 5th) reflected the fact that he was tired, but Adams still won his first three duels (6th, 7th, and 8th). As we noted in the tactics column, the team as a whole got off to a good start in this fixture. The first ten minutes were fairly lively. Florian Grillitsch, Kevin Akpoguma, and Georginio Rutter then proceeded to wrest control of the affair with excellent play.

Adams lost duels to all three of those actors, but his challenges against them remained technically sound. The others simply pushed the ball through him. Even after Samassekou scored the opening goal in the 12th, our American subject here was still spry heading into the duels. Quick-cut passing on behalf of Sebastian Hoeneß' men ensured that he did nevertheless expend a lot of energy chasing balls that had long left the feet of players once he got there.

One can watch this happen several times between the 13th and 20th. Easily the best example of an opponent pushing the ball through him--a tight duel that probably shouldn't count as a loss--comes in the 16th. More cases can be found in the 19th, 21st. and 22nd. Consider crediting Adams for continually dropping back into the defense over the course of the first half as a means of collecting balls and getting his team's attack re-started.

He did this well from a right-back position in the 24th, 29th, 30th/31st, 39th, and 45th. This particular American also tried to get his team rolling from the left, as one can see in the 26th, 37th and 43rd. In the midst covering a lot of ground, he had some difficulty covering Rutter and David Raum. The foul on the former in the 41st wasn't a pretty sight.

Adams covered Raum much more effectively after the restart (48th, 52nd). Unfortunately, his aerial prowess and ball shielding wasn't nearly as good as it had been in the second 45. Not to say that he wasn't brave in the air or that there was anything majorly wrong with the way he started the attack. Everything simply looked a little choppier. He also went missing for long stretches.

After the match itself descended into a mess of stoppages (55th-62nd), the American made some possession errors in the 63rd and 65th. The ball loss on Dabbur's goal clearly affected him and he totally tanked thereafter. There were more giveaways (69th, 78th, and 87th). While there were also nice control touches (76th and 81st), most of his focus was clearly lost.

To this set of eyes, Saturday didn't appear to be a failing appearance at all. Adams gets to be the "fall guy" for a lot of intrinsic problems with the team because of his involvement on the two Hoffenheim goals. This appraisal doesn't really consider him at fault on the first and thinks the total performance were merely just below average.

Julian Green, SpVgg Greuther Fürth

Minutes played = 45/90, Positions played = LM

Grade = D+

The opening set of tactics deployed by Fürth trainer Stefan Leitl featured an interesting triplicate striker deployment. At this juncture, why the hell not? Norwegian Havard Nielsen returned to work as a false nine behind Scandinavian compatriot and team captain Branimir Hrgota as a false-nine.

Lineup—Greuther Fürth—Match 12 (5-2-3)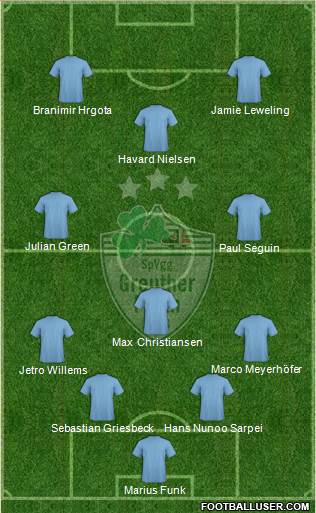 Considering the fact that everything fell apart some eight minutes into the match, there truly isn't much one can say about the capability of this. What one can say about Green is that he looked capable enough delivering corners (12th, 21st) and trying to get something going offensively with Jethro Willems (20th).

That's about the extent of the good news concerning this player on a team powered by bad news. It didn't come as a surprise at all to see Green pulled at the half following horrible ball losses in the 6th, 33rd, 36th, 37th. Instances of slack marking are too numerous to mention. They're also not entirely related to the player himself as the whole team just gave up on the press.

An offensive foul in the 4th, a failed take in the 8th, and failure to follow through on runs in the 35th and 39th will get a mention. Green did slightly better on lane cuts in the 9th and 19th. Not a failing day. Not a fun one to watch either. One hopes against all hope that this American gets at least one bright match in during this nightmare season for his club.

Pellegrino Matarazzo, VfB Stuttgart (Trainer)

Matches = 1 , Result = L

Grade = D+

We won't fail the Columbia University man this week. In stark contrast to what was put forth last round, the American trainer's opening set of tactics had some intuitive sense to them. The Swabians didn't even perform that badly in their visit to Dortmund. An XI seriously lacking in quality delivered an okay show.

Lineup—VfB Stuttgart—Match 12 (4-4-2)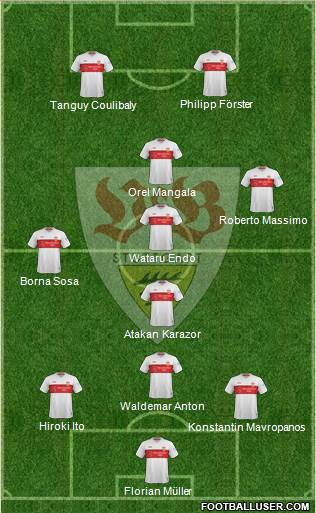 Moving Philipp Förster up to the striker position produced a pair of chances in the first half. The strong vertical spine of the team gave the BVB some problems. The split-stagger-with Borna Sosa back on the right--predictably failed again this time. Roberto Massimo scored, but it had nothing to do with the constellation.

Once the VfB gets some more of its injured players back, we'll eventually come to discuss a different team. It honestly feels like an eternity since "Silas" had to bow out with injury late last season. One reason for this is that we've been repeatedly promising that the crucial Congolese attacker is on the mend when in reality his recovery proceeds slowly. Kicker magazine said he'd be back after the international break. Wrong again.

Of course, the real reason why the "Silas" return feels like it's taking decades is because Matarazzo still runs the same basic system without him. It's such a shamefully bad cheap imitation that one just has to keep docking his grade week after week. The "holding pattern" doesn't constitute good football. Period. One has a right to expect more.

Matarazzo and Sven Mislintat appear to have reached a calculated decision together. They know that the Bundesliga field is weak this year. As a result, they're content to let the team slide into the relegation zone. The ploy should work just fine. It's almost inconceivable to think that the team will remain a relegation-race factor once Silas and Sasa Kalajdzic get back.

It's fine. It'll work. In the meantime, prepare to have your socks bored right off.

Timothy Chandler, Eintracht Frankfurt

Minutes played = 65/90, Positions played = RW

Grade = D

Practically all of Timmy's day is covered in this week's tactics column. It proved a most disconcerting outing for the Frankfurt native, particularly in terms of defensive work. The SC Freiburg left ran circles around him during the match that produced perhaps the most curious result of the weekend. The columnist recorded only 22 touches from Chandler. Some of these weren't half bad. The real story of the fixture, however, had to be how the veteran couldn't get a touch in whenever the SCF cycled around his side.

The most egregious examples of this came in the 11th, 25th, 29th, 32nd, and 36th. The American's performance on throw-ins ended up being especially baffling. Either he caught the opponent off guard with quick throws or took way too long before delivering the ball directly to someone on the other team. There would be no middle ground when it came to this aspect of Chandler's game on the day. Either he was brilliant or shockingly poor.

We talked a bit about Florian Badstübner's inconsistent refereeing in the other column. Chandler definitely didn't deserve the yellow card for his challenge on Schade in 49th. One could nevertheless view it as an amalgam booking. He wasn't near the ball in other cases. This observer actually only saw him win one clear duel all afternoon. A few strong plays (6th, 16th, and 43rd) keep him comfortably off failing level.

Still not a pleasant one to re-visit for "Timmy enthusiasts."

Jesse Marsch, RasenBallSport Leipzig (Trainer)

Matches = 1 , Result = L

Grade = D-

As noted above, the question as to whether Tyler Adams should have started is a fair one. Moreover, with Dani Olmo clearly injured, Marsch's decision to leave Amadou Haidara out of the bench squad entirely makes even less sense. Getting out of the Champions' League is no longer a possibility for Marsch's club. Climbing up the league table stands as the only priority.

A midfield double-six setup of Haidara and Kevin Kampl would have made perfect sense in this weekends Bundesliga encounter. Something else that proved perplexing concerned Marsch's choice to yank Kampl at the half, even though the Slovene was one of the few RB actors involved in at least one offensive push.

Lineup—RB Leipzig—46th minute (4-4-2)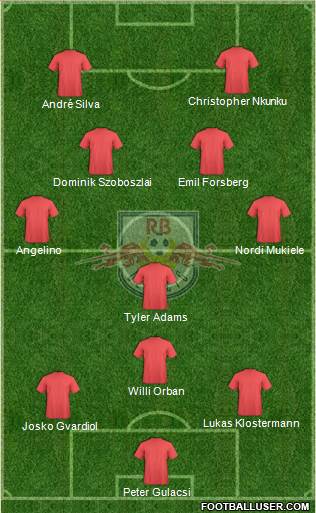 One can clearly see what Marsch was going for here by introducing Emil Forsberg in a direct attacking support role. Given how confident the Kraichgauer were passing, however, the amount of space left ahead of the final fifth axis practically made this less than a risky trade-off and more of a direct invitation to get punched in the mouth.

The absolute last thing Adams needed after his enervating first half was more responsibility. All of the attacking talent up front didn't really have anyone to service them. Angelino wasn't (and hasn't) been in his usual form as of late. Nordi Mukiele rarely thrives that far up. Presumably, Marsch left it so because he didn't really have an alternative for the right-wing in his bench squad

Benjamin Henrichs (who continued to look bad in an exhibition fixture over the international break) eventually came on for Mukiele to produce nothing. We then got brief looks at Ilaix Morbia, Brian Brobbey, and Hugo Novoa; three promising youngsters carried into this match when more experienced personnel should have made it into the selection.

Phrew. Whatever Marsch had in mind for a meaningless Champions' League match won't be on display on Wednesday. That might be for the best. For the "nth" time in this space, one has to emphasize that the Wisconsin native is in no danger of losing his job. Perhaps some pressure would be nice as one can't build a league selection as carelessly as the American trainer did here.

Thanks so much for reading! You can occasionally catch Peter goofing off while watching the lower German football divisions on twitter, @ViceytheSS.

Twitter DMs are open for football conversations, corrections, and (if you truly insist) general abuse. 

All columns debut on Bulinews before appearing on Peter's website later in the week



Related stories