Americans in the Bundesliga: 2021's Year-End Report
By Peter Weis @PeterVicey
The footballing pitches of the Bundesrepublik may currently lie still and snow-blanketed, but that doesn't mean we're not hard at work over here at Bulinews as we catch up with the analysis.

Our "Americans in the Bundesliga" feature--last appearing after round 14--returns with full assessments of the 15th, 16th, and 17th matchdays.

The resulting triple-round feature also contains an additional add on to each graded section as we reflect upon the work of the season's first half and prepare for the second.

Chris Richards, Timothy Chandler, Tyler Adams, John Anthony Brooks, Joe Scally, Timothy Tillman, and Pellegrino Matarazzo are the seven actors presently active at the top level of German football.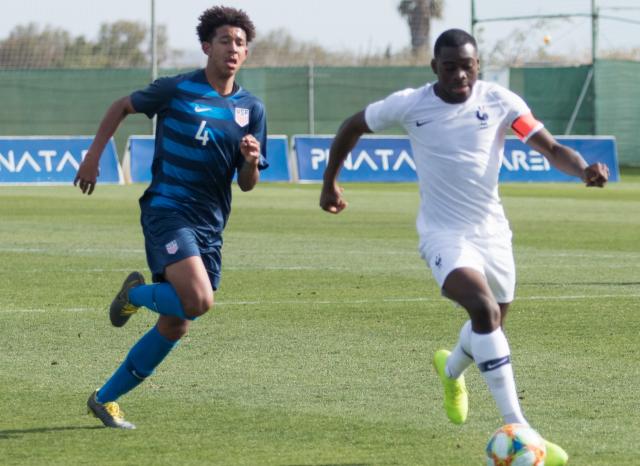 The final installment of our deep-scout feature here on Bulinews for the calendar year has much catching up to do. The tight turnaround of the Bundesliga's traditional pre-holiday "Blitz phase" meant that we had to produce three tactical columns in the span of seven days. that naturally left us with a lot of work when it came to our "Americans" feature.


With all the tape reviewed and the numbers crunched, we're pleased to present a thorough assessment of all the US internationals active in Germany's top footballing flight during matchdays 15,16, and 17. We've seven graded sections this time, assessing the work of six players and the league's lone remaining American trainer.

In addition to the performance evaluations, each section contains some final thoughts on the current state of the actors appraised. In these sections, we take a step back to reflect upon the year and offer up some conjectures on the year to come. The 2021/22 Bundesliga will return from its brief holiday break in less than two weeks' time, so do join us in engaging in some speculation about most intriguing class of Americans in German football ever.

Chris Richards, TSG 1899 Hoffenheim

Matches played = 2/3, Matches started = 2/3

Minutes played = 180/270, Positions played = CB

Cumulative Grade = A

Two absolute top-notch performances from the Alabama native. Chris Richards entertains and delights in his current form. He also delivers some solace to all of us Bundesliga watchers who happen to be less than enthusiastic about being stuck watching Hoffenheim. Many thanks to the 21-year-old for making it worth our while. The FC Dallas academy product rendered unto us quite the thoughtful Christmas present.


Our American subject here scored his first Bundesliga goal since our last column. An injury time header off a corner in the waning moments of round 15's visit to Freiburg lifted his team to a 2-1 victory. Commemorating the "very special occasion" afterwards, Richards noted that he considered all of his TSG teammates "brothers who push each other to peak performance on the pitch."

Well done, Chris!

Lineup—TSG Hoffenheim—Match 15 (3-4-3)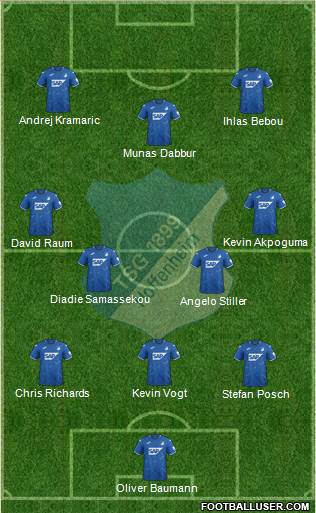 The Alabamian was involved offensively right from the get-go, running a fantastic build in the first and getting some touches in on the lead-up sequence to  Munus Dabbur's opening goal. One noted two ultra-slick precision tackles (4th and 7th) in the early going. There was more great passing work on forward rushes in the 8th, 10th, and 13th.

After a very brave aerial contestation in the 18th, the American required some off pitch minutes for treatment. This forgivably rattled him a bit, leading to mistakes on the ball in the 24th, 25th, 28th, and 31st. He got himself back on the uptick shortly after the half-hour mark, but lapsed again in the 38th, 39th, and 41st. The weak stretches dragged his stats down a bit on the day. Fifteen stray passes and a 28% duel rate served as a slight stain.

It ultimately proved immaterial. He recovered after the break. Freiburg sent plenty of long balls in his general direction. Richards cleared deftly in the 48th, 52nd, and 56th. The round 15 encounter slowed up considerably after Vincenzo Grifo's missed penalty at the hour mark. The American burst out of his own personal anonymity in the 69th and began racking up meaningful touches again. He finished with 88 on the day.

Forward on the drive, he only just missed connects in the 75th and 79th. The magnificent goal came at 90+4. Not to diminish this milestone in any shape or fashion, but we want to arrive at the real gem that was the midweek 2-2 draw away at Leverkusen. Some match this was! Our American effectively worked as a one-man highlight reel at the center of it all.

Lineup—TSG Hoffenheim—Match 16 (3-4-3)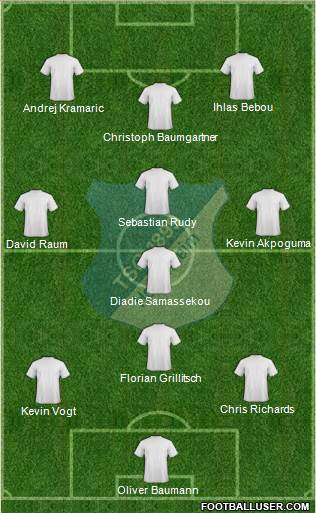 Hoeneß moved him over to the other side of the back-three, though it would be fair to say that Richards covered most every last blade of grass. Might as well get to the best plays first. One can watch him execute a world class crunching tackle, hold, and clear in the 31st. Less than a minute later, the American hit Sebastian Rudy with an awe-inspiring full cross field switch.

He sent a superb header in on target of a corner in the 35th, put the brakes on Patrik Schick with a filthy slick tackle in the 40th, and then one-upped himself with an almost superhuman slide tackle away from Moussa Diaby in the 45th. The American wasn't finished with the dazzle. He beat Schick again in the 51st and completely outpaced Diaby in an 88th-minute footrace.

There are less sensational examples of still stellar work on both sides of the ball in the 1st, 4th, 7th, 13th, 15th, 17th, 19th, 43rd, 61st, 73rd, 90+1, and 90+3. No, it was not a complete command performance. There could be no such thing against a B04 attack featuring Schick, Diaby, and Florian Wirtz. Those are understandably tough assignments. Schick beat him badly on the 37th minute opening goal. Such a shame as there as he had been on a roll.

There were some poor touches (18th, 49th, 69th) among the 92 that Richards accrued on the day. The writer also recorded ten wayward passes. That means a little less in the context of 66 attempts. The Leverkusen front line got the better of him in the 2nd, 5th, 28th, 52nd, and 59th. That naturally brings us back to the issue of who he was facing. For the most part, this American left it all on the pitch against some of the league's top talents.

Hoeneß correctly opted to give Richards the day off on Saturday against Borussia Mönchengladbach. We didn't get the chance to see our man here square off directly against Joe Scally. Oh well. No sense arguing the point that Richards deserved an early Christmas Vacation. A refresh/recharge was more than earned.

2021's Concluding Thoughts

Some may be surprised to learn that Richards has only started nine league fixtures thus far this campaign. There exist big gaps in our coverage this year and not because the young prospect has been hurt either. The writer confesses that he doesn't know why Richards sported a face-mask in the Leverkusen match. What he can most assuredly say is that the Alabama native hasn't been seriously injured. Hoeneß almost always brought him on as a late match sub when he didn't feature in the XI.

It's purely tactical. Richards' former FCB II trainer has a minimum of three base-set formations that he deploys. Each one corresponds to a specific idea he has about how the opponent should be addressed. We've covered some of these in the tactical bulletins. Of some interest when it comes to these constellations, Richards may find himself the recipient of less playing time than he originally hoped for when he pushed so hard to get a renewed loan deal to the Sinsheimers over the line this past offseason.

One can't really question the move. As Richards himself put it, there were far too many Bayern CBs on the roster. It should nevertheless be noted that Julian Nagelsmann had nothing but positive things to say about him and did drop a hint that he wanted Richards to serve as his back-up right back. With it now appearing that the FCB have some other ideas in mind for that role, one hopes that our subject here didn't pass up a big opportunity to at least get some Champions' League minutes this year.

In all likelihood, nothing really barring injury stands in the way of the 21-year-old furthering his professional career in Germany over the next few years. Hoffenheim could finish top four this season, meaning he'll have two options for UCL minutes when pondering his next move over the summer. Overall, he's been a real treat to watch once again during the first half of this season. Everyone can look forward to some more incredible highlights in 2022.

Timothy Chandler, Eintracht Frankfurt

Matches played = 1/3, Matches started = 1/3

Minutes played = 90/270, Positions played = RW

Cumulative Grade = A

At long last an "A-Level" Day for the great Timmy Chandler. Back in Oliver Glasner's open right wing slot mostly out of necessity, the Frankfurt native may have very well solidified his hold on the position with a genuinely impressive performance. At times a little rough and randomly reckless in his attempts to generate forward play, the 31-year-old still got the job done. We've most everything involving his day chronicled in the round 17 tactical bulletin. The whole top three axes function exceedingly well in the latest SGE set-up.

Timmy got off a couple of efforts of his own in addition to assisting two shots. There were only four strays out of thirty passes played. Most of his 51 touches were meaningful and he only lost two of his duels outright. Some of the cycle work he did on the right directly contributed to Jesper Lindstrøm turning in another electrifying performance. Probably the best example of his tireless fight in pursuit of a loose ball came in the 57th. Plenty others abounded.

2021's Concluding Thoughts

Very much unforeseeable how much usage Chandler will get in the coming Rückrunde. The USMNT emeritus actor easily beats out Erik Durm and Danny da Costa for the axial slot opposite Filip Kostic. Timmy has actually had his nearest competitors beat out for the better part of two full years. The fact that he's a far cry from the player he was nevertheless means that other candidates invariably get trials.

Markus Krösche likely has a wish-list of upgrades prepared heading into the January transfer window. It's worth reiterating that we're dealing with a player in the twilight of his career here. That doesn't mean that Germans revel in any and every chance to laud Timmy for playing well. He's still approaches legend for us. Hopefully, Americans haven't forgotten what he did for the USMNT back during his international career either.


Tyler Adams, RasenBallSport Leipzig

Matches played = 3/3, Matches started = 0/3

Minutes played = 147/270, Positions played = LM, RM, CM

Cumulative Grade = B-

We've three substitute appearances from the USMNT captain to discuss. The first two of these were actually quite befitting of the RB New Yorker's skill set. In 19 minutes of relief against Gladbach in round 15 he got in 17 quality touches and won all but one of his direct duels. While Adams didn't factor into any of RB's late goals, his presence off the bench undeniably lifted the team up. It came as something of a surprise not to see Domenico Tedesco turn to him for a spot in the starting blocks in the midweek round 16 encounter against Augsburg,

Adams did come on at the half against Augsburg. An early injury to Emil Forsberg in the round 17 loss at home against Bielefeld also meant that entered off the bench. In the third fixture, he had to come in cold already in the 7th minute. Tedesco's tactics remain fairly straightforward low-deviation shapes from that of predecessor Jesse Marsch. For those interested, we've a draw up available in round 17 tactics column. One mostly observes 3-4-3/3-4-2-1 possession based schemes. Adams puts in about an equal amount of work on both side slants.

This American entered the Augsburg affair full of energetic motivation. His teammates regrettably not quite ready to match his vigor. One can watch him serve as the lone actor even trying to work cycles properly in the 48th, 49th, 56th, 63rd, 68th, 90th, ands 90+1. There's some really excellent precision passing on display in the 51st, 53rd, 72nd, 75th, and 77th. The most brilliant piece of forward work came in the 81st. Adams also outfought opponents very skillfully on 50-50s in the 46th, 57th, and 63rd. He singlehandedly preserved the 1-1 scoreline as the last man available to head away defensively at 90+3.

Instances in which he looked lost when playing the Fuggerstädter (61th, 66th) were scant. Unfortunately, there were a great deal more of them against Bielefeld. Understandably enough, it took the USMNT captain a little time to play himself into that match. The first 14 minutes were awful. Three direct giveaways (9th, 10th, 11th) and just as many bad ball losses (13th, 16th, 19th) came as a result of being unable to sync up with the speed of proceedings. The RB New Yorker finally got into the swing of things with his first duel win and an awesome forward pickup; both in the 21st.

Between the 24th and 29th he began to look a bit more like himself. Perhaps he got a tad too courageous in the 30th, carrying the ball forward for too long a distance until he got dispossessed. The touch and pace were both there on a breakthrough right in the 33rd, but the final cross was poor. Loads of good touches went to waste less than a minute later. Some very nice passing and follow throughs then came in the 36th, 37th, 42nd, and 43rd. His was initially very strong after the break (48th, 50th) in this regard too.

What eventually transpired against Bielefeld saw the entire team collectively collapse following Janni-Luc Serra's opening goal in the 57th. Adams had been rather active offensively in the box. His teammates simply didn't find him in the 52nd and 55th. When the DSC scored on a quick counter twelve minutes after the restart, the broadcast camera feed actually caught the American mouthing "horses****!" There was, in point of fact, nothing "horse****" about the play. Everyone in RB White-Red proved culpable on the sequence. The DSC actor who ultimately scored rounded far too many too easily on the break.

Frustration visibly set in for Adams and the rest of the team thereafter. The American shanked a blind clearance at the hour mark. With a pair of heavy touches (60th, 61st), he inexplicably sent the ball backwards. The RB New Yorker then got completely crushed on aerial duel in the 62nd and had to hit the turf. Not many ideas from Adams on a series of crap roll dribbles between the 64th and 74th. Tedesco subbed off the American's midfield partner Kevin Kampl in the 65th and the team didn't really know what to make of it. A failure from Adams to catch up with a cutback (to be fair, he rightly saw that the ball went out of bounds on the touchline) led to Bielefeld's second goal in the 74th.

Tedesco would remark afterwards that his totally deflated team wouldn't have scored a goal if they had another half-hour to play. That's not entirely true. While Adams, among others, totally ran out of ideas on unfocused central builds in the 77th, 79th, 83rd, and 85th, the American did execute a nice layoff for Josko Gvardiol at 90+5. Had the finish been better, the RB New Yorker would have recorded an assist on the day. Otherwise, one could see what Tedesco was talking about. There was plenty of timid "paint-around-the-box" possession junk from Adams and the rest of the team whilst no one dared to go forward. Despite this, the column keeps Adams' cumulative grade much higher than the German press.

2021's Concluding Thoughts

The player selected as the 2019/20 Bundesliga campaign's best American performer has performed well above average during this season's first half. Some stumbles out of the gate early sadly left him, his team, and the head-coaching regime of Jesse Marsch with too much catch up work left to do. By the time the RB New Yorker reached his peak performance level, all of the accumulated question marks surrounding Marsch's Leipzig left the coaching team on shaky ground.

The general opinion of this columnist regarding Marsch's dismissal holds that it constituted a grave error on behalf of the club's management. The American trainer wasn't given enough time to foster a productive culture within a club that lost its head-coach, squad captain, and defensive anchor in the offseason. There exist so many empty platitudes about the club needing to return to "RB football". Trust the writer on this. There never was such a thing during either the Rangnick or Nagelsmann years. Both pretty much winged it.

Marsch's departure counts as pretty bad news for the USMNT captain and U.S. Soccer as well. Caden Clark is on the way. Take a moment to consider what Marsch could have built with these two American midfielders given some time. Tedesco will hardly consider deploying these two together. He might not even find a regular place for Adams in his XI now that Konrad Laimer once again approaches full fitness. One doesn't retain a great deal of faith that Tedesco can even take this side back to the European places with a rudderless collection of individualistic players who tend to quit easily when falling behind.

The rumors about Adams potentially moving to Manchester United accord one some hope that the USMNT captain might move to a better club. Even on the sidelines at Old Trafford, Adams can accrue more valuable experience than he's getting here. The problem concerns the fact that the Rangnick and the Red Devils will have to back this American with €40 million plus of Glaser cash to make it happen. With his impeccable field vision and exceptional talent for interpreting the way plays develop, this writer thinks Adams is worth all that and more. Alas, that's not likely to be a view shared by many.


John Anthony Brooks, VfL Wolfsburg

Matches played = 1/3, Matches started = 1/3

Minutes played = 90/270, Positions played = CB

Cumulative Grade = C-

All of Florian Kohfeldt's gross mismanagement of his defensive ranks genuinely irks this particular Bulinews writer. Wolfsburg's new totally incompetent trainer had little choice but to turn back to the player he shunned just a few days prior when it came to shell up and surrender against Bayern last Friday night. We've got a draw up of the coach's feeble submission available in the latest tactics bulletin. Needless to say, Brooks didn't turn in a stellar performance working within it.

That being said, it's not exactly easy to score the Berliner's work in the one match in which he played. Of course, he looked completely out of sorts in that mess. One can hardly fault our American subject here for it. Brooks settled in somewhat a little after the quarter-of-an-hour mark, getting off a pair of good verticals in the 16th. He intervened nicely to pick off midfield balls in the 26th and 28th before executing a useful enough drag dribble in the 29th. He got one of WOB's few counters rolling in the 37th.

Brooks' last five minutes of the opening half proved pretty awful. Bayern remain ruthless in the way they go straight for the jugular when either one of the whistles beckons. The American got shown up badly by Serge Gnabry in the 43rd and committed two turnovers in the final two minutes. Kohfeldt's makeshift back-three entered the contest with no real chance to begin with. It was unsurprising to see it fray in the wake of increased FCB pressure. Brooks, Bornauw, and Lacroix outright broke immediately after the restart.

We've no shortage of painful plays involving Brooks to discuss. Unbecomingly weak headers came in the 47th and 54th. The Bayern bombardment caused him to botch clearances in the 48th, 51st, and 67th. One had to watch a double take of mistimed challenges in the 55th. Tackles away from Müller (56th) and Musiala (71st) didn't quite make up for the manner in which Lewandowski completely owned him (49th and 65th). Nagelsmann evidently showed some compassion and invoked the "slaughter rule" when he began sending subs on in the 75th.

We beheld much more reserved football from the German giants thereafter. Lewandowski, clearly still pissy about missing out on the Ballon d'or, added a goal late on to claim a record most of us considered meaningless. Brooks got a chance to pad his stats a bit during the leisurely phase. He upped his passing to over 80% and his duel rate just above 50% on a series of plays taking place at half-speed. Good for him. The Berliner deserved far better than his gaffer's capitulatory constellation on this day.

2021's Concluding Thoughts

This columnist often found himself surprised to see that J.A.'s masterpieces got overlooked by other appraisers. At least that's the sentence that came out first when shifting to the larger scope of this section. In truth, Brooks routinely doesn't get the credit he's entitled to. The 28-year-old may not be in anyone's shortlist for the team of the season this Hin-runde, but he's regularly well above average and certainly in the top three of the league's purely physical center halves.

Brooks topped the rest of the American class in both the 2019 and the 2020 versions of this column's end-of-year-report. While the overall strength of this year's class means that we won't be selecting a winner here, per se, the writer that defender Brooks performed about as well as Chris Richards and Joe Scally when one averages the grades together. It's simply to close to call.

Brooks--on an expiring contract--will definitely be on the VfL sporting director Marcel Schäfer's offload list this January. Anyone who counts themselves a Brooks enthusiast should root for it. This American needs to get off this sinking ship. The wish expressed in the latest tactics column sees him head back home to Hertha BSC. Naturally, this counts as one of those transfers that makes far too much sense to ever happen.


Joe Scally, Borussia Mönchengladbach

Matches played = 3/3, Matches started = 3/3

Minutes played = 256/270, Positions played = RB, RWB, LB, LWB

Cumulative Grade = D+

Not a good finish to the calendar year at all for the CFG New Yorker or his club. In reviewing Borussia Mönchengladbach's final three fixtures of the season, there continue to be so many stretches of pitch time during which the foals suffered total team meltdowns. So it goes in the "ultimate team sport". Domino collapses on the football pitch aren't always easy on the eyes, but they remain one of the reasons we lovers of the beautiful game refuse to think that any other form of organized athletics approaches this one.

Understand Scally's poor marks in that context. It's not that the Long Island native has been playing terribly as the year drew to a close. The American youngster simply got swept up in the mercurial rollercoaster ride that is the current BMG. Everything falls apart so quickly on this team. Scally's performance in the opening minutes of the round 15 match against Leipzig proved pretty emblematic of this.

Lineup—Gladbach—Match 15 (5-2-3)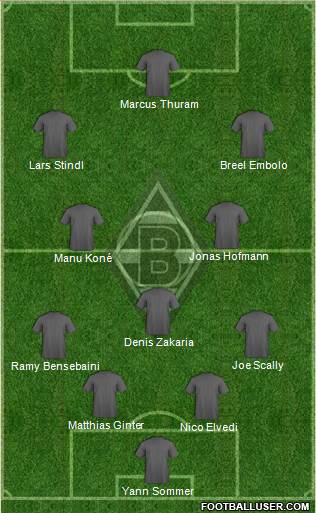 Scally had quite a bit to do in the opening minutes. Offensively, he ran a beautiful sequence practically all by himself in the 3rd. On the other side of the ball, he got completely murdered by Emil Forsberg in the 2nd and Christopher Nkunku in the 5th. Forsberg got him again in the 6th. Leipzig proceeded to have a field day down his right side. Many will surely recall that the Saxons racked up a ridiculous amount of chances in the round 15 duel. Scally kept getting toasted, though much of that had to do with bad ball losses in front of him.

Amid all the early carnage, this American still looked pretty decent on the press (10th, 13th, 16th, and 25th). After Leipzig scored the opening goal, Scally even came within a hair's breadth of delivering the response. One can watch him hit Marcus Thuram with a positively radiant ball in the 22nd. Had the Frenchman been able to locate his scoring touch for the first time this season, we'd be having a very different discussion. Despite some wonderful forward prowess, however, there were far too many defensive errors (19th, 21st, 26th, 28th, 31st).

Scally's positioning on both of Leipzig's first-half goals remained suspect. After Silva secured the second tally in the 33rd, the American's confidence sunk through the floor along with the rest of the squad. The RB passed around him to the point that he actually looked dizzy. Total shellshock from Hütter's crew. Keeper Yann Sommer had to bail them all out a couple times before the initial 45 was out. It got even worse for Scally with two blown marks (49th and 52nd) immediately after the break.

As Fohlenelf captain Lars Stindl put it, what brittle builds the crew could managed immediately degenerated into doomed individualistic moves ending in nothing. Gladbach succumbed to permanent stress in the second half. By the 70th, they were running on empty. More cringe-inducing moments from Scally in the 62nd, 73rd, 74th, 78th, and 81st. The American's overall stats on the day (75% on passing and 55% on duels) weren't bad and he did recover a bit towards the end. Most touches were nevertheless meaningless.

Moving on to the midweek match against Frankfurt , we've got Scally covered pretty thoroughly in the round 16 tactics bulletin. This was by far his strongest match. He registered an early assist on a goal that should have gotten the team back into gear. It didn't quite shake out that way and our American subject really performed poorly on duels (20%) against the SGE. On the rush he was still quite bright, assisting on two more efforts from the right wingback position.

Lineup—Gladbach—Match 17 (4-2-3-1)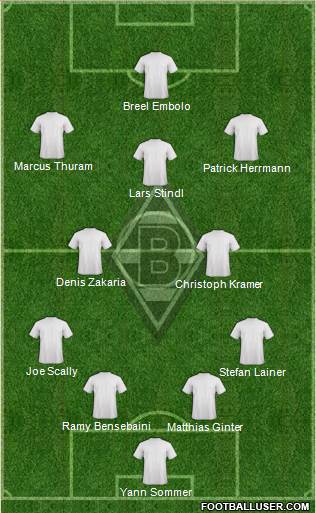 Hütter moved him over to the left against Hoffenheim in the final Hinrunde match. Again, there are plenty of positives to report on. There's good defensive work (1st, 23rd, 28th, 44th, 45+1, 52nd and 72nd) on display. Scally also saved his team from conceding singlehandedly with a huge defensive stop in the 51st and a pair of monster tackles in the 70th. Much poorer tackling/clearance work came in the 9th, 16th, 20th, 27th, 37th, 38th, 48th, 64th, and 65th.

The set of tactics illustrated above didn't serve Scally particularly well. Chaos and confusion reigned in the opening quarter of an hour. Our American subject here seemed to have no clue where he was supposed to be in the 4th, 7th, 8th, and 12th. He got horribly split-stretched trying to get back to his position on the final play. Scally, Thuram, and Zakaria were all up way too high together, leaving the whole side vulnerable.

In terms of the attack, one sincerely hopes we've seen the last of something like this. Scally found himself incapable of working the overlap all afternoon long. Thuram kept closing down his lane. The most egregious examples of this came in the 17th and the 58th. This setup also appeared to adversely affect the CFG New Yorker's diagonals. He sent a total of six such passes stray. The worst came in the 11th and 46th.

As we all watched the team's general posture swing wildly about, Scally did have some nice sovereign moves on the ball. They came in the 10th, 30th, 33rd, and 51st. For all the poor diagonals on the day, the snap-launch in the 61st counted as pure sublime skill. When Luca Netz entered the match in the 73rd, one expected Scally to shift over right. He didn't. Instead we got this.

Lineup—Gladbach—74th minute (5-4-1)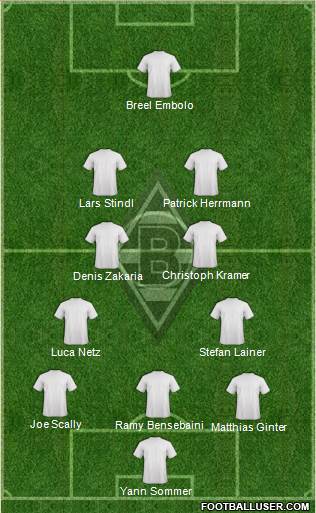 Well. Merry Christmas, everyone Adi Hütter called upon the Christkind and set the tree up in a desperate effort to preserve a slender 1-0 lead. Though it ultimately didn't work, Scally improved. There were good touches/wins in the 73rd, 75th, 79th, 81st, 84th, and 89th. One can watch him complete a gorgeous full lateral switch in the 80th.

One can criticize Scally for being defensively subpar on the day. Bear in mind he was facing Georginio Rutter, Ihlas Bebou, and Munus Dabbur; three players in scorching hot form. He was nevertheless pretty lucky that some of his mistakes didn't lead to goals. No one really had too many complaints when Hoffenheim drew level in second-half injury time. Sebastian Hoeneß' men deserved the draw, if not the win.

2021's Concluding Thoughts

No American actor player has generated more excitement either in this column or in the German media as the CFG New Yorker. Everyone's quite enamored with this exceptional talent who looks to have a very bright future indeed. For those of us who follow Bundesliga football religiously, Scally didn't exactly come out of nowhere. We've been eagerly anticipating his arrival in Germany for some time. While we knew he would get a chance to tear it up eventually, it still surprised all to see him get such a crucial role at a big club so early.

Whether or not Gladbach still qualifies as a big club happens to be a fair question. Things may get worse for the BMG before they get better. Sporting director Max Eberl--who amused all of us last weekend trying to argue away Hoffenheim's equalizer with a rather pathetic attempt to get up and complain to the fourth official--has much work to do. Eberl may have made a pretty pathetic move last round, but he remains one of German football's most competent executive.

Competence at Gladbach during this January transfer window begins with cutting up transfer bait. Eberl has to seek out compensation for a number of defensive actors sitting on expiring contracts. One can pretty much kiss Denis Zakaria and Matthias Ginter goodbye at this point. Ramy Bensebaini is off to compete in the Africa cup of Nations. All of this translates to more pressure on Scally amid a very tough January schedule. Bayern, Leverkusen, Union, and Hannover (Pokal) are all on the slate.

Can Scally rise to the occasion yet again? One would probably bet on it. He's a tough lad in his own right. Finding out whether he can rise to the occasion yet again is going to be one of the more fun things to find out when the league resumes in January. One just has a sense that the Long Island native will furnish us all with more reasons why we're watching a long-term USMNT fixture develop before our very eyes.


Timothy Tillman, SpVgg Greuther Fürth

Matches played = 3/3, Matches started = 3/3

Minutes played = 234/270, Positions played = LM

Cumulative Grade = D

Time for 234 minutes worth of Fürth! Surely everyone's excited about this scout! It should be obvious enough that such an examination doesn't make for the most uplifting of work days. The league's worst team did take four points from three fixtures, but we're still nowhere near football that makes for pleasant viewing. The elder Tillman brother does serve as a something of a rough diamond in a cavernous dirt pitch. There's always that.

Beginning with the win over Union Berlin last weekend:

Lineup—Greuther Fürth—Match 15 (5-4-1)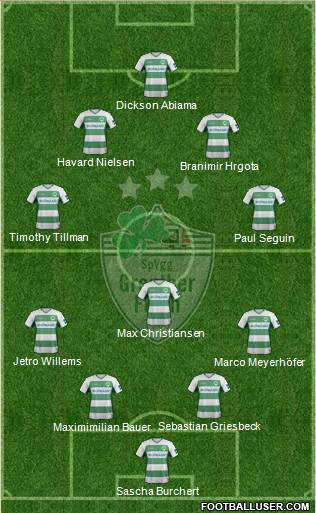 Stefan Leitl's opening formation did just enough to keep the visiting Eisernen at bay during the tight 1-0 victory at the Sportpark Ronhof. Tillman moved well and got off a nice cutback for Branimir Hrgota in the 7th. It would be the first of two assisted shots the German-American recorded on the day. Our subject here did very well defensively in the first half.

There was a vital defensive clearance in the 13th, as well as some calm collects to initiate possession changes in the 9th, 34th, and 44th. Marking was mostly good, excepting a shaky spell between the 21st and 25th. The same applies to passing. Everything connected bar a couple of strays between the 14th and 17th.

The Kleeblätter definitely weren't at their best, not even in victory. Tillman and the rest furnished lots of timid laterals on slow builds. All actors were similarly timid when it came to joining the attack. In the American's case, the worst examples of this came in the 30th and 32nd. So it goes on a team in a disastrously broken as this one.

Tillman finished off the first half with a clever take of a free kick in the 45th. He would earn his side a corner 14 minutes after the restart. In general, however, one could say that the second 45 counted as a downtick. Pressure on his opponents remained very lax. The Nürnberg native got slower off the ball. He watched constantly and acted rarely.

After quite the long wait, one finally saw him legitimately pressure Union's Julian Ryerson in the 69th. Fürth found themselves (rather unexpectedly) in the position of having a lead to defend from the 56th minute onward. Tillman gradually warmed up to the "by hook, crook, man, and mouse" defensive posture that the team needed. He put in some fine work in the 74th, 82nd, and 83rd. There's attack work on the turn in the 75th.

The midweek 0-3 loss to Dortmund counted more as an instance of a nervy-looking BVB defeating themselves. Tillman saw considerably less action on the ball in Leitl's initial 5-3-2. There was still some stellar work against Julian Brandt, whom our subject here did a serviceable job of marking.

Lineup—Greuther Fürth—Match 16 (5-3-2)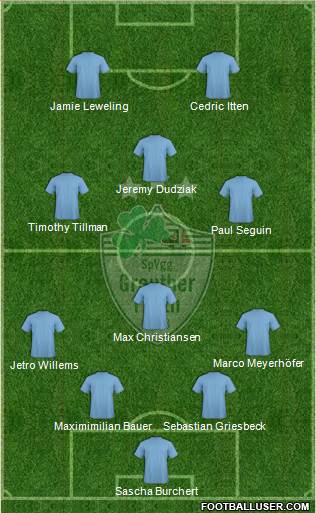 Leitl replaced three of his attackers as part of the squad rotation. One could tell that the midfield was meant to function as a tight diamond. This manifested itself sometimes on the defensive press. In light of the fact that it got pulled apart frequently and with ease, it's not exactly fair to represent it as a diamond with equidistant plot points. What occasionally appeared never held for very long.

Tillman only garnered 31 touches in this one. His work on the follow through (4th, 9th, 13th, 27th, 45+2, and 72nd) was considerably better. The 9th minute punch through ended with a nifty little outside of the boot pass. Tracking and collect work (1st, 3rd, 20th, 39th, 47th, and 71st) looked to be on the level. There were also some nice duel wins in the 11th, 32nd, 40th, 53rd, and 62nd.

We all got the rare opportunity to see Tillman play alongside fellow dual heritage Bavarian Julian Green when the latter entered the match in the 64th. The two German-Americans took turns sliding into the ten-spot from outside lane positions in what looked like a 4-4-2 in its stronger moments. Green took over set-piece takes from the bench.

Lineup—Greuther Fürth—65th minute (4-4-2)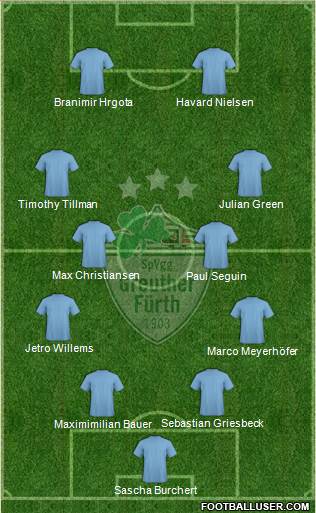 Green had an interesting day that started off with a pair of good corner takes in the 68th and 69th. Tillman needed to do much better in an aerial duel on the second. A high quality delivery left Timothy with a wonderful chance on the follow up that he didn't use. They both screwed up two minutes later. Havard Nielsen expected to hit one or the other with a cutback in the 71st. Neither one made the run. Green hit a free kick well in-between the two plays.

Following a poor pullback from Tillman (74th) and an awful corner inswinger from Green (76th), the underdogs effectively relinquished control of the match. Tillman exited in the 78th. The remaining American on the pitch lost three duels in the space of four minutes before Erling Haaland scored the second goal in the 82nd. Fürth basically gave up once we ceased to have a tight contest. Green at least got a nice clearance off in the 88th.

Leitl kept a basic 5-2-3 in place for the Hin-runde finale against Augsburg. Most of the first-choice attackers got rotated back in as we headed back to the Ronhof. The match finished 0-0. Tillman had a fairly up-and-down day with a handful of excellent plays offsetting a slightly greater number of unsettling ones.

Lineup—Greuther Fürth—Match 17 (5-2-3)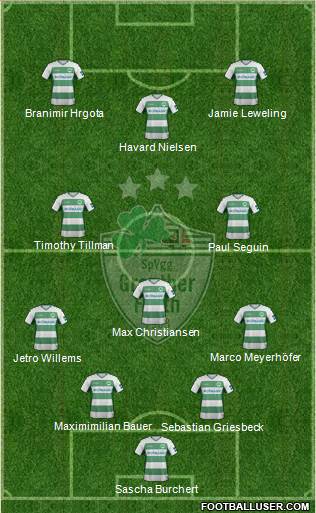 Two lost duels in the opening two minutes for the American in this one. He then proceeded to run what was clearly the wrong route on a 3rd minute dead-ball service, lost another aerial duel in the 4th, then lost three more challenges immediately after a poor cross in the 6th. The cut underneath his eye got re-opened on a 9th minute jostle. Yikes. It was a nightmare beginning!

Out of all this chaos, he recovered. A run in the 11th was nearly perfect. Jamie Leweling only just missed him on the final cutback. Tillman earned his side a corner two minutes later. He held the ball up well and picked out a nice pass one minute after that. From disaster to dazzle all in the space of a couple of minutes!

Tillman ceased to be the focal point of the match shortly thereafter. Apart from a good block in the 18th, one didn't see much of him. He emerged again with a great attacking chance in the 23rd. A late break by a matter of milliseconds cost him the chance to score the opening goal. He saved a goal at the other end in the 31st with a vital clearance, doing so again three minutes after the restart.

More positives to report in the second half. A marvelous aerial win in the 57th saw him initiate a high quality give-and-go. He engineered another Fürth break in the 59th. This was all very good stuff. Unfortunately, he really started looking gassed after a nice double win in the 61st. Leitl got him off ten minutes later. Not before he cost his team with low-energy attack trails in the 65th and 70th.

Overall, the American had more than his fair share of problems with challenges (21st, 22nd, 36th, 50th, and 53rd) on this day. Though Tillman did pretty well when he had enough time to shield the ball (33rd, 54th, and 56th), there were far too many losses on quick transition sequences. Corner takes were also consistently poor. Much as one might like to, he simply can't be marked higher here.

2021's Concluding Thoughts

The Bundesliga's Middle Franconia representatives are effectively already relegated. Whatever platitudes members of this playing squad and coaching staff feel the need to spew, it's over. Fürth may as well relax and play without placing themselves under too much pressure. That could conceivably lead to another win or two; something for the supporters to appreciate before its officially time to head back down.

We can freely discuss the fate of both American actors associated with this team in this space. Julian Green has lost his starting XI privileges for now, but should play a more decisive role next season in the second division. The 26-year-old just signed a contract extension. Tillman--perhaps soon to be overshadowed by younger brother Malik--has a renewal option after the season, but is technically out of contract.

There likely isn't much interest in an attacking midfielder FC Bayern München not too long ago offloaded for a party €50,000. This columnist can easily make the case that the the four scorer points (one goal and three assists) produced by Tillman in the season's first half means that there should be. If this American can replicate the same numbers in the Rückrunde, that should prove more than sufficient to get a few more "Oberhaus" clubs interested.

For whatever a generally baseless New Year's prediction is worth, the writer tips that Tillman slightly exceeds his first half performance metrics and gets a new contract with a Bundesliga side next summer. Such a hunch obviously counts for nothing. Based on what we've seen from this player on a very bad team, it's logical to think that someone will want to give him a shot.


Pellegrino Matarazzo, VfB Stuttgart (Trainer)

Matches = 3, Results = W, L, L

Cumulative Grade = D-

Whew. Surely Stuttgart will prove the feel-good comeback story of the Rück-runde. For the time being, the author can only stress that he absolutely hates watching this team. The Swabians richly deserve to sit on the relegation playoff place at the campaign's halfway mark. One has no patience left for the mention of all the hard-luck injury problems.

Stuttgart plainly suck. That's all there is to it. Sporting director Sven Mislintat (in a rational enough calculation) figured that it wasn't worth making a deliberate effort to remedy the situation. The club can afford to coast along at "junk bond level" until injuries clear, more revenue comes in to aid with transfer market purchases, and the 2021/22 Bundesliga's many other bad sides begin to drop more points.

On the one hand, one has to respect this. Any personnel interventions on behalf of the front office at this juncture would constitute nothing more than costly, resource-sapping moves likely producing little of value. As noted above in the introductory paragraph, it's pretty much treated as a given that this team will bounce back and avoid relegation. It's smart stuff from the club manager.

Of course, on the other hand, we all have to watch this crap.

Lineup—VfB Stuttgart—Match 15 (4-3-3)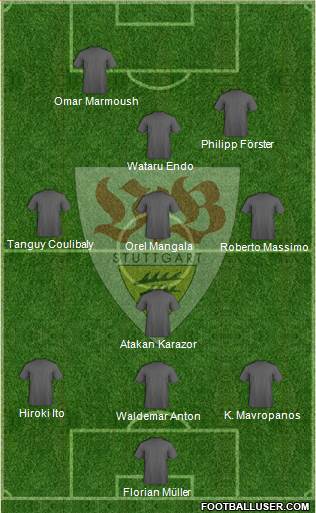 Hopes that this could potentially produce anything were slim to begin with. Roberto Massimo got injured early on and had to be replaced by Pascal Stenzel. Everyone moved back. Belief in the footballing capability of this constellation was then quickly downgraded from "slim" to "none". By that time we had witnessed 26 minutes of wretched play anyway.

Even in victory, this team is a nonsensical shamble. Kostas Mavropanos scored one of his distance efforts and Philipp Förster polished off the 2-0 on a sequence during which opponents Wolfsburg hadn't quite gotten their defensive ranks settled following the Paulo Otavio injury. Wolfsburg loanee Omar Marmoush--an unrefined talent whom we're all tired of watching at this point--missed a penalty later in a game the VfB barely deserved to win.

Lineup—VfB Stuttgart—Match 16 (4-4-2)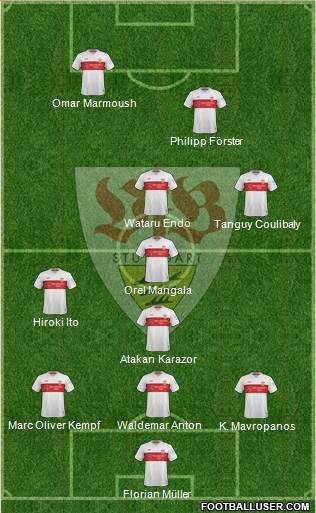 Here we have the set-up from the 0-5 defeat against Bayern. Matarazzo's men remain totally toothless without Silas, Borna Sosa, and a real striker in the lineup. The attempts to hit Marmoush with long over-the-top balls were especially pathetic. Everyone on the pitch turned in a stinker here, including and especially goal-scorers from the previous match Mavropanos and Förster.

Still no Sosa, Silas, or Sasa Kalajdzic for the grand finale against Köln. At least Chris Führich was able to make it back in time, allowing Tanguy Coulibaly and Hiroki Ito to move back to their regular positions. We actually got something resembling a normal football formation; a rarity in the world of Stuttgart's "Mathe-magician".

Lineup—VfB Stuttgart—Match 17 (3-6-1)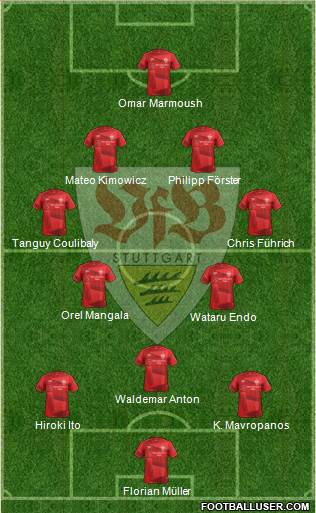 Comprehensible. We'll give it that. Still woeful football from the Swabians in their trip up the Rhein to visit Köln. These players having no real muscle memory at their positions meant that most of the switches came nowhere near their intended targets. Anthony Modeste missed several opportunities to put this non-building, non-counterattacking conflagration out of its misery.

Eventually, Modeste found the finish and die Geißböcke sealed a 1-0 victory. The final Bundesliga match of 2021 felt like it took 270 minutes to complete. With literally no one to turn to off the bench, Matarazzo's relief actors included Nikolas Nartey, Wahid Faghir, and Alexis Tibidi.

These poor young teenage talents. They might be fun to observe some day when they're actually ready to play on the Bundesliga level. For now the poor young souls remain completely out of their depth. The psychological implications of throwing them in this early border on the irresponsible.

Some may falsely conclude that they'll never make it.

2021's Concluding Thoughts

When it comes to Matarazzo's future, we always have to track back to the job guarantee that Mislintat gave his head-coach through the end of the season. Again, it's all part of a calculation that the weak 2021/22 Bundesliga field will allow Stuttgart to coast through and survive. A prudent manager places his club in a holding pattern until the storm passes. Nothing terribly wrong with that.

We can nevertheless expect more terrible football over the second half of the campaign. The Swabians will flirt some more with the relegation race before ultimately distancing themselves from it. One shouldn't expect the path to change much when Alexander Wehrle arrives in the front office in April. Köln's former long-time boss probably supports the idea as well.

It might all pay off in a couple of years' time. Sticking with a coach through tough times often yields better results than expensive course corrections. As everyone knows, one course correction can easily lead to another and (before one knows it) five different trainers and three different sporting directors have all put together a totally incoherent franken-monster of a footballing philosophy that serves no one.

It certainly feels like we're already watching a franken-monster when it comes to Stuttgart. That notwithstanding, the alternative would likely be much, much worse.

Thanks so much for reading! You can occasionally catch Peter goofing off while watching the lower German football divisions on twitter, @ViceytheSS.

Twitter DMs are open for football conversations, corrections, and (if you truly insist) general abuse. 

All columns debut on Bulinews before appearing on Peter's website later in the week.



Related stories