Bundesliga Fan Scene:
The nationwide "plans for fans" ahead of matchday 27
By Peter Vice @ViceytheSS
After over two long years of COVID-related restrictions, this coming weekend shall be the first that all German sports venues are once again permitted to operate at full capacity!

March 20th, 2022 finally arrives this coming Sunday!

All three Bundesliga clubs hosting matches on that date (Leipzig, Wolfsburg, and Köln) are preparing to pack the house if possible. The remaining six hosting locales function under hybrid arrangements for one final weekend.

We're happy to supply the full updates here on Bulinews.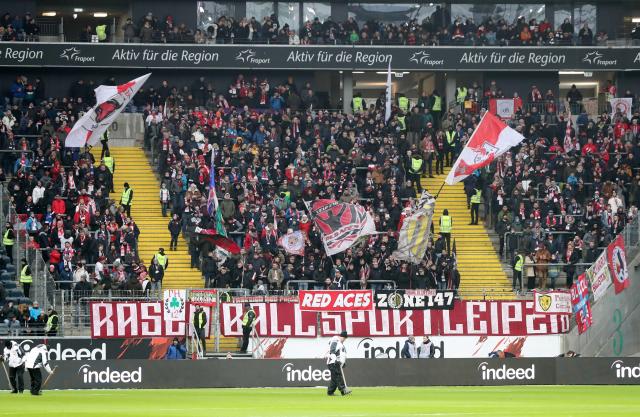 Photo: GEPA Pictures/Roger Petzsche

March 20th, 2022.

The historic date is finally nearly at hand. While there is still some legal wrangling/logistical planning still left to attend to for some German football clubs, all three hosting matches this Sunday have made preparations to welcome full capacity crowds on the very first day that it is allowed across the country.


With great pride and boundless enthusiasm, Bundesliga lovers are pleased to proclaim the return of what we consider one of our greatest national treasures. It is naturally bittersweet that--after two long years--the full return of the Bundesliga fan scene must take place before such a dour geopolitical backdrop.

Even in these tense and trying times for the European continent, reverie and merriment will take place across the Bundesrepublik this weekend. Just as we did last week, we're pleased to provide up-to-date ticket availability information for all the fixtures scheduled to take place in the coming three days. For the first time in two rounds, a full slate of nine fixtures is on the docket.


---


Borussia Mönchengladbach (at) VfL Bochum


Planned capacity = 25,000 (90.5%)

The Castrop' isn't quite ready for full capacity yet due to the lingering NRW regulations still in place for two more days. One may still wish to bet on the home side here as the atmosphere is sure to be rousing at the Ruhrstadion. Nothing stands in the way of a great fixture to raise the curtain on the 2021/22 German Bundesliga's 27th round.

The club has already sold out all of its tickets.


Flutlichtkracher gegen @borussia! 25.000 Fans dürfen dabei sein anne Castroper! Bock drauf!

Infos rund um #BOCBMG ab jetzt im SPIELTAGSMODUS
➡️ https://t.co/ysoGu0lNdY
➡️ https://t.co/dfpHzcQqCy pic.twitter.com/nZmBxcppqZ

— VfL Bochum 1848 (@VfLBochum1848eV) March 18, 2022
---


FC Augsburg (at) VfB Stuttgart

Planned capacity = 60,449 (full house)

Even an iffy team playing on one of the Bundesliga's notoriously iffy pitches can still attract a sell-out crown. Some 51,000 tickets have already been snatched up on public sale. The rest are going fast, but there are still plenty of seats available for purchase through the club's website as of this morning.

Since we do like to cover all things fan-related in this column, we might as well mention that some of the VfB stewards recently got sanctioned for acting "disproportionately harsh" toward the visiting Gladbach fan-block during a recent round 25 fixture. Some club stewards have lost their jobs. Others must attend "de-escalation training".

Yikes.


Alle gemeinsam – aber rücksichtsvoll! 🙏 Für das Heimspiel gegen den @FCAugsburg sind über 50.000 Tickets verkauft. Eine Vollauslastung ist durch eine Sondergenehmigung unter 2G möglich.

ℹ👇 Alle Fan-Infos & Zutrittsvoraussetzungen unter: https://t.co/1G47k2TFpJ#VfB | #VfBFCA

— VfB Stuttgart (@VfB) March 16, 2022
---


Arminia Bielefeld (at) FSV Mainz 05

Planned capacity = 25,000 (73.4%)

Even in defeat this past Wednesday night, some 25,000 supporters in the MEWE Arena facilitated a great atmosphere until the very end. The same number are invited back to the Pfälzer capital on Saturday to watch the Rheinhessen take on Bielefeld. All those of us who have had the privilege of watching the Nullfünfter live highly recommend a visit to this venue.


💙 YOU'LL NEVER WALK ALONE! 💛

🕊️ Wir haben noch Gänsehaut - auch, weil das Video dazu bei uns in Dauerschleife läuft: https://t.co/TLC7WNVsTp#Mainz05 #M05 #M05BVB #YNWA #Stopwar pic.twitter.com/fKXdbAWPzm

— 1. FSV Mainz 05 (@1FSVMainz05) March 17, 2022
---


TSG 1899 Hoffenheim (at) Hertha BSC

Planned capacity = 25,000 (33.5%)

Err...anyone want to come to the Olympiastadion? Be careful about saying yes right away as--as cursed as this club has been as of late--an asteroid may very well descend on Charlottenburg over the weekend. Anyone still concerned about social distancing can easily pick a seat away from everyone else on the club's website.


Hertha-Fans, wir sind optimistisch, #BSCFCU im vollen @Oly_Berlin spielen zu können! 😍 Wir brauchen euren Rückhalt & setzen bewusst auf euch treue Fans! Daher startet morgen unser exklusiver Mitgliederverkauf. 💙 Alle Infos: https://t.co/UVuDZVzCB6#GemeinsamHertha #HaHoHe pic.twitter.com/Xwhhn6kLAy

— Hertha BSC (@HerthaBSC) March 16, 2022
---


SC Freiburg (at) SpVgg Greuther Fürth

Planned capacity = 13,800 (83.0%)

Er....How about the Ronhof? Actually, it might surprise some to learn that--despite what transpired last weekend--tickets are actually going fast in Middle Franconia. Locals don't have many opportunities left to watch Bundesliga football in town. Moreover, the opponent is an intriguing one. This match might sell out.


Spielvereinigung 🆚 Sport-Club!

Tickets für unseren nächsten @Bundesliga_DE SPIELDOOCH im Ronhof noch verfügbar!
👉https://t.co/x8LhARU0TA#kleeblatt #SGFSCF pic.twitter.com/uGio3MFEzV

— SPVGG GREUTHER FÜRTH (@kleeblattfuerth) March 16, 2022
---


FC Union Berlin (at) Bayern München

Planned capacity = 35,000 (46.6%)

The defending champions officially confirmed a crowd allowance increase of 10,000 on Friday. This pushes attendance to just under half of the Allianz Arena's capacity. While most of us had expected that Bavarian and local municipal authorities would take matters slowly, there was still some hope that the FCB would get clearance for a full-house crowd one day before restrictions are set to be struck across the Bundesrepublik.

In any event, some passes are still available through direct registration on the club's website. As is always the case, the secondary exchanges will remain active right up until the hours before kickoff. Those truly wishing to attend the Saturday night Top-spiel can likely find a way.


ℹ️🏟️ 35.000 Zuschauer beim Bundesliga-Heimspiel am Samstag gegen Union Berlin.

Alle Infos: https://t.co/YijBZmyq7U#FCBFCU #MiaSanMia

— FC Bayern München (@FCBayern) March 18, 2022
---


Eintracht Frankfurt (at) RB Leipzig

Planned capacity = 47,069 (full house)

What may be the weekend's best offering is set to take place in front of a full house. The Saxons, upon learning that nationwide restrictions were set to fall on March 20th, proactively ensured that they would be able to take full advantage on Day One. There are still some seats available through the club's website and the coordinated secondary exchanges will operate through Sunday.


Über 41.000 Tickets sind schon weg ❤️⚪ #RBLSGE

🛒 https://t.co/ZT6pY2Q8OA pic.twitter.com/GW2y3jtgX3

— RB Leipzig (@RBLeipzig) March 17, 2022
---


Bayer 04 Leverkusen (at) VfL Wolfsburg

Planned capacity = 30,000 (full house)

Germany's green company team prepares to welcome a full house if there are enough willing to attend in the Northern Autostadt. The club wishes to emphasize that the "2G" regulation remains in effect. In point of fact the "2G" regulation remains in effect for all football matches. Only those with proper vaccination/recovery documentation can enter everywhere.

As is customary in this Lower Saxon town, plenty of seats are available.


Wichtig⚠️ Anders als im Vorfeld von der Politik in Aussicht gestellt, werden die tiefgreifenden Corona-Beschränkungen doch noch nicht zu #WOBB04 komplett fallen. Die 2G-Regelung bleibt.

Weitere Infos hier ➡️ https://t.co/5kK4KJbIu6#VfLWolfsburg pic.twitter.com/iweh3cEq59

— VfL Wolfsburg (@VfL_Wolfsburg) March 18, 2022
---


Borussia Dortmund (at) 1. FC Köln

Planned capacity = 50,000 (full house)

The cathedral city--being part of Nordrhein-Westfalen--needed a special dispensation to get full clearance for a full house, even on the day that nationwide restrictions fell. This was obtained on Thursday. Nothing quite like a capacity crowd at the RheinEnergieStadion. Football lovers with the ability to tune in won't want to miss out on this one.

Unfortunately, the remaining 12,500 tickets set on sale are reserved for club members. The Effzeh don't coordinate a secondary ticket exchange.


Good news: Es werden 5️⃣0️⃣.0️⃣0️⃣0️⃣ Zuschauer zum Heimspiel gegen Dortmund zugelassen! Heute (Donnerstag, 17.3.) gehen um 16 Uhr weitere 12.500 Tickets in den Verkauf an FC-Mitglieder. 🔴⚪ https://t.co/uqrQihB2UF

— 1. FC Köln (@fckoeln) March 17, 2022
Thanks so much for reading!
You can occasionally catch Peter on twitter, @ViceytheSS.
Twitter DMs are open for football conversations, corrections, and (if you truly insist) general abuse. 
All columns debut on Bulinews before appearing on Peter's website later in the week.
Related stories