Lotka and Darida praise Magath even in defeat: "You learn a lot from him."
By Peter Weis @PeterVicey
After his first game back on a Bundesliga touchline in nearly a decade, Hertha BSC trainer Felix Magath kept it glib and decidedly "old school" in his post-match interview. 

Meanwhile, despite the loss, midfielder Vladimir Darida and young keeper Marcel Lotka declared that the team was on the right path under the new leadership structure.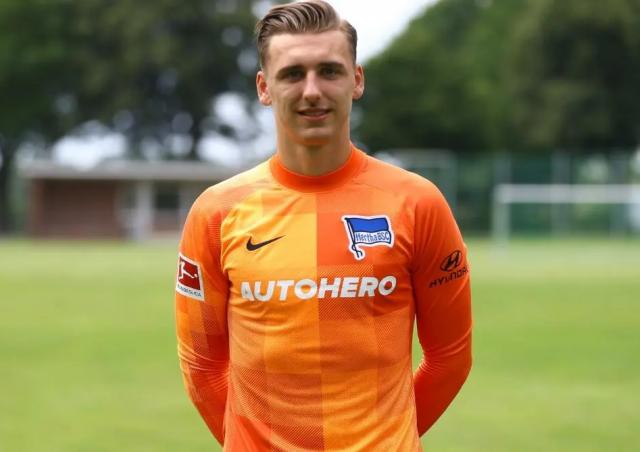 | | |
| --- | --- |
| Marcel Lotka. | Photo: Hertha BSC |
Naturally, the first question Felix Magath had to answer when addressing his side's 1-2 loss away at Leverkusen on Saturday afternoon concerned what it felt like to be back coaching in the Bundesliga after ten years.


"It was business as usual," the 68-year-old glibly remarked, "After all, the Bundesliga hasn't changed."

Magath--who saw his re-introduction to the league delayed by a positive COVID test in round 27--conceded that the result conformed to his expectations and conceded that the hosting Werkself were the better team.

"Of course you encourage everyone beforehand and say that we can do it," Magath noted, "but we were playing the league's first place team and they were clearly better."

The former Bundesliga-title-winning coach then made sure to emphasize that the loss shouldn't be accepted.

"When you're at the bottom, you're not so great in terms of play," he said, "That's still the wrong approach. You must fight or you won't get off the bottom."


The notoriously tough trainer (every German football lover recalls the anecdote of how he once denied his players water whilst Wolfsburg were in a slide) did take it relatively easy on his current crew. Magath cited the international break as a reason why the squad isn't quite clicking yet.

"[With so many of international duty] We weren't able to train or develop anything as a team," he explained, "You could see today that everyone was making an effort and that's why I can't really blame the players at all."

Backup keeper Marcel Lotka--forced into the match early after Alexander Schwolow succumbed to a thigh injury--and midfielder Vladimir Darida also spoke to the Sky mics after the loss.

Both players noted that Magath's training style was especially intense. Darida remarked that the team was working harder than at any time he could recall.

The Dortmund bound Lotka praised the new direction of the team under the wizened old coach.

"I still remember when he won the league with Wolfsburg when I was very small," the 20-year-old said, "It's very nice to have someone like that as a coach now. You learn a lot from him and notice when he's in the room."



More about the match
More about the teams