Bundesliga Fan Scene:
The Matchday 31 Primer
By Peter Vice @ViceytheSS
Our "Matchday Primer" arrives to take you around the grounds of the nine hosting locales getting ready for Bundesliga action this weekend.

Come along for a look inside Europe's best footballing fan scene!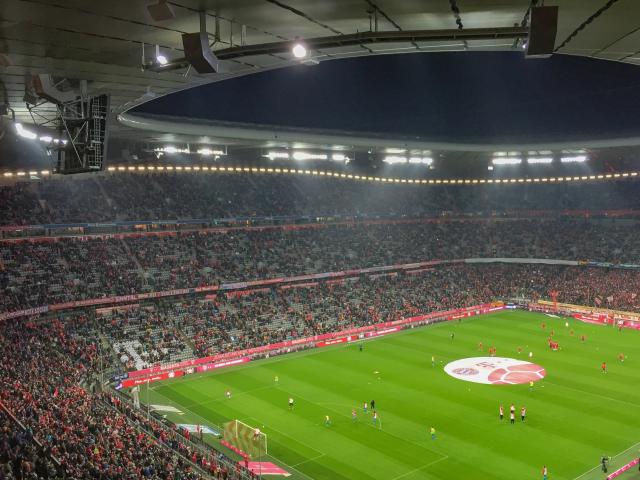 | | |
| --- | --- |
| Allianz Arena. | Photo: dronepic, Wikimedia Commons, CC BY-SA 2.0 |
Entering the 2021/22 German Bundesliga's 31st matchday, only one of the nine fixtures set to take place has sold out. As just about anyone can infer, that would be Dortmund's visit to FC Bayern München in Saturday evening's "Top-Spiel". Everyone else still has space available.


Even the doors to the Allianz aren't closed for those with a little extra time to surf the club-sanctioned secondary exchanges.

We're pleased to get everyone hyped and psyched for another great round of the full-color, full capacity Bundesliga fan scene. Amid fabulous spring-like weather, all the ultras shall be out in full force. The pre-matchday primer section takes you through the three days ahead. Welcome!


---


FSV Mainz 05 (at) VfL Wolfsburg

Planned capacity = 30,000 (full house)


Er...is the men's team playing today? After what happened last week, it may be worth skipping. A much more interesting match (back at the Camp Nou no less) kicks off a little earlier. Safe to assume we'll hear fewer complaints about the "German invasion force" this time. Know that there is actually a traveling contingent on the way.


Grün-weißer Fußballabend: Der VfL-Double-Header heute bei @DAZN_DE. Seid dabei!🐺📺💚#BARWOB #WOBM05 #VfLWolfsburg pic.twitter.com/YwfCea479i

— VfL Wolfsburg (@VfL_Wolfsburg) April 22, 2022
---


FC Union Berlin (at) RB Leipzig

Planned capacity = 47,069 (full house)

Little chance of a sell out here in an immediate re-match of Wednesday's Pokal fixture. 

As disappointed as many Germans may be to miss out on a Union-Freiburg Pokal Final, one still has to hand it to the RB supporters for supplying a lovely atmosphere at the Red Bull Arena midweek.

Unlike in Sinsheim, this relatively young fan-base knows how to deliver.


Danke für euren Support heute!

Wir haben bis zum Schluss dran geglaubt und wurden belohnt 👏👏

Wir sind Leipzig 🔴⚪️ pic.twitter.com/oi70YbX6ma

— RB Leipzig (@RBLeipzig) April 20, 2022
---


TSG 1899 Hoffenheim (at) Eintracht Frankfurt

Planned capacity = 51,500 (full house)

Yet another home fixture for the team Germans are currently the most proud. Not to say that there would be any complaints if Leipzig made the Europa League Final, but this traditional, historic, 50+1-adherent club serves as our real national heroes.

Eintracht's next Europa League opponents (West Ham United) have already issued a "warning" to Frankfurt supporters about trying to circumvent the rules and attempt to invade London's Olympic Stadium.


Was für Momente! Was für Emotionen! 😱🤩
Wir waren für euch in Barcelona hautnah mit der Kamera dabei 👇🥰

📺 Die komplette Hintergrund-Story der magischen Nacht gibt's jetzt auf EintrachtTV, mainaqila und YouTube 🤝
⏩ https://t.co/4ZCRYDCHl9 #SGEuropa #FCBSGE pic.twitter.com/CAHYfE4xQW

— Eintracht Frankfurt (@Eintracht) April 19, 2022


Right. Good luck with that.


---


Borussia Mönchengladbach (at) SC Freiburg

Planned capacity = 34,700 (full house)

One of the weekend's most highly anticipated matches. Still plenty of tickets available for this one as the local Breisgauer save up their money ahead of the Berlin trip. The support inside the Olympiastadion shall be epic.

It's the moment SCF supporters have literally been waiting for their entire lives. No question about which team German neutrals will be pulling for.


April 19, 2022
---


Arminia Bielefeld (at) FC Köln

Planned capacity = 50,000 (full house)

Poor, poor Bielefeld. Does life after Frank Kramer start with a win? Not a chance. An FC Köln side rising up into noticeably better form look to crush one the league's dazed and confused "Graue Maus".

The match actually isn't completely sold out, but one expects it to be very soon. The European dream lives on for Effzeh supporters. Few locals shall miss out on the dramatic late chase.


Der Traum lebt! 🔥🥳 #effzeh pic.twitter.com/9fWltiNgMV

— 1. FC Köln (@fckoeln) April 17, 2022
---


Bayer 04 Leverkusen (at) SpVgg Greuther Fürth

Planned capacity = 16,626 (full house)

Only two home fixtures left for the Middle Franconians. Relegation remains a certainty for the Kleeblätter, but there's no sense in going down without a fight. Squad and fans shall give their all to ensure that the official expulsion doesn't result from a loss.

Fürth, assuming they do better against Leverkusen than in the reverse fixture, can get quietly relegation with a Stuttgart win or draw in the Sunday evening capper.


Die aktive Fanszene sammelt bei den letzten beiden Heimspielen wieder für einen guten Zweck!

Vom Erlös werden für sozialen Einrichtungen Dauerkarten für die nächste #Kleeblatt-Saison gekauft.https://t.co/UbPzeMLPFd

— SPVGG GREUTHER FÜRTH (@kleeblattfuerth) April 21, 2022
---


Borussia Dortmund (at) FC Bayern München

Planned capacity = 75,000 (full house) (sold out)

Always tickets available on the secondary exchanges for those who really want to watch this one live. With Bayern in some disarray tactically (and administratively for that matter) hopes are high within German footballing circles that we shall get one of the more competitive versions of this fixture in recent memory.

A BVB win victory would count as nothing more than a moral victory.

The title race is still over....and the recent past can't be erased.


Unsere letzten sieben Spiele gegen Dortmund! 🔥#FCBBVB #packmas #MiaSanMia pic.twitter.com/NOJm1DtKyq

— FC Bayern München (@FCBayern) April 22, 2022


Yikes!


---


FC Augsburg (at) VfL Bochum

Planned capacity = 27,599 (full house)

The 1848ers will almost certainly play better than they did last week. They match will also almost certainly sell out on what's hopefully a gorgeous spring Sunday in Nordrhein-westfalen. Spring football in NRW? What more could one want? Glad we'll get to see top tier autumn fixtures in this football-mad Revier city next season too!


🎟️ Es gibt noch Restkarten für unser Heimspiel am Sonntag gegen den @FCAugsburg. Der freie VVK für #BOCFCA beginnt heute um 10 Uhr über den #meinVfL-Ticketonlineshop!

Macht die Hütte voll! 🏟️💙

➡️ https://t.co/aOBZaWSBmv pic.twitter.com/gwJyo1fmW4

— VfL Bochum 1848 (@VfLBochum1848eV) April 21, 2022


VfB Stuttgart (at) Hertha BSC

Planned capacity = 74,649 (full house)

Hertha's first home fixture since the BSC ultras opted to make the some of the younger players kow-tow before the Kurve. Of course, you can still get tickets if you want. For his part, this writer will make to bold predictions.

First, the fan support will be so amazing that the incident from two rounds back  shall be quickly forgotten. Next, Hertha players will get a chance to celebrate a win in front of their fan blocks.

Yep. That's right. Believe in the power of the "February Promise"!


🐻 ⚔️ 🐊

📅 Sonntag (24.04.22)
🕰 17:30 Uhr
🏟 @Oly_Berlin
🆚 @VfB
⌨️ #BSCVFB
📺 @DAZN_DE 😉
🎫 https://t.co/7vaEa8fra0
📻 https://t.co/ljJ04XvINR

ℹ️ https://t.co/qWixqQPkCv ⬅️#GemeinsamHertha #HaHoHe pic.twitter.com/xS2DLDV8Nf

— Hertha BSC (@HerthaBSC) April 21, 2022
---
Thanks so much for reading!
You can occasionally catch Peter on twitter, @ViceytheSS.
Twitter DMs are open for football conversations, corrections, and (if you truly insist) general abuse. 
All columns debut on Bulinews before appearing on Peter's website later in the week.
Related stories