Bundesliga Fan Scene:
The Matchday 33 Primer
By Peter Vice @ViceytheSS
One half of the current Bundesliga field prepares to bid farewell to its clubs on the second-to-last matchday of the 2021/22 season!

As promised earlier in the day, we're pleased to cover the nine proud hosting locales getting ready for action this weekend in our weekly "Primer" fixture.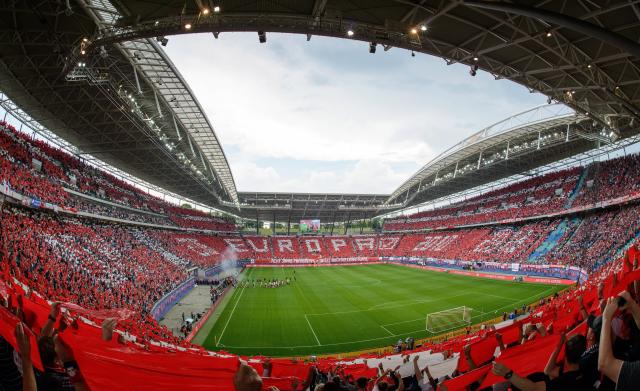 The 2021/22 German Bundesliga's penultimate matchday stands before us! Exactly one half of the league's 18 teams prepare for their final home fixtures of the campaign. There shall be tributes to departing players, the debut of next year's home jerseys, and (in the case of Bayern) the official presentation of the Meisterschale trophy.


There shall also be loads of great stuff on display from the home-town ultras in all of the nine hosting cities. As a general rule, tickets for the final home games are not placed on public sale by the traditional clubs. One can still of course get tickets for Bayern, Bochum, Freiburg, Köln, Fürth, and Frankfurt via secondary exchanges. Passes for Hertha, Hoffenheim, and Leipzig can be procured on public sale.


---


DSC Arminia Bielefeld (at) VfL Bochum

Planned capacity = 27,599 (full house) 

A few seats are still available for the final home fixture of VfL Bochum's impressive first season back in the German top flight. Amazing to think that this team looked dead-and-buried after the early season injury to lead-striker Simon Zoller and the humiliating 0-6 to FC Bayern in round five.


Now, after clinching class preservation last weekend, the 1848ers can reflect upon a season in which they went undefeated against regional rivals Dortmund and even knocked Bayern off in the return leg at home.

What the VfL's second season in the top flight might look like is anyone's guess. So too is the lineup for this Friday evening's highly significant (for relegation-threatened Bielefeld anyway) fixture. Bochum are preparing to send off no fewer than 11 players, including loanees and veterans who will not have their contracts extended, in front of the home-town crowd.

Some tributes are planned.


Letztes Heimspiel einer grandiosen Saison!🤩 Infos rund um #BOCDSC ab jetzt im SPIELTAGSMODUS

👉 https://t.co/ysoGu0lNdY
👉 https://t.co/dfpHzcQqCy pic.twitter.com/vqU3K3lsXq

— VfL Bochum 1848 (@VfLBochum1848eV) May 6, 2022
---


Union Berlin (at) SC Freiburg

Planned capacity = 34,700 (full house) 

Probably the best offering of the weekend. Two clubs German footballing enthusiasts can't wait to see compete in Europe next season jockey for position in the race to partake in either the Champions', Europa, or Conference league. Definitely the match to circle for those planning on tuning in remotely.

Tickets weren't even placed on public sale for this one, though those in the area and interested in attending shouldn't have too much trouble securing passes via a secondary exchange. Expecting quite a bit from ultra groups on both sides. We should be in for the complete inverse of what transpired last week in Sinsheim.


"Nicht nervös, sondern gelassen sein"

Zum Vorbericht vor #SCFFCU:https://t.co/c9bgokjNz2

— SC Freiburg (@scfreiburg) May 6, 2022
---


Bayer 04 Leverkusen (at) TSG 1899 Hoffenheim

Planned capacity = 30,150 (full house) 

Speaking of Sinsheim, the "Hopp-Lites" look to keep their almost non-existent hopes for Europe alive against Germany's red company team. Odd to think that many Bundesliga lovers will be rooting for Hoffenheim to throw a wrench into the Champions' League race with a win here.

Naturally, we'll be rooting for something memorable from this fan-base as well. No more plastic flags, dammit! Schedule a "Fan-society" weaving session!


---


VfL Wolfsburg (at) 1. FC Köln

Planned capacity = 50,000 (full house) 

Should be a fun one, and definitely another sell-out at the RheinEnergie. No public sale for final Domstädter home match of the season. The local support looks to cheer this team into Europe one-year-removed from their emotionally draining relegation scare.

Everyone remember Jonas Hector's flop on the pitch after the round 28 loss last season?

In the event readers need a refresher:


Was in einem Jahr alles passieren kann! 😲 #effzeh pic.twitter.com/JZ45JZUbdN

— 1. FC Köln (@fckoeln) May 4, 2022
---


Borussia Dortmund (at) SpVgg Greuther Fürth

Planned capacity = 16,626 (full house) (sold out)

The Middle Franconian hamlet waves goodbye to Bundesliga football on Saturday afternoon. One their one final chance to get behind the local club, Fürth residents snatched up every last pass at the Ronhof. Best of luck to Kleeblatt supporters on their "last day alive".


Die Tickets für unser Heimspiel gegen den @BVB sind ausverkauft!

Wir freuen uns schon auf einen vollen Ronhof! 😍#kleeblatt #SGFBVB https://t.co/M3Va2vNLqa pic.twitter.com/6DLgrbe0hq

— SPVGG GREUTHER FÜRTH (@kleeblattfuerth) May 2, 2022
---


FSV Mainz 05 (at) Hertha BSC

Planned capacity = 74,649 (full house) 

One can always get tickets on public sale at the "Oly". The Charlottenburger venue fills up fast, however. Only about 4,000 seats remain available as of Friday morning. A win against the visiting Nullfünfter guarantees safety on the spot.

Those in attendance hope to witness the "best-case-scenario" spectacle.


🐻 ⚔️ 🎭

📅 Samstag (07.05.22)
🕰 18:30 Uhr
🏟 @Oly_Berlin
🆚 @1FSVMainz05
⌨️ #BSCM05
📺 @SkySportDE
🎫 https://t.co/7vaEa8x2yA
📻 https://t.co/ljJ04XNkcr

ℹ️ https://t.co/hDSe7Emw2Z ⬅️#GemeinsamHertha #HaHoHe pic.twitter.com/fhit5MIeIB

— Hertha BSC (@HerthaBSC) May 5, 2022
---


Borussia Mönchengladbach (at) Eintracht Frankfurt

Planned capacity = 51,500 (full house) 

Fairly meaningless league match here. One anticipates more heavy squad rotations from SGE trainer Oliver Glasner. Like Bochum, Eintracht are letting a lot of players go after the offseason. Actors such as Danny da Costa or Aymen Barkok may get final run-outs in front of the hometown fans.

Still plenty of space available for those wanting to check out "the country's team" in what amounts to an exhibition fixture. The club diehards have to save their money for Sevilla. More wonderful action from last night:


Seriös angefangen. Ein bisschen verrückt aufgehört 😄

Man kennt's.
–––––
#SGEuropa #SGEWHU #UEL pic.twitter.com/pFo5Vs8VEt

— Eintracht Frankfurt (@Eintracht) May 5, 2022
"ALLES FÜRS FINALE!" 🗣

Die Fans sind schon heiß wie Frittenfett! 🔥 #SGEuropa #SGEWHU pic.twitter.com/duATwNAiRc

— Eintracht Frankfurt (@Eintracht) May 5, 2022
---


VfB Stuttgart (at) FC Bayern München

Planned capacity = 75,000 (full house)

Secondary exchanges remain the only way of securing tickets for the match that will see the Meisterschale officially presented to the German champions. Always a special occasion. Felix Magath didn't need to engage in mind-games in order to motivate the German giants for this one.

Whosoever is on the pitch will be pumped enough after the pre-match festivities. Whosoever wants to go see it live can probably easily get re-sale passes off the season ticket holders. When it comes to the Meisterschale presentation, the home-town fans have already been there and done that over the last nine years.


Ich freu mich auf das letzte Heimspiel der Saison mit euch in der Arena @FCBayern #MiaSanMia pic.twitter.com/gEyL5D1ewL

— Julian Nagelsmann (@J__Nagelsmann) May 6, 2022
---


FC Augsburg (at) RB Leipzig

Planned capacity = 47,069 (full house)

The round concludes with a very meaningful match at the Red Bull Arena. The path to Champions' League qualification through the UEL now out of the picture, the German Red Bulls must now fight their way back into the top-four in a must-win against a fickle Fuggerstädter team.

Thousands of passes remain on public sale for this one.

It definitely counts as a fun watch for anyone in Saxony.


Unsere Europapokalreise endet in #Glasgow 💔
Wir gratulieren dem @RangersFC zum Finaleinzug #UEL #RFCRBL pic.twitter.com/rXoBMmuSfs

— RB Leipzig (@RBLeipzig) May 5, 2022
---
Thanks so much for reading!
You can occasionally catch Peter on twitter, @ViceytheSS.
Twitter DMs are open for football conversations, corrections, and (if you truly insist) general abuse. 
All columns debut on Bulinews before appearing on Peter's website later in the week.
Related stories