Bundesliga Fan Scene:
Three of nine fixtures sell out in week 32
By Peter Vice @ViceytheSS
Our "Weekend Attendance Figures" column once again checks in on a Friday in order to properly pay tribute to the SGE support amidst their club's dream run to the Europa League Final.

The primer for the Bundesliga's penultimate matchday shall be published a little later today.

For now, there's a plethora of images to get caught up on first.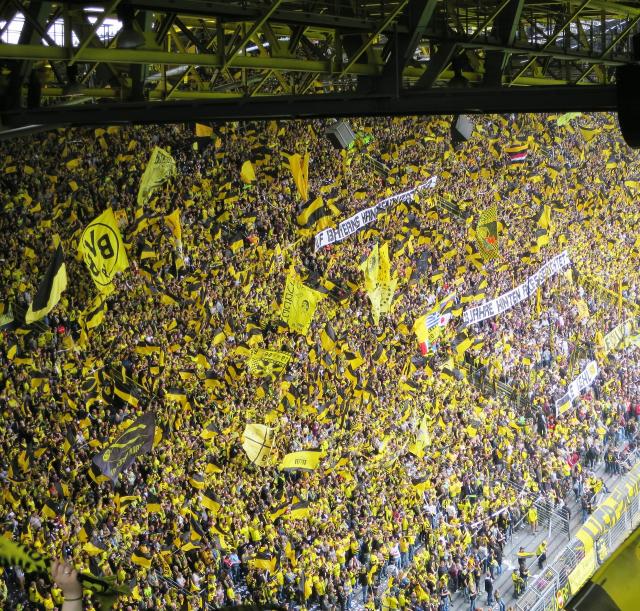 As was the case a few rounds back, our look back at previous Bundesliga attendance figures arrives on the same day as our look ahead at the week to come. With Eintracht Frankfurt's home venue racking and swaying as it was last night, every last chance to build-in the fever pitch state of the SGE supporters had to be taken.


Three of the nine Bundesliga fixtures (Union Berlin, Dortmund, and Mainz) in round 32 of the 2021/22 German Bundesliga campaign sold out. Stuttgart, Augsburg, and Bielefeld came very close with numbers above 90 percent. There was less interest in the two delayed Monday fixtures. Leverkusen and Gladbach had trouble filling the seats.

Over at the PreZero Arena in Sinsheim, many live spectators missed out on the best game of the weekend.


---


SpVgg Greuther Fürth (at) 1. FC Union Berlin

Attendance = 22,012 (sold out)


Not exactly what the Union fans were accustomed to seeing last Friday night under the lights. The atmosphere succumbed to tension and concern at times. At least we know that, barring some kind of unforeseen meltdown, these supporters will get European football next season!

One way or another, all clear for more of this next year at the "Oly!"


Schöne AFter Hour war das da letzten Freitag - 𝘋𝘈𝘕𝘒𝘌, 𝘜𝘯𝘪𝘰𝘯𝘦𝘳! 🥰😘#fcunion | #FCUSGF pic.twitter.com/l2derszjv7

— 1. FC Union Berlin (@fcunion) May 3, 2022
---


VfL Bochum (at) Borussia Dortmund

Attendance = 81,365 (sold out)

A Signal-Iduna sell-out didn't get a chance to see their side win. In point of fact, they watched Bochum prevail in one of the "kleiner Revierderbys" for the first time in some 25 years. BVB boosters in attendance also got a sneak peak at a brighter future in the form of some exciting moves delivered by English phenom Jamie Bynoe-Gittens.


🥴 @jbgittens erlebte einen bittersüßen Tag beim gestrigen 3:4 gegen den @VfLBochum1848eV. Feiern durfte der 17-Jährige sein #BVB-Startelfdebüt vor 81.365 Zuschauern – aber das Ergebnis war wie für jeden Borussen eine herbe Enttäuschung.

📺▶️ https://t.co/R1Cp6MMbVT | by @1und1

— Borussia Dortmund (@BVB) May 1, 2022


Mostly, however, all anyone seems to want to talk about concerns how eager supporters of this club are to get this season over with. Conclude the chapter. Turn the page. Get an Erling Haaland doing little other than trying to avoid injury off the roster. Out with the old. In with the new.


---


VfL Wolfsburg (at) VfB Stuttgart

Attendance = 55,000 (90.9%)

The relegation-threatened Swabians got a brief reprieve from all the stress associated with their imminent drop. A late equalizer enabled VfB players to pay a cordial visit to the "Cannstatter Kurve" after this one was done and dusted.

An appreciative round of applause certainly beat the disapproving jeers and whistles they had to face in the previous round following a horrible performance away at Hertha.

This club looks set to lean heavily on its fans through what will be a very difficult task in the relegation playoffs. Every last voice in the BaWü capital counts. It looks like there shall be two more home fixtures at the Mercedes Benz Arena.


Chris #Führich: "Ein Riesendank an die Fans für die Unterstützung. Das Tor hat uns noch einmal gepusht. Wir müssen jetzt weitermachen, dranbleiben, Tag für Tag hart arbeiten, damit wir unser Ziel Klassenverbleib erreichen. Dieser eine Punkt kann dabei helfen."#VfB | #VfBWOB pic.twitter.com/Ps5GrRvq9g

— VfB Stuttgart (@VfB) April 30, 2022
---


FC Bayern München (at) FSV Mainz 05

Attendance = 33,305 (sold out)

Nicely delivered from the Pfälzer. Barely a year removed from the "great escape", it's a stable mid-table finish and a second straight home defeat of FC Bayern München for Bo Svensson's Rheinhessen.

Few images beat the Mainzer visited to their FanKurve after a home victory.

In the case of some clubs, it's mere a matter of bows and applause.

Not so in Mainz. Bullhorns, microphones, and joint cheers. Always.


Guten Morgen, Mainzer!🎤😬#Mainz05 #Wochenstart pic.twitter.com/ZQOolXsmjE

— 1. FSV Mainz 05 (@1FSVMainz05) May 2, 2022
---


FC Köln (at) FC Augsburg

Attendance = 29,511 (96.3%)

Big disappointment for the Fuggerstädter faithful, who had to digest a lopsided loss on Plärrer weekend of all times. Celebrations had to be postponed, or at least moved to the nearest "Volksfestival Tent". For some of the Bavarian Swabians turning out, a back-up plan ensured that their weekend wasn't totally ruined.


1. Matchball ❌

👉 An Euch lag's nicht! ✊ #FCAKOE pic.twitter.com/NHHxzKT5W7

— FC Augsburg (@FCAugsburg) May 1, 2022
---


Hertha BSC (at) Arminia Bielefeld

Attendance = 26,021 (95.3%)

Quiet and pensive at the old Alm until Joakim Nilsson's late equalizer took the roof off the place. Despite the fact that relegation increasingly appears to be a certainty, the DSC doubles down on its revived "No one conquers the Teutoburg Forest" campaign.


Das erste #Bundesliga-Tor von Joakim Nilsson 😍#DSCBSC pic.twitter.com/FKPPVn4FQj

— DSC Arminia Bielefeld (@arminia) May 3, 2022


Those "treetop tricots" the team dressed in are unquestionably spiffy. Of course, so were those "Gelsenkirchen roadmap" jerseys Schalke trotted out last year. It didn't make a difference.


Unsere heutigen Sondertrikots hängen in der Kabine bereit - schön 😍#DSCBSC #Nachhaltigkeitsspieltach pic.twitter.com/EYdwHPcwG7

— DSC Arminia Bielefeld (@arminia) April 30, 2022
---


SC Freiburg (at) TSG 1899 Hoffenheim

Attendance = 23,627 (78.4%)

The fixture selected for the "match-of-the-week" feature in our Tactics Talk Column also had a few things to say about the state of footballing fandom in Sinsheim. Care to have a look at how those cheaply-manufactured flags were?


Auch wenn wir enttäuscht sind:

Danke für Eure Unterstützung 💙

Wir sehen uns nächste Woche gegen Leverkusen 🏟️ pic.twitter.com/PoEBzsOxkM

— TSG Hoffenheim (@tsghoffenheim) April 30, 2022


Try cloth instead of plastic next time, Kumpels. A cub accused of being "plastic" has no business proving everyone right with synthetic support tools.


---


Eintracht Frankfurt (at) Bayer 04 Leverkusen

Attendance = 26,400 (87.3%)

The support within the BayArena wasn't really sufficient to punch through the monotony of this match. It was nevertheless there. Gratitude to the ultras of Germany's red company team for turning up and giving it a go.


🔴 Der Support gegen Frankfurt war sehr stark, in Hoffenheim geht #FinallyRed weiter. Kommt alle in Rot und pusht die #Werkself zum Sieg! 🔴

🔜 #TSGB04 | #Bayer04 pic.twitter.com/kGpNtvkNq3

— Bayer 04 Leverkusen (@bayer04fussball) May 6, 2022


Of course, the entire reason this column found itself delayed pertained to the fact that we wanted to tack on some more photos of Frankfurt support.

Scenes from last night = balm for the soul.


Im Zusammenhang mit diesem Video sollten Sie wissen: Anstoß ist erst in 30 Minuten 😌

🔥🔥#SGEWHU #SGEuropa #UEL pic.twitter.com/zIBq2dk9tO

— Eintracht Frankfurt (@Eintracht) May 5, 2022
---


RB Leipzig (at) Borussia Mönchengladbach

Attendance = 35,324 (65.3%)

Truly terrible attendance over at Borussia Park on Monday night. Like NRW's other West Prussian club, BMG enthusiasts join BVB supporters in simply wanting to get this season over with. A nice experience for those who did come after all. They got a rare chance to cheer a Fohlenelf victory down the stretch.


51': Tradition seit 1900 🖤🤍💚#Bundesliga #BMGRBL 2:1 pic.twitter.com/I2Jwdp5eZ2

— Borussia (@borussia) May 2, 2022
---
Thanks so much for reading!
You can occasionally catch Peter on twitter, @ViceytheSS.
Twitter DMs are open for football conversations, corrections, and (if you truly insist) general abuse. 
All columns debut on Bulinews before appearing on Peter's website later in the week.
Related stories