Bundesliga Fan Scene:
The Matchday 34 Primer
By Peter Vice @ViceytheSS
It's the German Bundesliga's final matchday!

After half of the league's 18 clubs bid farewell to their teams last weekend, the remaining field prepares for the big sendoff.

A campaign that began with large crowd restrictions shall feature at least three full-capacity venues.

As usual, we're pleased to keep everyone up to date on which clubs still have space in our weekend primer fixture.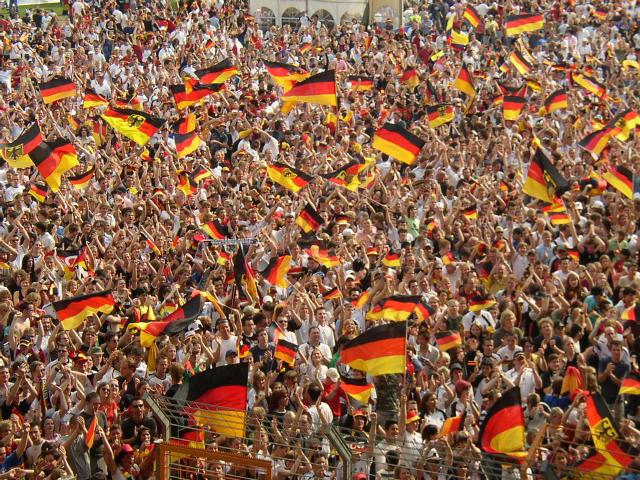 | | |
| --- | --- |
| German fans celebrating. | © Arne Müseler / arne-mueseler.de / CC-BY-SA-3.0 |
Fans of simultaneous kickoffs (still disappointed that they no longer occur the Bundesliga's penultimate round) get what they want this weekend as the 2021/22 German Bundesliga campaign draws to a close. Still at stake, we have the Champions', Europa, and Conference League places of four clubs. Arithmetically speaking, three teams are still fighting for survival.


Stuttgart, Leverkusen, and Union Berlin have already sold out their fixtures heading into the season's final round. Wolfsburg comes close to a full house. The remaining five hosting locales--Dortmund, Gladbach, Mainz, Augsburg, and Bielefeld--all still have passes available on public sale. Should be a fine May day to visit the footballing cathedrals of the Bundesrepublik!


---


Hertha BSC (at) Borussia Dortmund 

Planned capacity = 81,365 (full house) 

A massive match for Berlin's "alte Dame", whom could slip to the relegation playoff place on this day. The outcome was unthinkable to most of us league watchers even a few weeks ago. Hertha squandered a considerably easy path to safety away. Those of us who made the customary "February Promise" currently chew our fingernails off.


There are still seats available at Signal Iduna for anyone wishing to check out Erling Haaland's farewell. A couple thousand passes remain up for grabs on public sale via the club's website. Marco Rose plans on deploying his best lineup. While there will be some commemorations for departing players like Roman Bürki and Marcel Schmelzer, Rose doesn't want to risk injury to actors not used in a while.


🆕 Neuer Anstrich! Wer ist bei #BVBBSC mit dabei? Es gibt noch Resttickets.

🎫 https://t.co/ONIJY537tF pic.twitter.com/IFpHTQV3vI

— Borussia Dortmund (@BVB) May 13, 2022
---


Bayern München (at) VfL Wolfsburg 

Planned capacity = 30,000 (full house)

Not much space available in the Volkswagen Arena for what looks to be a rare VfL sell-out. The German giants are in town for the final home game of the season. Even if there's nothing at stake, the turnout should be strong. Tickets remain on public sale in the "Autostadt".


---


SC Freiburg (at) Bayer 04 Leverkusen

Planned capacity = 30,210 (full house) (sold out)

Not exactly the "final" many of the Freiburg players were hoping for. Unless something very surprising happens in Bielefeld, a win for the visiting Breisguaer won't be sufficient to take the final Champions' League spot.

Germany's red company team already met their main seasonal objective last week, meaning that there's not much at stake for die Werkself beyond potentially a single-season club scoring record for lead-striker Patrik Schick.

No tickets left here for a big day commemorating Rudi Völler's departure.


🏟⚫️❤️ Wir können vermelden: Die #BayArena ist bei #B04SCF ausverkauft!

Wir freuen uns, mit 30.210 Fans den Einzug in die Champions League und natürlich den Abschied von Rudi Völler zu feiern. Und auch am Samstag lautet das Motto wieder: ♦️#FinallyRed♦️https://t.co/LFDAPRCFko

— Bayer 04 Leverkusen (@bayer04fussball) May 10, 2022
---


VfL Bochum (at) 1. FC Union Berlin

Planned capacity = 22,012 (full house) (sold out)

Effectively zero chance at getting access at the Stadion An der Alten Försterei, not even on the secondary exchanges. Few season ticket holders shall wish to pass up on the chance to celebrate the team's European qualification, particularly after only two thousand live spectators were allowed the privilege last year.

Die Eisernen will keep the stadium open later on through the evening for celebrations and there should be a little rally in Köpenick on Saturday night. One actually doesn't need tickets to enjoy a Saturday afternoon in this East Berlin quarter. The party shall go on deep into the night.

Union win on this day whether it's Conference or Europa League.


Wir haben 1-2 Sachen für Samstag vorbereitet, aber auch IHR seid gefragt ... 😏

Schaut unbedingt in die Meldung 🔴⚪️#fcunion | #FCUBOChttps://t.co/vTX1d5MmX8

— 1. FC Union Berlin (@fcunion) May 10, 2022
---


TSG 1899 Hoffenheim (at) Borussia Mönchengladbach

Planned capacity = 54,057 (full house)

Very possibly the last match in charge of the foals for Adi Hütter. One of the most expensive misunderstandings in the history of German football. Caverns of space still free in Borussia Park for this classic "golden pineapple" affair.

The ultras will still be collecting donations for Ukrainian refugee causes as part of the club's continuing effort to raise money after Wednesday's exhibition fixture. Perhaps Hütter should donate a portion of the €3 million annual salary he collected this year.


Unter dem Motto "Bechern für den guten Zweck" wird die "Nordkurve Aktiv" im Stadion bei #BMGTSG Becher sammeln. Alle Zuschauer haben die Möglichkeit, ihre Becher an den gekennzeichneten Sammeltonnen abzugeben. Der Erlös wird an kriegsleidende Menschen in der Ukraine gespendet. pic.twitter.com/uN1rlpbzGV

— Borussia (@borussia) May 13, 2022
---


FC Köln (at) VfB Stuttgart

Planned capacity = 60,449 (full house) (sold out)

Every last voice in the "Cannstatter Kurve" will be lost on Saturday afternoon as the VfB loyalists scream down the house for their players. So many league Bundesliga enthusiasts subconsciously root for the sensation. One can recognize this by our thinly-veiled attempts to talk ourselves into it.

Will it happen for the Swabians on the season's last day? The club they're facing beat their way out of the pressure box on the final matchday of the previous campaign. Alas, that was a very different situation.

Something tells us league watchers that the Hertha and Stuttgart scorelines from the "Hin-runde" could repeat. In any event, a sold out crowd will try to flip the script.


#VfBsein | #VfB 🤍❤ pic.twitter.com/j5PPTRMxzc

— VfB Stuttgart (@VfB) May 13, 2022
---


Eintracht Frankfurt (at) 1. FSV Mainz 05

Planned capacity = 30,034 (full house)

A farewell to Daniel Brosinki. A fan fest around the MEWE Arena. These are a few of the things planned in the Pfälzer capital for the season finale. A few thousand tickets remain for those wishing to pay a visit to the Palatinate's carnival club square off against Oliver Glasner's geriatric "B squad".

Always fun to watch the Rheinhessen live.


Sonne, Marktfrühstück, Bundesliga! Klingt wie ein perfekter Samstag in Mainz, oder? 😍
Holt euch jetzt noch eines der letzten Tickets für #M05SGE: https://t.co/gLbZGQe5Lt #mainz05 pic.twitter.com/BswR76oheQ

— 1. FSV Mainz 05 (@1FSVMainz05) May 13, 2022
---


SpVgg Greuther Fürth (at) FC Augsburg

Planned capacity = 30,660 (full house)

With safety secured, maybe some of the Fuggerstädter faithful feel a little disinterested, not to mention a little burned after the team's last home fixture. For such reasons, the WWK Arena isn't anywhere near full for this Bavarian derby.

Passes on public sale for anyone who wants them.


SAISONFINALE 👊 Alle in 🤍 zum Heimspiel gegen Fürth - macht die Hütte nochmal voll! 🙌

👉 Ticket sichern: https://t.co/GTEAM0yQM0 #FCASGF pic.twitter.com/CFyxZSVD3g

— FC Augsburg (@FCAugsburg) May 13, 2022
---


RB Leipzig (at) Arminia Bielefeld

Planned capacity = 27,300 (full house)

No farewell for club legend Fabian Klos at the Alm after all. That's really something! If the Teutoburgs can manage to reverse a seven-goal-differential with Stuttgart and somehow climb up to the relegation playoff place, that would be something so incredible that it qualifies as a miracle.

Even the diehard fans know as much. That's why there's no shortage of tickets remaining on public sale. If you happen to believe that Bielefeld exists and happen to be there, the DSC door is open.


Im Vorfeld des morgigen Spiels möchten wir unsere Spieler, deren Verträge im Sommer auslaufen werden, gebührend verabschieden und ihnen für die gemeinsamen Momente danken. 🙌
Deshalb bitten wir Euch, den Weg in die SchücoArena möglichst früh anzutreten!
Wir sehen uns morgen. ✌️ pic.twitter.com/85yWD5FjTE

— DSC Arminia Bielefeld (@arminia) May 13, 2022
---
Thanks so much for reading!
You can occasionally catch Peter on twitter, @ViceytheSS.
Twitter DMs are open for football conversations, corrections, and (if you truly insist) general abuse. 
All columns debut on Bulinews before appearing on Peter's website later in the week.
Related stories