Americans in the Bundesliga:
Kevin Paredes receives first marks in week five
By Peter Weis @PeterVicey
The three graded sections in the latest installment of our "Americans in the Bundesliga" column features a debut set of grades for one of the newest US lads on the German footballing scene. Kevin Paredes knocks on the door of the Wolfsburg starting XI.

We'll also be covering the work of Joe Scally and VfB Stuttgart trainer Pellegrino Matarazzo in our week five analysis. Jordan Siebatcheu was conspicuous in his absence this round. We talk about that in the opening paragraph.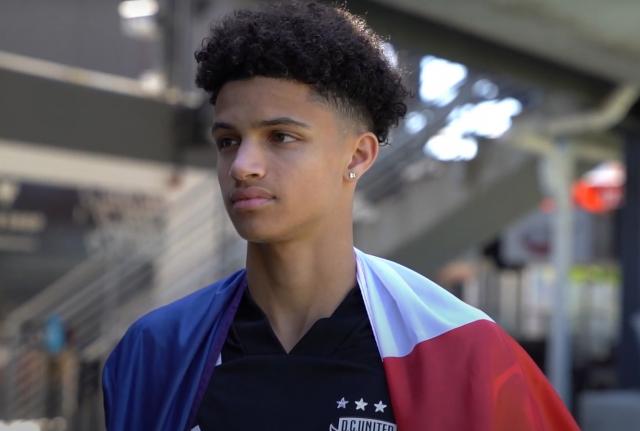 The big news over on the "Americans in the Bundesliga" beat concerns the absence this past weekend of FC Union Berlin phenomenon Jordan Siebatcheu last weekend. The 26-year-old was unable to partake in his side's 1-1 draw with Bayern on Saturday due to what was initially reported as a light bruise. The striker returned to team training on Monday, but had to sit out Tuesday's session with what trainer Urs Fischer described as a "muscle issue".


As a result of Siebatcheu's absence, we've only three graded sections this week. That in itself doesn't mean that there isn't some fascinating news to report. We've a debutant this week. In his second relief appearance of the season, Kevin Paredes of VfL Wolfsburg looks to be knocking on the door of the WOB XI. In other "Americans" news, Gio Reyna made a very brief substitute appearance for Dortmund in their 1-0 win over Hoffenheim. Justin Che still hasn't made the Hoffenheim bench squad.

Kevin Paredes, VfL Wolfsburg

Minutes played = 29/90, Positions played = RW, LB

Grade = B-

One actually has to wait and see if the fact that Paredes will soon factor into the plans of Niko Kovac actually counts as good news. Those of us tracking the new VfL trainer's tactics this season continue to pull our hair out. There have been way too many in-game adjustments. This team remain light years away from knowing what sort of squad they are meant to be.

Case in point, this past Saturday's league loss to Köln. Kovac employed four major tactical alterations over the course of the match. As if two draw-ups in this week's tactics column weren't enough, we've two more to cover here. Picking up where we left off, Paredes entered the fray on the third reshuffle just after the hour mark.

Lineup—VfL Wolfsburg—61st minute (4-2-1-3)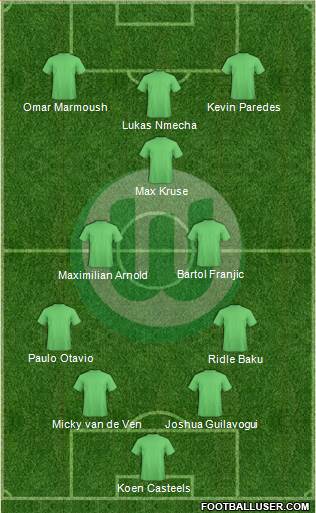 If one cares to review the tape, Paredes' electrifying pace is on display in the 62nd, 66th, and 68th. His feet were significantly quicker than his head during a ball loss in the 62nd and a poor defensive tackle outside the box in the 66th. If one watches him press his mark in the 67th, 73rd, and 74th, it's clear that he's overly peppy and (as a result) a little raggedy off the ball.

There's also two aerial losses and several mistimes challenges between the 71st and 74th. This American's best work on the right wing can be found in the 63rd ands 64th. The squad itself gets a couple of nice rightward cycles going during this interval and the Virginian finds some flow as part of the triangulation. Paredes had barely been on the pitch 15 minutes before it was time for another shift.

Lineup—VfL Wolfsburg—76th minute (4-2-4)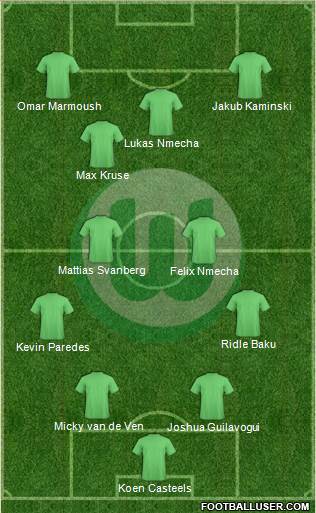 Man, oh man. Kovac truly shows no mercy for us sleuths with eyes on the tactical cam. Paredes popped up on the left shortly after Felix Nmecha, Mattias Svanberg, and Jakub Kaminski relieved Paulo Otavio, Maximilian Arnold, and Bartol Franjic. It took some time to figure out that the 19-year-old had been assigned the left-back role. His first action there (75th) featured good touches, yet an ultimately poor pass.

Some solid marking on Köln substitute Linton Maina can be found in the 77th and 83rd. Paredes was involved in the sequence leading to Lukas Nmecha's second goal in the 79th. Slick touches and passes are on display in the 78th. A wonderful run on the overlap past Omar Marmoush in the 85th regrettably ended with a poor cross into the box. He was also offside on another run one minute later.

Continually involved down the stretch, our subject here racked up 23 recorded touches on the day. Many of these were on insignificant WOB drives during the last three minutes of normal time. A ball ball loss shortly after a Köln corner at 90+1 induced a wince, but Paredes finished every strongly with a splendid dribble at 90+2. That play is definitely worth a look as one can watch him shake off two defenders.

Joe Scally, Borussia Mönchengladbach

Minutes played = 81/90, Positions played = RW, LW

Grade = C+

A season-low touch count for the Long Island native on Sunday against Mainz. The columnist counted only 39 instances at which Scally got his boot around the ball. The CFG New Yorker had a rough day passing wise (nine strays) and won a little less than half of his direct duels. Along with the rest of the team, he experienced a rough opening ten minutes.

No one in the Fohlenelf really emerged from the dressing room prepared to play. Lots of ball watching from everyone in white. Egregious examples involving Scally can be found in the 3rd, 4th, 6th, and 9th. The American turned the ball over on a misguided attempt to play out of the back in the 8th. More turnovers came in the 11th, 15th, 28th, and 60th.

There were some missed challenges (12th, 21st, 30th, 45th, 67th) along with a large share of marking errors (14th, 24th, 29th, 43rd, 61st, 76th). Offsetting these, however, we have some great wins both on the ground and in the air in the 16th, 37th, 38th, 49th, 63rd, and 78th. The foals have quite a bit to thank Scally for defensively. He was calm on the ball as the last man in the 17th, 33rd, 36th, 39th, 57th, and 72nd.

When involved forward, Scally actually had an above average day. There's a great first time cross in the 18th, a smooth touch takedown in the 35th, some very nice passing work at 45+1 and 45+2, and sharp offensive trail services in the 65th, 72nd, 73rd, and 79th. The CFG New Yorker and the rest of teammates had to work shorthanded after Ko Itakura's sending off in the 53rd.

Lineup—Borussia Mönchengladbach—56th minute (4-2-3)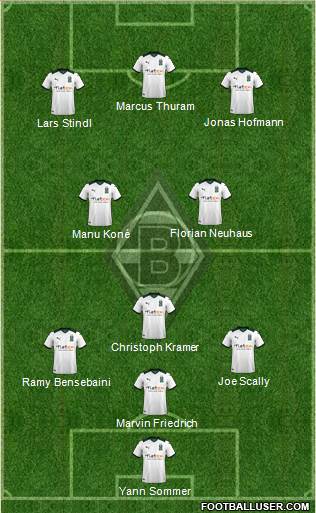 A rather interesting ad-hoc solution to the problem from BMG trainer Daniel Farke. The gaffer had just sent on Lars Stindl for Alassane Plea moments before his key defensive actor earned the straight red and Mainz plunged a dagger into his squad's heart with an immediate goal. Perhaps we'll see a diamond-box back-four this weekend as a response to Gladbach's injuries. We might also witness a novel double-six set.

In any event, Scally did well enough to merit continued inclusion in the starting XI. The author very much wanted to bump him up to "B-Level", but some of his offensive rushes (57th, 59th, 64th, 71st, and 72nd) could have featured more quality at the end of them. Not the 19-year-old's most convincing performance. Still worthy of the best marks available at the average level.

Pellegrino Matarazzo, VfB Stuttgart (Trainer)

Matches = 1, Result = D

Grade = D

Following his sending off in round four, the New Jersey native had to observe his team from the Mercedes Benz Arena bleachers on Saturday. We'll obviously still grade the American trainer here as it was his call which sort of tactics to deploy in the first fixture of the post-Sasa-Kalajdzic Error. These days, suspended coaches are also in constant touch with their surrogates via communications equipment, meaning that Matarazzo owns the in-game adjustments as well.

While keeping his basic idea of a 3-3-2-2 in place, Matarazzo went with the concept of a service striker tightly holding a position just behind Silas. Lilian Egloff - the one change to the XI from last week - received this assignment in place of the suspended Luca Pfeiffer. Chris Führich and Naouirou Ahamada briefly worked a split-stagger behind the two front axis strikers before settling into a horizontal lock after the initial quarter-of-an-hour.

Lineup—VfB Stuttgart—Match Five (3-3-2-2)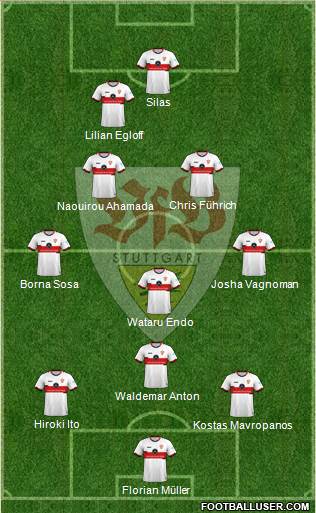 Pressure up both flanks remained decent for the Swabians early on. Silas (showing some signs of getting back to his old awe-inspiring form from a couple years back) got some early chances. Führich, who might be the most in-form VfB actor at the moment, scored the opening goal. Unfortunately for the BaWü hosts, a defensive meltdown almost immediately enabled Schalke to net the equalizer. Captain Wataru Endo seemed confused all game and had trouble coping.

Heading into the final stages of the game, the idea was clearly to push forward in a 4-3-3. Matarazzo previously gave this a shot a couple of rounds back. Tiago Tomas and Enzo Millot entered for Egloff and Borna Sosa in the 63rd. Observers got a chance to witness a scant few minutes of the intended plan to break the 1-1 deadlock and deliver Stuttgart their first victory of the season. Josha Vagnoman would ultimately get sent off in the 67th, rendering this moot.

Lineup—VfB Stuttgart—64th minute (4-3-3)




Difficult to see this working even in a hypothetical sense. Matarazzo's men furnished practically zilch offensively after Führich's opener and none of the key actors here (Vagnoman, Endo, and Ahamada) were having a particularly good game. Furthermore, the columnist has no sympathy for sporting director Sven Mislintat's attempt to blame the result here on the officiating.

The Swabians had been sloppy and choppy all game. Match official Florian Badstübner was fully justified in doling out some accumulator bookings even if the plays surrounding the disciplinary actions seemed a mite harsh. An ill-prepped team with another poor performance. We must keep Matarazzo on "D-Level" for the second consecutive week.

Thanks so much for reading! You can occasionally catch Peter goofing off while watching non-Bundesliga football on twitter, @ViceytheSS.

Twitter DMs are open for football conversations, corrections, and (if you truly insist) general abuse. 

All columns debut on Bulinews before appearing on Peter's website later in the week.



Related stories