Mislintat angry at being reduced to ten men again: "Stop with that Sh**!"
By Peter Vice @ViceytheSS
For the second week in a row, VfB Stuttgart had to conclude a league encounter with ten men. 

VfB sporting director Sven Mislintat had harsh words for referee Florian Badstübner after the match concluded.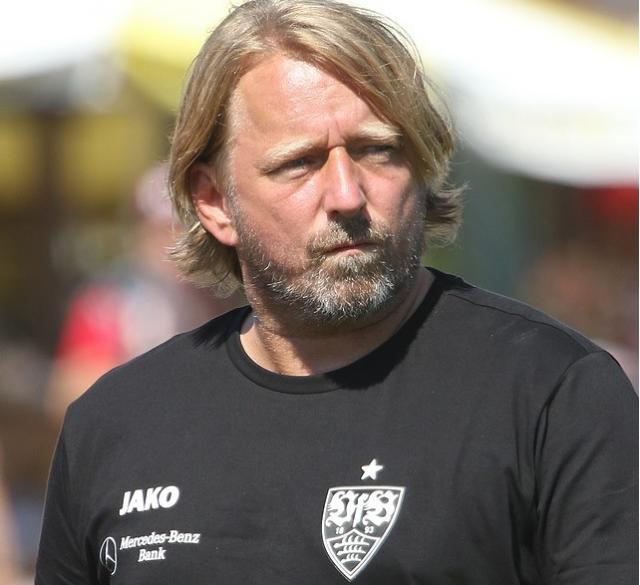 Photo: Jeollo, Vfb-exklusiv.de, CC BY-SA 3.0

VfB Stuttgart trainer Pellegrino Matarazzo was unable to coach his team from the sidelines on Saturday having been sent off last week on double yellows against by match official Harm Osmers against Köln. The VfB gaffer got sent off shortly after his striker Luca Pfeiffer.


Florian Badstübner was in charge of officiating proceedings this week in Stuttgart's match against Schalke. While Matarazzo wasn't on the touchline, VfB sporting director Sven Mislintat did sit in the dugout. Mislintat reacted furiously when he watched Joscha Vagnoman get dismissed by Badstübner this time.

After the match concluded, the VfB executive vented a bit when speaking to the Sky mics. Taking care to ensure that he felt that Vagnoman's second yellow card made sense, Mislintat also made clear that he felt the first resulted from a harmless scuffle in which Vagnoman was minimally involved.

"We have to finish the games with eleven men," Mislintat said, "We didn't manage that last week and we didn't manage it this week either. That's how we got our chance to win taken away."

"Honestly, the guys are there to officiate games, not to decide them or make them more difficult," Mislintat continued, "Here, it's quite clear that XI vs. XI must continue to be played. [Schalke's Marius] Bülter was still on the pitch despite committing more fouls and harder ones."

Mislintat himself was cautioned by Badstübner 15 minutes from the end of normal time.


"I said, 'C'mon, stop with that shit'," The 50-year-old confirmed later, "We played well and would have had a much better chance to win XI vs. XI."

Another decent performance notwithstanding, Stuttgart have now drawn four and lost one through their first five 2022/23 Bundesliga fixtures. Prospects for the first win of the season next week appear bleak as the Swabians must travel to Bayern.



More about the match
More about the teams