What's going on with Leipzig? A dissection
By Rafael Garrido Reinoso @RGarrido2210
Domenico Tedesco has been fired after back-to-back losses, conceding 4 goals in each of the games. In this article, we use Leipzig's defeat against Frankfurt to analyze what went wrong under Tedesco.
| | |
| --- | --- |
| Peter Gulacsi. | Photo: Steffen Prößdorf, CC BY-SA 4.0 |
From the first moment of last week's Bundesliga clash between Eintracht Frankfurt and RB Leipzig, both teams' intentions were clear. There weren't any surprises from either side, although there was one thing Eintracht coach Glasner had already done to get the better of the now-fired Leipzig coach, Domenico Tedesco: Changing his preferred formation to one that he realized would work better for him.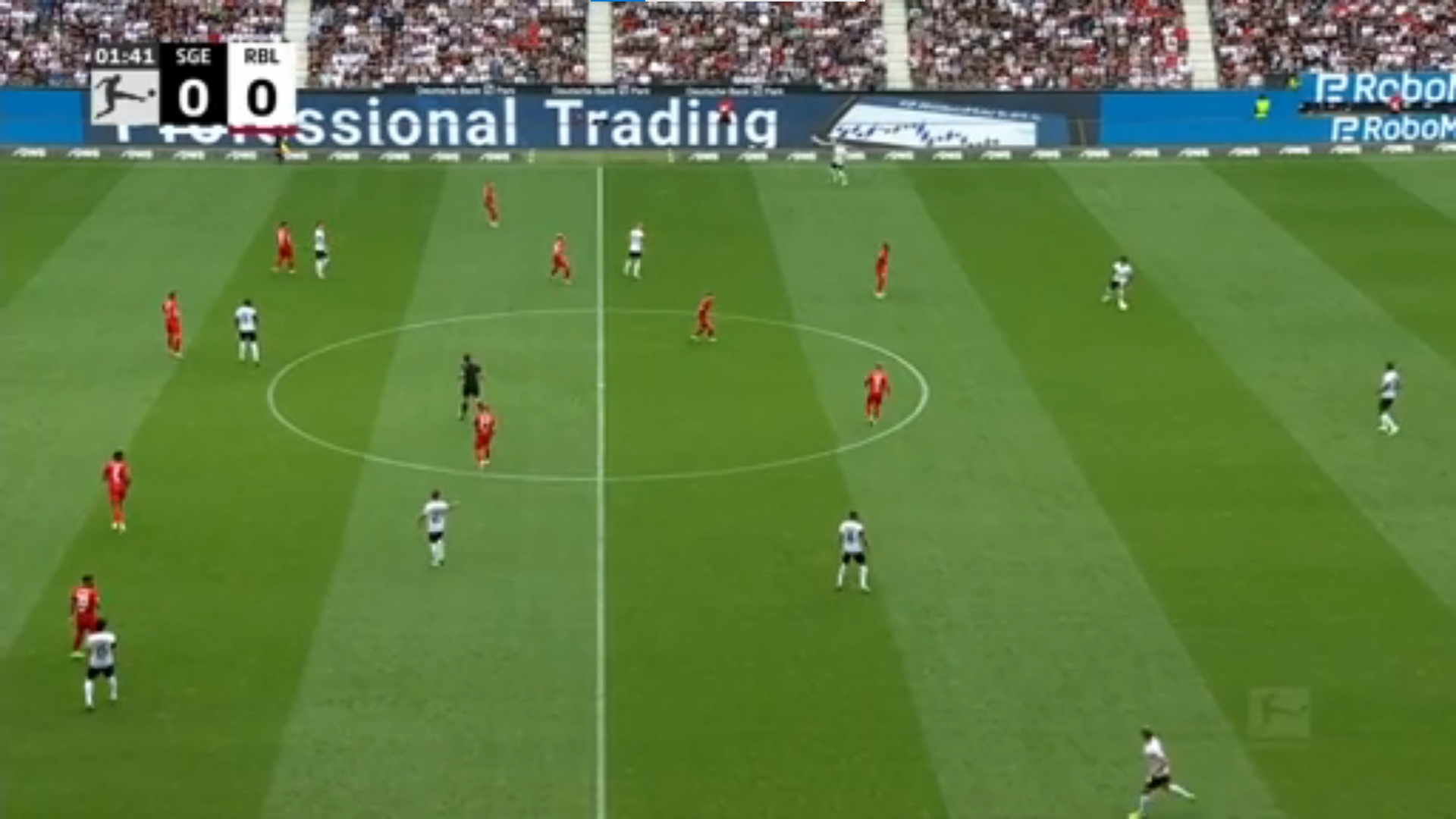 Frankfurt attacked in a 4-2-3-1, with Mario Götze having freedom as a number ten but with an incline towards the left flank, where he connected well with Kamada and Lenz

Rode and Sow stood in the double 6, taking turns to be the first receiver, although neither really came down the middle to do it.

In this simple way, they canceled Leipzig's defensive scheme.

The Roten Bullen sat in their usual 5-2-1-2, with the midfielders and attackers really compacting to close down the center lanes with their box, but Eintracht never intended to play through that zone.




Die Adler never really had problems sorting this defensive formation, always finding the middle man and overloading the wings during the transition from the construction phase into the creation one.

Rode and Sow positioned themselves outside that box to create doubts or take advantage of the spaces there.

As we can see, Leipzig's forwards were tasked with closing the middle and "pressing" the center-backs, with Olmo/Forsberg waiting to jump to the receiving midfielder without having too much of a directed intent; they didn't force Frankfurt out the wings or through the middle and did not have organized pressing roles.

Tedesco was not able to solve this, and he wasn't doing it last year either, but just outperformed Jesse Marsch's horrendous stint by returning to everything that was known to the players.

One of Marsch's problems was the pressing, he tried to press too high and too aggressive with the squad he had, Tedesco took notice and sat in a lower and tighter block.

However, it looked like he just pinned the players there without any explicit instructions.

The main problem against Eintracht was that by the time the ball reached Sow or Rode, neither the creative midfielder nor both defensive ones were within reach of pressing in a useful way because they do not have any programmed pressing scheme.

Laimer and Kampl were left alone just with their interpretation of how and when to jump to support the pressing and just had to hope Forsberg and the rest of the team would think the same.

Thanks to Leipzig's timid mid-block press, there were several times when the SGE did not even have to commit a winger or a fullback too near to Leipzig's wingbacks to give Götze and the other creators space.

There were a lot of offensive rotations and position exchanges from the front players and Leipzig could not cope with it despite having five defenders.

Lindstrøm started on the right and Kamada on the left, but there was no problem whatsoever with one of them appearing in a support run in the other wing.

Mario Götze was the free man in all aspect, not only offensively, but also defensively.

The movements of the three attacking midfielders were completely unrecognizable for Leipzig, Götze dropping to one of the sides once Frankfurt had control of the attack overloaded the flank and allowed the play to progress.

Below, we can see how Randal Kolo Muani dropped to the left, and both Lindstrøm and Kamada attacked the space behind him, this time Die Roten Bullen transitioned well, but we can see how 5 of Eintracht's players were unmarked.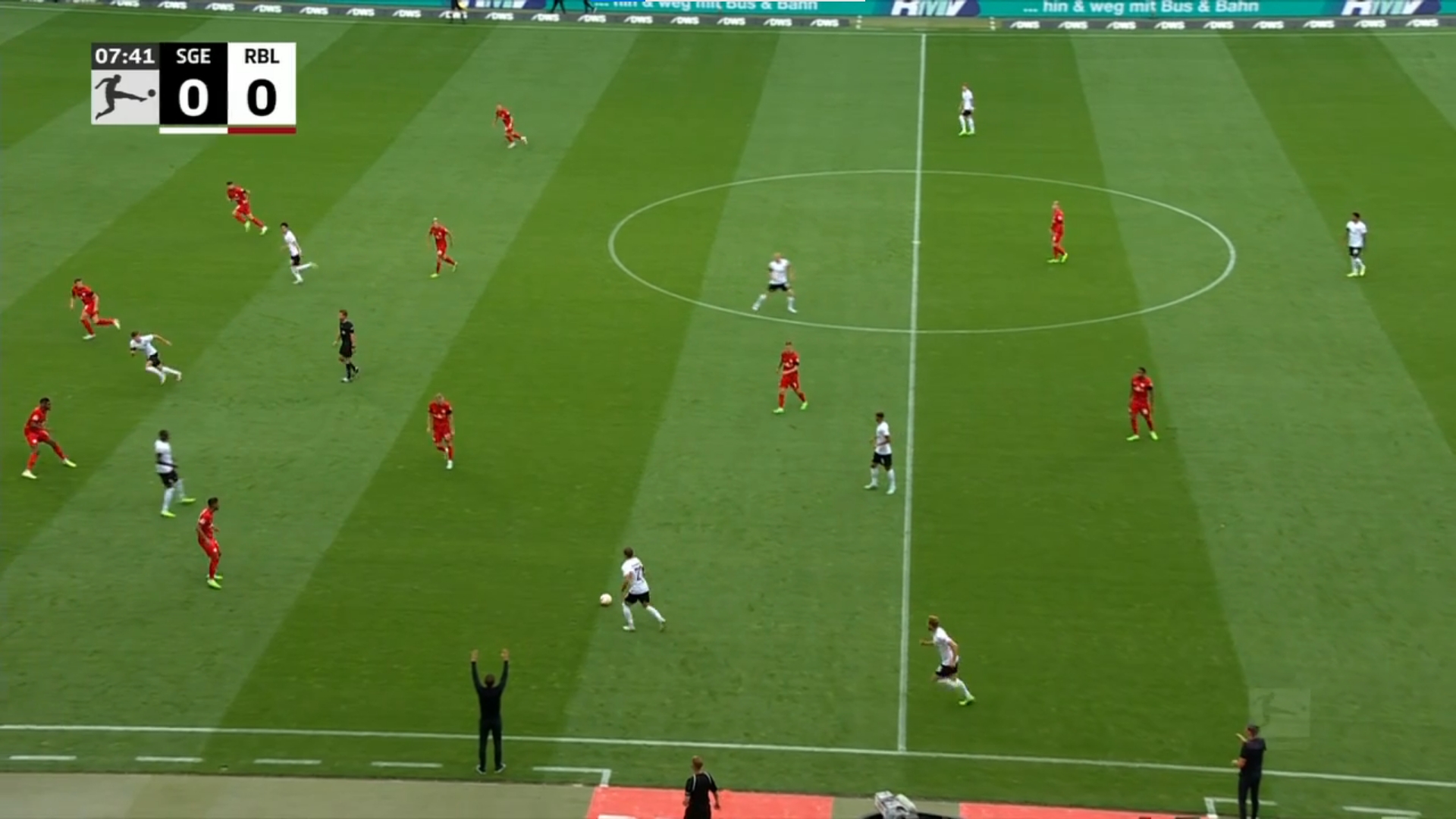 Die Adler's first goal came after a bit of late pressing from Forsberg and bad covering movements from Orban, Simakan and Henrichs, although they were influenced by the amount of players Glasner's squad took to the box.

But the second goal illustrates all the mentioned above.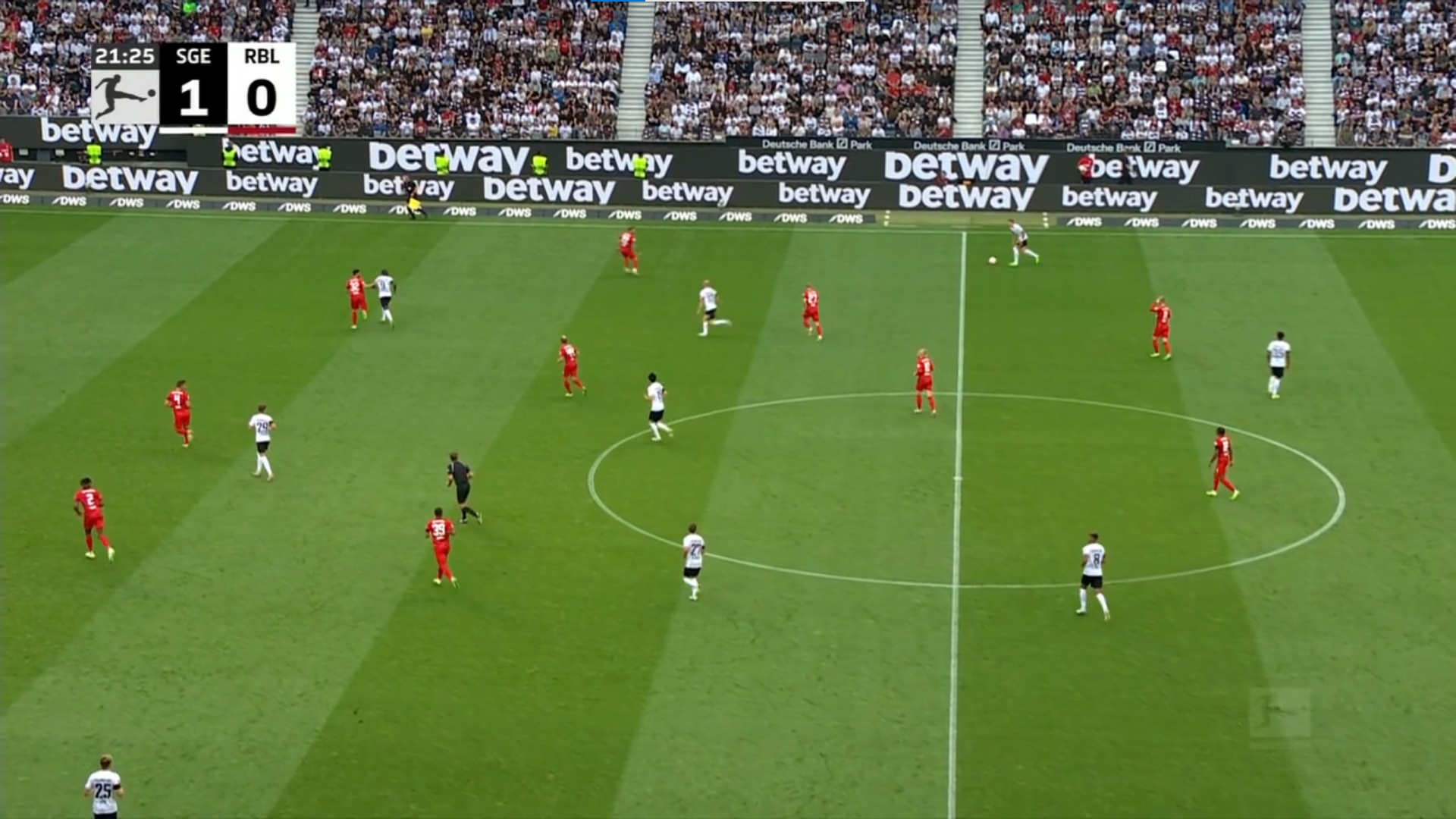 Sebastian Rode received the ball in the number 6 spot, alone, played it to Jakic and started a vertical run.

The player who jumped to press first, and the only one who really did it, was Laimer, meaning Rode could attack the gap behind him faster than Kampl could cover it.

Kolo Muani, a superb signing by Eintracht, ran towards the right flank, attracting Gvardiol's attention and generating the space for Rode to reach the box as Orban was too worried about Lindstrøm's possible run.

We should highlight Jakic's excellent pass and Muani's amazing interpretation of the plays throughout the whole match, but the full movement from the SGE was also great as they exploited Leipzig's unorganized defensive pressing.

It is also noticeable how Henrichs was already moving in as an extra midfielder, especially to mark Mario Götze.

This meant Tedesco knew he was losing the battle in midfield and had an extra center-back.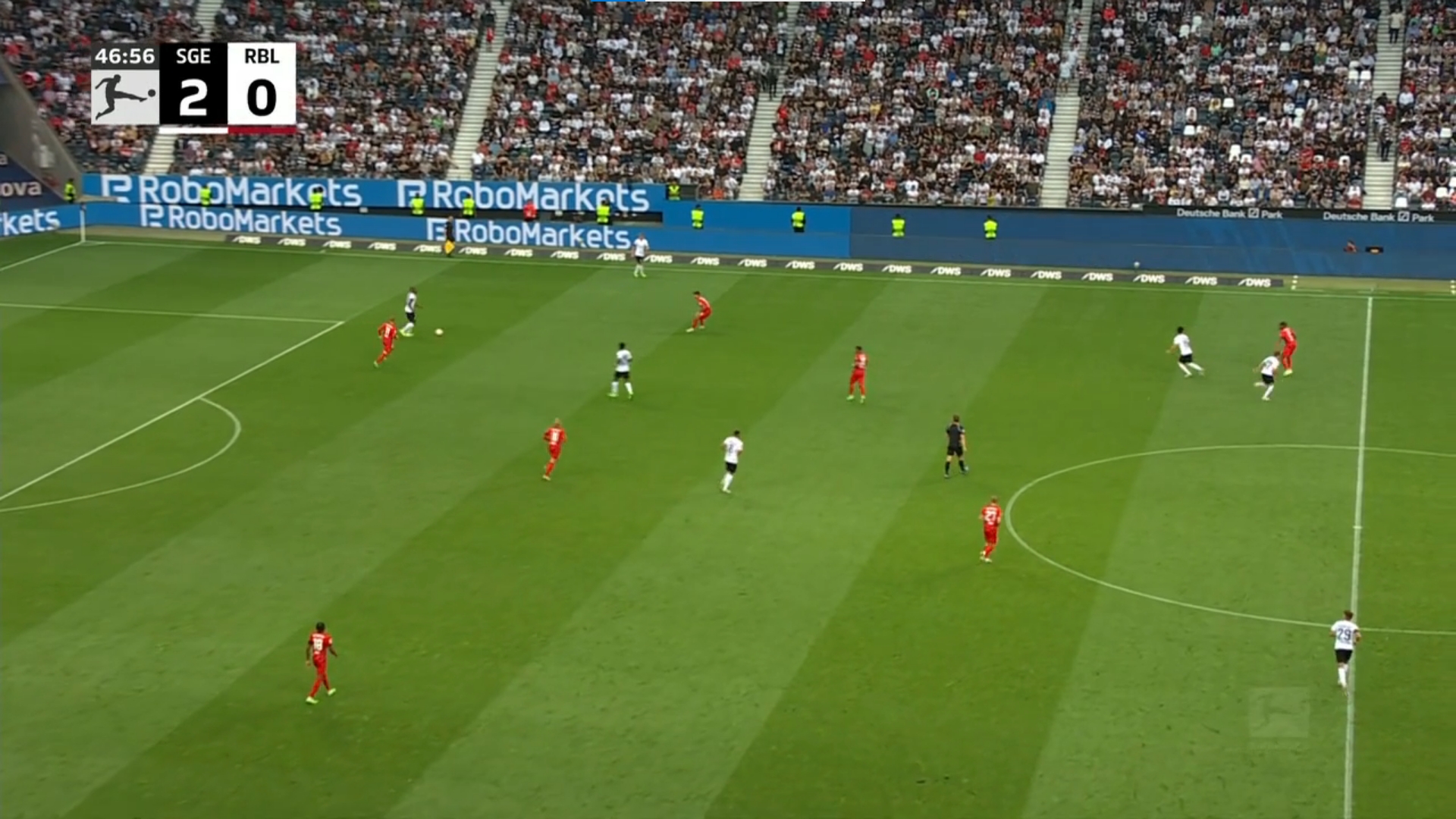 This next play is an example of how comfortable Eintracht were during build-ups and how bad were Leipzig defensively.

Ndicka had the ball to start the play, with Lenz being shadowed by Szoboszlai and both number 6's also being blocked.

By this time, Tedesco had finally fully convinced himself he had an extra defender and needed that extra man in midfield.

But instead of substituting one of the players in the back 5, for some reason he took Kampl off and permanently move Henrichs to that position, all that while having Schlager, Haidara, and Sbzobozlai himself to play there.

Eintracht barely even noticed this as it did not have any effect on the match.

Kamada moved down into the gap of both Leipzig's markers while Gotze sprinted behind Simakan's back. This way the French defender had to decide whether to let Kamada receive the ball or allow Götze to move behind him and hope Orban stepped up.

The Japanese playmaker received the ball and played it to Lenz, who then passed it to Götze up front before Orban arrived, thus sorting the pressing in a blink.

The lack of pressing triggers once again hurt the Saxons; the midfielders never knew when and where to press and the forwards weren't really doing anything.

Henrichs decided to stay and shadow Dina Ebimbe while trying to cut a passing lane without noticing Kamada sneaking behind him, they let Ndicka think and find the freeman.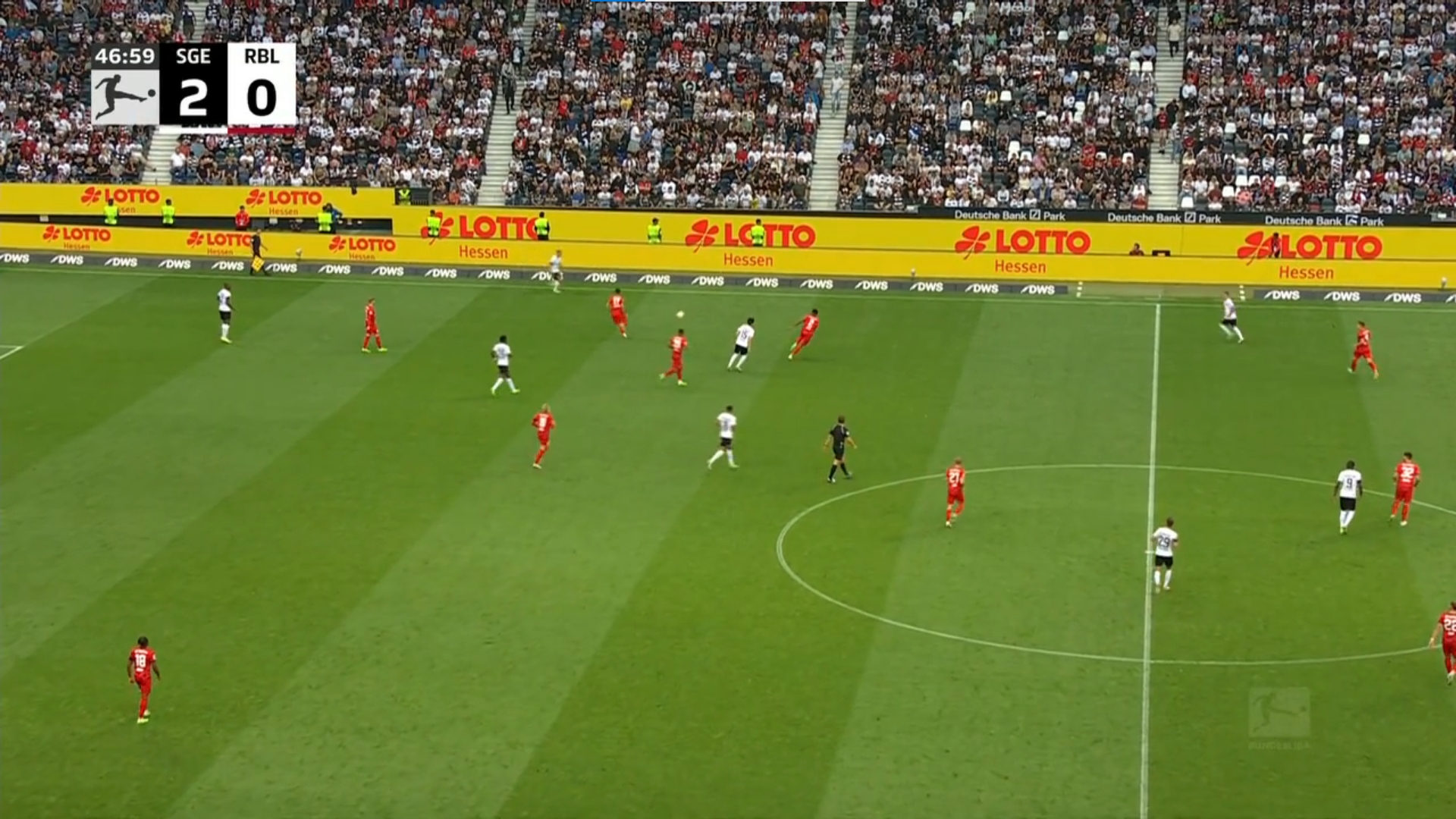 Tedesco's bad planning throughout the start of the season meant Leipzig have been hitting the same problems over and over.

The idea of starting with a 5-2-1-2 or a 3-4-1-2, however you prefer to see it, to then changing to a back 4 after realizing neither the wingbacks nor the midfield were working several times during the season is baffling, and it shows Tedesco wasn't fit for the job.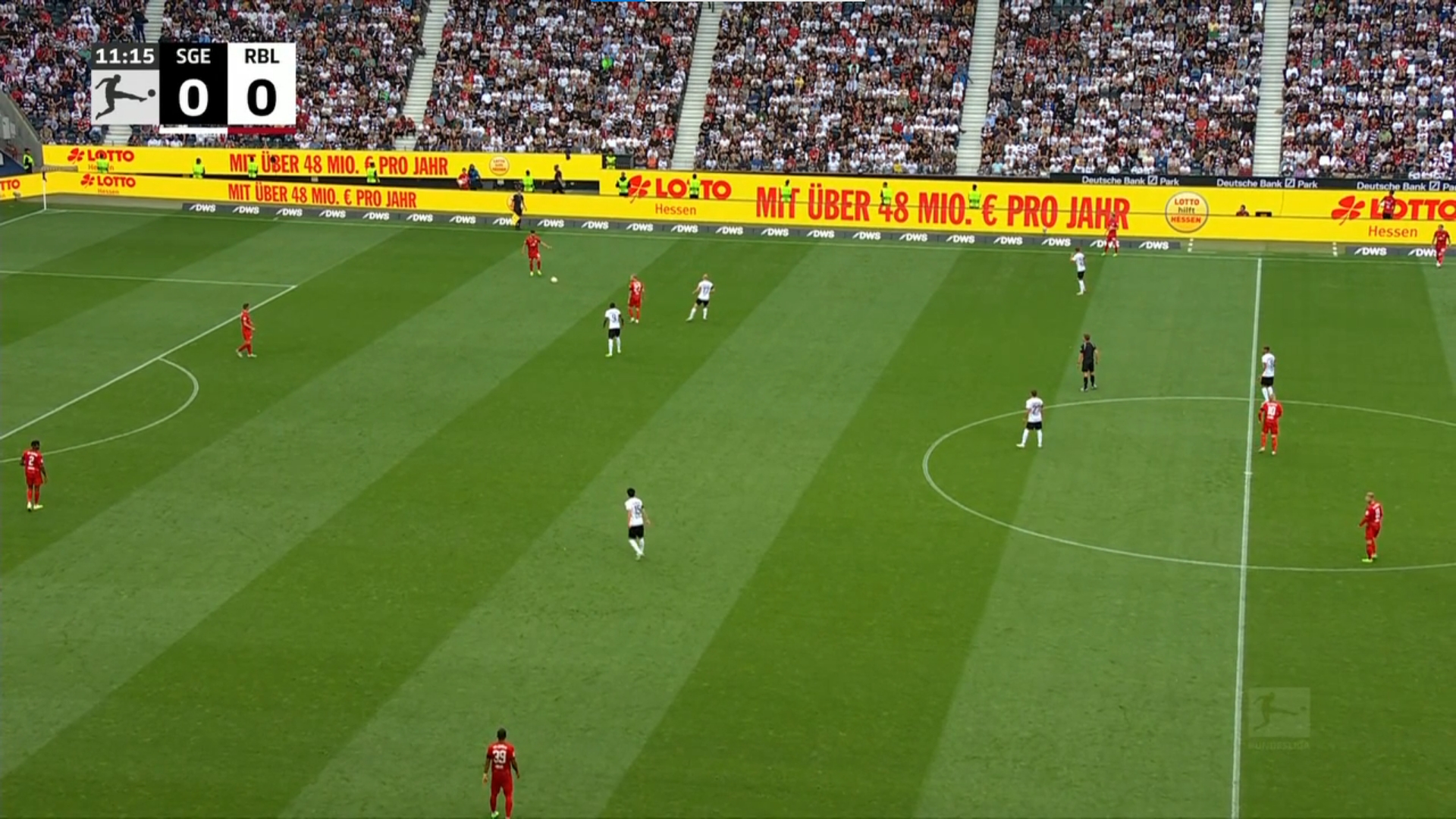 Offensively, it's clear to everyone that Kampl is the designated midfielder to start the construction of the play, but he should not be the only way up.

Eintracht never really had to press high to block Leipzig's build-up because they did not have any, the back 3 were too tight on the offensive plays and were not providing either width or a staggering height to allow good ball movement.

Henrichs stayed a little lower and Raum went up as a winger during most build-ups, with Laimer isolating himself from the build-up and playing near Forsberg, also isolated by choice.

Despite having that extra man in the build-up to sort Eintracht's 4-5-1/4-4-2 scheme, the three center-backs never really provided that, and Kampl alone could not conduct the construction at the base of the play.

Each pass to Raum or especially to Henrichs meant the ball was either lost or played back because the German did not have anyone to play it forward to and couldn't solve the first line of pressing by himself.

Leipzig right now can't connect 3 progressive passes in a row, the other teams have them figured it out, the players know it and Domenico Tedesco could not turn it around.

The players are looking nervous and rattled earlier every match, and they can't get past the first line of pressing with every attack.

Of course, the whole mood around the camp of Die Roten Bullen does not help, neither the doubts summoned upon them, but the players know they're hitting a wall with the wrong tools to take it down. With Tedesco no longer there, it will be interesting to see if Marco Rose can turn things around.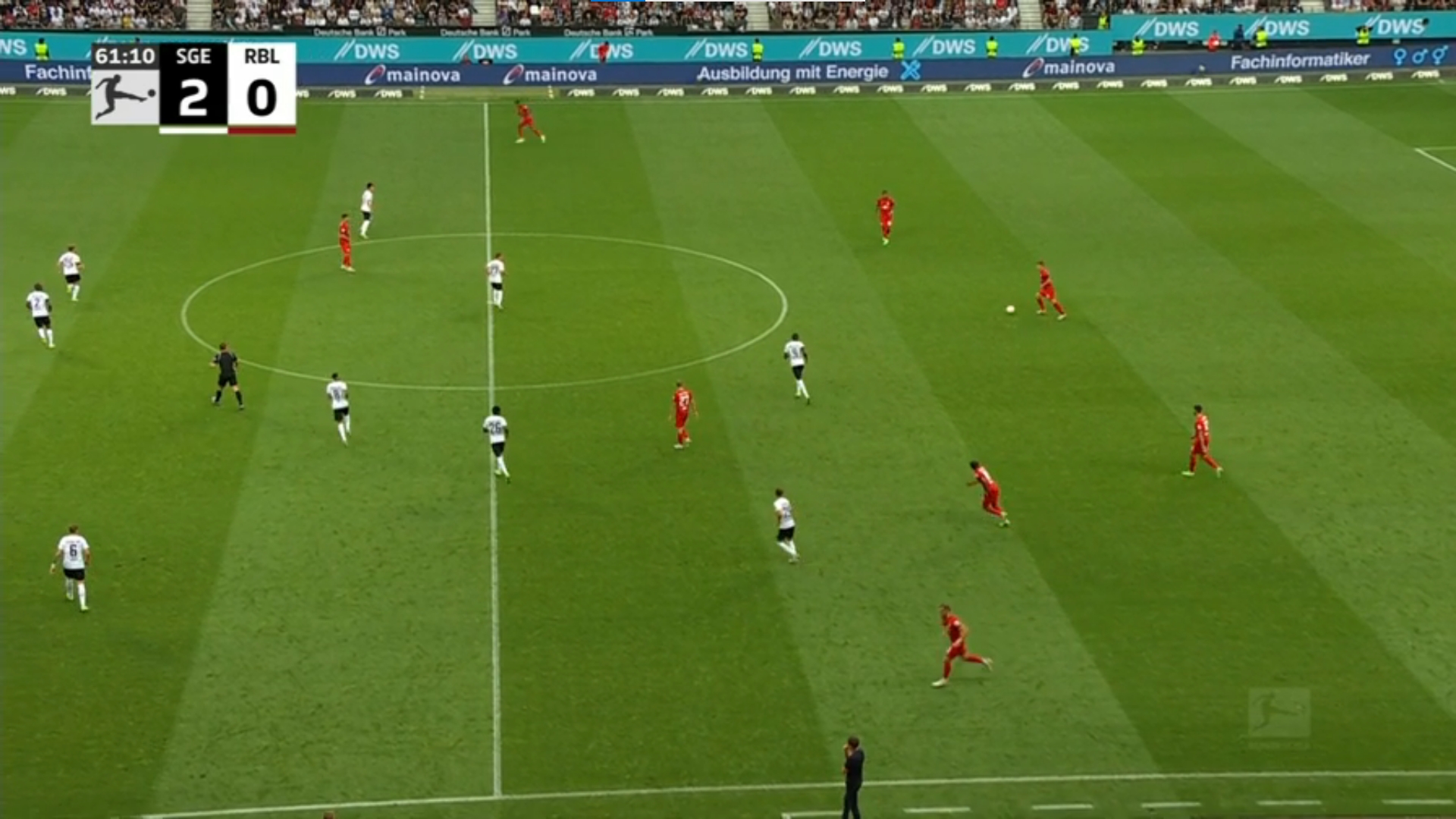 During the second half, Leipzig didn't even tickle Eintracht, a regular view during this season, Tedesco's squad suffered to reach attacking positions and even more to score goals.

But this was not only due to a tactical superiority from Oliver Glasner and his players, but it was also from a commitment and intensity point of view, another thing Tedesco lost as the days went by.

Leipzig lack intensity and accuracy, they don't look like a Red Bull team, and Tedesco does not look like a coach groomed in the energy drink's factory.

They have no speed whatsoever, offensively or defensively, there is no gegenpressing, there's not even a pressing at times.

Transitions are slow, and they can't attack even if their lives depended on it.

Yes, Dani Olmo got injured inside the first 10 minutes, but the Spanish maestro also struggles to make the team play, and it seems like Leipzig don't have any automatisms.

But worse than that, Leipzig seem like a soulless team.

Domenico Tedesco showed he wasn't experienced nor confident enough to tackle the challenge. Taking charge of a top-3 Bundesliga club that reached the UCL semifinals is no easy task by any means, but the Italian-German coach did not have the right preparation for it.

The new man in charge

Marco Rose is the elected name to lead Leipzig in this storm.

The former Borussia Mönchengladbach and Borussia Dortmund head coach is also a Red Bull factory product, having won with Salzburg a youth league and reached the UEL semifinals, and is going to coach a team from his hometown.

The German will bring almost surely his 4-4-2 diamond with him, he has the right pieces to do it and the team won't have to adjust too much from it.

He'll be reunited with Xaver Schlager, who must be thrilled with the selection as fits perfectly with Rose's midfield.

Rose will have many names to rotate in that midfield, with Schlager, Szobozlai, Kampl, Laimer, Olmo, Forsberg and Haidara as candidates.

Nkunku, Werner, Poulsen and Andre Silva give the former BVB coach a good versatility in terms of the offensive duo.

It'll be interesting to see how Rose will manage the right-back position, as Benjamin Henrichs lacks some of the qualities Rose usually looks for in a full-back.

With Germany's national team starter Lukas Klostermann out injured, Hugo Novoa and Mohamed Simakan pose as the only alternatives.

Rose has the idea and has the players to execute it, hopefully for Leipzig it'll be a match made in heaven. His first test? Against his former club Borussia Dortmund this Saturday.

Die Roten Bullen look like a team in the type of negative spiral that could end up in a terrible season. Marco Rose will have a lot to change, but will have a very competitive squad with a very high potential if managed accordingly.

Time will tell if Leipzig can return to their rightful place and finish the season high in the standings.



Related stories