Arsenal to invest millions earmarked for Mudryk in Diaby?
By Peter Vice @ViceytheSS
While different Sky journalists have different opinions on the matter, Europe's largest sports broadcaster is reporting that Arsenal F.C. are interested in making a play for Leverkusen's Moussa Diaby after missing out on Mykhaylo Mudryk.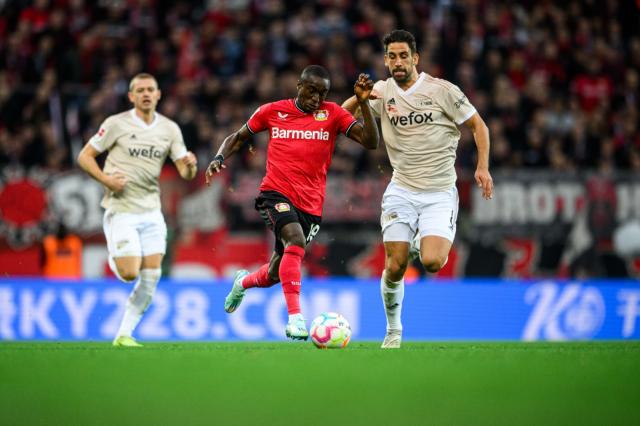 Photo: Bayer 04 Leverkusen

With quite a bit of ground to make up in the Bundesliga table, it doesn't necessarily seem likely that 12th-placed Bayer 04 Leverkusen wish to part company with their leading goalscorer. French international Moussa Diaby has netted six league tallies and racked up nine scorer points for Germany's red company team during what has been a largely disastrous start to the 2022/23 campaign.


Much as die Werkself may need Diaby, however, the recent record transfer of Ukrainian attacker Mykhaylo Mudryk to Chelsea F.C. may shift the calculus. Chelsea's north London rivals Arsenal reportedly had their own €70 million ready to invest in Mudryk. Sky now reports that the table-topping Gunners may wish to invest that sum in an old transfer target.

Diaby's estimated market worth is actually €10 million higher than that of Mudryk. Leverkusen could fetch upwards of €80 million for the Frenchman. That sum would equal Bayer's largest sale ever; that of Kai Havertz to the London Blues. Some reports suggest that Arsenal had  as much as €100 million earmarked for Mudryk.

Sky journalist Dharmesh Sheth denies that Leverkusen would even consider the deal, even if there has been some initial contact between the clubs. The broadcaster itself still notes that the sides have been in exchange. The new benchmark set by the Mudryk deal could certainly lead to some more blockbuster moves before the current transfer window closes.

Ironically enough, Mudryk himself nearly moved to Leverkusen last summer.






Related stories