Reis sounds off on refereeing following latest 0-0: "What an absolute joke!"
By Peter Vice @ViceytheSS
FC Schalke 04 trainer Thomas Reis and club licensing boss Gerald Asamoah were left to rue their luck with regard to officiating decisions following Friday night's 0-0 draw. S04 captain Maya Yoshida and keeper Ralf Fährmann also conducted post-match interviews.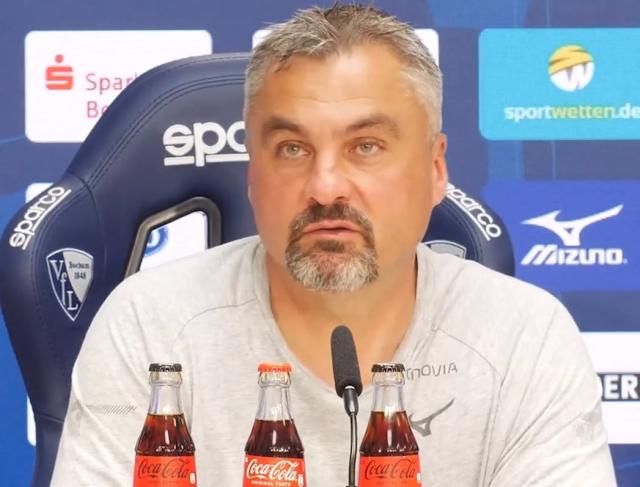 Three points from their last three league matches isn't the worst case scenario for a team at the bottom of a footballing league table. A string of three consecutive 0-0 draws nevertheless speaks against a relegation threatened side like FC Schalke 04. Opponents may have been kept out of the back of the net. Newly designated goalkeeping starter Ralf Fährmann may be commemorating his third straight clean sheet. Still, a team hoping to remain in the league cannot do so without scoring goals of their own.


German national team veteran and current Schalke licensing director Gerald Asamoah admitted as much in his post-match comments during Friday night's press conference. The well-respected German footballing figure lamented the fact that his dearly held club "just can't find that ball that goes over the line". While emphasizing that no one associated with die Königsblauen planned to give up, one could detect the resignation in his tone.

"Three clean sheets sounds good, but you still have to score up front," Asamoah noted, "The progress is there. We deserved it immensely [tonight]. We just didn't have the luck."

In referring to "luck", the Schalke legend was no doubt referencing the refereeing decisions in the match. Absolutely nothing went the way of the Gelsenkirchen hosts on Friday night. Two goals (50th and 76th) were disallowed for offside. In the former case, the decision was extremely tight and not without controversy. Schalke probably also should have been awarded a handball penalty when WOB defender Sebastiaan Bornauw touched the ball in the box during a direct duel with S04 striker Michael Frey.

Schalke trainer Thomas Reis wasn't in the mood to use the word "luck".

"What an absolute joke," Reis griped to the DAZN microphones last night, "Dortmund got a penalty on a similar play in the cup midweek. He [Bornauw] actively handled the ball. It's very annoying. It's simply a frustrating situation for us because we need every point. Then there's the offside stuff. Why are we letting offside plays continue when the linesman already saw it?"


Reis ultimately found himself booked for losing his cool over the refereeing decisions as the match drew to a close. At the end of the day, the S04 gaffer just couldn't suppress his emotions over the VAR-age rule that instructs linesman to keep their flags down, allow emotionally uplifting goals to be scored on offside, and then harshly taken away.

"I'm still angry," Reis conceded, "And then I get a yellow card [at 90+3]. I'm punished for the referee's mistake. I'm sorry, but that's simply not acceptable. To get a yellow card for complaining about that. What insolence."

For their part, captain Maya Yoshida and keeper Fährmann spoke exclusively on the team's inability to score goals. Fährmann noted that the string of results since he reclaimed his starting spot between the sticks "hurt very much." Yoshida called for more goals, whilst calling the act of scoring them "the most difficult thing in football."



More about the match
More about the teams