Niederlecher on struggles with new club: "I'm still calm."
By Peter Vice @ViceytheSS
In an interview appearing in the Monday print edition of Germany's Kicker Magazine, new Hertha BSC striker Florian Niederlechner spoke on the many controversies and struggles he's faced since joining his new club.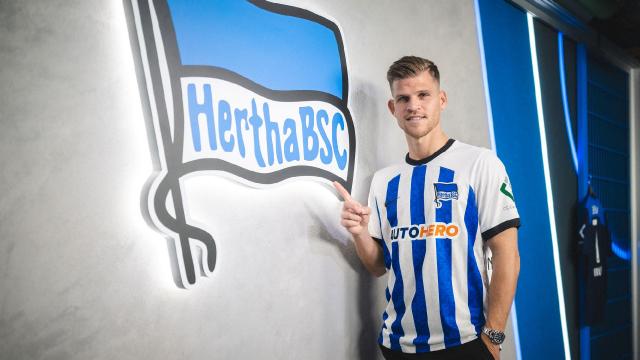 Photo: City-Press GmbH/Hertha BSC

New Hertha BSC striker Florian Niederlechner remains without a goal for his recently-joined side over the course of eight appearances (seven starts) and nearly 500 minutes of Bundesliga football. The 32-year-old is off to a rocky start in the country's capital, to say the least. Even after Hertha opted to pay the heavy price of €300,000 to use him against his former club Augsburg, Niederlechner still can't get off the mark.


The fact that I played against my old club Augsburg, even though it cost extra was a brutal vote of confidence from Hertha," Niederlechner noted in an interview appearing in the Monday print edition of Kicker Magazine, "I want to generate a return on that trust and am putting pressure on myself accordingly."

"The fact that I missed a huge chance against Augsburg really gets on my nerves," the striker continued, "That torments me brutally. That would have been a huge relief. I'm nevertheless convinced that, If you work hard and march on, you will be rewarded at some point."

The chains that bind Niederlechner only appear to be getting tighter. This past Saturday, after being subbed off in the defeat against Hoffenheim, Niederlechner caught extra flak for being spotted scrolling his phone on the bench. The striker revealed that he was merely checking other league results; a common practice he felt himself unfairly criticized for.

"I don't know how many messages and calls I got afterwards. It wasn't very nice for me," Niederlechner explained, "I understand that some Hertha fans might have been angry at first. But to be honest, there's lots of that going on when you're in a relegation race near the end of the season. I certainly won't do it again."

Niederlechner must contend with a lot of abuse from fans. The general sense that he's not particularly happy in the metropolis isn't something that the native Bavarian can necessarily deny. This was specifically addressed in the interview. The veteran spoke of his plans for retirement near the stadium of his youth club, 1860 München.


"It's no secret that I'm currently building my house near the Grünewalder Stadium in Munich," Niederlechner noted, "but Hertha are a great traditional club. I know that Hertha needs my goals and assists to stay up. I'm still calm. We can solve this crisis ourselves. Everyone is aware of the situation."



More about Florian Niederlechner
More about Hertha BSC