Omlin on training ground spat with Thuram: "Sometimes that's needed."
By Peter Weis @PeterVicey
Borussia Mönchengladbach were finally able to snap a five-game-winless run and give their hometown fans something to cheer about with a 2-0 win over visiting VfL Wolfsburg on Easter Sunday. 

Afterwards, BMG keeper Jonas Omlin commented on a training ground up he had with Marcus Thuram earlier in the week. Thuram himself dedicated the victory to the fans and spoke of his joy playing alongside fellow Frenchman Alassane Plea.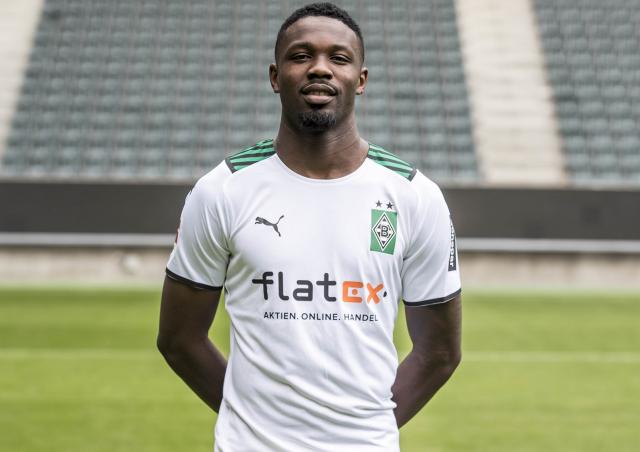 | | |
| --- | --- |
| Marcus Thuram. | Photo: Borussia Mönchengladbach |
The last thing struggling Borussia Mönchengladbach needed headed into a tough weekend encounter with VfL Wolfsburg was some in-team fighting on the training pitch between their #1 keeper and their top scorer. That nevertheless precisely what happened this past Friday. Thankfully, Jonas Omlin and Marcus Thuram were able to put the incident behind them and play important respective roles in their team's most recent league victory. 


Omlin made some stellar saves and commemorate his third clean-sheet since joining the foals as Yann Sommer's replacement in January. Thuram scored one goal and assisted on another. Omlin made certain to praise Thuram in the highest possible terms when speaking to German broadcaster DAZN.

"Marcus put in a super performance," Omlin noted, "His pressure made that opening goal happen. He then assisted and later scored. [Things like the training ground spat] are sometimes needed."

Omlin essentially insinuated that he and Thuram needed to let their passion spill over in order to stay competitive and fired-up. Thuram didn't specifically comment on the altercation, but instead dedicated the victory to the Gladbach fan-base; one that he will almost surely be leaving behind when he departs on a free transfer this offseason.

"Our fans push us even in difficult times," the 25-year-old noted, and then thanked Farke for deploying fellow Frenchman Alassane Plea to his left, "When he plays, it's easier for me to score. We're both French. I see him as a big brother, he knows my game very well, I love playing with him."

Thuram's interview naturally wished to know whether the pleasure of playing alongside Plea might leave him reconsidering his desire to depart for greener pastures after his contract expires at the end of the campaign.

Was Thuram thinking about staying?

"I don't even know what I'm going to eat tonight," Thuram replied.



More about the match