Streich thanks Freiburg crowd for showing class in defeat
By Peter Weis @PeterVicey
After losing to RB Leipzig at home for the second time in five days, SC Freiburg trainer Christian Streich thanked the SCF supporters for their understanding and restraint.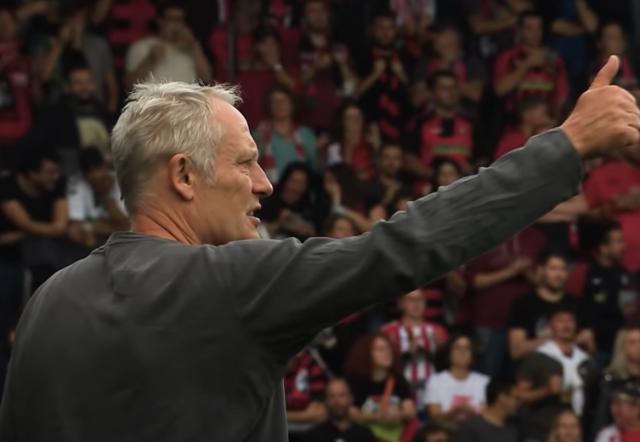 Despite a much improved performance when compared to Tuesday's DFB-Pokal shellacking, SC Freiburg were unable to give their hometown supporters much to cheer about on Saturday afternoon. The Breisgauer fell 0-1 to visiting RB Leipzig once again. The result enabled Leipzig to leapfrog both Freiburg and Union Berlin and take over third place. Christian Streich's squad, meanwhile, slips down to fifth and out of the Champions' League running for now.


Streich, after citing some bad luck and referring decisions, declared himself mostly satisfied with the team's performance. The 57-year-old remarked that his lads had "left it all on the field". Streich also - in a not-so-subtle wink to Freiburg supporters and German football lovers in general - noted that "Leipzig are a differently structured club with a different business model". The SCF gaffer then explicitly thanked the Freiburg fans at the Europa Park Stadion for not causing a ruckus.

"We respect Leipzig because they are human beings," Streich noted, "and the response from the fans was super today. No beer mugs or coins were thrown. We don't compromise on that point. The whole reputation of SC Freiburg, carefully cultivated over the last 30-40 years was at stake."

"We have a good reputation in the Bundesrepublik and that was upheld," Streich continued, "That's vital for us. It journeys with us to all our away games. In principle, that was even more important than if we earned a point today."



More about the match
More about the teams