What signing Leroy Sané would mean for Bayern München
By Rune Gjerulff @runegjerulff
Will Bayern München get a deal over the line to sign Leroy Sané from Manchester City this summer? We take a look at what landing the German international would mean for the German champions.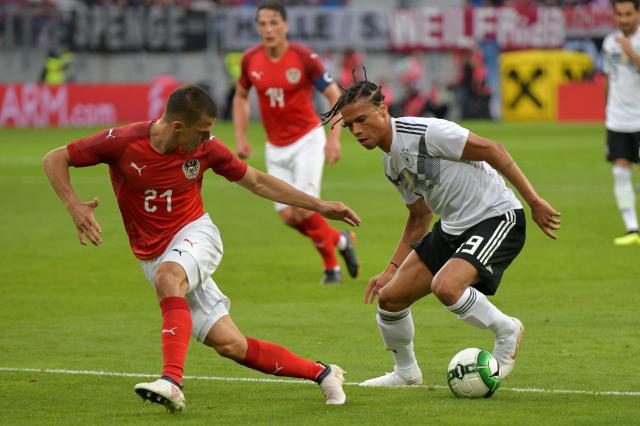 | | |
| --- | --- |
| Leroy Sané (right). | Photo: Granada, CC-by-SA 4.0 |
By Trent Nelson

Bayern München need greater top tier talent for this upcoming campaign, this is widely accepted around footballing circles. With Borussia Dortmund having reloaded this summer with young forwards Thorgan Hazard and Julian Brandt, left-back Nico Schulz as well as Mats Hummels, who has returned from Bayern München, 'Die Roten' may need greater talent to simply win domestically this season as well. The acquisition of Leroy Sané from Manchester City would accomplish this without question, while providing ancillary benefits too.




It's not as though Bayern München has pinched the penny purse this summer in any event. Signing a pair of French world champion centre-backs in Benjamin Pavard (€35 million) and Lucas Hernandez (€80 million) would usually qualify as a productive and successful summer window. That they broke their club spending record on Hernandez underscores the clubs ambition moving forward. And yet, who will score for the club other than Robert Lewandowski?


Replacing 'Robbery' and taking pressure off Lewandowski's shoulders
With the departures of veteran wingers Arjen Robben and Franck Ribery, popularly known as 'Robbery', Bayern München's width rests squarely on the shoulders of youth like Kingsley Coman and Serge Gnabry. The last few seasons had thoroughly exposed the age wide of Robert Lewandowski, and when invariably he fails to produce in the largest Champions League moment, who can be München's offensive recourse?

Robert Lewandowski's own age is less the problem than is the dependency of which Bayern München suffers with 'Lewy'. No player can produce in every match as he so often does in the majority of them, but when the higher grade opposition understands that he alone is your prime recourse, even 'Lewy' can be nullified. History has demonstrated this on numerous occasions at Bayern specifically but no club is immune if they are not built even handedly. Leroy Sané's acquisition would certainly alleviate pressure from Lewandowski, while building it heavier into the psyche of any opposition backline.




To be fair, neither Kingsley Coman or Serge Gnabry were trusted in those moments when available and performed without question. While the two struggled with varying injuries, Coman did show wonderful pace over the season, with great skill and innovation when available. Gnabry's increased assertiveness surprised the likes of club president Uli Hoeness, with play surpassing expectations moving towards the 2019-20 campaign. Greater consistency this season from those two could create a reversal of fortune for 'The Bavarians', from famine to feast on the wings, especially with Sané's transfer.

Bayern's campaign became offensively stagnant despite the teams eventual bullying of Borussia Dortmund; Robert Lewandowski's ability to continuously dominate domestically would assure this. Highlighted by the 5-0 thrashing of Dortmund in early April to reassert Bayern atop the Bundesliga table, they would finish the year in this position for their seventh consecutive Bundesliga title. They would fare less favorably in Europe, suffering elimination in the Champions League round of 16 with little trouble by the eventual champions, Liverpool.

With such expansive injury histories for both Kingsley Coman and Serge Gnabry, 23 and 24 respectively, Bayern could turn even younger for solutions out wide. 18-year-old Canadian winger Alphonso Davies is the club's future as well, but asking him to shoulder such a burden is irresponsible for his development at a club with the resources of Bayern München. His ability at such a young age suggests a ceiling as high as the education at Bayern can design. As Davies matures and Coman and Gnabry look to enjoy full campaigns, 23-year-old Manchester City winger Leroy Sané serves as a perfect insurance policy for Bayern's European volition.


A price worth paying
While quality, healthy wingers beneath Arjen Robben and Franck Ribery started and ended with Kingsley Coman and Serge Gnabry, Manchester City suffers from a dearth of talent out wide. Between Raheem Sterling, Bernardo Silva and Riyad Mahrez, Leroy Sané felt himself squeezed for playing time last campaign. His apparent displeasure at this has caused him some concern over if his future remains in Manchester. While the club, Pep Guardiola among them, outwardly signal their desire for Sané to remain, Bayern München certainly took notice all the same.

The most powerful and successful German club in the world would of course serve as a very attractive recourse for Leroy Sané. The German National would be able to continue his career in his native land, with no diminish in prestige or wages. That Bayern München is an icon in Europe and around the globe further outlines why Man City is accordingly nervous about the prospect of losing Sané to 'Die Roten'.

As this rumor has ebbed and flowed since the seasons end, it has slowly lost conversatory significance; a boy who cried wolf scenario of sorts. Pep Guardiola has reiterated on multiple occasions his desire for Leroy Sané to stay, but never has he pleaded with the player in public or otherwise (to our knowledge). He has said that Sané has not requested a transfer, but that did not stop Man City from slapping him with a price tag anyway.

According to reports from England, Sané has been valued at €150 million – a fee that would make him the world's third most expensive transfer behind only Mbappé and Neymar. With wages, ancillary fees and potential bonuses, it could swell to an estimated €200 million, according to Bild; at only 23-years-old, with all of the potential of any young player in the world today, Sanè's cost is by no means unreasonable.

What you are really investing in with €150 million if you are Bayern München is continuity. Leroy Sané's injury history is far less blighted than either Kingsley Coman or Serge Gnabry, and his time under Pep Guardiola would leave him competent in any shape or style of football. Bayern boss Nico Kovac's desired 4-3-3 would be an easy transition for Sané, while even in Bayern's famous 4-2-3-1 he'd find himself wide of Robert Lewandowski.

This dependability, alongside production and youth make this transfer a no-brainer if indeed Leroy Sané is as serious as Bayern München should be. Robert Lewandowski cannot win Bayern a Champions League title by himself at this age, anymore than he could as a younger striker. The pressure that Sané would take off of the likes of Lewy, Coman, Gnabry, Davies, the newly reconstituted backline and veteran presence Manuel Neuer would appear to make the entire team better and more fluid.

An investment of €150 million for Leroy Sané now by Bayern München appreciates in various facets; the teams quality, the players increasing production, and his stature amongst his international offensive peers over the succeeding contract, all play a part in this. While obviously expensive and difficult for Bayern to muster with the high price centre-back acquisitions, it maintains the club as a viable, tangible threat in European competition for the foreseeable future as they continue stacking talent and depth. For Bayern, the availability of Leroy Sanè affects the entire team's future moving forward, a pivotal moment in the clubs modern history; €150 million seems a small price to pay for this.



Related stories