10 things you may not know about Serge Gnabry
By Rune Gjerulff @runegjerulff
Here are 10 things you may not know about Bayern München's Serge Gnabry.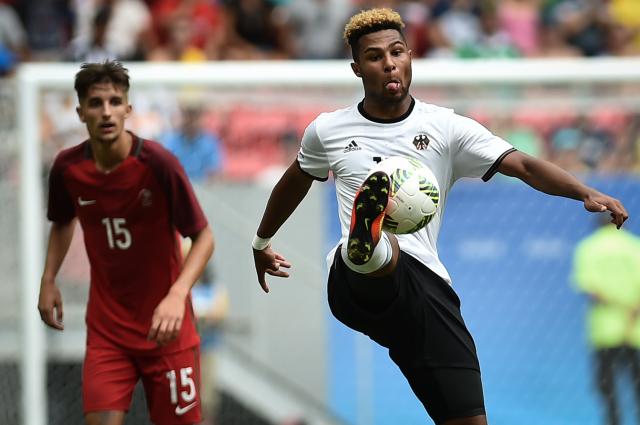 | | |
| --- | --- |
| Serge Gnabry playing for Germany at the Olympics in 2016. | Photo: Andre Borges/Agência Brasília/CC-by-SA 2.0 |
1. Grew up in Stuttgart - and looked up to Özil
Gnabry was born in Stuttgart on the 14th of July 1995 to a German mother and an Ivorian father. He played for local youth sides until he joined VfB Stuttgart at the age of 12. Gnabry has revealed he looked up to Mesut Özil as a kid, and at the age of 10 he got a picture taken with the German international who would later become his teammate at Arsenal.


"It's a funny story. He was involved in a tournament near my hometown when I was about 10. He was the best player at the tournament and I got a picture with him back then. But you better not ask him about it - otherwise he'll be too happy," Gnabry has said according to Bundesliga.com.

2. Snapped up by Arsenal
He never made his professional debut for VfB Stuttgart, though. In 2010, Stuttgart agreed to sell Gnabry to Arsenal for €113.000, but he had to wait until 2016, when he turned 16, to join the London side.

3. Chose football over athletics
Gnabry was a very talented sprinter and competed at various athletics meetings in Germany. Ultimately, he had to choose to focus on his football career. "I never lost a race, but it came to a point where I had to make a choice between athletics and football," he once told Arsenal's website.

4. Young debutant
Gnabry made his debut for Arsenal at the age of 17 years, two months and 12 days in a League Cup match against Coventry City on the 26th of September 2012. On the 20th of October, he became the second youngest player to ever feature for Arsenal in the Premier League when he was sent on the pitch against Norwich City. Gnabry went on to play nine league matches for Arsenal during the 2013/14 season.

5. His progress was hampered by a knee injury
After sustaining a serious knee injury, Gnabry missed most of the 2014/15 season. Before the 2015/16 season, the young winger was loaned out to West Bromwich, but he was recalled in January after just appearing one time for 'The Baggies'. He spent the rest of the season playing for Arsenal's under-21 side.


6. Topscorer at the Olympics
After his difficult 2015/16 season, Gnabry was selected for Germany's Olympics squad in the summer of 2016. In Brazil, he helped Germany to win the silver medal and became the top scorer of the tournament with six goals in six matches.

7. Impressed at Bremen
After the Olympics, Arsenal manager Arsene Wenger said he wanted to keep Gnabry. However, Gnabry decided to join Werder Bremen for €5 million in the hunt for playing time. After a highly impressive season, in which he scored 11 goals in 27 matches, Gnabry was sold to Bayern München for €8 million and then sent on a season-long loan deal at Hoffenheim.

8. International success
Gnabry was called up for Germany's senior national team for the first time in November 2016. He bagged a hattrick in his debut when Germany beat San Marino 8-0. In the summer of 2017, he was part of the German U-21 team that won the European Under-21 Championship.

9. Versatile
Particularly during his time on loan at Hoffenheim, Gnabry showed his versatility as he performed well whether he played as a wing-back, on the wing or up top.

10. 'One of the best one-on-one players in the Bundesliga'
Gnabry has scored some extraordinary solo goals throughout his career. And according to Gnabry's former coach Julian Nagelsmann, the 23-year-old is among the Bundesliga's best players when it comes to taking opponents on.

"He is one of the best one-on-one players in the Bundesliga. And the ability to dribble often gets underrated in the Bundesliga," Nagelsmann told Bild last year.