Americans in the Bundesliga: 2019/20 Review and Grades
By Peter Weis @PeterVicey
An exciting new Bundesliga campaign is only days away! Bulinews will serve as a home of weekly in-depth content concerning US Internationals playing in Germany's top flight. Before getting to the new season, we'll take a look back at the how Americans fared in the previous campaign.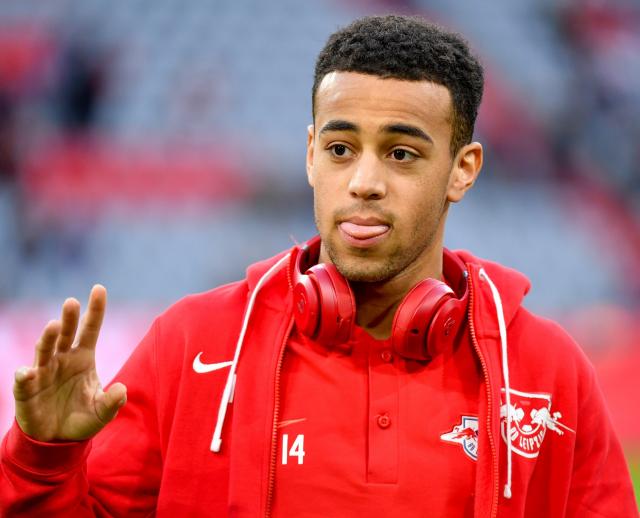 | | |
| --- | --- |
| Tyler Adams. | Photo: GEPA Pictures/Ulrich Gamel |
The Returning Cast

At a minimum, five American players should directly feature in the Bundesliga this season. All posses the potential to enthrall and excite. As we'll delve into deeper below, prospects for this quintet are, based on their performance this season, mostly positive.


Tyler Adams, Timothy Chandler, and John Anthony Brooks all have strong preceding seasons on which to build. Josh Sargent possesses enough natural talent to rebound. Giovanni Reyna might soon join the elite level of footballers.


---
Tyler Adams, RasenBallSport Leipzig
---


Matches played =  17/47, matches started = 14/47
Positions played = RB, RDM, CM, ADM

By all accounts, it turned out to be a spectacular comeback year for the 21-year-old New Yorker once groomed by former Leipzig assistant and current RB Salzburg head-coach Jesse Marsch. Adams missed eight months with a groin tear that kept him out of both the CONCACAF Gold Cup and almost the entire first-half of Leipzig's season.

Though he might have fared better had he not encountered additional injury problems, Adams' trajectory rarely deviated from a sharp upward curve. His skill on duels, technical confidence on the ball, and all-important broad field vision when watching plays developed was constantly on the up.


It served as quite the surprise not to see him score his first Bundesliga campaign as he found himself in fantastic form towards the end. The memorable decisive goal in the UEFA Champions League Quarterfinal match against Atletico Madrid didn't count as surprising at all. His excellent timing and field vision would eventually yield a tally.

One Look was all it Took

Adams suddenly appeared in Julian Nagelsmann's starting XI in the final Bundesliga fixture before the winter break. He initially lined up as the right fullback in a 3-4-3, moving inwards to a work as a six once Nagelsmann felt comfortable reformatting to his preferred 4-2-2-2. An interesting aspect of the in-game switch saw Diego Demme move back to the defensive ranks and Dayot Upamecano eventually taking over distributions.

Adams got as many as touches in the match, working serviceable well with Konrad Laimer in a double-six set up. In light of the fact that the American hadn't even made a single bench squad all season, one couldn't foresee that Nagelsmann would use the information gleaned from an apparent throwaway experiment.

Nevertheless, that's precisely what happened. The Leipzig sold Demme to Napoli in the transfer window, paving the way for Adams work as Laimer's partner in midfield and start every match. While Nagelsmann tinkered with his set-up a bit, Adams did start four consecutive fixtures until a new injury forced him to bow out after the 21st round.

A  Stellar Campaign Sidetracked

The injury incurred after the 21st round proved very ill-timed. Adams was handed the gargantuan task of marking Bayern's Alphonso Davies in the weekend fixture and did an extremely good job of holding his own. Adams missed out on a midweek UCL match against Tottenham Hotspur and wouldn't appear again until after the corona break

On the cusp of a goal

The New Yorker would steadily improve once play resumed, starting eight of the nine remaining fixtures. Nagelsmann did toggle his positioning somewhat, alternating him between starts and right back and in central midfield. He seemed to do significantly better in the former position, though his work on more forward axes were by no means disconcerting.

Adams' most complete performances can be found in the 27th, 30th, and 34th rounds. In the latter two, he was one of the best Leipzig players on the pitch in what were disappointing results for the team. Highly laudable aspects of his game included precise passing, a wonderful confident pace, and some slick ball tricks, particularly in regard to possession shielding.

Cumulative 2019/20 Grade = A>



As noted above, a debut Bundesliga goal was the only thing missing from this American's 2019/20. One conjectures that his present form surge should lead to one before too long. Adams, like virtually every other Leipzig player, deserves enormous credit for performing well under Nagelsmann's often highly nuanced tactics. If the New Yorker is as fit as he claims to be, he should have no problem opening his account quickly. RB's soft opening schedule should see them off to a cracking start.




---
Timothy Chandler, Eintracht Frankfurt
---


Matches played = 33/52, matches started = 17/52
Positions played = LW, RW, RB

The question as to which country claims Timothy Chandler at this point isn't totally irrelevant to this analysis. The 30-year-old enjoys immense popularity in Germany, even though all of his 26 international caps have come for the USMNT. Unlike other dual heritage players, however, the Frankfurt native never even played for one of Germany's youth squads.

For those needing a quick refresher, Chandler was once one of the targeted players sought out by Jürgen Klinsmann and Andi Herzog during their stint in charge of the US National team. Like many of the other players they aggressively scouted and recruited--John Anthony Brooks, Julian Green, Fabian Johnson, Jermaine Jones, and Danny Williams--he is the son of an African American Serviceman and German mother.

In contrast to those players, Chandler strongly identifies as German as even refused some USMNT call-ups. He has not featured for the US since 2016 and it remains unclear if he would even be interested in returning to the squad. In the final analysis, his inclusion seems merited based on the fact that his recent blistering form might earn him a call-up.

Moreover, Chandler's American heritage is undeniably one of the reasons German football fans remain so enamored with him. A player who literally embodies the post-war Transatlantic Partnership has always, and likely will always find favor among the German public.

Seeds of a Change

Chandler's career prospects appeared dead and buried when he returned to club following major knee surgery that kept him out of the entire 2018/19 campaign. When trainer did use during the first-half of the season, the intended role seemed to be a back-up left-winger for Filip Kostic.

In the closing weeks of 2019, Hütter began to use his homegrown veteran more often. Chandler started the final three fixtures before the winter break. He steadily migrated up from a right back position to a right-wing-back role, finally reaching a spot on the right wing in the 17th round. Hütter's machinations suggested something was afoot.

The Spectacular Goal Explosion

Literally no one could have anticipated what was to transpire next. Hütter refined his tactics over the break, switching his constellation to a traditional back-four with two collapsing midfielders ahead of a more stable defensive spine. Chandler became not only Kostic's axial partner, but a legitimate scoring target for the sixes.

During the 18th round Hoffenheim fixture, the American crept far into the box to deftly meet a Kostic cross and score his first Bundesliga goal in nearly two years. Two weeks later he headed home again, this time supplying a dramatic late equalizer in a 1-1 draw with Düsseldorf.

Before anyone had a chance to catch their breath, he snatched a brace in a 5-0 thrashing of Augsburg just five days later. Teammates showered him with praise. They jocularly compared him to Cristiano Ronaldo. The German press went berserk, wondering aloud what sort of magic elixir "Timmy" had been imbibing.

Cooling Down

Chandler would add one more tally before the season was out. He scored another sensational equalizer in a 28th round 3-3 draw with Freiburg. Otherwise, he featured in fewer and fewer matches. Hütter seemed to favor the form of another converted defender, Danny da Costa, on the right flank.

The American exhibited some noticeable form dips along the way. Apart from a serviceable performance in the SGE's Pokal elimination on June 12th, there were no more noteworthy matches down the stretch. He started only two of the final five fixtures, only coming on as a late substitution in the other three.

Cumulative 2019/20 Grade = A-

The hustle and heart displayed by Chandler in his own comeback season was simply terrific. His transition to an attacking player so late in his career mirrored that of his U.S. compatriot Fabian Johnson. While matters might have fizzled a bit at the end, the crucial role he played in assisting an exhausted squad that for a while featured in the relegation race earns him top marks. Recent transfer market angling would appear to suggest that Chandler will see less playing time this season, but it should be emphasized that Chandler qualifies as X-factor who can easily defy expectations.


---
John Anthony Brooks, VfL Wolfsburg
---


Matches played = 31/46, matches started = 31/46
Positions played = CB

A third U.S. international celebrated a comeback season of sorts. Ill-timed Injuries have persistently hampered both the USMNT and Bundesliga career of Berlin born center back John Anthony Brooks. It's not an exaggeration to say that, had injuries not all too frequently obstructed his path over the past three years, Brooks might have been a €50 million defender. His raw skill set remains very impressive.

A much higher potential aside, Brooks entered the season having quietly matured into one of the Bundesliga's better central defenders. His knack for winning aerial duels and punting powerful headers away rendered him an important asset to Bruno Labbadia during his time at Wolfsburg.

Regrettably, the injury bug struck once again.

Early Season Benching

USMNT head-coach Gregg Berhalter called Brooks back up to the national team in September. The American nevertheless missed out on his chance to earn his first cap in three years because of a hip-flexor injury. That very same sprain kept him sidelined at Wolfsburg for three weeks.

When Brooks returned to the XI in late October, new VfL manager Oliver Glasner publicly lambasted him after he made amateurish defensive errors in three consecutive matches. Glasner benched Brooks in favor of a center back pairing of Robin Knoche and Marcel Tisserand.

Back into the Lineup

Shifting circumstances led to a quick reversal of this dust-up. Glasner noted that Brooks accepted the demotion maturely and put in his work on the training pitch to earn back his place. After returning from international duty in the States during the November break, Brooks was gifted an opportunity, courtesy of a Tisserand suspension, to get back on the pitch.

The benching ended up lasting less than three weeks. Exceptionally strong performances between the 12th and 15th rounds catapulted the American above Knoche on the depth chart. Brooks benefitted immensely from a brief center back partnership with Tisserand and finished the first half of the season as arguably the best American in the Bundesliga.

The Odd Road to a New Partnership

Glasner still went shopping for an upgrade at the position in the January transfer market. He found one in an €11 million splurge for RB Salzburg center halve Marin Pongracic. Glasner attempted to fit the 22-year-old Croatian into a back-three behind his former teammate Xaver Schalger and also paired him with Knoche.

Brooks sat through all of this experimentation, returning to the lineup when a nasty foul ended up earning Pongracic a three-game suspension in the 21st round. Glasner, perhaps shocked by his new acquisition's dirty play and subsequent unapologetic demeanor, didn't use Pongracic until after the COVID break. Brooks paired with a multitude of partners.

When football returned after its two-month hiatus, Pongracic and Brooks were paired together for the 26th round. They would partner for the remaining nine fixtures. The two experiences their fair share of wobbles, but the duo demonstrated some solid communication and coordination down the stretch.

Cumulative 2019/20 Grade = B+

Very little is certain at Wolfsburg heading into the new season. When considering how Brooks' capably finished the last campaign, however, one should lend little credence to the transfer rumors surrounding him. As all football watchers know, a solid center back pairing isn't something that any club wishes to unnecessarily dispose of.

The manner in which Pongracic and Brooks improved over the course of the final fixtures very much counts as a substantial development. It's difficult to see Glasner disrupting that without at least testing whether it still holds. Furthermore, Brooks demonstrated his skills as both a adept set-piece taker and target in the preceding season. Those are the essential tools he still possesses and the reason he'll likely still get USMNT call-ups.


---
Giovanni Reyna, Borussia Dortmund
---


Matches played = 18/45, matches started = 3/45
Positions played = CM, LS, CF

The 2019/20 file on perhaps the most eagerly anticipated performer of the 2020/21 campaign stands perhaps thinner than some might expect. While most agree that Gio Reyna prepares to write some noteworthy pages, one mustn't forget that his story is still yet to be written.

Reyna's magnificent goal in the third DFB-Pokal round left everyone spellbound. His work as a second-half sub in the 21st round was nothing short of amazing. His first start, in the season's penultimate fixture, was first-rate.

Apart from these instances, one must note that the bulk of Reyna's work came in the form of late substitutions. Trainer Lucien Favre used him in all but one of the 17 fixtures in the second half. Of these, football watchers may find only four or five were gradable deployments.

Breakthrough in Winter Training Camp 

Reyna moved through the Dortmund ranks at warp speed. The club even called up the then 16-year-old Reyna for use in their Champions' League squad last September. Before the Winterpause concluded, scouts and journalists attending the BVB camp in Marbella Spain reported that he was suddenly on the verge of a big leap forward.

Favre brought his phenom on as a sub in eight consecutive matches spanning from the January restart to the COVID lockdown. Some controversy did accompany his performances. It was clear enough that opposing players made the youngster into a target for hard tackles. In some cases it looked like the tyro went to ground too easily. Such was the case in the above-mentioned Pokal round, during which he was booked for simulation.

Into the starting XI

Favre intended to start Reyna in the first match back from the Corona-intermission. A last-minute minute injury forced him to withdraw from the lineup moments prior to the 26th round kickoff. Bundesliga observers had to wait until a 33rd round fixture against RB Leipzig to see how he would fare.

In that fixture, he would line up alongside Erling Haaland and Thorgan Hazard in a very spacious attack-minded 3-4-3. The trio executed their striking axis rotations brilliantly; as if they had been playing together for years. Reyna in particular showed a marvelous propensity to execute fluid give-and-gos from diverse positions.

With an extraordinary touch forward, the American initiated a forward sequence from the back. He then moved up to supply the assist on Haaland's opening 30th minute goal. Reyna would start again in the season's final fixture. Like every other BVB player on the pitch that day, he was rubbish in a shock 0-4 defeat to Hoffenheim.

Cumulative 2019/20 Grade = B

One could make the case that the blatant targeting of Reyna by opposing players left the youngster in an unfair position. It can be very hard for a youth star to adjust to the many deliberate, and in some cases flagrantly cheap, clog tackles that veterans sometimes use as an abject having ritual. In the final analysis, Reyna's grade doesn't take his perceived dives into account. The youngster misses out on top marks as some of his touches and finishing attempts were a little unpolished. One expects improvement on that front.


---
Josh Sargent, SV Werder Bremen
---


Matches played = 34/40, matches started = 19/40
Positions played = LS, LW, RW

One certainly doesn't wish to be too hard on a young teenager obviously working very hard to improve his came. In one sense, Missouri's Josh Sargent had a statistically successful year. He found the back of the net for his club four times and tallied for his country a further three. Those appear solid numbers.

A look at the overall picture, however, yields a very different story. Sargent can and likely should view the 2019/20 campaign as a missed opportunity. Given repeated chances to solidify his presence in Florian Kohfeldt's starting XI, Sargent floundered when it mattered most.

Werder's season of never-ending injuries meant that Sargent had more than ample enough opportunities to ingratiate himself. Somehow, he couldn't find the right level of play to seal the deal. It's not entirely common to see a striker receive so many cracks at a spot in a single year.

On a more hopeful note, it remains the case that further opportunities will invariably find him again.

Early Glimmer, Early Problems

The wonder goal against Augsburg in the third round got everyone talking. It truly was a superbly controlled touch and finish. Some commentators began likening him to Werder legend Claudio Pizzaro and implied that he might serve as the Italian's natural successor. Sargent would score again in the 7th round, though this tally came off a less aesthetically pleasing deflection.

In between the goal-scoring games, one could tell that the Missourian struggled with certain fundamentals. Suspect positioning, heavy touches, and tendency to have difficulty catching up with the attack were noticeable. His performance on aerial duels and ground challenges left something to be desired.

Injuries to Niclas Füllkrug, Yuya Osako, and Fin Bartels gave him a string of starts between the 5th and 9th round, but Kohfeldt wasn't sufficiently impressed to retain him once some other options became available. An injury incurred as a sub in the 13th round would rule him out for the rest of 2019.

A Loss of Confidence 

Sargent's performance in the 18th and 19th rounds were especially poor. Kohfeldt attempted to buttress him through the use of Milot Rashica as a short-striker, but the aloof American didn't seem willing to summon even a basic impetus forward in several notable instances. Such body language is usually indicative of either a lingering injury or a total lack of direction from one's trainer.

One cannot presume to know the reasons, but Sargent seemed mentally blocked and absent-minded. Kohfeldt showed no hesitation in pulling him for the newly acquired Davie Selke and recently promoted youth prospect Nick Woltemade. The Missourian would not get another shot at the starting XI until the 25th round.

Slight recovery Towards the End

An early tally in the 25th round fixture against Hertha BSC pushed Sargent's total number of goals for the season to three. Unfortunately, he wasn't able to build on that early momentum for the remaining 86 minutes of the match. He once again looked lost. Much of humanity would soon find themselves feeling lost as this was the final round completed before the global lockdown.

Mixed performances over the course of the final nine fixtures. Selke turned out to be something of a flop, gifting Sargent still more opportunities to earn his place. He played a serviceable match in a 28th round 0-0 draw with Gladbach and finally got involved with the offense with two assists in the 31st round 5-1 rout of Paderborn.

The American would quite literally finish the season on the highest possible note. On as a substitute in the final match against Köln, he scored the sixth and final goal with a lovely chipped over finish. In the post-season relegation playoffs against 1. FC Heidenheim, he looked considerably more confident starting alongside Rashica in the second leg.

Cumulative 2019/20 Grade = D+

If Sargent doesn't get as many opportunities this season as he did in the last, he'll have little choice but to look back at this season with deep regret. Though he showed flashes of brilliance and did sharpen his technical ability on the ball, 2019/20 could have been his year. Had he shown more poise and focus at the right time, his career, not to mention the team, would have benefitted greatly. Kohfeldt appears ready to give carte blanche to a player who still possesses very threatening physical tools. One hopes that this American can learn to use both his height and speed better in the coming year.


---
The Departing Actors


Three relevant Americans exit the Bundesliga this year; two via relegation and one on a transfer. It's also worth noting 2019/20 Campaign more or less marked the end-of-the line for Borussia Mönchengladbach's Fabian Johnson. New head coach Marco Rose could find no place for the Bundesliga veteran in his tactical constellation. The 31-year-old was released by the club at the end of the season and may retire.

Johnson's career counted as quite the story for both German and American football fans. The dual citizen made nearly 300 Bundesliga appearances in addition to his 57 international caps for the USMNT. His late career transition from a defender to an attacking midfielder was remarkable. A noteworthy storied chapter draws to a close.


---
Weston McKennie, FC Schalke 04
---


Matches played = 32/38, matches started = 27/38
Positions played = CB, CM, DM, LW, RW

Fans of the "Tractable Texan" will have to tune into the Serie A to watch him next season. McKennie's year-long loan to Italian giants Juventus Turin came as a shock for many, given what an important flexible cog he had proven in David Wagner's hectic 2019/20 campaign. Schalke's post-COVID financial meltdown surely played an crucial role in his unexpected offloading for a reported €4,5 million loan-fee.

While one can never be certain about the future, one expects that McKennie will eventually return to the Bundesliga. Schalke has him locked down on a six-year-contract. The 22-year-old has strong ties to Germany, having spent part of his youth in the Southwest American military sector. He enjoys popularity with the local fans and impressed many Germans last season with increasingly strong German-language media interviews. There was even some talk of assigning him the captain's armband last summer.

McKennie's year, along with his club's, was one of stressful expedience.

Bright Start and Pokal Assist

Even before the Schalke injuries began to mount, McKennie played much more of a defensive role for the Königsblauen than he typically does for Gregg Berhalter's USMNT. The Texan nevertheless found himself full of confidence after a strong 2019 CONCACAF Gold Cup and produced many quality offensive chances. His first seven Bundesliga fixtures were, overall, quite strong.

Form dips and a minor injury led to him being sidelined for much of October, but he returned late in the month to score a hat trick whilst on international duty in the CONCACAF Nations League. In Schalke's colors, he dazzled in the second round of the DFB-Pokal with some blistering runs. A ultra-fine set-up of Alessandro Schöpf heralded to all that he was once again fit and confident.

Center-Back Audition and Shoulder Separation

An injury to Salif Sané in the Bundesliga's 10th round forced Wagner's hand. Already low on options at the back, the Schalke coach moved McKennie back to the center-back position. Benjamin Stambouli's absences meant that the team also didn't have a central defender capable of running pivot. Hence, Wagner's ask of McKennie was doubly challenging. He had to both defend and work with keeper Alexander Nübel to build from the back.

While one could fairly say that the Texan did well enough in his initial audition, the deployment noticeably hurt his general game in subsequent rounds. Moved back up to central midfield against 1. FC Union in the 13th round, McKennie could make better use of his natural skills. A nasty fall and separated shoulder saw leave a 15th round fixture on a stretcher. Thanks to the fact that the injury took place just before the Winterpause, he would only miss three rounds.

Return to a Schizo-Structure

The American was already able to reclaim his starting XI role in the 20th round. One sensed that he might have been rushed a bit as form disappointed. Mostly, however, below-average-play related to what many will agree were some bizarrely inconsistent tactical arrangements from David Wagner. McKennie played all over the pitch, including as a center-half when it wasn't strictly necessary.

Following a brief form uptick in the 22nd round, McKennie would tank under a back-three that buried him far too deep for two rounds. Just when it appeared as if a prolonged slump beckoned, the Texan scored his first goal for the club since October 2018. Early on in the final round before the COVID-enforced lockdown, he cut inside to shake off three Hoffenheim defenders with exquisite drag touches and power home a scorching ranged effort.

Two More Goals from a Budding Leader

Schalke's slide continued after the two-month layoff. McKennie still managed to rise above the torpor. He rose to finish a Bastian Oczipka free kick with a sumptuous diving header in the 28th round, then supplied a similarly fine headed finish off a Schöpf set piece in the 32nd round. The Texan's confidence seemed augmented by the fact that he was actually the first Bundesliga player to don a "Black Lives Matter" armband; a brave move that might have initially earned him censure.

Other Bundesliga players followed his lead. The DFB sanctioned the form of protest that he took upon himself to introduce. Concerning performance matters on the pitch, McKennie finished the season strong.

Cumulative 2019/20 Grade = B+

The Texans's season total of three goals constituted a personal best for him. One can safely assume that he might have scored more had his team not been so depleted and his coach's tactical response so zany. Fixtures in which McKennie fared poorly included many of his center-back deployments along with Wagner's inept attempts to work him into an ineffective 4-4-2 rotating diamond. This American's maturation into a more offensive-minded player was, frustratingly enough, delayed. One hopes that he can continue this facet of his development in his year abroad.


---
Zack Steffen, Fortuna Düsseldorf
---


Matches played = 17/38, matches started = 17/38
Positions played = GK

A serious injury involving the patella tendon in his knee meant that America's #1 played only the first half of the season in Germany's top flight. Like Weston McKennie, the American backstop came to the league with previous connections to Germany. Steffen got his professional start playing for SC Freiburg II in the 2015/16 season.

Four years after one respected German coach, Christian Streich, opted to give the Pennsylvanian a shot, another decided to do the same. The wizened Friedhelm Funkel brought him in on loan from Man City to be the F95's regular net minder. In another unfortunate parallel with McKennie, he didn't exactly have the privilege of playing for a particularly good team.

Funkel's Chosen One

Steffen started all 17 league fixtures for Germany's fabled "punk rock team" in the first half of the season. Funkel rested him during the Pokal after, but otherwise stuck with him as his top choice between the sticks. There were some genuinely great performances early on, including an monster match against Gladbach in the fifth round and a stellar game against his old club Freiburg one week later. A 10th round clean sheet against FC Köln served as his peak.

The injury issue began to manifest itself in the 11th round and the American proceeding to dip noticeably in form thereafter. A five-goal nightmare against Borussia Dortmund in the 14th round was hardly his fault, though one could see that his ability to coordinate his defenders on set-pieces was slipping. Steffen recovered to make several acrobatic saves in what would prove his final fixture in a Flingeraner uniform. Most all of his play in the 17th round defeat of Union Berlin was highlight worthy.

A Literal Disappearance 

The New Year brought some very surprising news. Three weeks into January, Düsseldorf dismissed their long-time manager Funkel barely a month after they had signed him to a contract extension. Few anticipated that sack. For his part, Steffen actually left the club as well. The American returned to Manchester in order to rehab his knee with the medical team at his parent club.

For a fleeting moment in early March, he was healthy enough to start. By that time new coach Uwe Rösler liked the form of backup Florian Kastenmeier enough to rule out a switch back. Steffen re-aggravated his injury shortly thereafter and updates on his status were scarcely procurable. Kastenmeier was now the number one whether he could give it a go or not.

Cumulative 2019/20 Grade = B

Above average marks seem in order. Steffen met the challenges set before him remarkably well. Though there were plenty of mistakes, one could tell that he worked hard to ingratiate himself with his new teammates. When organizing the team for set-piece situations, the American clearly spoke to his colleagues in multiple languages, showing that he had worked hard on the pitch to get the communication aspect of his position down. It wouldn't count as surprising at all to see another Bundesliga club collect him on loan in the near future.


---
Alfredo Morales, Fortuna Düsseldorf
---


Matches played = 31/38, matches started = 22/38
Positions played = DM, ADM, RW, LW, CM, ST

Fortuna's relegation means that Alfredo Morales exits the Bundesliga. That doesn't necessarily mean that that he has exited USMNT head coach Gregg Berhalter's good graces. Following a glitzy goal in the 2019/20 Bundesliga's second round and some overall gutsy performances in the midfield trenches, Berhalter called the 30-year-old back up to the national team after a three-year hiatus.

The Berliner actually played atrociously in the ensuing friendly against Mexico last September. Morales got completely dusted by Hirving Lozano on the goal that sealed the US's humbling fate. Berhalter ignored the poor debut and called him back for the CONCACAF Nations League in October and November.

Morales' had another one of his highly intriguing seasons. This American, son of an American serviceman of Peruvian descent and a German mother, remains a very useful midfield utility piece. Both of his trainers this season used him all over the midfield axes, depending on the situation. As is typically the case with Morales, he supplied a mixed spate of brilliant passionate play with wince-inducing bookings.

Funkel's Favorite Chess Piece

The nuance of precisely how Morales can be used well is perhaps best exemplified by how Funkel used him in the 13th round against TSG 1889 Hoffenheim. The Berliner began the match on the left attacking flank. This served as something a deceptive role. Most of his thirty touches were rearward towards an insulating midfield diamond. He moved the the right defensive midfield position after a halftime substitution, then moved up to take turns with Rouwen Hennings on the forward right wing.

Morales and Hennings eventually combined for a late equalizer. Other instances in which Funkel successfully maneuvered his American around the pitch included the 10th, 11th, and 17th round. Unfortunately, this American still produced his fair share of suspect play over the season's first half. His usual disciplinary issues also cropped up as he was unable to go more than three matches without a booking

Adjusting to a 4-4-2 Spread 

New head coach Uwe Rösler made no secret of his desire to implement a pacey 4-4-2 featuring wide wingers and a defined sweeper. For a time it appeared that Morales had no place in this English-style import Rösler wished to bring over from his days in the EFL. A lingering thigh injury also affected his ability to start between the 23rd and 26th rounds.

Rösler ultimately got him integrated tucked in behind Hennings on the right. His best work in the role that Funkel also found best suited him came in the 22nd and 27th rounds. Though Rösler clearly preferred to have him in the lineup, more injury woes kept him from seeing much playing time for the duration of the season.

Cumulative 2019/20 Grade = C-

Fans of Morales can still catch him every week in Germany's second division. Morales did truly sparkle as a full throttle striker in the latter stages of Fortuna's 120-minute thrill ride against FC Saarbrücken in the DFB-Pokal. His tireless charge in the losing effort illustrated what a passionate player he is and how solid he can be when he's focused. Rösler will definitely have much use for him yet and Berhalter can always use a flexible midfielder.



Related stories