Immobile on Lazio victory:
"This one leaves me with an incredible aftertaste"
By Peter Weis @PeterVicey
The Italian superstar striker has scored an incredible 109 goals since returning to the Serie A four years ago. Of his failed stint in Germany, Ciro Immobile once denounced Dortmund's culture and famously quipped that none of his teammates invited him out to dinner.

The 30-year-old Lazio Rom forward struck a more subdued tone in front of the cameras after his side's 3-1 win over Dortmund on Tuesday.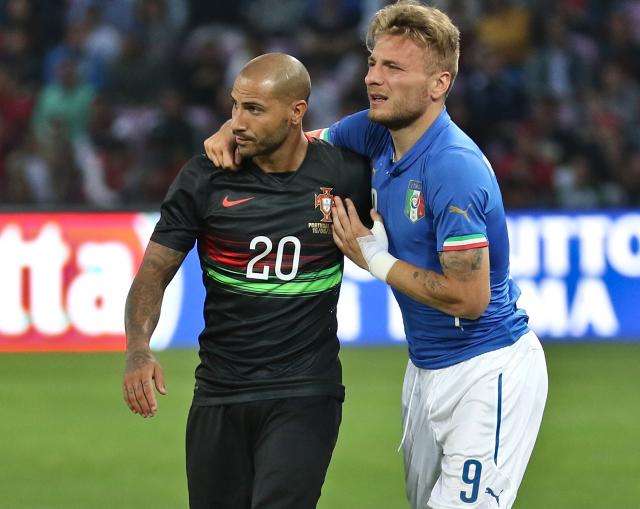 | | |
| --- | --- |
| Ricardo Quaresma and Ciro Immobile. | Photo: Clément Bucco-Lechat, CC BY-SA 3.0 |
The press definitely wanted something. Such a story essentially wrote itself. Ciro Immobnile's revenge over the club for which he arguably played his poorest season, scoring only three league goals in a Schwarzgelben tricot during the 2014/15 campaign.


Would he supply some quotes on par with Luca Toni's jabs or Giovanni Trappatoni's epic Bayern rant? This Italian politely declined the invitation to provide a deranged diatribe.

"I've always said that I moved to Dortmund at the wrong time in my career," Immobile told the cameras after the match, "I don't want to gainsay the critics. I know when I deserve praise and when I deserve criticism."

Despite the fact that he passed on the opportunity to supply a retaliatory quote, the one-time Dortmund dud certainly made a big statement on the pitch. His electrifying play suggested that revenge was on his mind, if not on his lips.

Speaking to Sky Sports Italia, Immobile let a subtle dig slip. "It was an incredible feeling," he beamingly told the broadcaster, "this one leaves me with an incredible aftertaste."

An 6th minute ice-veined finish from Immobile essentially put the match beyond Dortmund as they were never truly capable of overcoming the early blow.


The man of the evening will get another chance to turn the screws on his former team when Lazio travel to Nordrhein-Westfalen for a critical round five UCL encounter that the BVB now absolutely must win on December 2nd.




More about the match
More about the teams
More about Ciro Immobile