Analysis of Borussia Dortmund's Champions League Group
By Adam Khan @XxAdamKhanxX
Ahead of Borussia Dortmund's Champions League opener, we take a look at the three sides they will face in the group stage, analysing their strengths, weaknesses, key player and where they will finish in Group F.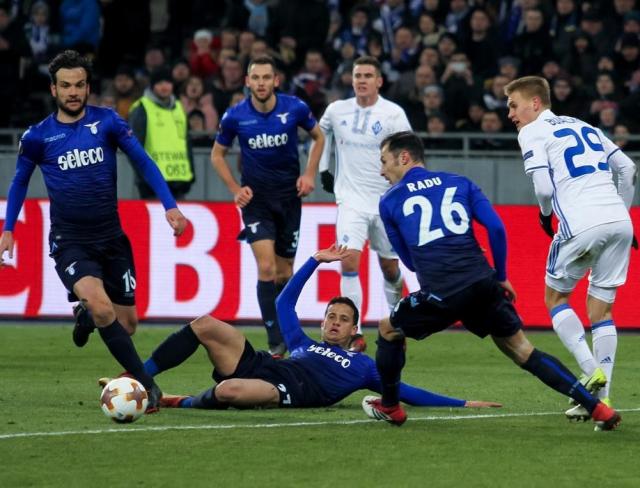 | | |
| --- | --- |
| Lazio are among Dortmund's opponents in Group F. | Photo: Олег Батрак, Football.ua, CC BY-SA 3.0 |
Now in their 9th group stage appearance in the last 10 years, Dortmund have become a mainstay in Europe's elite competition. Although European nights have become commonplace at the Westfalenstadion, success hasn't, with Dortmund's last European silverware coming in the 96/97 season. Having been unable to pass the first round of knockout matches in the last 3 seasons, BVB will be gunning for first place in Group F to secure a theoretically easier round of 16 draw.


Group F features Zenit St. Petersburg, Lazio and Club Brugge, all sides that are on paper inferior to Die Schwarzgelben, yet are exactly the type of team Dortmund are known to stumble against. If Favre wants to win silverware and not just be regarded as a coach who was able to periodically get elite performances out of his side, coming out on top of Group F will go a long way to showing that Dortmund mean business this season.

In order for our readers to get a better understanding of Dortmund's upcoming opponents, we have put together a profile of each club they will face. We look at their strengths & weaknesses, and if they are able to dash Dortmund's hopes of European glory or are just the warm up matches for a BVB side destined for the knockout stages.

Lazio (Italy)
Matchday 1 10/20/2020 (H) VS BVB
Matchday 5 12/02/2020 (A) VS BVB

Strengths:
After an impressive Serie A season in which they finished just 5 points off champions Juventus, Lazio are back in the Champions League for the first time since 2008. Headed by Italian international Ciro Immobile, Lazio will be looking to bring their tantalizing form from pre-lockdown into the Champions League group stage, where they will fancy their chances in a winnable group.

Immobile is of course the place to start when talking about Lazio, with the 30-year old at the peak of his powers last season, equaling the single season Serie A record of 36 goals in his 37 appearances. Although 14 of his tally came from the penalties, Immobile's coolness in front of goal and constant movement in attacking channels were major reasons why Lazio were the pace setters in the Italian title race for so long.


Lazio's attacking talent doesn't end with Immobile, with Simone Inzaghi's decision to drop Luis Alberto deeper in the midfield working wonders on the Spaniard's career. With 15 assists, Luis Alberto was second only to Papu Gómez in the Serie A assist charts last sesason. Whereas in the 2018/19 season Alberto was often playing directly behind Immobile, last season the Spaniard excelled as a deeper 8, with more time in possession and the ability to control the pace of the game. This also allowed Milinkovic-Savic to play higher up the pitch, with his 1.91m height and ability to score from outside the box making him a more suitable choice directly behind Immobile.

With legendary Italian striker Simone Inzaghi at the helm, it is understandable that the offensive side of Lazio's game would be their strength. However, the 44-year-old manager has been able to rely on a well drilled defense for much of the last campaign, to secure vital points throughout their run to fourth place in Serie A.

In their favored 3-5-2, Lazio conceded only 42 goals all season, second only to Antonio Conte's Inter. With a combination of athleticism, technical ability and natural Italian leadership, Lazio's defense is reliable out of possession as well as the catalyst for their attacking game in possession.

Weaknesses:
Lazio's main weakness is the drastic loss of form that they have encountered over the last few months. Going into post-lockdown football, Lazio were just a point off top spot, with more goals and less conceded then Juventus.

However, after suffering 4 defeats in their opening 7 fixtures, hopes of a first Scuddeto since the 1973/74 season soon vanished. In the 11 matches post-lockdown, Lazio picked up just 16 of a possible 33 points, suffering 5 defeats after just 2 in their previous 26 matches. This form has continued into this season, with Lazio currently sitting in 15th with just 4 points after 4 matchdays.

Although adjusting to post pandemic conditions could be partially to blame, the condensed schedule showcased Lazio's lack of depth in the side. A slight decrease in Immobile's output turned Lazio's form from title aspirants to mid table mediocrity. This lack of quality in Lazio's reserves means that key players will have to once again bear much of the attacking burden, and one injury or drop in form could see the stack of cards come tumbling down.

Key Player: Ciro Immobile
Immobile is in the form of his life, scoring at a rate of almost a goal a game last season. Although Immobile's value lies in his coolness in front of goal, the Italian center forward can offer much more to Lazio's game, with his ceaseless runs in the channel always keeping opposition centre-backs on their toes as well as his 8 assists showing his eye for a teammate in crucial situations.

Directly in the first fixture against Dortmund, Immobile will feel he has a point to prove. Up against his former employer, Italy's number 17 will be hoping to recapture his form from last season and show his tremendous development since his turbulent year at BVB.

Verdict: Second Place
Although recent performances sees Lazio far from the form that propelled them into Europe, Inzaghi's side should have enough in their squad to make it through what is a relatively easy Champions League draw. With winnable fixtures in Group F, Lazio's attacking talent should offer Rome with Champions League round of 16 football in 2021.

Zenit St. Petersburg (Russia)
Matchday 2 10/28/2020 (A) VS BVB
Matchday 6 12/08/2020 (H) VS BVB

Strengths:
Zenit St. Petersburg are challenging in their 8th Champions League group stage this season, with the Russian league and cup winners looking to progress out of their group for the first time since the 15/16 season.

After a barren spell of 3 years without a league title, Zenit have now won the Russian Premier league in back-to-back seasons and after 11 matchdays once again sit in first place. Although the level across the whole Russian top flight is far from convincing, winning the division with a 15 point margin last season is no mean feat.

This convincing victory was largely down to Zenit's stalwart defense, which conceded just 17 goals across 30 games. Although a key figure in Branislav Ivanovic has now left the club, the signing of Dejan Lovren has brought a similar amount of European pedigree and experience into the Russian's backline this campaign and is a major reason why Zenit have only conceded 7 goals after 11 matchdays.

Going forward Zenit rely on their powerhouse partnership of Artyom Dzyuba and Sardar Azmoun. With Dzyuba standing at 1.96m and Azmoun at 1.86, aerial dominance is key to the capital clubs' success. This ability is further showcased throughout the Zenit squad, with the Russian side scored 9 goals from set pieces and conceded only 2 (most scored & least conceded in the Russian Premier League last season).

Having a strong structure defensively and the ability to use set pieces effectively is an undervalued aspect in a side coming into the Champions League as a clear outsider. Although attacking football is always more enjoyable on the eye, the Champions League has proven to chew up sides who come in believing they can pull out the same attractive style that works against weaker sides in their domestic league. This will not be a worry for Zenit, who are perfectly content keeping a tight defensive unit, and looking for set pieces and route one football to get the better of a more talented opponent.

Weaknesses:
Although having a game plan that relies on set pieces and defensive solidity is a respectable tactic when up against teams with the talent on show in Europe's elite competition, it can be extremely physically taxing. Zenit spend a lot of time out of possession, with Sergei Semak's side spending only 57.4% of the game with the ball at their feet. This is exceedingly low when you think of the level of some opponents they face in the Russian Premier League and the defensive tactics used by sides further down the table. Against opponents like Dortmund and Lazio, playing such a defensive game can leave Zenit exposed in the later stages of matches when legs tire from the long spells out of possession.

Their game going forward is far from exceptional, not just through their lack of a midfield that can dominate in possession, but also through the sub optimal goal threat coming from their wingers. All 4 of their wingers have scored just one goal this season, in a joint 34 appearances. Particularly Brazilian talent Malcom has yet to produce the performances that the €40.00m price tag for him mandates, and an improvement in his form could leave a noticeable boost in Zenit's chances of progressing to the round of 16.

Key Player: Malcom
Although currently without performances mandating the status of MVP, if Malcom is able to fulfill his promise that he showed at Bordeaux, he could be the game changing factor that Zenit need. Far more than just the ability to score crucial goals, Malcom at his best would be able to offer Zenit an outlet under pressure and win numerous set pieces high up the field for their forwards and centerbacks to capitalize on.

Verdict: Fourth Place
In a group with two clear favorites, Zenit along with Club Brugge will be battling it out for third place. Although Zenit's defensive solidity could give them the edge, the dominant midfield and pace upfront for the Belgian Champions could be the perfect antidote to Zenit's physically strong, but aging center halves. It is truly a flip of the coin for third place in group F, but we narrowly think the Belgians have enough to come out on top.

Club Brugge (Belgium)
Matchday 3 11/04/2020 (H) VS BVB
Matchday 4 11/24/2020 (A) VS BVB

Strengths:
Club Brugge swept the Jupiler Pro League in the shortened 19/20 season, winning their 16th title with a 15 point margin, scoring the most goals and conceding the least of any side. Although domestically one of the most successful teams in Belgium, the Blauw-Zwart have yet to turn their domestic dominance into success on the European stage, having failed to progress past the CL group stages in 7 previous attempts. Under manager Philippe Clement, the Belgian's are looking to change the tides of history and progress through Group F into their first Champions League knockout stage.

Manager Clement will be a huge reason for any success Club Brugge may have, with the 46-year-old Belgian manager instrumental in Brugge's success. Snatched up from KRC Genk after he won the title with them in 2018/19, Clement's tactical flexibility and modern footballing principles are a major factor in Brugge's success last season.

The tactical flexibility of the Belgian manager was clear in Brugge's fixtures last season, with the champions lining up in 8 different formations across the 30 matchdays. This show that the Belgian side features a squad of players capable of adapting to various tactical responsibilities and positions, able to change from game to game depending on the opponents strengths and weaknesses.

Clement has a desire to play direct attacking football at Brugge. The Belgian champions push high up the field out of possession, looking to pin the opposition into their own half and force turnovers high up the pitch. This allows them to win the ball when already in dangerous positions and within one or two passes get an opportunity on goal. This style is supported by two central midfielders in Hans Vanaken and Ruud Vormer, who are both adept at unleashing Brugge's quick forwards into dangerous goal scoring positions with a ball through the unorganized opposition defense.

If the Brugge press is broken they are able to fall back into a compact defensive shape quickly, with their defensive midfielder dropping between the two center backs to form a back 5 against the ball. This trait will be especially important against better opposition who are technically proficient enough to beat Brugge's press. The ability to transition quickly from a high press into a defensive block means Clement will not be putting all his eggs in one basket, and his side will be capable of salvaging situations where the offensive press is beaten and the opposition has numerical advantages running at Simon Mignolet's goal.

Weaknesses:
Brugge create a lot of high quality chances with their vertical play into their pacy attackers. However, they lack a ruthless striker on the end of these chances who is capable of putting away each high caliber opportunity that the Belgian side creates. Brugge's highest scoring attacker last season was Nigerian David Okereke, with just 9 goals in 22 games. Against tighter defenses where opportunities will be rarer, the lack of a ruthless forward could be Club Brugge's downfall.

Another aspect that could undue Brugge is their reliance on Hans Vanaken and Ruud Vormer in attacking phases. Both players have an almost psychic understanding of one anothers game, having played for the better part of 5 years side by side in Brugge's midfield. This ability is on full display when Brugge has the ball, with both of them central to any quality production coming from the Belgian outfit in controlled possession phases.

However, out of possession neither one is adept at screening the back line or putting in a crunching tackle. This requires the defensive midfielder, either Eder Balenta or Mats Rits, to cover an immense amount of ground against the ball. Although this has worked domestically, against the higher grade of opposition that they will face in Europe, it is unclear if either defensive midfielder is capable of such a large role against some of the best midfielders in the world.

Key Player: Ruud Vormer
Club captain and integral cornerstone of the Belgian's attacking game, the 32-year old Dutch midfielder has been the difference maker in Brugge for the past 5 seasons. Although not the most physical midfielder, Vormer's passing is able to set the pace of the game for the champions as well as unleash their quick attackers which is where most of the Belgian's goals come from.

With a league high 14 assists in 27 matches in the Jupiler Pro League last campaign, Philippe Clement will be hoping his Dutch midfielder can transfer his domestic form into the Champions League group stages, giving Club Brugge's attackers the platform to excel this season.

Verdict: Third Place
Club Brügge finished in third place last season, in a tough group that featured PSG, Real Madrid and Galatasary. This year, the Belgians will once again be fancying their chances of playing European football in 2021, with a minimum goal of third place and Europa League knockout football in their sights. With their quick forwards and central midfield pairing of Vormer and Vanaken, the Belgian Champions should have enough in store to reach this target once again.


If you enjoyed this group stage analysis, feel free to check out our articles about Group A, Group B and Group H and follow Adam Khan on Twitter for more articles of a similar nature.



Related stories