One player from each Bundesliga club who could leave in January
By Adam Khan @XxAdamKhanxX
With the winter transfer window just around the corner, we have found one player from each Bundesliga club who could be on the move in January.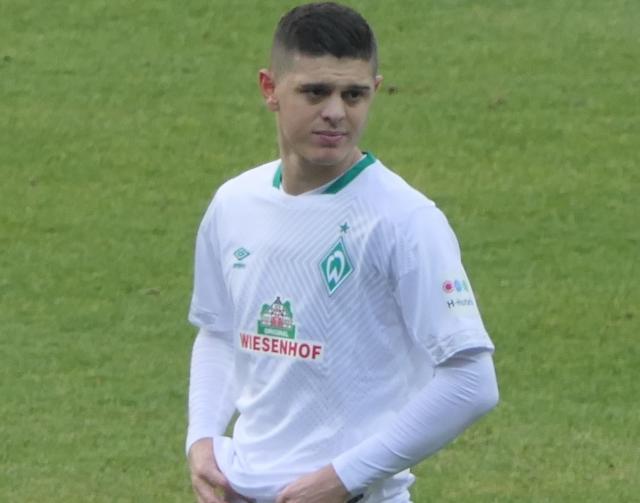 | | |
| --- | --- |
| Milot Rashica has been heavily linked with a move away from Werder Bremen. | Photo: Silesia711/CC-by-SA 4.0 |
With the Euros, Copa America, and Concacaf Gold Cup all planned for this summer, the January window may see players scrambling for more first team opportunities in the second half of the season. We profile one player from each club who could be on the move in January, whether it be for more gametime, a new challenge or even to a move on to another chapter in life.




Bayer Leverkusen:
Aleksandar Dragovic – 29 yrs – contracted until June 30, 2021

Dragovic's exit from Leverkusen seemed to be a full gone conclusion last January, with the Austrian international making his wish for more gametime clear. However, even when an agreement for a loan to CSKA Moscow had been agreed, Dragovic's move fell through, with Leverkusen rather opting to send defender Panagiotis Retsos on loan to Sheffield United for the rest of the 19-20 season.

The Euro's are once again looming this summer, and Dragovic's role in Die Werkself hasn't seen a major uptake this season (3 Bundesliga starts). This could once more see the Austrian international looks to push an exit in the new year. With the 29-year old centreback's contract expiring this summer, Leverkusen may fulfill the wish for a move this time, with the hope of recuperating some of the €21.00m they spent to bring him in from Dynamo Kyiv in 2016.

Leverkusen are not short of offers either, with Red Star Belgrade back in for Dragovic this January after Leverkusen rejected their earlier offer in the summer. Dragovic could find this offer particularly interesting, with the centerbacks family stemming out of Serbia, as well as the club having qualified for the Europa League knockout stages.

FC Bayern:
Javi Martinez – 32 years – contracted until June 30, 2021




Javi Martinez's tenure on the Säbener Straße looked to be up this summer, with a return to Athletic Bilbao close to being finalized late in the window. However, three months on, Martinez is still to be found in Munich, with Flick deciding to keep the 32-year old, with both Thiago and Cuisance's departures leaving Bayern's midfield options thin. This ultimately proved to be the correct decision, with both Kimmich and Tolisso suffering injuries that have required Martinez to feature 8 times so far in the Bundesliga.

The Spaniard's contract is still set to run out this summer, meaning the January window will offer the last opportunity for Bayern to receive any transfer fee for the defensive midfielder. Although Bayern's fixtures and injuries do not look like they will ease up in the ruckrunde, the rise of Jamal Musiala may nevertheless create enough incentive for Flick to allow Martinez a move this winter.

RB Leipzig:
Marcel Halstenberg – 29 years – Contracted until June 30,2022

RB Leipzig have a quite settled squad, with no regular first team player with a contract expiring this summer. One player who could look for a move in January though may be Marcel Halstenberg. A routine starter for Leipzig since they were promoted from the 2nd Bundesliga in 2016, Halstenberg has found it difficult to displace Angeliño at leftback, who arguably has been Leipzig's best player since arriving from Manchester City last January. With Angeliño set to remain in Germany once his loan expires, Halstenberg may want to look for another club to ensure regular gametime. This will be particularly important with the Euros this summer, as Halstenberg is competing for a leftback position that is still completely up for grabs in Jogi Löw's Germany side.

Borussia Dortmund:
Tobias Raschl – 20 years – contracted until June 30, 2022

One of the big winners of Dortmund's winter pre-season last year, Raschl looked set to feature more heavily in the Ruckrunde. Although it ultimately didn't amount to any minutes in the Bundesliga, Raschl remained highly regarded as a future BVB midfielder heading into the summer break. Things have slightly changed though, with a long injury setback keeping the youngster out of action for much of the preseason and early months of the season. Alongside this, the rise of Jude Bellingham and increase in Mahmoud Dahoud's levels have set Raschl at the back of the midfield pecking order. Raschl may look for a loan deal in January to continue his development, with routine minutes in Dortmund's first team looking unlikely in the new year.

VfL Wolfsburg:
Yunus Malli – 28 years – contracted until June 30, 2021

Since returning from a loan spell with Union Berlin, Yunus Malli's value in Oliver Glasner's side hasn't seemed to rise, with the Turkish international featuring just once for Die Wölfe this season. Similarly, to Aleksander Dragovic, Malli will be looking for a move in January to stay in contention for a place at the Euros this summer. With Malli's last appearance for Turkey coming in September of 2019, the ex Mainz midfielder will need a staggering second half of the season in order to work his way into Senol Günes' side this summer.

This does not seem to be available at Wolfsburg, and Malli may want to look in Turkey for an opportunity right under the nose of his national team he is hoping to represent this summer. Close to a move to Turkish giants Fenerbahce over the summer, Malli and Wolfsburg may snatch at a deal if it were to come in again this January, with the 28-year old attacking midfielder afforded a new start, and Wolfsburg getting an opportunity to recuperate some of his value before his contract expires in the summer.

Union Berlin:
Florian Hübner – 29 years – contracted until June 30, 2021

After becoming a regular figure in Union Berlin's promotion campaign in 2018/19, Florian Hübner has not been able to lock down the same position in Die Eiserne's backline in the topflight. Although a knee injury kept the centerback out for much of last season's hinrunde, this year Hübner has been fit for all of the opening matchdays, yet has featured just once. With a contract expiring this summer, Hübner may be one of the few players Union will want to sell on in January.

However, Union have been relatively lucky at the back when it comes to injuries this season, with the starting pair of Marvin Friedrich and Robin Knoche fit for every minute of the season thus far. A move in January may be a premature departure from the capital, with the likelihood of both current centerbacks ability to contest every matchday for the remaining 23 games unlikely.

VfB Stuttgart:
Holger Badstuber – 31 years – Contracted until June 30, 2021

Badstuber is a name that will ring a couple bells for longtime fans of the Bundesliga, with the Stuttgart centerback a 6 time Bundesliga champion with Bayern. However things haven't been smooth sailing for Badstuber since moving on from Bayern. Under contract at VFB Stuttgart since 2017, Badstuber career has taken a hit over the summer, with Stuttgart deciding to relegate the former German international to the second team who play in the fourth tier of German football. Undoubtedly still a player of a higher quality than the semi-professional level he is currently playing at, Badstuber will likely be looking for a move in January to kick start his career again.

Gladbach:
Michael Lang – 29 years – contracted until June 30, 2022

Gladbach are one of the clubs whose squad depth has been pushed the furthest this season. Contesting midweek fixtures on a weekly basis, Marco Rose has needed almost every first team player This season with various injuries and positive corona tests forcing him to chop and change his starting XI on a routine basis. One player who Marco Rose hasn't opted to use despite being fit through all this season is veteran right back Michael Lang.

Signed from FC Basel for €2.80m in 2018, Lang has found it hard to find a place since Rose's arrival last summer, sent out on loan to Werder Bremen for all of last season, and without a minute in the Bundesliga this campaign. Having already been given the green light to search for another club this summer, Lang will likely be on the lookout again in January after not finding a suitable offer in the previous window.

Augsburg:
Reece Oxford – 21 years – contracted until June 30, 2023

Reece Oxford became the 8th youngest debutante in Premier League history when he lined up for West Ham united at just 16 years and 236 days old. Since then, Oxford has moved away from England, with an initial loan spell to Gladbach, and a permanent transfer to Augsburg last summer. Although still just 21 years old, Oxford's career has failed to pan out as so many had hoped when he burst onto the scene, with just 47' minutes of action across the opening 11 matchdays. Although a start in Augsburg's 1:0 victory over Bielefeld midweek should see Oxford back in the fray, the youngster may still want to weigh up his options when the window opens in a couple weeks.

Augsburg may yet feel that Oxford is capable of fulfilling his potential, and thus won't want to give up on the project just yet, however a loan in January may do the Englishman good. Augsburg may be assessing their options when the window opens in the new year, with the potential of a second division club in England or Germany coming in for a 6-month loan a win-win for both club and player.

Eintracht Frankfurt:
David Abraham – 34 years – contracted until January 18, 2021

David Abraham became the first confirmed January transfer in the Bundesliga, when the Frankfurt captain announced his decision to retire during the winter break early this year. Although most will remember him for his ridiculous push on Freiburg's manager last season, Abraham has made over 135 appearances for The Eagles since joining the club in 2015. A leader both on and off the field, Abraham has remained a cornerstone of the Frankfurt side even after his exit was announced, starting in 11 of the 12 Bundesliga matches this season. Abraham will return to his homeland of Argentina in the winter to spend more time with his young son. Bulinews wishes Abraham good luck in his next chapter!

SC Freiburg:
Carlo Boukhalfa – 21 years – contracted until June 30, 2021

Christian Streich is renowned for using a small number of players every Bundesliga season, hoping to maintain a tight-knit group which he can mold into a well oiled unit as the season goes on. This style does have its drawbacks however, with few of the players outside of his main core afforded the game time to grow and progress.

One such is Carlo Boukhalfa, a talented youngster who is between Freiburg's first and second team. Although in the Bundesliga squad 7 times this season, Boukhalfa has yet to make an appearance for Streich's side. For the youngsters' progression, Freiburg may find a loan in January may be the best, hoping for a good platform that will offer Boukhalfa gametime at a high level. This could be of an extra importance with Boukhalfa's contract expiring in 6 months, and Freiburg likely not yet sold on extending the 21-year-old's deal.

Hertha BSC:
Eduard Löwen – 23 years – unknown contract length

Hertha BSC are no stranger to making deals in the January window, spending €77.00m on new arrivals last winter. Yet even with Windhorst's millions, Hertha BSC still flounder in mid table, 5 points off the final European spot. Perhaps signings are not what Hertha need to use the January window for, but rather as an opportunity to get rid of some dead weight.

Since arriving for €7.00m from relegated Nürnberg, Löwen has failed to make an impression in the capital. An unsuccessful first season that saw him loaned to Augsburg in January seems to have carried over to the current campaign, with the 23-year old featuring for just 29 minutes across the opening 12 match days. Labbadia & co may be looking to cut their losses this January, with Löwen failing to make an impression under the 4 managers who have been in the post since his arrival last July.

TSG Hoffenheim:
Kasim Adams – 25 years – contracted until June 30, 2021

TSG Hoffenheim have had a busy hinrunde, juggling Thursday night Europa League commitments with weekend Bundesliga fixtures. Sebastian Hoeneß has therefore needed to use just about every player at his disposal, with the lengthy European trips and short turnaround making it impossible to maintain a consistent starting XI. However some players have seen the pitch more than others, with Ghanaian centerhalf Kasim Adams part of the latter. Although a positive Corona test has halted the 25-year-old's progression this season, just three starts in the opening 10 Bundesliga fixtures does not speak of a starting role that Adams would have been hoping for. At 25 years old, Adams may begin to feel like routine football is what he needs to make the next step.

Ultimately any player leaving Hoffenheim in January without a replacement lined up will be unlikely, with Die Kraichgauer's progression in the Europa League meaning the fixture congestion is set to continue into 2021, however Adam's contract running out in the summer could force Hoffenheim into a premature decision in January if they hope to bring in some funds should neither party agree on a new deal.

Werder Bremen:
Milot Rashica – 24 years – contracted until June 30, 2022

Milot Rashica has been quite the headache for Bremen over the past year, with constant rumors of an exit surrounding the Kosovan winger. Inches away from a move to Leipzig and Leverkusen this summer, Rashica's transfer may soon become unavoidable for Bremen. Rashica's own performances have seemed to slip as well since last January when a move away from Bremen began to heat up. Following a hinrunde where Rashica had almost single handedly kept Bremen's chances of survival alive with 7 goals and 2 assists, the Kosovan international added just 1 goal and 3 assists in the remaining 18 matchdays. This season hasn't seen a revival either, with injuries and inconsistency leaving him with just 1 assist.

Bremen may look to offload Rashica in the winter as his form continues to stagnate, and multiple clubs remain interested in paying a large fee for him. The Kosovan's hamstring injury that has seen him miss the past three Bundesliga fixtures could prove an issue however, making a summer move away from Bremen more likely.

FC Köln:
Christian Clemens – 29 years – contracted until June 30,2021

Christian Clemens is Köln through and through, having made his way up through all the youth setups, before returning to the club after stints at Schalke and Mainz. Yet loyalty doesn't materialize itself in points on the field. Since the start of the season, Clemens has found himself completely out of the first team picture, with no minutes to his name. Instead of featuring in the Bundesliga squad, Clemens has lined up 7 times for Köln II in the regionalliga West, 3 levels below where the midfielder has played for most of his career. With a contract running out in the summer, Christian Clemens may be on the lookout for a club already in January, with a resume that features 144 Bundesliga games and 4 Champions league appearances capable of turning a couple heads around Europe.

Arminia Bielefeld:
Jomaine Consbruch – 18 yrs – contracted until June 30,2023

Bielefeld have found life hard since returning to the top division this season, sitting in 16th place after 12 matchdays, with just 7 points to their name. With Uwe Neuhaus taking charge of a relegation dogfight, integrating the youth into the team has been pushed to the very bottom of his priorities. Therefore, talented players like Jomaine Consbruch have found gametime hard to come by, with the 18-year-old youth academy products only minutes coming in Bielefeld's first round DFB Pokal defeat to 4th tier Rot-Weiß Essen. In order to continue his progress and not stall on the bench, Bielefeld may look to loan the youngster out in January.

Mainz 05:
Ádám Szalai – 33 years – contracted until June 30, 2021

It is fair to say Ádám Szalai hasn't been unable to recapture his spectacular form from his first spell at Mainz 05 since rejoining the club last summer. Apart from mediocre displays on the pitch, Szalai has also been the source of off field annoyance, with a falling out between him and previous manager Achim Beierlorzer almost leading the team to boycott training. Although things aren't working for the 33-year old Bundesliga veteran at club level, in the international scene is where Szalai is enjoying some of his best moments.

In early November, Szalai captained the Hungarian national team in their playoff final against Iceland, which they won 2:1 to ensure qualification for the Euros this summer. There Hungary will face off against a mouthwatering group consisting of France, Germany, and Portugal. Although Szalai's place in the roster seems near confirmed, with no minutes for his club in the Bundesliga, his ability to lead the line from the start against some of Europe's elite competition is up in the air. Therefore a move away is what Szalai should be seeking out this January, perhaps even to Hungary where he can prepare for the Euro's in close vicinity to his manager Marco Rossi.

Schalke 04:
Nabil Bentaleb – 26 years – contracted until June 30, 2021
Schalke have been unable to turn their downward spiral from last ruckrunde around this season, with the Schalke side still on-course to break Tasmania Berlin's record of 31 straight matches without a win. 28 games without a win, sitting bottom of the table with only 4 points, and a squad that seems devoid of talent, leadership, and motivation, things aren't looking good for Die Königsblauen.

Schalke have already made the decision to get rid of summer signing Ibisevic after his row with assistant coach Naldo, and it looks like Nabil Bentaleb will be the next player to have his exit confirmed from Schalke. The former Spurs midfielder has long been a source of debate, with his motivation disastrous and off field antics detrimental to the squad morale. Schalke's president Jochen Schneider even went as far as to say "Schalke and Nabil obviously don't fit together," adding that Bentaleb will leave Schalke at the very latest in the summer after being demoted to individual training away from the group.
---
If you enjoyed this article, make sure to follow Adam Khan on Twitter for more articles of a similar nature.



Related stories