Americans in the Bundesliga:
Matarazzo and Stuttgart aim for new heights
By Peter Weis @PeterVicey
Our weekly check up on the US pros working in Germany's top flight covers two rounds this time. Analysis yields composite grades from performances on the 11th and 12th matchdays.

There's plenty to catch up on after a midweek round of football.

Congratulations are also in order for on-loan Schalke star Weston McKennie, who this week was named USA footballer of the year.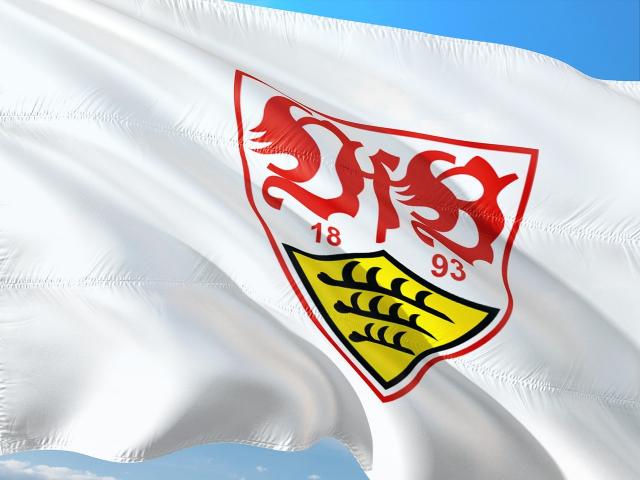 Five US internationals hit the pitch in the two rounds we'll be discussing this week. Schalke's Matthew Hoppe appeared only as a late substitute, leaving four players and one head-coach to cover.

Pellegrino Matarazzo, VfB Stuttgart

Cumulative grade = A+


Little negative to report this week when discussing the Bundesliga's undisputed "man of the moment". The one-time Mathematics major at Columbia University comprehends football in a uniquely logical manner. Powered by pleasurable nostalgia, the German footballing punditry cannot help but compare this version of a successful Stuttgart to the "wild boys" side from the earlier years of the century.

And yet, these are not the "wild boys" at all. The current version of the VfB are a carefully construct dictated by logic and reason. A very bright and resourceful sporting director procures the pieces whilst a calculating trainer puts together the puzzle on the pitch. We witness a highly modern and avant garde form of football here. The Dortmund-Stuttgart match from last weekend offered a perfect dichotomy of between past and present.

For those moving at a brisk clip alongside all the pre-holiday football, Pellegrino Matarazzo's skillful outmaneuvering of Lucien Favre in what proved to be the Swiss tactician's final fixture in charge is definitely worth a second look. The American tactician put together a match plan that thoroughly cut Dortmund out in the midfield, crunched their defense irrevocably inside the box, and then finished off the favored side in a most clinical fashion.

In the midweek tactics column, we teased Matarazzo's latest jewel a bit in the talking points section. In this piece, we'll supply some visual elaboration.

Lineup—VfB Stuttgart—Match 12 (3-4-3)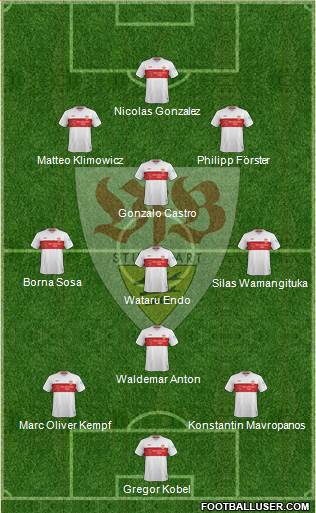 The Swabians got off to a slow start against Union Berlin on Tuesday in large part because Orel Mangala had to withdraw from the starting XI at the last minute after pulling a muscle in the warm-ups. As is the case every week, Matarazzo had devised an especially responsive role for Wataru Endo. It stands to reason that the Japanese international played and uncharacteristically poor first half by virtue of the fact that his function was intertwined with Mangala's.

One conjectures that Matarazzo might have preferred to start with a 3-4-3 that partnered Endo with Mangala and featured Silas Wamangituka in the position occupied by improvised replacement Philipp Förster. Evidence for this existed throughout the opening 45 as Wamagituka often hesitated on the break and Endo struggled to make much use of the ball on the rare occasions that he won it. Muscle memory often seemed to pull him toward a partner that wasn't there.

Berlin scored the opening goal in the 4th in an obvious instance of a set-piece breakdown. While things may not have necessarily gone as planned, the 43-year-old head coach clearly retained a notion of how to re-organize his team at the break. After making two substitutions at the half, he added Pascal Stenzel for Konstantinos Mavropanos in the 52nd to complete a like-for-like freshening up in central defense.

Lineup—VfB Stuttgart—54th minute (4-3-3)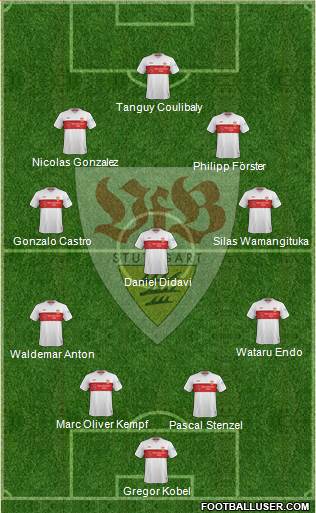 Endo remains a truly versatile player that can fill in at fullback on either side. Moreover, the Swabian striking corps can be reshuffled via dozens of permutations. It's quite interesting in this particular case that Nicolas Gonzalez slanted left in support of the new striker and that Wamangituka paired with a novel axial partner in team captain Gonzalo Castro.

Substitute Daniel Didavi furnished some very impressive dribbling in the 48th. Tanguy Coulibaly nearly delivered the fantastic finish with a half-moon trickle that hit the crossbar. Three minutes later, Wamangituka cut inside on a nice central drive. He found Coulibaly in space. The 19-year-old French phenom then set-up Gonzalez, who only just missed the target with a diving header.

There were three further expected goals on great scoring chances before Taiwo Awoniyi doubled the Berliner advantage. A final restructuring ensured that die Schwaben would not be pushed out of the match.

Lineup—VfB Stuttgart—81st minute (3-4-3)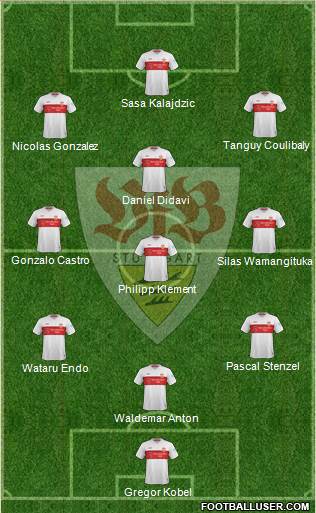 Edno switched positions a third time while Matarazzo introduced his third lead striker of the match. It proved most satisfying to see Coulibaly then drop back right in precisely the same way that Gonzalez had earlier. With four tall authentic attackers on the pitch, Matarazzo put his team in position to dominate on set-pieces. Sasa Kalajdzic's first goal came off a corner. Urs Fischer's men simply didn't have enough personnel to mark everyone.

Substitute Philipp Klement served upon the assist on Kalajdzic's second goal, thankfully not disallowed after VAR confirmed that the referee's handball ruling was false. The VfB might have done a better job pressing for the winner in the final minutes of injury time. Matarazzo's deft path to a draw obviously cannot be overshadowed by the frantic scramble at the end.

Stuttgart's surprisingly strong start to the season is no fluke. The Baden-Württemberg club thrive under an exceptionally creative and intelligent trainer who knows his football and obviously spends a considerable amount of time thinking how to make the most of his players' individual strengths. Sunday's encounter with VfL Wolfsburg looks to be madly interesting. The two sides appear evenly matched.

The smart tip would nevertheless be Stuttgart as the better tactics man gives one team an edge.

Giovanni Reyna, Borussia Dortmund

Minutes played = 180/180, Positions played = LW, RW

Cumulative grade = B+

The "American dream" succeeded in shining as the BVB's lone bright spot for the second week in a row on Saturday. Another wonder-goal from the 18-year-old runs the risk of being forgotten amid the humiliating loss that forced Dortmund to sack their trainer. One can compare the final set of tactics from Lucien Favre with those hastily assembled by his successor on a 48-hour-turnaround to easily divine what Edin Terzic has been instructed to do.

The numerous BVB front-office bosses run the show now. They want Terzic to build a faster and more attractive brand of football. Hence, the switch to a 4-1-4-1. It's plausible that the rookie coach didn't even have much of a choice in the matter. Though it certainly counts as idle speculation, it felt as if Michael Zorc and Acki Watzke told Terzic, "We happen to like what Leverkusen is doing. Do that."

Reyna's role doesn't change at all in the new spread-constellation. He remains a wide winger on the second attacking axis, permitted to switch sides with Jadon Sancho whenever he reads an opportunity or finds space. Neither Reyna nor his team played particularly well in the 2-1 midweek defeat of Werder Bremen. The American still had some decent ideas.

A lovely run in the 5th minute saw him come close to supplying the assist on Youssoufa Moukoko's maiden Bundesliga goal. He also showed some neat feet two minutes after the restart at the edge of the box central. He broke through again in the 50th, 57th. Reyna's best moment came in the 62nd, when he out-deked two defenders and slalomed his way into the danger area with the expert glide of a seasoned pro.

Less inspiring play pulled his grade down in the second match. Overall, the Dortmund issues with slow, prodding builds persisted. Reyna pulled up too easily on charges in the 10th, 17th, 26th, 38th, and 46th. As the team slid back into their bad habits, the American can be spotted playing silly triangles in the 67th and 74th. He should have been forward in the 72nd, 77th, and 83rd. A poor dribble in the 81st and very bad marking of Romano Schmid at 90+1 capped his evening. He looked tired.

Above average grades are still in order for the moments in which he did dazzle. The two fixtures this week nevertheless demonstrated that both he and his team have problems totally unrelated to which trainer prowls the touchline.

John Anthony Brooks, VfL Wolfsburg

Minutes played = 90/180, Positions played = CB

Cumulative grade = B

Only one match for the Berliner-born center back this week. A back bruise kept this American out of Oliver Glasner's XI for Wednesday's Bayern fixture. Marin Pongracic did such a stellar job filling in for him that, for a time, it appeared as if Brooks might have cause to worry that his starting spot was in jeopardy. When Pongracic himself succumbed to an injury late, however, it became clear that his team will want him back as soon as possible.

The 27-year-old's strong form carried over in last Friday night's encounter with Eintracht Frankfurt. He got in over 70 touches by this writer's count. Two first-rate physical ball wins were on display in the 11th and 15th. A truly impressive aerial win against Bas Dost came in the 18th. The American got plenty of opportunities to rack up towering headers away in the first half as the SGE continually tried to play over the top. Examples can be found in the 21st, 25th, 28th.

Following the truly magnificent spell spanning most of the initial half hour, Brooks disappeared from the run of play for a prolonged period. In the midfield slog between the 46th and 53rd, three stray passes from him kept the endless halfway line turnover cycle going. The shape of both teams began to fray after the hour mark and Brooks was, with some degree of subjective controversy, responsible for the penalty that allowed Frankfurt to equalize. A late dip might have been related to the later revealed injury.

Tyler Adams, RasenBallSport Leipzig

Minutes played = 61/180, Positions played = RM, RB

Cumulative grade = C+

Julian Nagelsmann only used the New Yorker as a substitute in his two fixtures. We saw a great deal more of Adams in the Bremen match after he came on for Kevin Kampl at the half. He served as a right-ward slanted six alongside Marcel Sabitzer in a 4-2-3-1 for a while, then moved back toward an anchoring position ahead of the defense after Nagelsmann introduced three more subs in the interest of killing the game off.

In terms of keeping Leipzig in a holding pattern, Adams most definitely got the job done on Saturday. He ran hard enough to snuff out the Bremen attack on both sides on the pitch. One would have liked to have seen better tackling from him. This writer only saw him win two of his six duels. Four wayward passes were also a bit much for a player only featuring in half the match.

The American did better as a late sub in the final 16 minutes of the Hoffenheim match on Wednesday. He won all three of his duels in that instance. He still wasn't much of a meaningful factor in either match. One expects that he'll play a larger part for injury ravaged Leipzig this weekend.

Josh Sargent, SV Werder Bremen

Minutes played = 155/180, Positions played = LS, LW

Cumulative grade = D-

We've rather sad news to report with respect to the Missouri marvel's continued issues with sinking team. Florian Kohfeldt's Hanseaten have now lost four straight and appear to be irreversibly headed right back down to the bottom of the table. The young trainer's tactical tinkering gets a bit irksome. Rhyme and reason slowly erode.

Here's what we saw against Leipzig.

Lineup—Werder Bremen—Match 11 (5-2-3)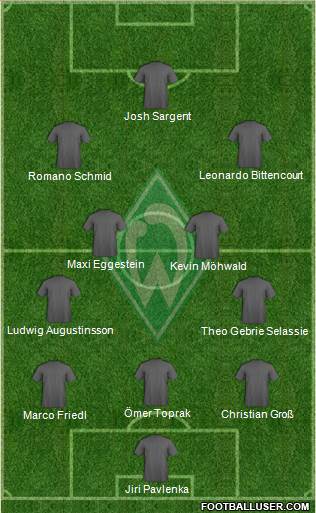 Ömer Toprak ran a subtle pivot with debutant Romano Schmid and Leonardo Bittencourt expected to fan out as true support wingers behind Sargent whenever midfield battles were won. Whenever Schmid got the ball, it almost seemed as if he wasn't looking for Sargent at all. The most egregious examples of this came on counters in the 17th and 28th.

Dayot Upamecano shut down the American with little difficulty throughout the first half. Sargent managed only one solitary touch between the 46th and 75th. For some reason, Kohfeldt declined to introduce any fresh legs until the match had long been decided and was nearly over. Sargent assisted two Jean Manuel Mbom shots near the end.

Against Dortmund, this was the look:

Lineup—Werder Bremen—Match 12 (5-4-1)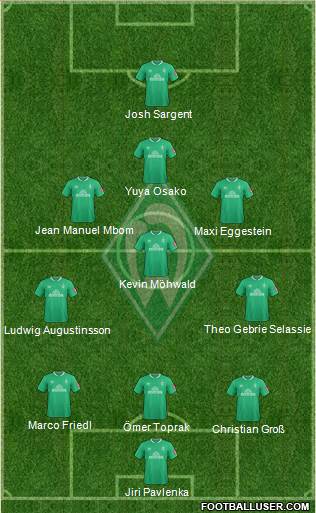 Once again, it didn't appear as if Sargent's teammates were even looking for him. Such an occurrence is quite telling. It's rare to see an XI act as if there is no real target amongst their ranks. This one constituted even more of a disaster for the young American. He didn't even get a useful touch of the ball in until the 39th.

The totals were awful by the time Kohfeldt pulled him in the 65th. No shots on goal. Not one assisted shot. Only 8 passes played directly to him. A total of 18 touches for the match. Even for a center-forward, that's absurdly low. At present, it's almost as if Sargent doesn't exist on the pitch at all.

One fears for both player and team in this instance. We really must see something sensible from Kohfeldt soon before the bottom drops out.



Related stories