Dardai lashes out at Alderete and Guendouzi, confirms Jhon Cordoba's return to team training
By Peter Weis @PeterVicey
Hertha BSC trainer Pal Dardai certainly earned his fair share of criticism after this weekend's 0-3 defeat at Leipzig. At the Monday presser, he doled out a bit of criticism of his own. 

The big news out of the capital city club's camp concerns the potential return of their most effective striker.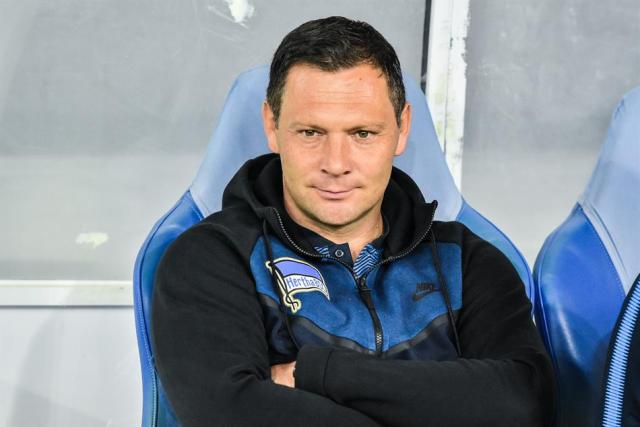 | | |
| --- | --- |
| Pal Dardai. | Photo: Football.ua/Creative Commons/CC-by-SA 3.0 |
True to form, Pal Dardai remains one of the Bundesliga's most candidly outspoken trainers. Asked to clarify some of his lineup selections by Germany's SportBild, he did not refrain from stating precisely why he opted to sit Omar Alderete and Mateo Guendouzi.


Asked why he benched Alderete in favor of his son Marton, Dardai frankly asserted that the 24-year-old center half had failed to follow instructions.

"We forbade opening up the game by playing through the middle, and Omar played through the middle every time," the head-coach explained, "He must listen, and then he can start again."

The 44-year-old Hungarian, as quoted by the newspaper, was even more blunt when asked about Arsenal-loanee Guendouzi. Apparently, the 21-year-old has been a bit overzealous on the 50-50s in training.

"It's like puberty with him," Dardai said, "He's rebellious, beastly and always pissy."

At a Monday presser in front of an assembly of reporters, Dardai had some praise to offer up to his squad in spite of Sunday's defeat.


"The 0:3 doesn't reflect reality. Even Julian Nagelsmann said that," he stressed, "the team was disciplined and tactically sound against Leipzig. That little bit of luck was missing and that has to come at some point."

Asked about the recent clearance Colombian striker Jhon Cordoba received to play, Dardai made clear that the team's prize autumn acquisition would return to full team training this week. Cordoba has scored the same amount of league goals (five) as Polish lead attacker Krzysztof Piatek despite playing in only 12 fixtures to Piatek's 22.

"Jhon is a different type of striker than Krzysztof," Dardai noted, "he's a striker who can hold the ball up. In him we have a different prototype. He's strong, robust, and great on headers. He'll train fully with us this week. If he remains fit, we'll take him to Wolfsburg this weekend."

As he has often since being reappointed trainer at his old club, Dardai gave a nod to the tactics-board-obsessed by speaking of the need to build the correct "axes".

"The goal is to form an axis," he told Bild, "but you can't do that in three weeks. I can't say 'abracadabra' and then we have a top team."



More about the match
More about the teams