Americans in the Bundesliga:
Streaking Sargent leads week 24 pack
By Peter Weis @PeterVicey
This week's scout of the proud footballing yanks earning their paycheck in the German Bundesliga places five of the six actors on the "B" and "C" levels.

Slightly above average marks do not, however, necessarily bespeak widespread mediocrity.

There's plenty of salient developments to report upon as we prepare for a busy midweek and another great round of action this coming weekend.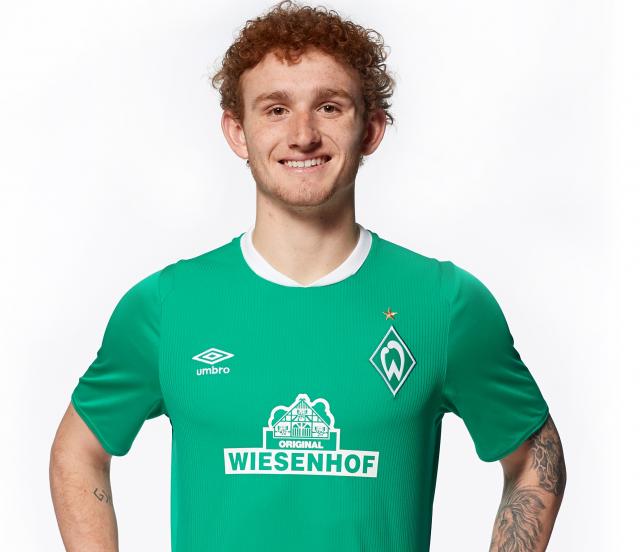 | | |
| --- | --- |
| Josh Sargent. | Photo: Werder Bremen |
Trackers of US internationals suiting up for German Bundesliga clubs have a busy midweek ahead of them. Giovanni Reyna looks to be healthy enough to play for Borussia Dortmund in the Champions League on Tuesday whilst Tyler Adams and RB Leipzig seek to pull of the improbable comeback against Liverpool the very next day. Bremen's Josh Sargent, who has scored in his last two matches, also has a make-up league match against Bielefeld on Wednesday.


Since Reyna did not appear for the Schwarzgelben on Saturday, we've six graded sections this week. Five American footballs and one trainer all factored into the round 24 action. Timothy Chandler also made a brief appearance for Eintracht Frankfurt, logging ten minutes as a sub after Almamy Touré's unfortunate injury in the 1-1 draw with Stuttgart. Chandler's first log of pitch time since round 17 obviously doesn't merit a grade, but some may be pleased to know that he might get a start soon.

Josh Sargent, SV Werder Bremen

Minutes played = 86/90, Positions played = RW, SS

Grade = B+

Good news for both the Missouri marvel and any potential fans of the Hanseaten. A much more coherent tactical picture comes into focus up North. One cannot help but be ecstatic for Sargent, who for all his shortcomings, remains an exceptionally hard worker fully deserving of more effective support. For Bremen, a healthy Niclas Füllkrug and Milot Rashica continue to make all the difference in the world.

Lineup—Werder Bremen—Match 24 (3-4-3)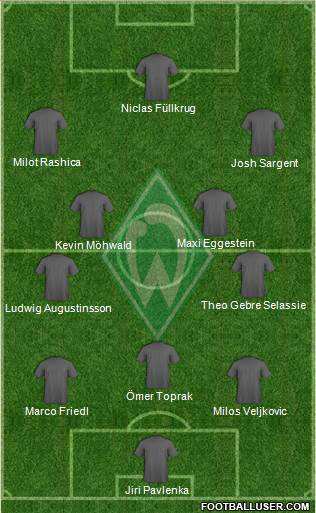 While it may not be a lineup anywhere near capable of fighting for European places, it definitely looks more like a football team. This American looks infinitely more comfortable on the second attacking axis; whether he's working the short striker role or serving out on the wing. Clear marking assignments on defensive box play also enable him to conserve some much-needed energy.

Sargent's main issue remains the fact that he runs too hard on the track back, overcommitting himself to the point that he depletes and increasingly has difficulty catching back up the attack. Kohfeldt's frequently zany tactics do little to help this. By no means a selfish forward, the 20-year-old belongs on a less draining vertical lane; where he choose his challenges more intelligently and create space for his teammates.

In the first ten minutes of this weekend's match, one can watch Sargent deal rather prudently with Ismail Jakobs and Noah Katterbach of the Kölner left. The performance was certainly mixed. For example, the American executed a brilliant aerial win in the 10th, only to let Katterbach slip past him all too easily one minute later. He doesn't everything right on a forward break in the 8th, only to look totally confused in the 11th.

The real highlight of Sargent's afternoon actually isn't the goal we'll discuss in due time. In the 12th, he spotted an opportunity to produce an offensive chance out of nothing via a ball rolling softly to the touchline. With an amazing burst of acceleration, he hustled all the way forward and even managed to dig out a splendid cross at the absolute last moment. Such a play exemplified his prodigious work ethic.

Having witnessed that early vigor, one truly hoped that Sargent could get his name on the scoresheet. He absolutely deserved it. Ludwig Augustinsson hit him with a perfect square in the 18th. Regrettably, the American responded with an embarrassing whiff on a wide open shot. One really felt bad for him there as it was he who cleverly initiated the attack sequence in the first place.

Sargent essentially disappeared for the rest of the half. Bremen only held 35 percent possession and most of the Kölner traffic went down the American's opposite flank. Constant interruptions in play from the 36th to the halftime whistle meant that not much was doing for either side. The first 15 minutes of the second half weren't much better, though the American got a nice switch off in the 48th.

Momentum began to swing in the Hanseatic direction shortly before Kohfeldt employed a double substitution in the 57th. Surprisingly, the Bremen trainer took off Füllkrug along with Kevin Möhwald. Sargent slid in to work behind Rashica; a notch ahead of new introduction Romano Schmid. A slightly more patient, and observably cleaner, series of Werder build-up play seemed to foreshadow a goal soon.

Leonardo Bittencourt, the other sub, actually had Sargent open on forward drives on a couple of occasions, but opted to go backward instead. Finally, in the 66th, Bittencourt kicked out to Rashica, who in turn located Sargent in the box with an excellent cross. The American headed home clinically. He was, of course, a tad lucky that two Kölner players completely blew it by ball watching and leaving him wide open.

After some thought, one cannot say that this counted as an "A-Level" performance from this American. There were too many inconsistencies. We've covered them above. The same applies to Bremen as a whole. While the tactical set-up was a great deal better, problems in keeping possession and disorganized counters leaves one ultimately unsympathetic that they only got a 1-1 draw out of.

It's entirely possible that Sargent and his team might regress against Bielefeld midweek. On the other hand, there's a great deal of inherent promise here that can be parlayed if the squad invests enough in it. As remarked so many times in this column, Bremen and their coach simply cannot be trusted to build upon positives. Too many reversals these last 18 months.

Pellegrino Matarazzo, VfB Stuttgart

Matches = 1 Result = D

Grade = B+

Results may not have been ideal, but we'll credit the league's American trainer for coming up with a suitable constellation. Frankfurt by no means constitute any easy opponent and the yawning gulf between Silas Wamangituka and Borna Sosa did find active redress. Matarazzo rolled out an XI designed to match the SGE tit-for-tat. It didn't make for especially exciting football. It nevertheless still worked.

Lineup—VfB Stuttgart—Match 24 (4-3-3)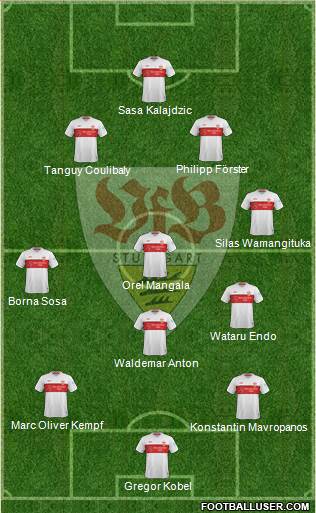 Important here, Matarazzo swapped Tanguy Coulibaly for captain Gonzalo Castro. This proved wise at it precipitated the effect of restraining Wamangituka somewhat on counter charges and gave him another speedster to aim for on diagonals. As the match gravitated toward the center of the park, the Sawbians retained a slight edge thanks largely to consistent rotations from Waldemar Anton and Wataru Endo.

The ever-fascinating Japanese international definitely stuck close to the defensive line this time. Hence, we label this illustration a back-four. Set-piece play throughout the match exhibited high quality. Matarazzo's men were unlucky not to take an early lead off of a nice training ground design in the 53rd. Luck swung back to them later as the tally that did eventually gift them the lead deflected off Martin Hinteregger.

The VfB probably should have sent Endo forward a bit more and possibly reverted to a more traditional back four later in the match. Given that Anton, Endo, and substitute Atakan Karazor put in some solid triad defensive work late in the match, however, it's not entirely worth docking this American for preserving a tough draw. Ahead of a tough slate of fixtures, Matarazzo appears to have steadied the ship.

Chris Richards, TSG 1899 Hoffenheim

Minutes played = 90/90, Positions played = CB

Grade = B

Nothing new to report tactically from the Sinsheimer front. Trainer Sebastian Hoeneß had to bring in Kasim Adams to replace the injured Kevin Vogt. This single swap saw no change to the shape as the Hoffenheim head coach utilized the exact same formation as last week. The talented young American continued to look spry and comfortable in the 5-3-2, starting especially strong in this weekend's duel against Germany's green company team. On the whole, his work definitely counted as above average even if there wasn't much remarkable of note.

Some great defensive work is on display in the 8th, 12th, and 15th. No one could get by him early. One has to say that everyone in the XI did a marvelous job early on spreading the ball around and looking quite confident in possession. Richards garnered 33 touches in the first half and completed all but one of his 28 passes. Firm tackles in the 27th, 32nd, and 37th showed that he was at the top of his game. He might have done a little better against Maximilian Arnold in the 33rd.

Richards found himself significantly less involved in the second half as Wolfsburg proved much stronger in possession; or at least they did until a series of stoppages and bookings rendered the affair uncomfortable to watch. The American got his boot around the ball 22 more times and committed seven stray passes out of 14 attempts. His best defensive work came in the 58th and the most impressive piece of forward play occurred just prior to Maxence Lacroix's foul in the 65th.

John Anthony Brooks, VfL Wolfsburg

Minutes played = 90/90, Positions played = CB

Grade = B

The veteran USMNT central defender just about equalled the performance of his possible future partner in the Wolfsburg-Hoffenheim fixture. The Berliner certainly had a more active day than his younger counterpart, racking up 98 touches in the writer's (unofficial) count. Brooks most assuredly improved on his dip last week in the Pokal. He looked supremely confident on headers away in the 3rd, 20th, 22nd, 37th, and 81st.

Genuinely awesome stops came in the 6th, 14th, and 51st. The ones really worth watching, however, were the cutouts of Ihlas Bebou in the 21st and Andrej Kramaric in the 60th. The Wolfsburg defensive line often allowed itself to be to easily pulled out of shape. Such was the case on Christoph Baumgartner's 9th minute goal, on which Brooks looked totally lost. He also got badly caught out of position on turnovers in the 16th and 77th.

Approximately five minutes before Oliver Glasner yanked Xaver Schlager in favor of Bartosz Bialek in the 84th, Brooks moved up into defensive midfield. Presumably, he was prepping for the switch that would see the squad reformat to a 3-3-2-2. A total defensive meltdown ensued. This American might have cracked "A Level" had the entire team not tanked in the final minutes.

For whatever it's worth, Brooks came so very close to directing the equalizer in via a header at 90+4. Some issues and a late tactical botch shouldn't detract from what was, overall, a strong performance. Just like Richards, he had an above average day despite the fact that he lacked a more prominent place in the match narrative.

Tyler Adams, RasenBallSport Leipzig

Minutes played = 84/90, Positions played = RM, RB

Grade = C

The New Yorker benefits from a little grade inflation based on Julian Nagelsmann's highly ambitious strategic set-up. We've covered this in greater detail in the weekend's tactical column. For those looking for a more concise summary, placing Adams during the first half took a lot of back-and-forth. No observer could be entirely certain whether he was a right-mid or a right-back. Poor Adams looked as if he remained unsure himself. Meanwhile, effectively zero percent of forward charges went down the American's side.

His best work on a defensive duel against Vicenzo Grifo in the 23rd. Solid coverage and a good clearance in the 43rd earn him some positive points. There were also instances in which he made deft moves on passing cycles only to be forgotten by his teammates. Examples include the 8th, 17th, 20th, and 31st. Note that, in all of these cases, a sure-to-be forgotten fine defensive display from Freiburg also played a role.

Officially dropped back into the right fullback role in the second 45, Adams had almost no impact on the rest of the match. Leipzig finished with only 11 percent of their attacks originating from the right-hand side on the day. Adams finished with six wayward passes, four of which were long-launch balls to nowhere from his position in the back-four during the 39 minutes he played after the restart.

Matthew Hoppe, FC Schalke 04

Minutes played = 61/90, Positions played = LS

Grade = F

Are we being a bit hard on a teenager? Perhaps. It seems harsh to accord him failing-level marks as he did try some thing's in Schalke's mind-numbingly dull 0-0 draw with FSV Mainz 05. Looked at from a different perspective, nearly everyone associated with this match deserves an "F". Fixtures themselves can receive grades and football fans don't label a game an absolute stinker easily.

German footballing magazine Kicker grades matches on their overall quality. The last time a top-tier Bundesliga match received a rock-bottom grade was in 2012. The publication, which has only given an encounter the European-scale 6,0 six times in 8,783 games, felt compelled to explain itself in an editorial published Monday morning.

Even the opinion board itself could scarcely summon up the strength to talk about Schalke-Mainz. After tabulating the number of missed passes, it seems no one associated with the article had the energy left to reference anything other than "numerous mistakes". We too must quickly determine what we can learn from this unparalleled flop and move on.

Lineup—FC Schalke 04—Match 24 (3-5-2)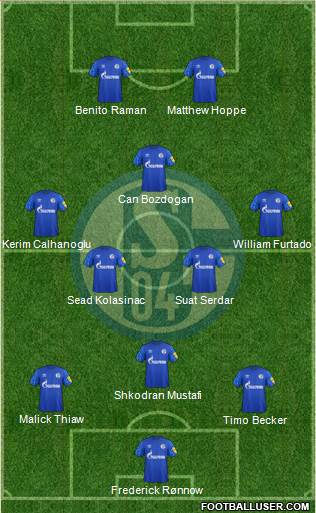 Amine Harit's injury during the warm ups forced Kerim Calhanoglu into his first Bundesliga start. Conceivably, we could have beheld something had the Moroccan started on the left. As mentioned above, the American tried to make the most of his new striking partner. Hoppe aimed for Raman with positive link up play in the 11th and 15th.

It did not take long, however, for Hoppe's play to completely tank. He was dispossessed four times between the 16th and 22nd. He switched over to the left flank to execute a nice takedown in the 24th, but was forced to retreat when it became apparent that no one else had gone forward. A good ball-win two minutes later saw him look for Raman again. This time Can Bozdogan inadvertently got in the way.

One could conjecture that he was looking for Raman again on a 27th minute clearance, but it's unlikely he had much of anything in mind. Poor passes in the 30th, 33rd, 51st, and 57th left him with his own paltry pass completion rate of 33 percent. The writer counts 16 total touches, two of which came in his final 15 minutes on the pitch.

Amid all of this, there was a continuous effort to move around in search of space. Moreover, the American surely kept his head on a swivel looking for opportunities to find his teammates on the rare occasions he saw the ball. One simply cannot in good conscience ignore how historically bad this game was. Pretty much everyone quit early on and Hoppe was no exception.



Related stories