Nelson ready to set his mark on the Bundesliga
By Stefan Feist
In a surprise move, 18-year-old wonderkid Reiss Nelson has gone on loan to Hoffenheim, and Bundesliga fans can look forward to seeing the highly rated youngster flourish this season.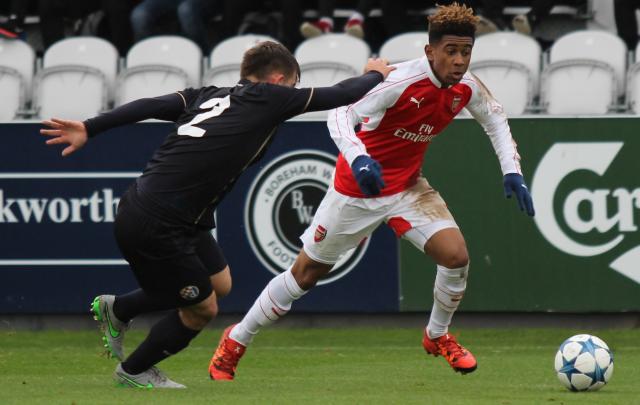 | | |
| --- | --- |
| Reiss Nelson (right). | Photo: joshjdss/CC-by-SA 2.0 |
It seemed out of nowhere when rumors of Nelson leaving Arsenal started surfacing, and Arsenal fans were in disbelief when the move was initially looking like a permanent transfer. However, the fans could breathe sighs of relief when the move was announced as a loan which was followed by a extension of his contract.


The winger has been tearing up youth divisions for years and is looking like he could be a future superstar. Having spent over 10 years developing at Arsenal, the club was keen on prolonging their partnership and tying down Nelson to a new deal.

Since moving to the club as an 8-year-old, he has been showing raw talent which has lead to the player consistently playing in divisions above his age grade – and yet, has managed to stand out amongst them. This trend continued until he eventually made his debut for the U-23 squad in the 2016-17 season.

Despite only playing nine games, he impressed former manager Arsène Wenger who then brought Nelson on the pre-season tour in 2017. With his technical abilities and speed on the ball, it was hard not to be in awe of the then 17-year-old as he skipped past Bayern Munich players as though he was still playing in the youth divisions.

His size and speed screamed out that Nelson was a natural winger, but he also showed prowess in other areas. He had vision, which was nicely complimented by the ability to pick a pass, and he had a natural instinct in front of goal, meaning that he was also capable of scoring goals.

With impressive pre-season displays, the hype around the player was building up as he was hailed the biggest youth prospect at the club since Jack Wilshere made his way up through the ranks in the late 00's. His official first team debut was imminent, and fans didn't have to wait long as he made a substitute appearance in the Community Shield victory against Chelsea.


The winger's strengths were obviously in the attacking department, but Arsène Wenger often chose to deploy the player on the right wingback. Arsenal were playing a 3-4-2-1 at the time, and Wenger saw the opportunity for Nelson to learn some defensive capabilities and discipline in an unfamiliar position, something the manager had successfully done with players in the past.

He made a total of 16 appearances throughout the season, primarily playing in the Europa League, where Arsenal made it to the semi-finals. The season finished with no goals for Nelson, and he had yet to be involved in the league, however, his performances in the reserve team were outstanding and he was named the Premier League 2 player of the year, scoring nine goals in the process. Thus, the excitement around the player continued.

Nelson was once again a stand-out player in the 2018 pre-season as he impressed new manager Unai Emery, but there were questions of whether the player would be able to replicate those performances in the physical surroundings of the Premier League. The youngster looked to have all the talent in the world, but his lack of physicality was looking to be an issue.

Enter Julian Nagelsmann and Hoffenheim, who showed an interest in bringing the player to the German Bundesliga, as they were lacking options in the midfield following an unfortunate sequence of injuries.

The loan move would allow for youngster to work with head coach Julian Nagelsmann who has experience in developing young talent and seemed excited at the chance of working with Nelson.

The coach made it clear that he felt Nelson could play an important role for his team, likening him to former Arsenal youth player Serge Gnabry who like Nelson made a big splash at an early age. Gnabry suffered unfortunate setbacks through injuries and a failed loan spell before eventually leaving Arsenal for the Bundesliga where he is now thriving and has since become a German international.

"Reiss has similar traits to Serge (Gnabry), which is his pace in one-on-one situations," said Nagelsmann. "These are qualities that we don't have much of in the squad. It was my wish that we replenish those qualities again."

In an interview with achtzehn99.de, Hoffenheim's Director of Football, Alexander Rosen, had this to say about the 18 year old.

"I'm really glad that we've been able to commit a player of such exceptional ability", Rosen said and added:

"Given the long-term absences of Nadiem Amiri, Lukas Rupp and Dennis Geiger as well as Kerem Demirbay's ligament injury, we decided to bring in another alternative for offensive midfield so as to be able to successfully navigate the many competitive matches we are to play in the coming weeks. Reiss Nelson will provide us with a number of options being a versatile player who can play as a number eight, a winger or in the hole".

Reiss Nelson himself seems excited at the opportunity to follow in the footsteps of former Manchester City prospect Jaden Sancho and make a name for himself within the German borders.

"I haven't come to TSG just to get game time under my belt at the highest level and to develop further as a player. I'm more of the opinion that I can help the club with my qualities to reach its ambitious targets in three competitions", Reiss Nelson told achtzehn99.de.

Whether he will be able to help Hoffenheim follow up on their successful campaign from last season remains to be seen, but one thing is for sure: Bundesliga fans should be excited for his arrival and can look forward to witnessing the abilities of Reiss Nelson.