Nagelsmann explains "lung infiltration" condition affecting Kimmich and Choupo-Moting
By Peter Weis @PeterVicey
Bayern München trainer Julian Nagelsmann had to answer questions about his COVID absentees during his Friday presser. 

The FCB head-coach elaborated a bit on the "lung infiltrations" that will sideline both Joshua Kimmich and Eric Maxim Choupo Moting and also spoke on the footballing vaccine controversy.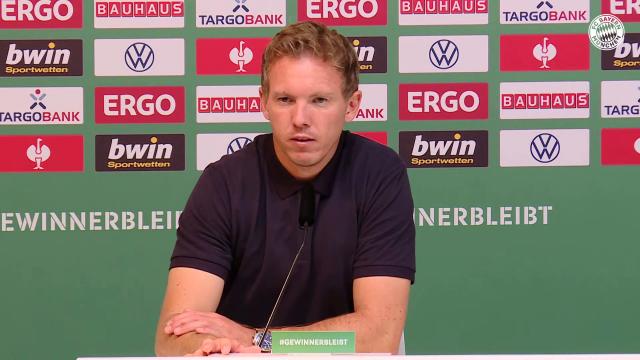 Photo: Bayern München/OneFootball

The situation for two of FC Bayern München's unvaccinated COVID cases is likely to generate a lot of questions well into next year. After it was confirmed yesterday that Joshua Kimmich must miss the rest of the calendar year with "lung infiltrations", news followed that Eric Maxim Choupo-Moting must sit out the same time period with the same condition. As many had feared, the symptomatic after effects of infection ail both players.


"They both have slight infiltrations in the lungs from the infection," FCB head-coach Julian Nagelsmann said when confirming the status of both players at his Friday press conference, "The situation is identical for both of them."

"Neither one them can place large stress on the heart or the body for about ten days," he continued when explaining their conditions, "The statistics show that these infiltrations then more or less go away."

Nagelsmann took care to emphasize that the infiltrations were not a great cause for concern. The 34-year-old head-coach labelled the conditions "not especially dramatic", called the 10-day-rest-period "precautionary", and said that he fully expected both players to be capable of training to their full performance limit prior to the second half of the season.

When it came time to answer questions about Kimmich's controversial stance on net getting vaccinated, Nagelsmann defended his player.

"Joshua has been raked over the coals, but that's part of the job [when one is in the public eye]," the coach noted, "but he's not the scapegoat [for the outbreak in the team]. He made a decision and you have to accept that. There's no vaccine requirement in Germany yet."


Othe topics covered at the press conference included a conformation that Leon Goretzka will miss out on tomorrow's match against Mainz with a tendon issue. Corentin Tolisso was given a guaranteed place in the starting XI as a result. Jamal Musiala seems the most likely partner for him in midfield.

"Overall, morale in the dressing room is high," Nagelsmann reported, "We want three wins from three during this final phase to maintain our lead at the top. The players feel good and have enough strength [for the end of the year]."



More about FC Bayern