Bundesliga Fan Scene:
The nationwide "plans for fans" on Matchday 22
By Peter Weis @PeterVicey
It should be another great weekend for the German footballing fan scene.

Thanks to more loosened restrictions across the country, those tuning into German football this weekend will have the pleasure of also observing football's best supporters.

In our Friday check-in feature, we're pleased to report on the attendance plans for all nine fixtures as well as detailing all the latest public health data in all nine locales.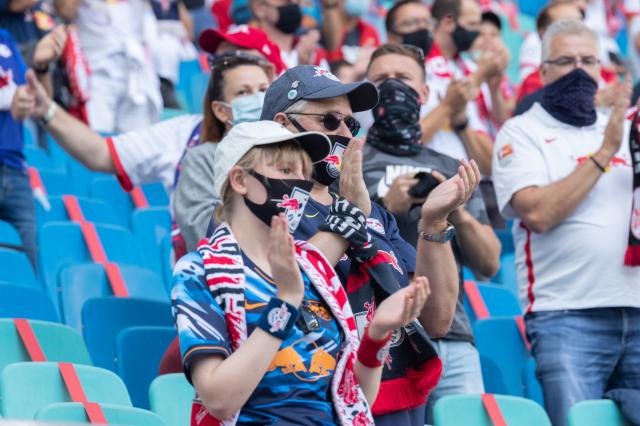 Photo: Steffen Prößdorf, CC BY-SA 4.0

After selling out all fixtures last weekend on the first Bundesliga round to feature widespread fan return in 2022, German football heads into the weekend seeing if it can accomplish such an impressive feat again. In our look ahead at the capacity plans for all nine round 22 fixtures, we'll note that it is possible. A more likely scenario, however, is that Gladbach and Hoffenheim won't fill every last seat.


Before we get going this week, there's a couple of notes on our public health data. The percentage changes reported upon are sometimes contrasted with the latest data on the date of our last column. In other cases, we've not had the chance to contrast the local metrics since the last time we checked in with these teams way back in late December. Hence, there are larger swings in places like Leipzig and Frankfurt than elsewhere.

In terms of conclusions that can be drawn from the stats, there really should no longer be any doubt that the latest COVID wave is not overrunning hospitals and intensive care wards. This counts as an immensely important point. While many have lost patience with the pace of change at a public policy level, the data will eventually yield a way out of pandemic restrictions. There should be no doubt about that either.


---


FC Köln (at) RB Leipzig

Planned capacity = 15,000 (31.8%)


Some may immediately be wondering why the German Red Bulls are preparing to welcome 15,000 when the German federal stipulations currently stipulate that there should be a 10,000 patron attendance cap. The answer lies in the club's state-level legal inquiry filed some two weeks ago. The state of Saxony and the Leipzig public health department approved the higher cap, and look set to sanction up to 25,000 for the coming home Europa League fixture.

Why isn't Germany's federal governing regime fighting this? As we've discussed many times in this column, the Bundesrepublik's first three-party governing regime since the 1950s isn't especially strong. Moreover, the SPD-FDP-Grüne government has far more pressing problems to worry about. A creaky and unsteady coalition finds itself immediately tested by the events unfolding eastward in the Ukraine. It truly seems unlikely that chancellor Olaf Scholz (SPD) will make fighting attendance restrictions a priority in the coming weeks.

Local RKI Incidence Rate = 1396.1 per 100,000 (+1007.3)

Intensive Care Occupancy @ 82.5% (-3.5%)

22 COVID Hospitalizations (7.9%) (-14.7%)

Saxon Proper Vaccination Rate = 64.9% (+2.3%) (from 51 days ago)


---


VfL Wolfsburg (at) Eintracht Frankfurt

Planned capacity = 10,000 (19.4%)

Eintracht will stick to the cap of 10,000 for now, though the club has made specific promises to its fan base both on its website and official social media channels. In the midst of commemorating what was a big legal victory this week, the SGE expressed the hope that it could be operating back at or near full capacity by the time the Europa League knockouts resumes in early March.

After riots and an incident involving a firecracker during a UEL group stage match away at Antwerp, the Hessen-based club won't face partial stadium closure when hosting its next Europa League fixture. The fine was nevertheless reduced after an appeal from the SGE. The attendance sanction has been suspended for now.

Local RKI Incidence Rate = 2270 per 100,000 (+2022.5)

Intensive Care Occupancy @ 86.6% (-3.0%)

40 COVID Hospitalizations (15.9%) (-2.2%)

Hessen Vaccination Rate = 76.3% (+3.3%) (from 51 days ago)


---


FC Augsburg (at) Borussia Mönchengladbach

Planned capacity = 10,000  (18.4%)

It shall prove interesting to see if this home fixture for the Fohlenelf actually sells out. As of Friday, plenty of passes were still available for public sale on the club's website. The current state of the team appears to have even one of the most reliable fan-bases in the Bundesliga less than enthused about making a trip to the stadium.

After German football ran the table in terms of sell-outs last weekend, we're still waiting on the first match to come in under capacity since the latest era of "ghost games" came to an end. It would constitute quite the reflection of local interest in this team if all available seats aren't filled.

Local RKI Incidence Rate = 1125.3 per 100,000 (+991.3)

Intensive Care Occupancy @ 90.7 (-0.3%)

13 COVID Hospitalizations (16.7%) (-9.2%)

NRW Vaccination Rate = 79.9% (unchanged) (from 4 days ago)


---


FSV Mainz 05 (at) SC Freiburg

Planned capacity = 10,000 (28.8%)

In the typical fashion of SC Freiburg trainer Christian Streich, Germany's favorite head-coach supplied a beautiful quote about the return of fans to his home arena. Streich noted that he "looked forward to meeting and talking with some supporters before and after the match". Streich at his best. Leave it to the country's most eminently respected gaffer to express enthusiasm about experiencing a match just as fans do,

Streich actually has to take a night train to Germany's capital city after the match. He's one of the 1,472 people due in the federal assembly on Sunday to elect Germany's next President. This being a completely ceremonial role, it doesn't much matter who the representative committee chooses. For whatever it's worth, few Germans would complain if Streich was actually responsible for electing a figure of real power. We'd be in good hands.

Local RKI Incidence Rate = 1672.5 per 100,000 (+1362.9)

Intensive Care Occupancy @ 88.6% (-2.5%)

22 COVID Hospitalizations (12.3%) (-12.7%)

BaWü Vaccination Rate = 73.5% (unchanged) (from 4 days ago)


---


FC Bayern München (at) VfL Bochum 

Planned capacity = 8,500 (30.8%)

A slightly smaller crowd is sanctioned over at Castropher street. The 1848 faithful should come to watch their hometown team host the best squad in the Bundesliga. Hopefully, for the sake of those in attendance, Bochum can do a bit better than the 0-7 drubbing against Bayern in the reverse fixture. Former Bayern academy product Milos Pantovic, a footballer who simply loves his live fans, has already guaranteed a better showing in his public statements this week.

Local RKI Incidence Rate = 1431.5 per 100,000 (+1121.9)

Intensive Care Occupancy @ 88.4% (-13.6%)

19 COVID Hospitalizations (11.4%) (+2.7%)

NRW Vaccination Rate = 79.9% (unchanged) (from 4 days ago)


---


Hertha BSC (at) SpVgg Greuther Fürth 

Planned capacity = 9,000 (54.1%)

Fürth were given a special dispensation from their local health department to slightly exceed the 50 percent cap that purportedly serves as the federal boundary. Once again, we're seeing municipal and state level regulations supersede what the federal regime supposedly permits. The case (and conversation) here is thus not dissimilar to that of Leipzig.

Since we're talking Bavaria, it's always worth it to mention that state governor Markus Söder's (CSU) course reversal on COVID restrictions during this fourth pandemic wave really kick-started the loosening of restrictions across the country. Söder was the first German politician to argue, correctly as all the public health data in this column shows, that the virus was no longer overwhelming hospitals.

That remains a momentous turning point in terms of pandemic public health policy. The more public health officials get on the board with this crucial piece of data, the more we will see the most crippling aspects of this pandemic put behind us. It is not an opinionated statement at all to say that hospitals are no longer being overburden. The data bears it out everywhere.

Local RKI Incidence Rate = 1896.7 per 100,000 (+1554.3)

Intensive Care Occupancy @ 77.8% (-8.9%)

4 COVID Hospitalizations (11.4%) (-14.2%)

Bavaria Vaccination Rate = 73.6% (+0.1%) (from 4 days ago)


---


VfB Stuttgart (at) Bayer 04 Leverkusen 

Planned capacity = 10,000 (33.1%)

Germany's red company team should have no problems selling out the Saturday evening "Top-spiel". Here we have a red-hot club playing host to some easy prey. Leverkusen are among the many clubs keeping the opportunities coming for their rabid supporters. B04 is already selling traveling tickets for their next two away matches and the return of the Europa League.

Local RKI Incidence Rate = 1317.2 per 100,000 (+1056.7)

Intensive Care Occupancy @ 89.9% (+5.8%)

3 COVID Hospitalizations (4.8%) (-12.4%)

NRW Vaccination Rate = 79.9% (unchanged) (from 4 days ago)


---


Borussia Dortmund (at) 1. FC Union Berlin 

Planned capacity = 9,500  (43.1%)

Nine thousand Eisernen boosters and 500 traveling Dortmund fans get the privilege of watching this excellent encounter live. Morbid curiosity should keep the German footballing public glued to this match on Sunday afternoon after Dortmund once again laid a stillborn egg against Leverkusen last week. If the BVB--once again without Erling Haaland--can't win this one, the title race is officially over.

Okay. To be fair, it's essentially over already. Most all German football watchers agree on that. Matters are getting pretty desperate ahead of Bayern's tenth consecutive title. Christian Seifert even raised the possibility of post-season playoffs this week. Ugh. The idea is anathema to European sports lovers. We like to think that the season counts for something.

Local RKI Incidence Rate = 1495.7 per 100,000 (-144.7)

Intensive Care Occupancy @ 90.1% (+0.1%)

188 COVID Hospitalizations (18.3%) (-1.0%)

Berlin City Vaccination Rate = 77.2% (+0.1%) (from 4 days ago)


---


Arminia Bielefeld (at) TSG 1899 Hoffenheim 

Planned capacity = 10,000 (33.6%)

Virtually no chance that the PreZero will sell out in Sinsheim. The young club rarely fills to capacity, even with COVID out of the equation. The biggest news emanating from the Hoffenheimer fan-scene this week actually had to do with club owner Dietmar Hopp dropping his legal complaint against BVB fans for the infamous "crosshairs controversy" of 2018-2020.

How nice. Perhaps we can all put the whole affair behind us. The Bundesliga fan scene wouldn't exactly be its normal self without the spirit of protest, but it would be nice if supporters simply grateful to be back in the stands again left the "Hurensohn" banners at home.

Local RKI Incidence Rate = 1263.5 per 100,000 (+1000.1)

Intensive Care Occupancy @ 92.7% (+0.6%)

4 COVID Hospitalizations (10.5%) (-18.4%)

BaWü Vaccination Rate = 73.5% (unchanged) (from 4 days ago)


---
Thanks so much for reading!
You can occasionally catch Peter on twitter, @ViceytheSS.
Twitter DMs are open for football conversations, corrections, and (if you truly insist) general abuse. 
All columns debut on Bulinews before appearing on Peter's website later in the week.
Related stories