Americans in the Bundesliga:
George Bello receives first marks in week 22
By Peter Weis @PeterVicey
As we often like to say here on Bulinews, a shorter "Americans" column doesn't mean that there isn't some pretty big news to discuss.

Just like last week, the list of American footballing absentees was rather long in the most recent round of Bundesliga action.

We explain why in our introductory paragraphs. After that, it's time to assess the work of John Anthony Brooks, Timothy Tillman, George Bello, and trainer Pellegrino Matarazzo.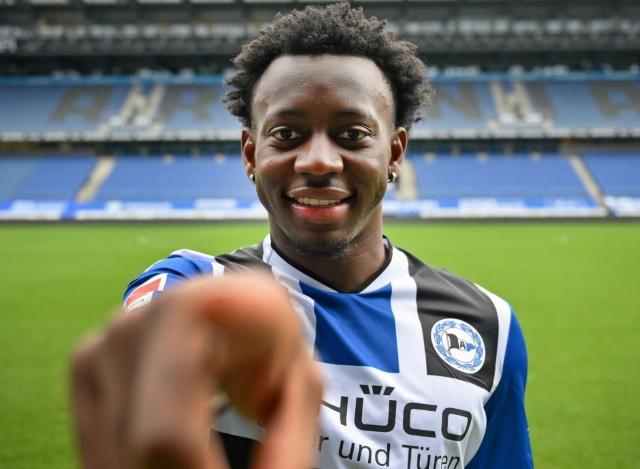 | | |
| --- | --- |
| George Bello. | Photo: Arminia Bielefeld |
Surprisingly enough, our weekly look at American footballing actors operating in Germany's top footballing division produces another short column. We've just four graded sections this week in one of our shorter columns of the season. As always, however, less action does not mean that there isn't plenty to discuss. We've plenty to report upon from round 22.


Those wondering where Tyler Adams and Joe Scally are should know that neither one has started in two weeks. In Adams case, it relates to injury and possibly Europa League rotations. Scally appears to have found his way out of Adi Hütter's Fohlenelf for the time being. It might be the case that the BMG trainer simply prefers the services of Ramy Bensebaini and Stefan Lainer to the CFG New Yorker.

Ricardo Pepi also didn't start for Augsburg in their weekended fixture against Gladbach. The Texan did put in 27 minutes of relief, but didn't influence the match anywhere close enough to merit a graded section. Kevin Paredes made the Wolfsburg bench squad, yet went unused. Giovanni Reyna did not make Dortmund's trip to the capital city. He was still included in Marco Rose's XI for the UEL fixture against Rangers on Thursday.

Chris Richards is still hurt. Sebastian Hoeneß hasn't selected Justin Che for his bench squad yet.

Pellegrino Matarazzo, VfB Stuttgart (Trainer)

Matches = 1, Result = L

Grade = A

A full draw up and discussion in the tactics bulletin asks the question as to whether the long Swabian slump nears its end. Note that reliably (and wrongly) predicted that there would be sunnier days in the capital of Baden-Württemberg so many times in both columns that raising the issue now feels as cruel as the promises we German football fans make to our Hertha-supporting friends every year. Perhaps we'll refrain from predictions this time. The league's lone remaining American trainer finds himself long overdue for a good grade.


Selecting the newly acquired Tiago Tomas to spearhead the attack was a gutsy move; one that happened to reap immediate dividends. The Portuguese teenager wasn't even a prolific goalscorer this year in his former station. Now Tomas is the talk of German footballing circles. The 19-year-old has some real bite to him when it comes to chasing the ball and can hold it up with some nifty moves. The two goals should give him a broad chest, whether or not he continues to serve at nine or move out to the wings alongside Sasa Kalajdzic or Omar Marmoush.

The Stuttgart-Bochum fixture this coming weekend should make for intriguing viewing. Having now ended their long goal drought and turned in two competitive performances against very good teams, the Swabians may carry enough confidence over to make a huge statement in the relegation race. The "Stuttgarter Process" still has enough time to actually work. A healthy roster next season and we could be talking Europe. Sven Mislintat may yet well look lime a genius for guaranteeing the job of someone "who knows how to reach the team."

John Anthony Brooks, VfL Wolfsburg

Minutes played = 90/90, Positions played = CB

Grade = A

We talked a bit in the tactics bulletin about how clunky Germany's green company team still looks. All the high-priced puzzle pieces obviously need time to settle in. The Berliner remained one of the better WOB actors on the pitch. That isn't to say that Brooks turned in his best performance. His stray pass count (22!) was absurdly high.

Some of them we'll simply have to forgive as he is playing in this:

Lineup—VfL Wolfsburg—Match 22 (3-4-3)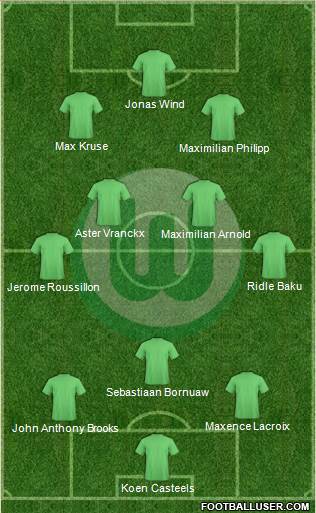 It's a scrunched together, entirely un-organic constellation. Very Florian Kohfeldt-esque if one can coin such a phrase. Brooks had difficulty figuring out how to function vis-a-vis Sebastiaan Bornauw and Jerome Roussillon during shaky moments in the 3rd, 7th, 34th, 48th, 50th, 53rd, 57th, and 64th. Honestly, however, it didn't look as if such wavering stutter-steps were a result of concentration lapses. His instructions were likely contradictory.

Squaring off against speedsters like Jesper Lindtrøm, Daichi Kamada, and Angsar Knauff, there were going to be instances (25th, 41st, 56th, and 86th) in which SGE players got around him. These were more than offset by a surprising amount of cases (3rd, 5th, 6th, 10th, 18th, 20th, 22nd, 33rd, 44th, 45+1, 52nd, 69th, 75th, and 90+1) that saw him do a phenomenal job.

While Danny da Costa naturally counts as easier prey, one can watch him close the SGE wingback down deftly in the 7th, 19th, 51st, 55th, and 68th. Brooks won most of all of his aerial duels on the day, wielding his head especially well in the 2nd, 8th, 23rd, 31st, 37th, 42nd, 59th, 79th, 82nd, 83rd, 90+2, and 90+4. That's quite the list!

More solid defensive work on display late on in the 77th, 81st, 90+1, and 90+5. Brooks really finished this one strongly. Though neither he or any of the other VfL actors could make a consistent impact offensively, the German American had his moments in the 15th, 17th, 43rd (just prior to his booking) and 73rd.

George Bello, DSC Arminia Bielefeld

Minutes played = 28/90, Positions played = LB

Grade = C+

Just as was the case with Gio last week, we don't have a terribly large amount of material to work with. No German press sources that the writer could find saw fit to mark Bello for his second consecutive late-match relief appearance. After giving it some thought, this American's influence on the match seemed relevant if only because DSC trainer Frank Kramer seems to be grooming the former Atlanta United defender as his new starting left-back.

Third touches also happens to be a lot for less than a half hour played.

Lineup—Arminia Bielefeld—Match 22 (5-2-3)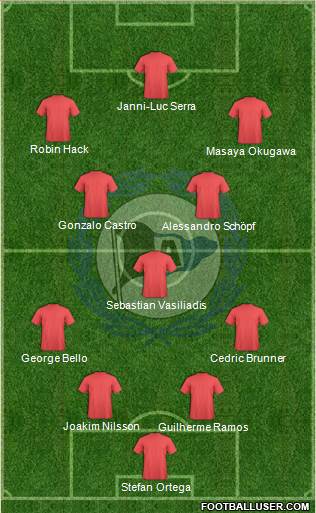 Bello entered the match on a triple substitution alongside Guilherme Ramos and Robin Hack. The new actors seemed to primarily fulfill like-for-like swaps, though the team did collectively press higher in light of the 0-2 deficit. Bello certainly worked as a straight fullback, almost mimicking the role of the replaced Jacob Barrett Laursen.

There's a very interesting moment on display in the 81st for those with access to the tape. After a play during which Bello should have made a run on the overlap, head-coach Kramer actually gives the youngster the "over-the-shoulder" treatment as the American prepares to take a throw-in. A totally wild guess as to what the whisper in the ear was all about conjectures that Kramer encouraged him to tear up that flank whenever he saw a chance.

Bello did tear up his flank six minutes after being subbed on in the 68th. A few seconds after losing an aerial duel and looking a little lost defensively in the box, Bello trailed the counter very astutely and turned on the jets when he spotted a lane on the overlap. His eventual first-time-cross hit its intended target in the form of fellow substitute Hack's head and the American recorded his first assisted shot in the Bundesliga. Great play.

A pity that the spark wasn't repeated. As noted above, he really needed to make a run in the 81st. Moreover, a cross just one minute prior wasn't struck with anywhere near enough power. At least he read the play well on the build-up. Other cases in which this American did so came in the 66th, 71st, 76th, 78th, and at 90+5. Both passing and ball shielding were of a high caliber.

Bello's best instance of defensive work can be found early on during his shift in the 63rd. The new Bundesliga addition certainly has some tenacious pace about him. One can also find an excellent clearance in the the 73rd and a sharp recovery tackle in the 85th. A lost aerial duel in the 67th, a pair of mistimed challenges (70th, 72nd), and a bad turnover in the 87th show that he still has a few things left to work on.

On occasion, he looked a little confused in box. One could say that Bello needed to sense his offensive breaks better and perhaps be a little more aggressive on the track back as well. Based on this performance, Kramer might still want to take it a mite slower with him. The Georgian should nevertheless still be in the starting XI sooner rather than later.

Timothy Tillman, SpVgg Greuther Fürth

Minutes played = 85/90, Positions played = LM

Grade = C-

Just the third win of the season for das Kleeblatt of Middle Franconia last weekend. Congratulations are in order for the squad as a whole. They were clearly a better unit than woeful visitors Hertha BSC. As has sometimes been the case recently, our subject here lined up behind a ten and double-striker-set.

Lineup—Greuther Fürth—Match 22 (5-2-3)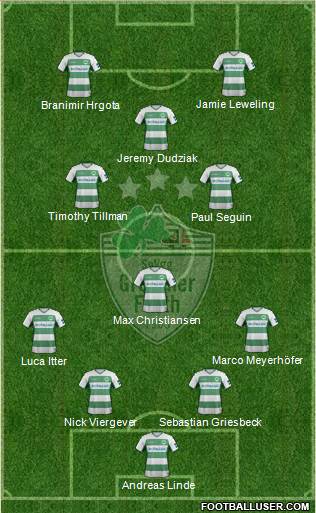 The Jetro Willems/Luca Itter left-back swap continues. There were also attacking rotations from last week. Hard as it may be to believe, Fürth head-coach Stefan Leitl doesn't have a lack of offensive weapons on his last-placed team. Our German American subject here manages to keep a hold on the left midfield slot irrespective of who plays before him.

SpVgg captain Branimir Hrgota took all the glory early on with his opening minute goal, on which Tillman was in way involved. The Swedish international also took most of the set-pieces on this day. Tillman--lining up alongside Hrgota-- didn't take any direct free-kicks on the day, though he did record an assisted shot on a short one played back to him in the 23rd.

Tillman did do well with a 33rd minute corner. After his own effort was blocked, he hustled down to the flag, supplied a great service, and dove right back into the thick of things on an excellent chance for the Bavarian hosts. The Nürnberg native was significantly less polished in the 65th, delivering two bad corners and a substandard cross.

Most of the home team's attacks ran down Paul Seguin's side, but that didn't stop Tillman from rushing over to put some good work in on the ball in the 14th, 21st, 41st, 57th, and 80th. Passing on the day remained decent, with sharp decision making on display in the 5th, 7th, 13th, 27th, 31st, 45th, 77th, and 81st.

Defensive work vacillated between the some genuinely impressive blocks/clearances (35th, 59th, 62nd, 68th, 72nd, 77th, 82nd) and some poor timing/track work (3rd, 17th, 20th, 36th, 43rd, 48th, 51st, 74th, and 82nd). Sometimes he was able to recover quickly and get a vital challenge in, as was the case in the 8th, 9th, 15th, 46th, and 68th.

Tillman really needed to do better with a carry in the 4th, a screwed shot way over in the 16th, and some control work in the 67th. His positional play on a release in the 39th probably counted as his best work, which is somewhat faint praise. Overall, not this American heritage subject's best day. Still not anything that should affect his place in the starting XI.

Thanks so much for reading!

You can occasionally catch Peter on twitter, @ViceytheSS.

Twitter DMs are open for football conversations, corrections, and (if you truly insist) general abuse. 

All columns debut on Bulinews before appearing on Peter's website later in the week.



Related stories