Bobic laments Hertha's luck:
"I thought an asteroid would take out the office this morning."
By Peter Weis @PeterVicey
A somewhat exasperated Fredi Bobic attempted to put a brave face on proceedings at Hertha BSC's Friday presser.

The capital city side's sporting CEO added some somewhat humorous spins on matters while speaking to the press alongside caretaker trainer Mark Fotheringham.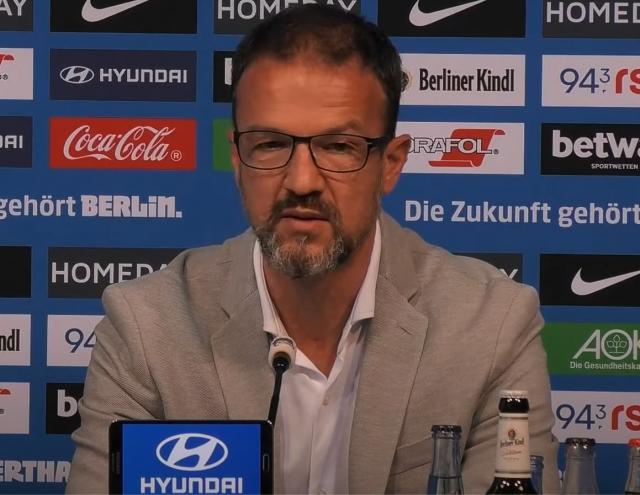 Partaking so heavily in Hertha's pre-match presser was obviously not part of Fredi Bobic's vision for the week. Days after appointing a new trainer to assist his club in avoiding relegation, the new gaffer tested positive for COVID and had to have his debut delayed. Sixty-eight-year-old Felix Magath will have to coach his new team digitally against Hoffenheim this weekend.


"I thought he was joking at first," Bobic said when discussing the moment that Magath gave him the news, "I know his sense of humor. But it wasn't a joke. It was serious."

After reporting that Magath was feeling largely fine apart from light symptoms, Bobic elicited some chuckles from the assembled press corps when he lamented his club's current situation.

"I'm glad that the office was still standing when I came in today," the former VfB Stuttgart and Eintracht Frankfurt executive noted, "I thought that an asteroid would have taken it out with all the things that we're dealing with now."

Bobic added that Thursday had been a really long day, and also--with a mind to COVID outbreak the team suffered in February--quipped "I figure, if you want corona, you should come to Berlin."

The club's current sporting CEO's tough spot may be less of a laughing matter if Hertha do indeed get relegated. After being brought in at some cost from Eintracht over the summer, Bobic has sold off practically all of the club's goal-scorers and fired two head-coaches in the span of three months.


Arne Friedrich's departure from the Hertha front office last week was viewed by many in German footballing circles as an attempt by Bobic to clear dissenting administrative voices out of his way.

Furthermore, the appointment of Felix Magath this week as the man to steer the team away from the drop shocked plenty of German football watchers. Could a nearly 70-year-old trainer not active in the Bundesliga for over a decade really be the right man for the job? Schalke 04 tried something similar with Christian Groß last season and a small player mutiny resulted.

Magath's last active job in Europe was a seventh-month-stint with London-based club Fulham in 2014. A 18-month stint in China followed, but Magath has not coached professionally since 2017.

As it turns out, the task of leading "die alte Dame" from the sidelines shall fall to one of Magath's former players at Fulham in the English Championship. Mark Fotheringham, a Scottish footballer with a little German football experience playing for SC Freiburg in the 2005/06 campaign and some time as an assistant in Karlsruhe and Ingolstadt, will make the calls.

"Why should I be nervous?" Fotheringham noted when asked the most obvious question, "I've worked really hard for this opportunity, but it's not about me. It's about what the lads do on the pitch."

There wasn't much that either Bobic or Fotheringham could say about the state of the players under the nascent coaching regime. Bobic did say that he felt the team looked "fired up and attentive" under the new trainers. Fotheringham expressed confidence in the actors he had barely gotten a chance to know.

"We had high intensity training sessions," Fotheringham reported, "Now the important thing is for the guys to stay relaxed. We're not fighting a war, it's just football."



More about the match
More about the teams