Kramer issues team failing marks, Prietl apologies for setting embarrassing records
By Peter Weis @PeterVicey
After his team lost their fourth consecutive match, extended their goalless streak to an abysmal 397 league minutes, and slipped into the automatic relegation zone, Arminia Bielefeld trainer Frank Kramer flatly failed his team's performance in his post-match interview. 

Manuel Prietl also apologized to club supporters for his hand in helping Mainz set a pair of humiliating Bundesliga records.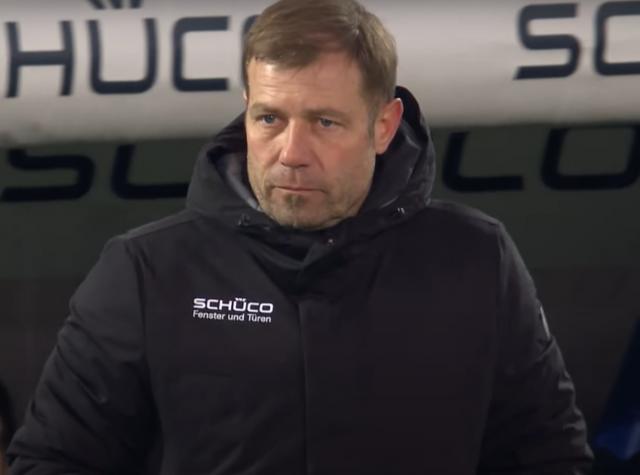 Absolutely nothing went right for DSC Arminia Bielefeld in their trip to Mainz on Saturday afternoon. The East Westphalians found themselves on the receiving end of a 0-4 demolition. The result stretched the team's run without scoring a goal to four consecutive league matches. 


As if that wasn't bad enough, the NRW guests set a whole slew of ignominious Bundesliga records by conceding three penalties late in the second half. Never before in such a short period of time (between the 65th and 79th minute) had three spot kicks been awarded. 

Stepping up to convert were three different players. Jonathan Burkardt, Moussa Niakhaté, and Marcus Ingvartsen all hit the back of the net. Never before in Germany's top footballing flight have three different players converted from the spot in the same match. 

DSC midfielder Manuel Prietl had an especially horrible day. Subbed on at the half to give his team some spark from the six-spot, the long-time club fan committed two of the fouls inside the box that bookended the 14-minute-spell. 

"I went into tackles twice far too recklessly," Prietl noted in his post-match interview, "I'm sorry for my teammates and all the fans. The way we performed today, that must not happen again. That has to have been the low point." 

Head-coach Frank Kramer wasn't in much of a talkative mood during his post-match interview. Asked to rate his team's performance, the DSC trainer simply noted "6,0", indicated the lowest grade German schoolchildren can be assigned. 


Kramer, a former high school teacher, then added one more word "sitzenbleiben". The phrase, in this context, most aptly translates "to be thrown away". 

Now back in the automatic relegation place, Bielefeld must find a way to improve quickly, lest they be thrown out of the first division. 


Mainzer Heatmap! #M05DSC pic.twitter.com/AW5OAbanw3

— 1. FSV Mainz 05 (@1FSVMainz05) March 19, 2022
More about the match
More about the teams
More about Manuel Prietl