Matarazzo confident team can compete without Kalajdzic: "One more fast player can be an advantage."
By Peter Weis @PeterVicey
VfB Stuttgart trainer Pellegrino Matarazzo discussed possible solutions to the absence of lead-striker Sasa Kalajdzic at his Thursday presser.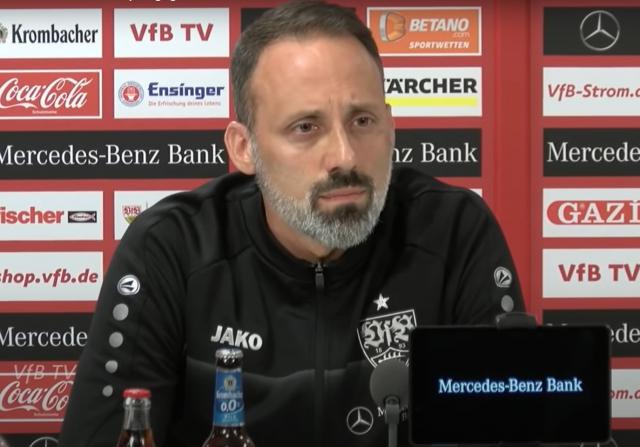 The loss of lead-striker Sasa Kalajdzic may actually confer Stuttgart certain benefits as the Swabians prepare to host Borussia Dortmund on Friday night. That, at least, is the spin head-coach Pellegrino Matarazzo tried to put on it during his Thursday presser.


The VfB gaffer has had to compensate for Kalajdzic's absence before this season. Both Omar Marmoush and Tiago Tomas have occupied the nine role when the Austrian target forward was unavailable. Obviously, neither one of the youngsters can compete with the two-meter-tall (6 ft, 7 in) striker in terms of height.

Speed can nevertheless help.

"Having one more fast player against Dortmund can be an advantage," Matarazzo noted at his Thursday presser, "We can press the BVB defensive chain as high as possible and create spaces."

How exactly Matarazzo will reshuffle his existing lineup isn't necessarily hard to foresee. Chris Führich, who has been operating as part of a double-eight setup with club skipper Wataru Endo, can easily slide out to the left wing. Führich's performances in recent weeks have demonstrated his strength on that side.

"He has done very well for us," Matarazzo remarked about Führich.


Führich's replacement alongside Endo will very likely be Orel Mangala, already a regular introduction late in matches to stabilize the midfield. Matarazzo strongly hinted that Mangala would get the start.

"With his confidence on the ball, his passing, and intuitive feel for tight-space situations, Orel always has the right to be on the pitch," the head-coach noted, "He has shown that he can always sprint down and emerge deep in the opponent's penalty area.

With Borna Sosa passed fit and expected to return to the flex left-fullback role, it would appear as if the only question remaining for Matarazzo is whether he'll allow Marmoush or Tiago Tomas to serve on the right-wing, or return to his old flank "split-stagger".

The decision of whether to deploy Tanguy Coulibaly, a very fast player who has not had the most convincing season, looms large. The 21-year-old Frenchman hasn't scored this year, only garnering three assists. His amazing performance against Dortmund in the 5-1 December 2020 shellacking that ended up costing Lucien Favre his job isn't necessarily forgotten, however.

Coulibaly hasn't scored a Bundesliga goal since that match.



More about the match
More about the teams