Reis confident class preservation can be secured at home: "We want to cap our season."
By Peter Weis @PeterVicey
Banned from leading his team from the touchline on Sunday, VfL Bochum head-coach Thomas Reis still expressed confidence that the squad could bounce back from the Freiburg defeat without him at home on Sunday. 

The promoted Westphalians have a chance to clinch another season of Bundesliga football with a win. They've secured 25 of their 36 league points earned this year at home.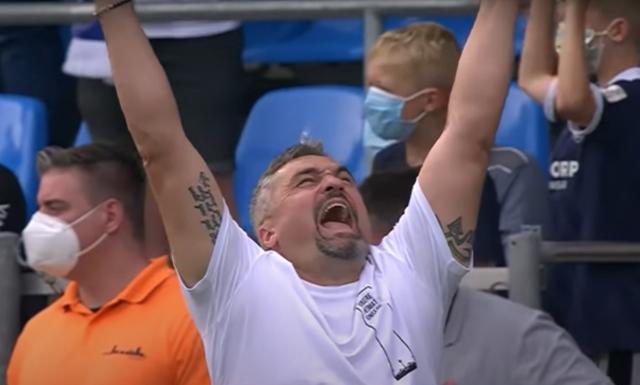 VfL Bochum trainer Thomas Reis' attempt to explain away his "windshield wiper" gesture last week at least ensured that he would not incur further punishment from the DFB. Reis must still serve a touchline ban after seeing red in his team's defeat to Freiburg last week. The player Reis purported to be mad at, Konstantinos Stafylidis, received a three-match-ban for his reckless tackle.


Reis clearly wished to put the entire episode behind him at his Friday presser. Stafylidis' absence meant a little less in the context of good news concerning left-back Danilo Soares. The Brazilian technician had to exit last round's encounter, but is already fit and ready for a huge match against relegation candidates Augsburg.

"We can confidently remove the question mark surrounding his deployment," Reis noted.

VfL Bochum have a chance to clinch another season of Bundesliga at home on Saturday. A win would see them secure the class; possibly a bittersweet occasion for Reis as he won't be allowed in the stadium. The club gaffer made it clear winning remained the most important thing.

"It would be a dream come true if we can clinch it in a home game," Reis noted, "For us, it's a positive type of pressure. The team should go into the game with joy and, if possible, without stress."

"The defeat [last week] did not knock us down," Reis insisted, "At home, we always feel a bit more comfortable. We want to cap our already strong season."



More about the match
More about the teams
More about Danilo Soares