Hoeneß on winless run and injuries:
"We've proven it before when no one believed in us."
By Peter Weis @PeterVicey
Facing a tough opponent in a streaking SC Freiburg side, Hoffenheim trainer adamantly insisted that his team could get back on track despite personnel problems at the back. 

After six league games without a win, Hoeneß proclaimed that his team could snap the skid and grab the ever important "Befreiungsschlag" (liberating win in the German sporting context).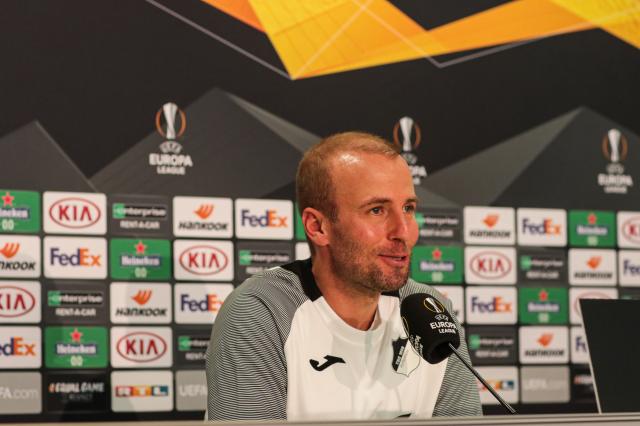 | | |
| --- | --- |
| Sebastian Hoeness. | Photo: TSG Hoffenheim |
TSG 1899 Hoffenheim trainer Sebastian Hoeneß made clear to reporters at his Friday presser that he understood the severity of his club's current situation. A six-match winless-run has seen his team's chances of qualifying for Europe next year evaporate before his eyes.


Though there remain a confluence of reasons for the slump, injuries in his defensive corps certainly haven't helped a coach who's preferred system involves a lot of play out of the back. Facing the same questions about who might be available for him in the rear ranks, Hoeneß got glib.

"I won't let the matter of personnel problems kill my mood today," Hoeneß remarked with a quip, "even if the list is once again long."

Florian Grillitsch remains unavailable. The team has had great difficulty adjusted to the Austrian's absence, particularly as Grillitsch effectively ran the back-three as a pivot runner so many times this season.

"He'll be back," Hoeneß noted with a slight sigh, "but not before the weekend."

The fact that Havard Nordtveit's Hoffenheim career ended last weekend with a gruesome, season-ending injury means that Hoeneß' options continue to dwindle. Other defenders out include captain Benjamin Hübner (back problems), Stefan Posch (yellow suspension), Ermin Bickacic (rehab training), and Chris Richards (season-ending thigh injury).


German youth international Denis Geiger might have been a potentially solid plug-in for the back-three, but he was injured in training this week. The player who actually collided with him in training was defender Kasim Adams, who had been long been unpopular with Hoeneß and is surely more unpopular now.

"There's fluid in the swelling after that collision," Hoeneß said of Geiger, adding that he probably wouldn't be able to play.

With Geiger and Adams no-go options, it looks like Kevin Vogt will get the responsibility of anchoring the back-three. Hoeneß could also switch to a back-four. Justin Che and Kevin Akpoguma might be thrown into action as the CBs.

"We don't have a large number, but we still have defenders," Hoeneß stressed, "Perhaps the fact that the opponent doesn't know what's coming will be precisely the impetus we need."

Those who witnessed what Hoeneß tried against Leipzig three rounds ago will have their doubts about this. The TSG trainer nevertheless attempted to put a positive spin on things.

"I'll play it close to the vest," Hoeneß said, "but we will have a lineup that packs a punch. I guarantee that. I observe many indicators that speak for us. We've already proven in the past that we can get a win streak started when no one believes in us."

"We want to break free of the chains that bind and get back on track," he concluded.



More about the match
More about the teams