Bundesliga Fan Scene:
Four of nine fixtures sell out in week 29
By Peter Vice @ViceytheSS
Our "Weekend Attendance Figures" feature takes both last weekend's fan-scene and all the images associated with the three European club tournament ties involving German teams into account this time.

A little later on this Good Friday, we'll be delivering the full primer for the coming 30th matchday here on Bulinews.

First, however, we'll take a look back at the week that was.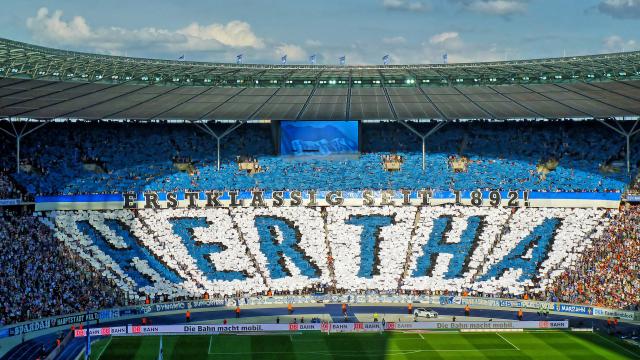 Our weekly league attendance feature arrives a little later this week thanks to the fact that three German clubs had European club competition dates during the week. Once it became apparent that Eintracht Frankfurt fans were embarking on a modern-day crusade in the Catalan capital, it seems only right to defer on this aspect of the fan-scene support.


The work of fans in the midweek fixtures of Frankfurt, Leipzig, and Bayern is thus folded into the attendance figures from the 2021/22 German Bundesliga's 29th matchday. Four of the nine league fixtures (Bayern, Köln, Bochum, and Hertha BSC) sold out last weekend. Stuttgart and Frankfurt came in very close at over 90 percent capacity. Wolfsburg, Leipzig, and Fürth clocked in at the 70-85 percent capacity range.


---


Borussia Dortmund (at) VfB Stuttgart

Attendance = 60,449 (96.4%)

Some very nice images at the Mercedes Benz Arena prior to kickoff last Friday night. The hosting BaWü club organized a flag-waving choreo in the stands. Unfortunately, the crowd mostly fell silent when their team (in far too wide of a shape one must note) failed to deliver consistently entertaining football. Most of these flags are likely already buried and forgotten in the closets of VfB supporters.



🌧🌧🌧

Warm-up im strömenden Regen. Auf geht's! #VfB | #VfBBVB ⚽️📺➡️ https://t.co/iuJfvA2Nmp pic.twitter.com/Dn2Ha9LTlh

— VfB Stuttgart (@VfB) April 8, 2022
---


FC Augsburg (at) FC Bayern München 

Attendance = 75,000 (sold out)

A sold-out crowd at the Allianz naturally reserved much of the chants and choreos for Tuesday's home Champions' League fixture. While that result ended up being a heartbreaker for the FCB ultras, the stirring tribute to the "Bomber des Nations" just before the Villareal match got going won't soon be forgotten.


#4EverGerd ❤️ pic.twitter.com/95UK1CtX7S

— FC Bayern München (@FCBayern) April 12, 2022
---


Arminia Bielefeld (at) VfL Wolfsburg 

Attendance = 22,512 (75.04%)

One has to hand it to the ultras of Germany's green company team. They delivered a wonderful atmosphere during their team's crucial victory over the DSC in a classic relegation six-pointer. As has been stated often enough in this column, VfL boosters (once maligned) generally enjoy a good reputation among the German footballing public. Attitudes can shift.

Leipzig and Hoffenheim take note.


Danke für eure Unterstützung! 💚💪🐺#WOBDSC #VfLWolfsburg pic.twitter.com/ahc2jqy4d2

— VfL Wolfsburg (@VfL_Wolfsburg) April 9, 2022
---


FSV Mainz 05 (at) 1. FC Köln 

Attendance = 50,000 (sold out)

Everything once again spot on at the RheinEnergieStadion. This venue rocked and shook throughout during the stunning Effzeh comeback victory. Köln's Arena should definitely get top billing for those looking to visit football grounds in the Bundesrepublik. Note that, unlike at the Camp Nou, it's generally rather difficult for visiting fans to get tickets in the cathedral city.


Gänsehaut. ❤️🤍 #effzeh pic.twitter.com/PiHH26z1yt

— 1. FC Köln (@fckoeln) April 10, 2022
---


Borussia Mönchengladbach (at) SpVgg Greuther Fürth 

Attendance = 13,900 (83.6%)

Loyal and lively support last weekend at what remains, for the time being, the league's smallest venue. The Middle Franconians love their football, even if it's not particularly good football.One already looks forward to next year's Nürnberg-Fürth derby day back in the second division.


Das #Kleeblatt unterstützt beim morgigen Heimspiel gegen @borussia den Spendenaufruf für das Projekt "1 Fan, 1 Euro". Der Erlös dessen kommt geflüchteten Kindern aus der Ukraine zugute. ☘️https://t.co/f6GVUhXHou

— SPVGG GREUTHER FÜRTH (@kleeblattfuerth) April 8, 2022
---


FC Union Berlin (at) Hertha BSC

Attendance = 74,649 (sold out)

Lost amongst all the talk of the now infamous "tricot-gate" scandal, there was actually some stunningly gorgeous support on display at the "Oly" on Saturday night. A true shame that most of us German football commentators had to skip over that in order to condemn the actions of haughty ultras who intimidated some of the team's youngsters in forfeiting their shirts.

Such is football. Beauty sits alongside nefariousness. The unbelievably gorgeous displays share space with the unseemly monstrous ones. Those who attended the match live in the country's capital have since reported to us that the streets of Charlottenburg were also a glass-ridden mess outside the stadium.

The price one invariably pays for this:


Wahnsinn! 🤩🤩🤩#BSCFCU #GemeinsamHertha #HaHoHe pic.twitter.com/DsaACiZEF9

— Hertha BSC (@HerthaBSC) April 9, 2022
---


Bayer 04 Leverkusen (at) VfL Bochum

Attendance = 25,000 (sold out)

Note the discrepancy from what was initially reported on in the Matchday 29 primer.  Bochum actually became the first Bundesliga club to reinstitute limited capacity after the match abandonment in round 27. Thankfully, courtesy of stern warnings and newly-installed video software, there were no repeat occurrences at the Ruhrstadion on Sunday.


🤩 Simon #Zoller ist endlich wieder da! Sieben Monate auf ihn gewartet, am letzten Sonntag gab es das emotionale Comeback von @SiZolli! Gänsehaut! Hat uns so extrem gefreut💙#meinVfL #BOCB04 pic.twitter.com/KDT2j8Romc

— VfL Bochum 1848 (@VfLBochum1848eV) April 12, 2022


Welcome back, Simon Zoller!


---


SC Freiburg (at) Eintracht Frankfurt

Attendance = 41,000 (92.1%)

Eintracht's third home fixture in eight days, unsurprisingly, did not sell out. The SGE fan societies naturally had their sights (and money) set on a much larger project. Simply sensational stuff from the Frankfurt traveling contingent in the Catalan capital. One should simply let the pictures speak for themselves in this case.


Das ist so irre! 💥
–––––#FCBSGE 2:3 | #SGEuropa pic.twitter.com/cF4arsMqni

— Eintracht Frankfurt (@Eintracht) April 14, 2022
---


TSG 1899 Hoffenheim (at) RB Leipzig

Attendance = 41,000 (74.6%)

RB boosters similarly had travels on their mind on this matchday. Only a very small contingent made it down to Bergamo for their side's crusade. There remained a corner for the victorious German Red Bulls at the Stadio de Bergamo early on Thursday evening. Between the Pokal and the next UEL fixture, it's possible we won't see the home ground sell out for any more league fixtures this season.


MOod: BergaMO 🤩🥳

Nach wie vor - absolut hyped 🔥@SimakanMohamed pic.twitter.com/dBBqjgURu3

— RB Leipzig (@RBLeipzig) April 15, 2022
---
Thanks so much for reading!
You can occasionally catch Peter on twitter, @ViceytheSS.
Twitter DMs are open for football conversations, corrections, and (if you truly insist) general abuse. 
All columns debut on Bulinews before appearing on Peter's website later in the week.
Related stories